Introduce
Wing designed a platform DeFi dedicated to the digital asset lending market, supporting cross-chain collaboration between products DeFi different. This platform is currently under construction. Wing's decentralized governance model and risk control mechanism are intended to promote an equal and beneficial relationship between borrowers, creditors and guarantors. In addition, Wing displays a really innovative credit assessment module as an example of DeFi credit based.
What is Wing (WING)?
Present WINGS What problem are you solving?
Should you invest in the project?
This article will answer these questions in turn. And give you an overview from the general to the detailed about this project. So what are you waiting for, let's start writing right now!
What is Wing (WING)?
Wing is a project to build a decentralized finance platform (DeFi) is credit-based specifically for the digital asset lending market, supporting protocol interactions and cross-chain assets.
Current information
What problem does Wing solve?
Decentralized finance industry (DeFi) today mainly includes the decentralized exchange of digital assets as well as the over-collateralization of digital assets to provide lending services.
However, compared to mainstream financial services, it is clear that due to lack of credit mechanism (lack of credit mechanisms) should still have limitations in allocating resources to users.
Credit-based DeFi proposes the concept of integrating elements of credit into decentralized finance. These elements can be used for credit-based lending or new asset digitization, further expanding the service model and scope of decentralized finance. It also gives DeFi greater potential to deliver mainstream financial services.
Based on this concept, Wing launched a Decentralized Autonomous Organization (DAO) called Wing DAO for decentralized financial services that integrate credit elements.
Wing can support the construction of decentralized financial products that incorporate collateral value and credit rating, as well as further decentralized social autonomy and governance.
How Wing solves the problem
By clearly identifying the current problem facing the decentralized finance (DeFi) market (lack of a credit mechanism), the Wing project has launched a number of products and services aimed at solving the problem. mentioned above. Specifically about the information of Wing's products and services, please read on to better understand!
Project's products and services
Flash Pool (Borrow, Loan and Insurance)
The first loan product on Wing, supporting mainstream property lending. Users can earn WING rewards in Flash Pool by lending, lending and depositing in Insurance. It currently supports assets including ONT, ETH, wBTC, USDT and DAI, and will support more assets in the future.
Community recommendation (Community Proposals)
Wing DAO is where community members are encouraged to submit proposals for DeFi services. The community will be able to make independent decisions about product launches. This model also allows autonomy in product application rules such as interest rate adjustments, product termination and cancellation.
Credit loans (Credit Lending)
Soon, Wing will launch IF Pool, which is a credit-based lending product where users with OScore can deposit assets worth 80% or more of the value of borrowed assets.
Similar projects?
Compound, MakerDAO, ETHLend, Constant…
Maybe you are interested:

What is Compound (COMP)? Things to know about the latest COMP token 2020
What are WINGS tokens used for?
Vote for new product development, platform parameter change, crowdfunding allocation, etc.
Interest discount when paying interest to the platform.
Buy insurance policies to hedge financial risks on the platform.
Project team
Developed by Ontology Team, includes:
Linkedin: https://www.linkedin.com/in/john-g-izaguirre/
Linkedin: https://www.linkedin.com/in/0xnickzhang/
Partners of the project
There is no information about cooperation between WINGS and other projects.
Investors & Advisors
The project does not provide information about Investors.
Advisor is Erick Pinos of Ontology project team
Linkedin: https://www.linkedin.com/in/erickpinos/
Roadmap
Phase 1: 2020 Quarter 3
Complete first batch of products to go live (DeFi 2.0 products with built-in credit fundamentals)
Phase 2: 2020 Quarter 3
WING's distributed model and autonomous governance based on WING are started.
Phase 3: 2020 Quarter 4 – 2021 Quarter 1
WING tokens gradually gain market value, can be used in non-governance scenarios such as lending and escrow
Phase 4: 2020 Quarter 4 – 2021 Quarter 4
Wing DAO expands to other blockchain platforms, cross-platform DeFi DAO
WIN Token Allocation
Community incentive mechanism: 68.5%
Ecosystem development: 25%
Binance Launchpool: 6.5%
WING token release schedule
What exchange is WINGS currently on?
Currently, WING Tokens have been traded on exchanges such as Binance, OKex, Bitmoon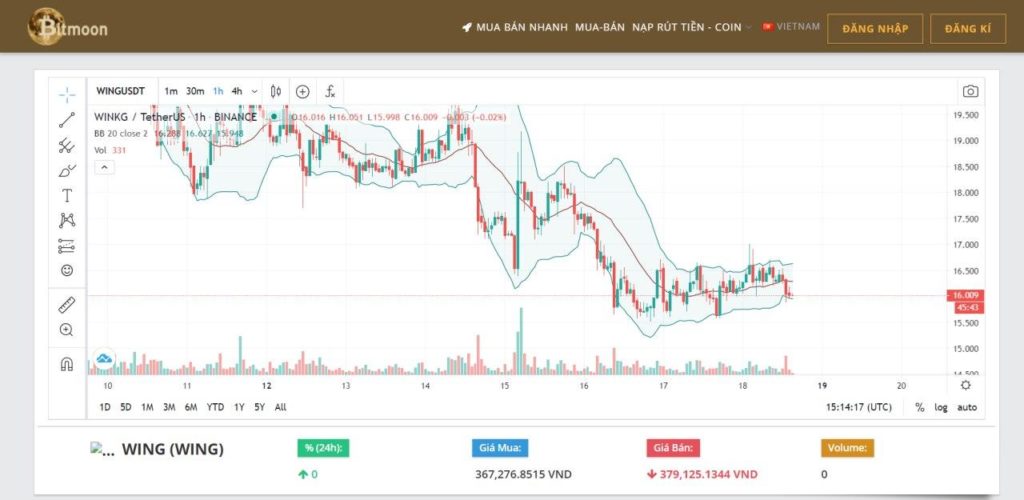 Buy and sell WINGS in VND at Bitmoon
Link to buy and sell: https://bitmoon.net/mua-ban/wing
See more articles: What is Bitmoon? Bitmoon Exchange Basic Guide for Newbies 2020
Which wallet to store WINGS?
Since DeFi projects on Wing are all deployed on the Ontology chain, only wallets that support Ontology-based assets can be used to perform operations.
Currently, it is possible to store WING in Cyano and ONTO wallets. More wallet apps will be supported in the future.
Media channel of the project
Website: https://wing.finance/
Telegram: https://t.me/WingDAO
Twitter: https://twitter.com/Wing_Finance
Blog: https://medium.com/wingfinance
Should you invest in the project?
Through what GocTienAo has shared above, and in my opinion, this project is also good, solving the credit problem that the DeFi market still faces. Take a look at this project and make your own decision on whether to add Wing to your portfolio or not!
Conclude
The above article has provided you with an overview to the details of the Wing project. Hope GocTienAo has given you useful information about the project. If you find it interesting, please share the article with your friends!
All investment statements above are personal. All investment decisions are made by you and you are responsible for your assets. Good luck!
Virtual Currency Corner