Currently, Web 2.0 technology is still a place where users can exchange information with each other through centralized servers such as Facebook, Amazon, Twitter, etc. So have you ever asked yourself the question? Do we exchange information in an even more open space where the user is at the center of development?
This paragraph GTA Research team Let's find out what Web 3.0 is and what experiences it brings to users on the internet.
What exactly is Web 3.0?
Web 3.0 (Semantic Web, originally named by Tim Berners-Lee, the original inventor of the Web) is the next generation of the World Wide Web (WWW) which is a global information space network where users can access (read-write-execute) through internet-connected devices is superior to previous Web technologies: Web 1.0 (read), Web 2.0 (read-write).
Web 3.0 was born with the aim of becoming a decentralized version of the virtual world (metaverse), where users can intelligently interact and collaborate without worrying about data stores. .
Highlights of Web 3.0 compared to Web 2.0
Web 2.0
Network technology benefits more than 3 billion people in 80% of their waking hours each day. The popularity of Web 2.0 is mainly driven by three factors: mobile, social and cloud :
MobileWith the current strong development of smart phones, internet access on mobile phones has been significantly expanded when web browsers, mobile applications and personal notifications are all in one place. user pocket.
Social: The birth of social networks such as: Facebook, Twitter, etc. has attracted users to create content, encourage, introduce and share personal information online to interact with each other through the internet space.
Cloud: Become a commodity in the production and maintenance of internet sites and applications. Companies move from buying and maintaining physical infrastructure with costly maintenance and operations to renting storage, computing, and management tools in the cloud by third parties like Amazon , Azure,..
Web 3.0
Web 3.0 aims to eliminate intermediaries on the internet (Facebook, Google, Twitter, …) so that users can achieve freedom on the internet. Three outstanding advances that Web 3.0 brings:
Open (Open): Built from open source software developed by a community of developers.
Trustless (Trust): The main network allows users to participate in public or private interactions without third party interference.
Permissionless (No permission required): Anyone, both users and providers can join without regulatory authority
Web 3.0 is built primarily on three elements: edge computing (edge ​​computing), decentralized data networks (decentralized data network) and artificial intelligence (artificial intelligence):
Edge computing: Web2.0 personal computer hardware is popularized to be used as data centers (databases), the shift to Web 3.0 large data centers (databanks) is supplemented by powerful computing resources powerful and spread out (phones, sensors, ..) makes the data center more open and accessible.
Decentralized data networks: Facilitate the easy exchange of personal data information without loss of control and ownership, giving up privacy and dependence on third parties.
Artificial intelligence: Machine learning algorithms have become powerful enough to be able to predict useful, sometimes life-saving actions. With a decentralized data structure that allows AI to analyze users and be able to build applications with potential far beyond targeted advertising.
=> Web 3.0 allows users to interact with data and exploit it from there the right to create and use their own tools and software, no longer depending on a third party. Be user-centric and protect privacy. With Web 3.0, users will have real freedom on the internet because it will be difficult to perform censorship or introduce malicious code into the application.
Web 3.0, Cryptocurrencies and Blockchain
The Web 3.0 network works through decentralized protocols, blockchains and cryptocurrency technology, which makes the symbiotic fields with Web 3.0 capable of interoperability, seamless integration, self-aggregation. through smart contracts. With Web 3.0 using blockchain to pave the way for a more democratic form of the internet, it will eventually appear on dApps and smart contracts where cryptocurrency investors participate and they are the ones who will. contribute a part to the ecosystem of Web 3.0.
Learn more about what Blockchain technology is: What is Blockchain Technology? A step-by-step guide for beginners
Notable Web 3.0 Projects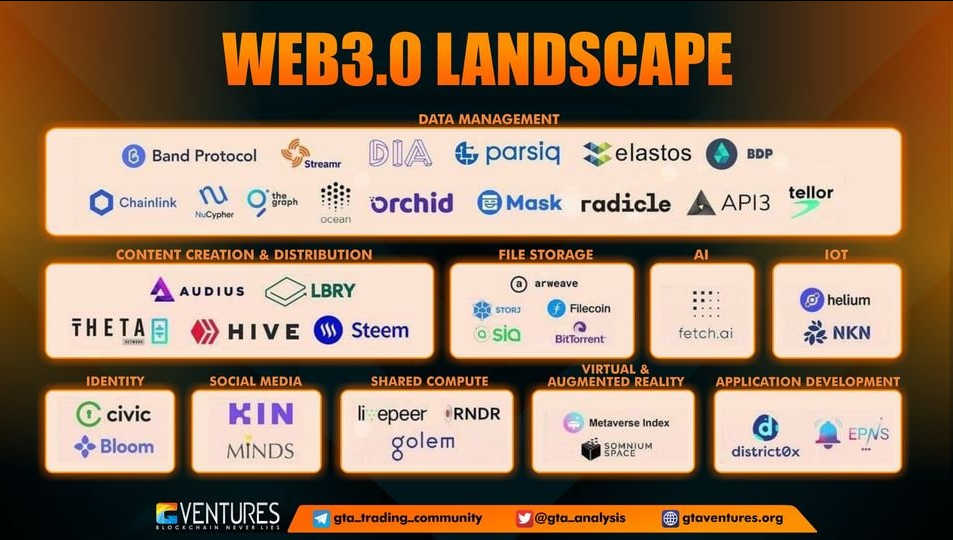 summary
As a rule of development, Web 3.0 was born to overcome the outstanding shortcomings of Web 2.0 to help improve and enhance our internet space. Where internet users have more control over their data and with whom they share it.
Here is all the information GTA Research team helped you learn more about Web 3.0 and is not investment advice. Hope the article will help you get the necessary information and make your own personal opinion.
Brothers and sisters can join the discussion GTA team.
Website | Facebook | Twitter | Trading | Research | Youtube