Development team VeChain (VET) believes that blockchain technology will be the next generation of technology after emerging technologies such as AR, VR, AI, IoT, 5G… and VeChain will be an integral part of this technology. So…
What is VeChain? What is VET coin?
Should I invest VET coin or not?
Buy and sell VET coin Where is the reputation?
VET coin wallet (Vechain wallet) Which should be used?
If you are looking to find out VeChain platform and potential invest VET coin then this article is for you.
What are you waiting for, let's start the article!
Maybe you are interested: What is Bitcoin? Bitcoin investment guide for beginners?
What is VeChain?
VeChain (VET) Is one blockchain Designed to enhance supply chain management processes for all businesses no matter how large or small.
Project VeChain was started in June 2015 by the company of the same name and in June 2016 VeChain v1.0 was released. At this point, VeChain works on the Ethereum blockchain. Up to the present VeChain completed mainnet for private blockchain launch and officially renamed blockchain to VechainThor Blockchain.
You may not know: What is Blockchain technology? A step-by-step guide for beginners
What fields can VeChain be applied to?
Verify the origin of goods
By using a combination of blockchain technology and their proprietary smart chip, RFID, VeChain allows manufacturers to track products throughout its entire lifecycle.
Along with integrating blockchain technology into IoT devices, the platform VeChain helps improve warranty and quality control by simplifying product tracking.
VeChain provides an effective solution when applied in practice in authenticating and identifying counterfeit goods. It makes it possible for both manufacturers and consumers to verify goods through the digitalization of assets.
Logistics
In addition to helping verify the origin of goods, VeChain It also provides the ability to improve systems Logistics thanks to easy product tracking.
Field Logistics very complex and between businesses there are separate systems. Therefore, the process of tracking products in the supply chain can become a problem causing "headaches" for all parties. This becomes more severe when data is entered manually or when switching between processes.
But when using VeChain, you just need to scan the smart chip of the goods to get all the data about it. This helps businesses always be updated with accurate and complete goods information.
Along with the integration of IoT devices, VeChain Also helps with quality control. This is especially useful in the food and agricultural industries.
Advantages of VeChain
VeChain introduces a new consensus protocol, proof-of-Authority ("PoA") after completing mainnet VechainThor. PoA is different from the PoS that Bitcoin uses, and it has advantages that are optimal for commercial use. PoA itself is a strong advantage to VeChain can compete with other platforms.
PoA makes it easy for integrated networks to scale. Along with that, it does not consume too much energy during the maintenance and operation of the network. There is an interesting point Facebook's Libra also use this protocol.
Maybe you don't know: What is Libra? All you need to know about the cryptocurrency started by facebook
What is VET coin?
Like other blockchain platforms, VeChain also has its own base currency of the network, which is VET coin.
Initially, at the time of debut VET coin running on Ethereum blockchain with ERC-20 token standard but after 07/30/2018, when mainnet is completed VET coin was launched on the private blockchain VeChainThor.
There is a special point with VeChainThor, this blockchain is not only 1 token is VET coin but there is also 1 more token that is VeThor Token (VTHO). I will give information about tokens VTHO in the next section.
Although there are more tokens VTHO but VET coin still serves as the main coin of the blockchain VeChain.
Basic information of VET coin
| | |
| --- | --- |
| Token symbol | VET |
| Blockchain | VeChainThor |
| Block generation time | 10s |
| Transaction speed | 10,000 TPS |
| Consensus protocol | PoA |
| Total tokens in circulation | 55,454,734,800 VET |
| Maximum total token supply | 86,712,634,466 VET |
What is VeThor Token (VTHO)?
After VeChain complete mainnet for launch VeChainThor blockchain, the network has 1 more token in addition to the coin VET coin It's a VeThor Token (VTHO).
VTHO token will be used to execute smart contracts and run applications on the THOR blockchain.
For ease of understanding, you can imagine the working mechanism of VTHO token and VET coin above VeChainThor blockchain is like mechanism Dual Token of NEO & GAS on the NEO blockchain with VTHO token in the role of GAS token.
Maybe you don't know: What is Neo? Things to know about the latest NEO coin in 2020
What is VET coin used for?
Do VET coin is the base currency of VeChain (currently VeChainThor) blockchain, it plays a key role in ensuring security and creating economic incentives for participants to contribute to the network.
VET coin It is used as a payment method in the network, or as the operating engine of operations on the VechainThor blockchain.
Also when you hold more and more VET coin (hold VET) you will have more rights online.
Should invest VeChain coin (VET) or not?
Attention: no investment is 100% safe and every decision carries risk. In any case, it's up to you to decide. However, below is some useful information that can impact the return on your VeChain coin investment.
VeChain Development Team
VeChain headed by Sunny Liu as co-founder and CEO. Sunny Liu known as a person with extensive experience in leading the information technology segment of many large companies, one of which can be mentioned is the position of CIO of Louis Vuitton China area.
In addition, other members of the executive board such as Jay Zhang, Jianliang Gu,…are also experienced in the fields of IoT, blockchain and finance and commerce.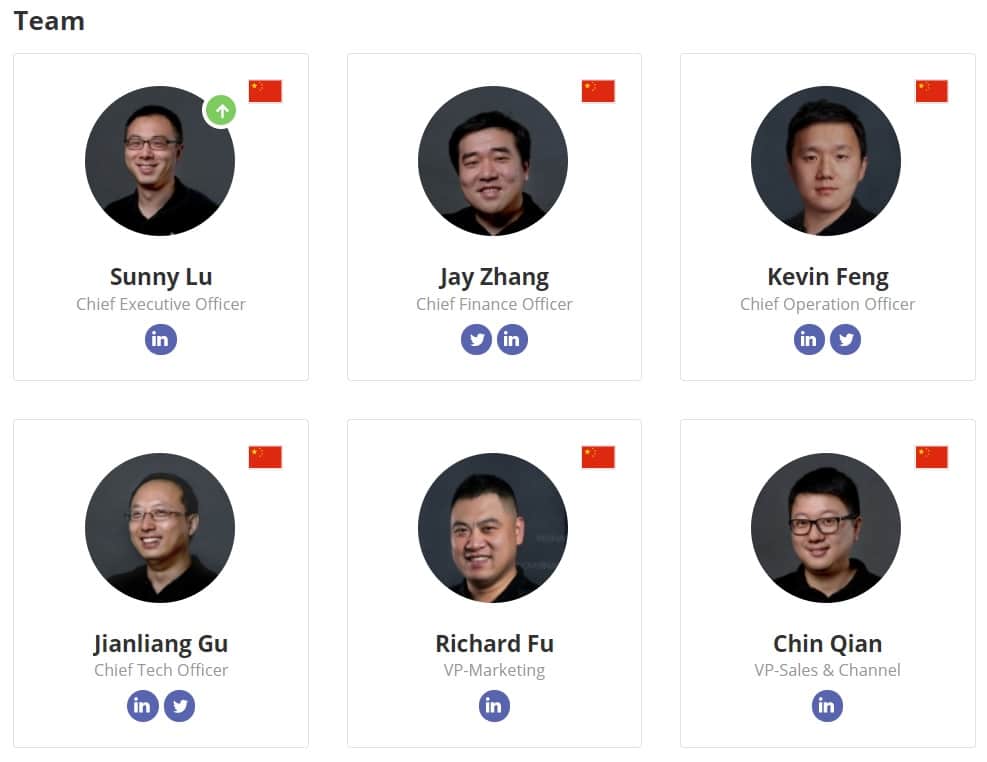 A development team that is both experienced and well-skilled will ensure VeChain develops in the right direction and on the roadmap, thereby ensuring VeChain accumulates good potential.
VeChain's Competitors and Partners
In the field of applications in Logistics, Waltonchain and Modum are also using blockchain technology in the same way as VeChain. However, Logistics is a big industry so the blockchain projects mentioned seem to focus on different areas thereby reducing direct competition pressure.
In addition, in 2017, VeChain interest in enterprise DApp platforms, an array of applications facing competitors such as Ethereum, Cardano, EOS and ANCHOR.
Although facing many fierce competitors but VeChain also have partners to ensure the project is implemented and put into practice.

The partners that can be mentioned are BMW, BIOS, LVMH, etc. Almost all of these partners apply VeChain into its supply chain.
VET coin price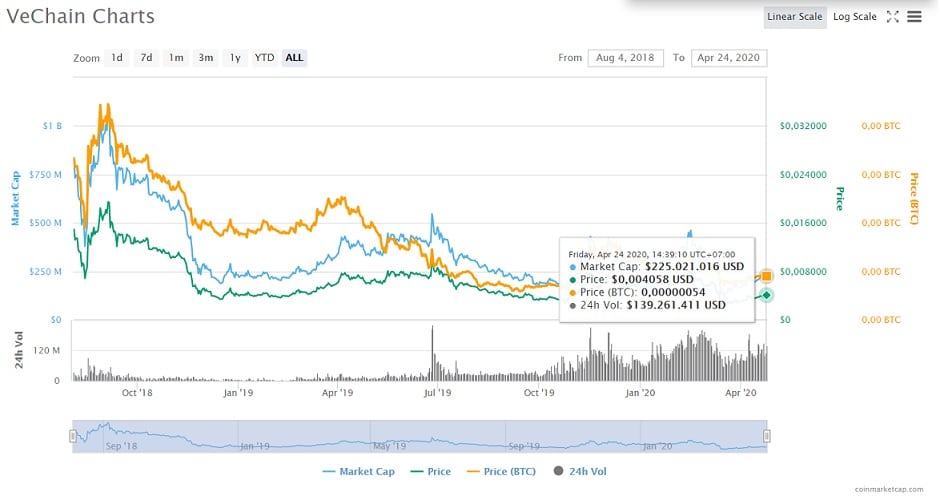 Currently, at the time of writing VET coin price is trading at 0.00405 USD with low volatility over the past 24 hours. At one point, VET . price has risen to the level of 0.019775 USD and this is also the level VET . price highest ever. This price was established on September 4, 2018.
Meanwhile the lowest price ever VET coin set on 13/3/2020 is 0.001678 USD.
Where to buy and sell VeChain coin (VET)
At the present time, investing in cryptocurrencies as well as buying and selling cryptocurrencies has become much more popular. It is considered one of the most popular ways to make money online. That's why, the buy VET, sell VET has also become much simpler.
In this article, I will introduce to you the 2 most popular and simple ways to buy and sell at the moment.
How to buy and sell VET coins in VND
Currently, there are many exchanges that support cryptocurrency trading in VND, but separately buy VET For prestige, I think the best currently is the Bitmoon exchange.
See more articles: What is Bitmoon? Bitmoon Exchange Basic Guide for Newbies 2020
The advantage of Bitmoon is low fees, high liquidity, support for many coins and can store coins right on the exchange. Besides, Bitmoon has been operating for a relatively long time and the reputation level is guaranteed.
Bitmoon has high liquidity and reputation, so I believe that for basic trading needs, cash out in VND, Bitmoon is enough to apply.
Prestigious international VET coin trading platform
The advantage of all international exchanges is that they support many types of coins, besides also supporting other forms of trading such as Margin, Futures.
For those of you who have traded a lot and have experience, you can use and trade regularly on international markets.
Below is the floor name and transaction fee comparison table for your reference.
If you want to learn about which floor, you can click on that floor's name in the table, there will be a detailed article on that floor.
| | |
| --- | --- |
| Exchanges | Transaction fee |
| Houbi | 0.070-0.20% |
| Okex | 0.060 – 0.150% |
| Binance | 0.015-0.100% |
| Kucoin | 0.080 – 0.100% |
Although the international exchange has the advantage of trading volume as well as high liquidity, the disadvantage is that you cannot trade in VND. Almost every transaction buy and sell VET coin All of you use USDT for transactions.
VeChain coin wallet should use
Depends on usage VeChain coin (VET) your wallet that you will choose for yourself the appropriate wallet.
Suitable for those who want to store VET coin long term and few transactions.
The advantage of cold wallet is that it is safe and optimal for storage. Cold wallets you can refer to to choose from are: Ledger Nano S, Ledger Nano X.
Maybe you are interested: What is ledger nano S cold wallet? Latest User Guide and Security 2020
The best choice for this wallet is Trust Wallet, with a friendly and easy-to-use interface.
Maybe you are interested: What is Trust Wallet? How to create a Trust Wallet and use details
This wallet is suitable for those who often transact.
Some Reputable trading platform that you can refer to are: Bitmoon exchange, Huobi exchange, Binance exchange…
Conclude
This article has summarized the most basic information you need to know about VeChain and VET coin. With this article, I hope that readers can grasp some of its investment potential.
Although it will take some time to read the entire article, I hope that your time will not be wasted.
If you find the article interesting and useful, do not hesitate to share it with your friends.
Good luck!
Virtual Currency Corner