Troy Network (TROY) is a blockchain protocol for decentralized market platforms that in the current context that DeFi is considered a "trend", will TROY token have strong changes? So…
What is Troy Network? What is TROY token?
Should I TROY investment token or not?
Buy and sell TROY tokens Where is the reputation?
TROY token wallet Which should be used?
If you are looking to find out Troy Network Protocol and potential invest TROY tokens, this article is what you need to find.
What are you waiting for, let's start the article!
Maybe you are interested:

What is Bitcoin? Bitcoin investment guide for beginners?
What is Troy Network (TROY)??
Troy Network is a blockchain protocol that provides solutions for decentralized trading platforms (DeFi). With Troy Network, the ability to transact as well as make global payments has been significantly improved and enhanced.
Troy Network provides crypto brokerage services to institutional clients and professional traders with revolutionary products, including spot trading, margin trading, data, custody, lending and staking.
What can Troy Network do?
With Troy Trade you will have a platform that has all the features of today's exchanges. You can manage assets, place orders at different exchanges, view price charts…
Monitor real-time cryptocurrency market data.
Data such as Block Height, total token supply, Market Cap, etc. of coins and tokens on the market can be tracked on Troy Trade.
Troy Network provides popular brokerage solutions such as: margin trading, OTC, cross-exchange liquidity, contract liquidity, etc.
Why was Troy Network born?
With the opening of Bitcoin along with the launch of Ethereum, the world has been exposed to the great potential of blockchain technology as well as the solution to a dream decentralized market.
However, in contrast to the decentralized direction that cryptocurrencies aim for, the crypto space is being dominated and seems to depend on large centralized exchanges (CEX) such as: Binance exchange, Bitfinex exchange, exchange. Coinbase…. Although the role and contribution of CEX exchanges cannot be denied, these exchanges reveal weaknesses that prevent the cryptocurrency market from realizing its full potential such as:
Security issue
Fake trading volume
The price of coins, tokens can be easily manipulated.
The user does not have complete control over his account.
Because of these factors, decentralized exchanges (DEXs) were born. However, DEXs are not perfect. It still has its cons:
Low transaction speed.
Low liquidity.
There are few trading options.
To overcome these points and bring DEX and DeFi to their full potential, Troy Network was born.
How Troy Network solves the problem
The solution that Troy Network is aiming for is to combine both advantages of CEX and DEX with the combination of 2 Layers:
Layer 1: Responsible for security and decentralization.
Layer 2: Improved transaction speed.
Together with 2 Layers and Settlement Network, the trading orders of Troy Network users will automatically match the trading orders coming from the partner exchanges.
In addition, with the cross-chain feature, you can completely perform cross-chain transactions between different blockchains.
What is TROY token?
TROY token is the base currency of the Troy Network protocol. It plays a key role in maintaining stability, security, and economic impetus for network participants.
Initial, TROY token is an ERC-20 token that operates on the Ethereum blockchain. However, at the present time, TROY token is a BEP-2 standard token that operates on Binance Chain, the blockchain of the Binance exchange.
You may not know:

What is Binance Chain? Learn more about Binance Chain
| | |
| --- | --- |
| Token symbol | TROY |
| Blockchain | Binance Chain |
| Standard token | BEP-2 |
| Maximum total token supply | 10,000,000,000 TROY |
| Total tokens in circulation | 2,390,000,000 TROY |
Basic information of TROY token
TROY token distribution rate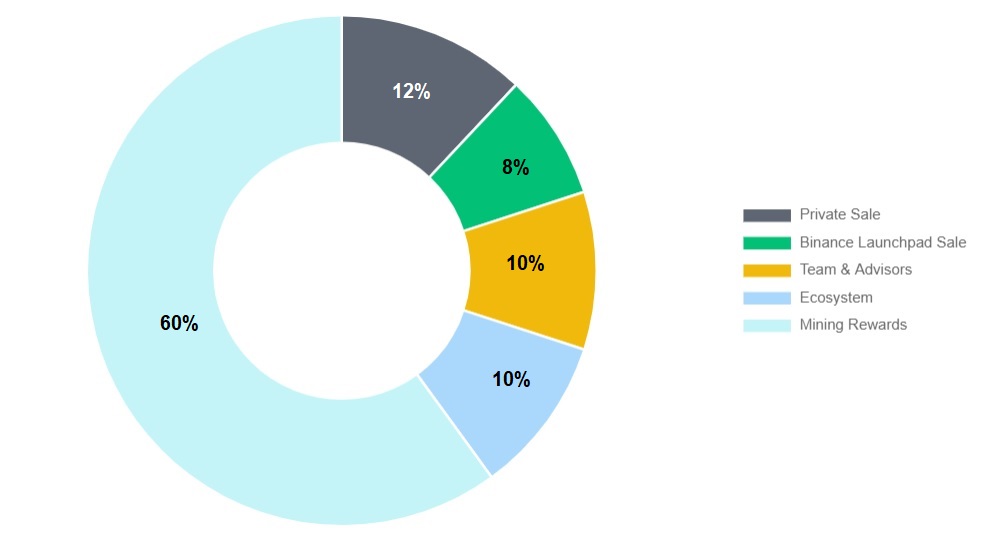 What is Troy Network token (TROY) used for?
TROY The token is used mainly for several key functions in the Troy Network.
Operating the ecosystem of TROY Network.
Used as a reward for Relayer Network to encourage fast, timely and accurate trading orders.
Used for transaction and payment costs.
And staked as a supernode for the Relayer network.
How to mine TROY tokens
TROY token cannot be mined like Bitcoin. You can only join staking TROY and the reward is TROY token.
Should invest TROY token or not?
Deciding exactly which coin or token to invest in is very difficult because the cryptocurrency market is very volatile. So, I will outline some key points for you to refer to then learn more and make your own judgment and investment decisions.
Troy Network Development Team
Troy Network development team are all individuals with skills and experience in the field of cryptocurrency:
Kira Sun: holds the role of CEO and Co-founder of Troy Network project. Kira Sun is an investment partner at BlockVC and a former Trust Fund Manager at CITIC Trust.
Qihan Lin: holds the role of product manager and is a Co-founder. Lin was a former product manager for OKEx and Tiger Brokers.
Clark Tong: holds the role of CTO and is also the Co-founder of the project. Previously, he was CTO at Fuhua Group and CNBM.
Charlie Chen: holds the role of marketing director. He used to be Marketing Manager and Business Development Manager of BiYong and BitUniverse.
With a team of experienced and capable in both technical and business terms, Troy Network promises to be developed sustainably.
Troy Network's development potential
It can be seen that the solution and application of Troy Network All aim to provide solutions for a decentralized marketplace and peer-to-peer transactions.
At the moment, decentralized finance (DeFi) is a very hot trend and there are many projects about to be launched. Because of the optimization when applying for DeFi platforms, it has partly promoted TROY token price increased in the first half of 2020. With the current trend, it promises to be a "good" time for the TROY token before there are new waves of investment.
While DeFi is trending and Troy Network looks trendy, the platform faces a lot of competition. These competitors can be mentioned as Ethereum, Marker, Kyber, etc. Therefore, TROY needs to do its best in this competition.
Development roadmap

Troy Network's specific roadmap by fund in 2020:
Fund 1-2020
Launch Troy Trade V2.0 public version.
Complete and fully meet regulatory requirements and compliance in the targeted regions.
Establishing strategic partnerships with traditional brokerage and financial firms.
Fund 2-2020
Implement decentralized transaction and payment functions.
Develop APIs and apply off-chain technology.
Fund 3-2020
Launch of SaaS transaction mediation platform.
Expand the global broker network and join with other partners.
TROY token price
Currently, at the time of writing TROY token price is being traded at 0.003 USD and in the last 24 hours fluctuated very much around -3.3%. The highest ever TROY token price was set at $0.011 (December 2019). That is, compared to the peak price, the current TROY token price is divided by nearly 4 times.
Meanwhile, the lowest price ever of the TROY token is 0.001 USD, which was set on March 16, 2020.
Where to buy and sell TROY tokens?
At the present time, investing in cryptocurrencies as well as buying and selling cryptocurrencies has become much more popular. It is considered one of the most popular ways to make money online. That's why, the buy TROY, sell TROY tokens has also become much simpler.
In this article, I will introduce to you the 2 most popular and simple ways to buy and sell at the moment.
How to buy and sell TROY tokens in VND
Currently, there are many exchanges that support cryptocurrency trading in VND, but separately buy TROY tokens For prestige, I think the best currently is the Bitmoon exchange.
See more articles:

What is Bitmoon? Bitmoon Exchange Basic Guide for Newbies 2020
The advantage of Bitmoon is low fees, high liquidity, support for many coins and can store coins right on the exchange. Besides, Bitmoon has been operating for a relatively long time and the reputation level is guaranteed.
Bitmoon has high liquidity and reputation, so I believe that for basic trading needs, cash out in VND, Bitmoon is enough to apply.
International prestigious TROY token trading platform
The advantage of all international exchanges is that they support many types of coins, besides also supporting other forms of trading such as Margin, Futures.
For those of you who have traded a lot and have experience, you can use and trade regularly on international markets.
Below is the floor name and transaction fee comparison table for your reference.
If you want to learn about which floor, you can click on that floor's name in the table, there will be a detailed article on that floor.
| | |
| --- | --- |
| Exchanges | Transaction fee |
| Binance | 0.015-0.100% |
Mainly trading TROY token Your account on international exchanges all use BTC, USDT … to conduct trading.
TROY token wallet should use
Depends on usage TROY . coin your wallet that you will choose for yourself the appropriate wallet.
The best choice for this wallet is Trust Wallet, with a friendly and easy-to-use interface.
Maybe you are interested:

What is Trust Wallet? How to create a Trust Wallet and use details
This wallet is suitable for those who often transact.
Some Reputable trading platform that you can refer to are: Bitmoon exchange, Binance exchange…
Conclude
This article has summarized the most basic information you need to know about Troy Network and TROY token. With this article, I hope that readers can grasp some of its investment potential.
Although it will take some time to read the entire article, I hope that your time will not be wasted.
If you find the article interesting and useful, do not hesitate to share it with your friends.
Good luck!
Virtual Currency Corner