The "play to earn" game market is still very active. However, Metaverse emerging as a new and very attractive trend recently. In the future, Metaverse can also be a new trend of the Crypto market when virtual reality technology is increasingly developing. Alien Worlds (TLM) is such a project. Brothers and sisters with GTA Research Team learn about Alien Worlds and tokens TLM what is it.
What is Alien Worlds?
Alien Worlds is an NFT DeFi game that simulates economic competition and cooperation between players to get TLM – Trilium, also known as in-game currency.
Alien Worlds (TLM) is a blockchain game platform. Simulate an interplanetary world where people compete for scarce resources. Players use Trilium (TLM) to power the game by staking and voting in the Planet's Decentralized Autonomous Organization.
Highlights of Alien Worlds
Mining and trading
Players can use their NFT Tool to mint TLM and rent or own their land. Successful mining attempts can reward plays with TLM and sometimes additional NFTs. Players can use a combination of Tool and Earth that suits their strategy and playstyle.
Planet DAO voting
Players can stake TLM for Planet DAO, which shows they support a planet that gets more TLM daily. Through staking, players also gain the right to decide on Planet DAO based on the percentage of TLM staked.
The player can become a candidate for Councilor status of one or more Planets. Following the elections at the Planet DAO, the DAOs will be opened to be administered by elected Councilors. Those will then share control of multiple signs over the Planet DAO accounts.
NFTs in Alien Worlds have the following types
Digital item: There are 6 levels of rarity with 6 different shiny attributes, the user can combine low attribute items to upgrade.
Land – Land: Represents lands on planets in Alien Worlds, used for mining. Landowners can do the mining themselves or collect commissions from other miners.
Tools – Tools: Initially, players will be given a shovel with limited features, but you can buy or luckily find better tools. These tools will have different properties such as mining speed, NFT finding, etc.
Minions: The characters used to fight in the game, each character will possess attributes with different abilities: Attack, Defensive, MoveCost, Race, Element.
Weapon – Weapon: Used by Explorers in combat with other Explorers. Weapons also have both attack and defense ratings.
Profile photo – Avatar: Cards used to play the game. Players choose their first avatar to use for Mining including: Grays, Reptiloids, Little Green People, Nordics, and Robotrons.
When was the project established?
The project was established in July 2020
The project's Twitter was established in July 2020 and currently has 63.4K Followers.
Roadmap – Project Roadmap
Complete
Design Metaverse
Technical blueprint revealed
Trilium minted
NFTs, Planets and Smart Contracts Initialized for the Core Mechanism of the Metaverse
Alpha . interface development
NFT DeFi package for the community is open
Sell ​​standard package
Launching the Beta interface
Daily release of Trilium on the planet begins
Staking for Open Planets
Trilium Reserve Opened to Mining
Open the shining NFT
Initializing the "Land Fund" land package bonus
Planet DAO candidate registration is open
Monthly Discord Meetings
Collaboration with other projects – NFT drops
Cross chain function: Trilium is minted on Ethereum, Binance Smart Chain
Teleport introduced
Planet DAO Councillor registration is open
Near Term
Nebula events and other events
The function of confirming the land owner is distributed automatically every day
The NFT mining incentive mechanism is exclusively for land owners.
Coming Soon
Thunderdome Opens – Allows Battles
Interactive storyline events & cross promotions with other games/NFTs
NFT DeFi Software Released
Landowners can display items in their window
Redesigned user interface
Planet Binance Mission
Galaxy – futures plan
"Heroes and Minions" Battle Packs and Functions
Terrain creation and farming by landowners with permission
Avatar improvements unlocked
Selected external NFT DeFi collections gain power in the Alien superworld (NFT interoperability)
Missions and immersive experiences
Interoperability between digital items
"Service" on the land has opened
Additional terrain (impact on mining properties)
Team – Project team
Updating…
Investors & Partners
Investors
Alien Worlds invested by LD Capital, Moonwhale Capital, Oneblock Capital, Animoca Brand – dev of The Sandbox,…
Partners of the project
Tokenomics
Alien Worlds Token (TLM) Details
Token name: Trilium token
Ticker: TLM
Blockchain: Binance Smart Chain
Standard Tokens: ERC-20, BEP-20, and WAX
Contract Address:
ERC20: 0x888888848B652B3E3a0f34c96E00EEC0F3a23F72
BEP20: 0x2222227e22102fe3322098e4cbfe18cfebd57c95
WAX: alien.worlds
Estimated supply of circulation: …
Total Initialization Supply: 500,000,000 TLM
Token Allocation
Participation Rewards: 50.4%
Others: 16.4%
Ecosystem Grants: 7.31%
Liquidity Provision: 3%
Governance: 2%
External Protocol Development: 1.8%
Staking Rewards: 1.75%
Security Audits: 0.4%
Token Sale: 12.1%
Seed Sale: 7.06%
Presale: 3.43%
Binance Launchpool: 1.5%
Team & Advisors: 11.6%
Foundation & Marketing: 9.6%
Foundation: 6.75%
Marketing: 4.74%
Token Release Schedule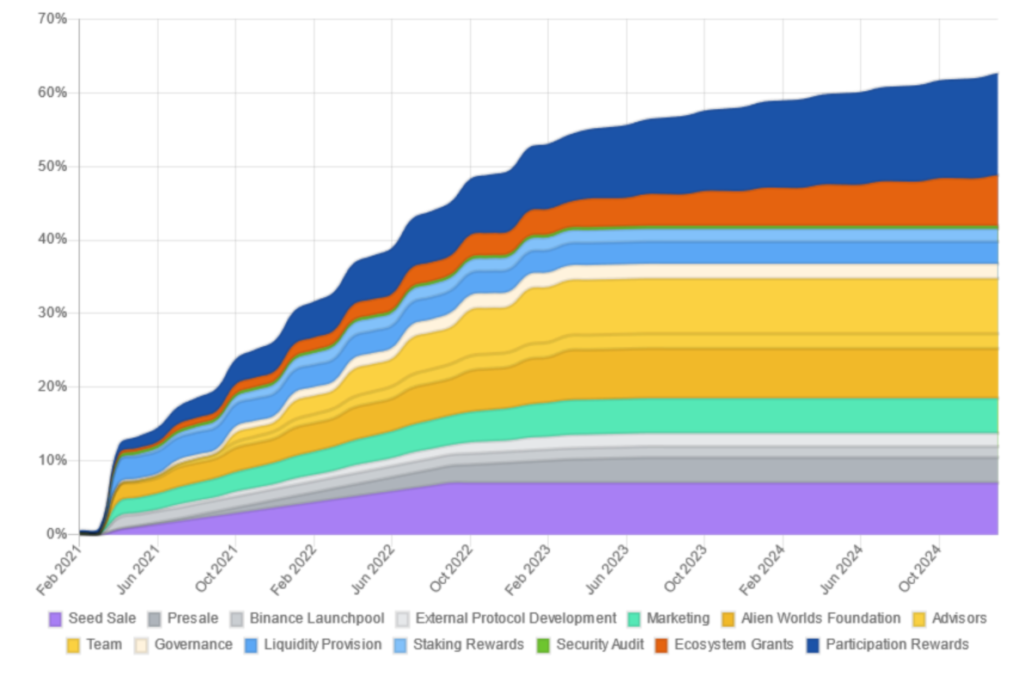 Token Use Case
TLM (Trilium) is a utility token of the Alien Worlds metaverse platform and is used in the following cases:
Planet Governance (Planet Governance): TLM token holders can stake TLM to participate in the governance of actions and other potential rewards.
Staking: Players can stake TLM on a chosen planet to participate in mining TLM or NFT.
In-Game Currency (In-Game Currency): TLM tokens are the currency in Alien Worlds, where players love TLM tokens to buy or update items, participate in access to battles, and other in-game activities.
Gameplay Incentives (Incentive for players): Active users will earn TLM as a reward for participating in the development of activities and the in-game ecosystem.
Purchase NFTs (Buy NFTs): Players can purchase minted in-game items such as NFTS, or mine with TLM tied to matches or in-game requests.
Where to buy – Sell Alien Worlds (TLM) tokens
Currently, you can buy/sell TLM at exchanges like Binance, Gates…
Or you can trade at a VN exchange like bitmoon.net
Community
Website: https://alienworlds.io/
Twitter: https://twitter.com/alienworlds
Telegram: https://t.me/AlienWorldsOffical
Medium: https://medium.com/@alienworlds
Conclude
Alien Worlds is one of the few titles at the forefront of in-game NFT monetization for players. Which they use to enhance their power in the game by staking and voting in Planet's Decentralized Autonomous Organizations (Planet DAOs).
This is a game project developed on all three blockchains Binance funding, TLM coin is predicted to become ALICE 2.0 (My Neighbor Alice). What do you think about the potential of Alien Worlds? Will TLM also have a strong pump like other Play To Earn projects?
Here is all the information GTA Research team studied about Alien Worlds (TLM) and is not investment advice. Hopefully this article will help you get the necessary information and give your personal opinions about the project.