Recently, we have seen strong growth of projects from many different ecosystems. Defi projects are always preferred by investors. THORChain There was also a very strong growth during that time. So THORChain Whatever it is, let's learn about it in the article below.
---
What is THORChain?
THORChain is a Blockchain that operates independently and is built with Tendermint and Cosmos SDK. It operates as a decentralized cross-chain exchange (Cross-Chain Decentralized Exchange DEX). It uses an automatic market making model (AMM) similar to other AMM DEX exchanges such as Bancor, Uniswap, etc.
THORChain will use the RUNE token as the base swap pair. Our model allows traders to move between different asset pools using RUNE mediate
Project features
THORChain use model AMM to facilitate the non-custodial (non-custodial) swapping of native assets between different blockchains. The protocol uses cross-chain bridges (Bifröst protocol), the Bifröst protocol works. acts as a connection layer between the network THOR and other blockchains like: Bitcoin, Ethereum…
Its job is to monitor addresses for incoming transactions that will then be converted into THORChain witness transactions. At that point the transactions transferred from other blockchains will be recorded on THORChain and from here sent to different blockchains. And a few other features.
PoS and Churning
THORChain acts as one like a Proof-of-Stake (PoS) system where nodes want to sign (sign) or verify (verify) transactions need to stake a certain amount of tokens RUNE certain.
To run a node on THORChain to work, users need to collateralize 1,000,000 RUNE.
Nodes on the THORChain network are anonymous and can only be identified by IP. THORChain does not allow token authorization on its network, which ensures fairness for provider nodes and no nodes hold a large number of RUNEs for a long time.To avoid having the same number of nodes the highest amount of tokens always confirm transactions, the project came up with the concept Churning.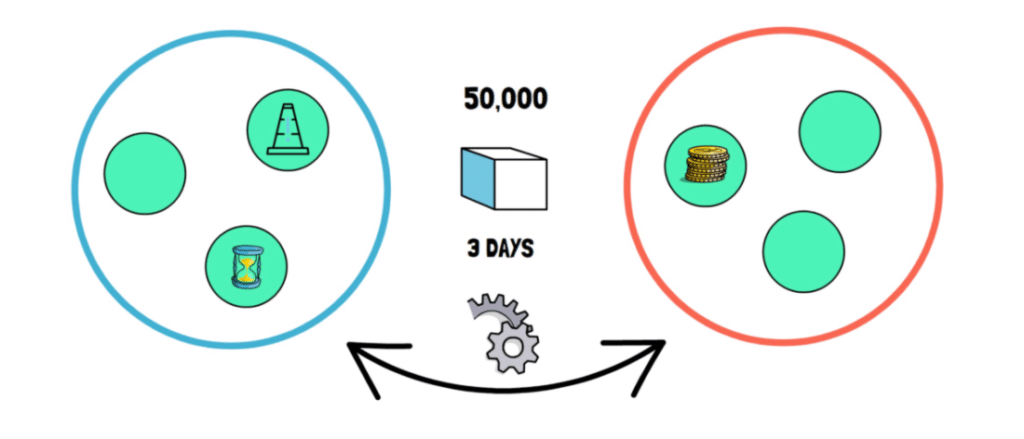 The network will maintain a set of nodes that are active and able to sign transactions, and another set of nodes that are idle. Every 50,000 blocks about once every 3 days process Churning starts, and the oldest or most untrusted nodes from the active node sets are put into standby mode.
Churning ensure that new nodes meet the staking criteria. Currently there are 28 active, 45 nodes are waiting on the multi-chain network supporting BEPSwap, 11 are active and 9 nodes are waiting on different networks. In addition to the above advantages, THORChain works quite similar to other AMM DEXs like Uniswap. If you don't know yet Uniswap What is please see details here.
THORChain's products
With its outstanding features and technologies. THORChain has built its own ecosystem with outstanding products.
https://www.thorchain.net/#/ is an explorer for THOR. With operating features similar to bscscan of the BSC nice etherscan of the Ethereum.
https://www.xdefi.io/ a non-custodial wallet that runs on Thor's private network with the development team contributing to the Metamask wallet.
https://thorname.com/ a recently launched product.
https://app.thorswap.finance/ thorswap works pretty much the same as other DEXs. And many more products built on this blockchain.
Similar projects
THORChain acts as an AMM DEX, it has some similarities with some of the projects I will list below:
The first project cannot fail to mention the project Uniswap built on ecosystem Ethereum. THORCHain is likened to Uniswap Multi-chain version.
The next project is the project Pancakes, an AMM DEX from the ecosystem BSC. We are certainly not too unfamiliar with this project. Past time CAKE has experienced tremendous growth.
Special features of the project
THORChain is built using the Tendermint and Cosmos SDK, which allows it to create a separate blockchain with its own consensus and network.
Continuous Liquidity Pools CLPs: THORChain implements Bancor's smart token model to create Continuous Liquidity Pools. This system incentivizes users to participate in a liquidity offering in exchange for fees and RUNEs. The protocol also tracks the ratio of RUNE to assets in each CLP (Continuous Liquidity Pools), which generates an on-chain price feed for individual assets.
Bifröst Protocol: Bifröst is THORChain's cross-chain bridge. It makes THORChain interoperable with different blockchains.

Roadmap- Project roadmap
Updating…
Team- Development team
Updating…
Investor/ Partner- Investor/ Partner
Updating…
Token
Token Use Case
RUNE is the native token of THORChain and it works in this blockchain with the following features:
Provider nodes need to collateralize RUNE to stake and become validators for the Thor network.
RUNE is used to pay most of the fees on this network such as trading fees, liquidity fees, etc.
RUNE is the main token that creates liquidity for the project with CLPs
RUNE is a transit point that creates liquidity for different pools.
Basic information
Token Name: THORChain Token
Ticker: RUNE
Blockchain: THORChain
Token Type: Governance, liquidity…
Initial total supply: 1,000,000,000 RUNE
Current total supply: 500,000,000 RUNE
Supply of circulation: 272,000,000 RUNE
Token Allocation
The project's tokens will be distributed as follows:
Liquidity: 44%
Presale: 14%
Operational Reserve: 13%
Community: 12%
Team: 10%
Seeds: 6%
IDO: 4%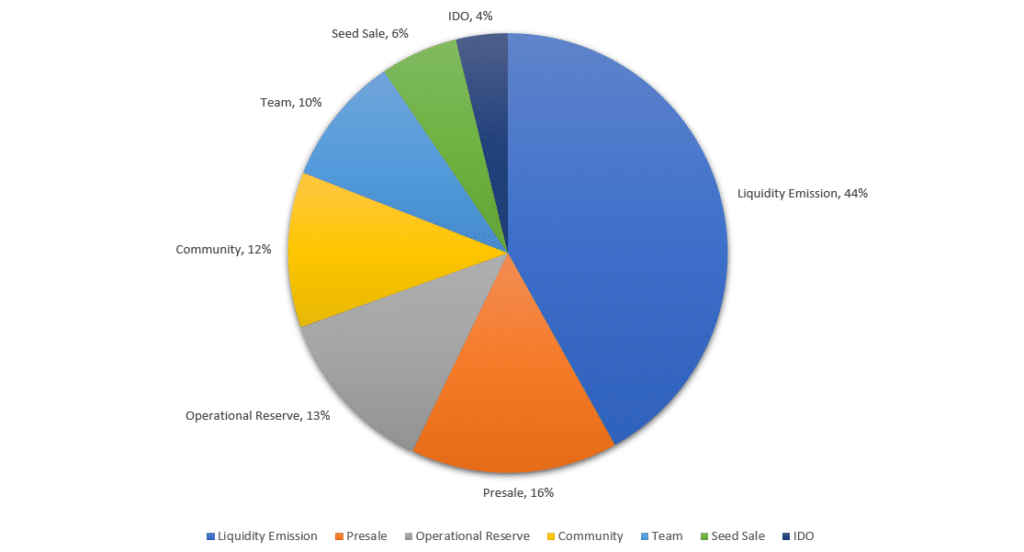 Token Release Schedule
Updating…
Information about the change in the token issuance schedule will be aggregated on the official project information pages.
Current token rate
Information about the price of my token will get data from Coinecko so that everyone can update information easily.
Where is the reputable place to buy and sell RUNE?
RUNE currently has a list of many different exchanges, all major exchanges currently allowing token trading.
Major exchanges allow RUNE trading such as: Binance, MXC, GATE.IO Bilaxy, Bepswap….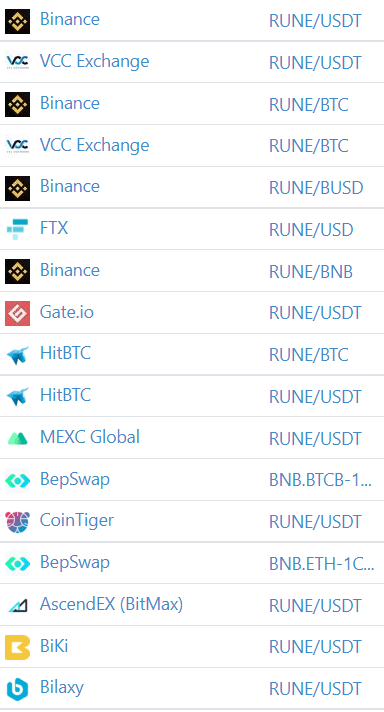 Project community
Evaluate
THORChain is a very potential project, this has proven through the recent time the project has had a huge pump. With its advantages, the project has gradually entered the top 50 coins with the highest marketcap. Since the development team has been involved in this field for a long time, they have had the experience to handle the problems that previous projects have been facing. In addition, the project is also building its own ecosystem so that it can expand its development scale and still have the ability to grow strongly in the future.
Above is all the information that GTA Research team has researched about the project THORChain and is not investment advice. Hope this article will help you get the necessary information and give your personal opinion about the project. Thank you!
Virtual currency corner
Join the discussion with GTA team at:
Website | Facebook | Twitter | Trading | Research | Youtube