What is their bowl?
That's the name to refer to an unorthodox form of black credit, not regulated by the state. In different regions, sometimes they will be called by other names such as playing them, playing wards, but they are all a form of loan sharking.
The phrase "picking them up" appeared mainly in the northern provinces, however, it gradually became popular among young people and the online community when the video of the song "Boot them" was released on youtube.
After raging for a while in the northern provinces, their bowling has spread to the countryside as well as the southern provinces, leading to unpredictable consequences.
Their lending is based only on the borrower's personal relationship with the lender, and the loan procedure is also very simple and does not require collateral. The bowl here refers to the loan and the borrower will be the picker.
According to the law in the world of underground lenders, they are very clear:
Borrowing 20 million can only take back exactly 16 million. For the next 50 days, the person who picks up their bowls has to pay 400 thousand per day.
Borrowing 15 million can only hold 12 million in hand. In the next 50 days, the borrower has to pay 300,000 VND/day.
Borrow at least 10 million and pay 200,000 every day within 50 days.
Calculating the interest rate when the borrower "borrows them" is 20%/50 days, so the annual interest rate is more than 140%/year, a sky-high interest rate.
How to pick them up?
Unloading them the procedure is much simpler than a bank loan. The loan will be called the bowl, the borrower will be called the draw them, and the act of borrowing the them will be called.
Usually, the borrower (borrower) who wants to borrow just needs to contact (call, text) to make an appointment to meet the lender or be introduced to have the opportunity to "load them".
Documents and conditions for loading them:
Just need ID card and copy of household registration book. Your loan amount can be based on your job and house. What you need to do is bring the above two documents to the loan place, the next day someone will come down to observe and re-evaluate. On the same day you will receive the money.
To borrow more money:
You need to bring the original identity card and household registration book. All you need to do is just call the lender and give the address and phone number. The next day someone will come to appraise it and make an appointment to collect the money.
If you have the original household registration, the amount you can borrow can be up to 30 million VND. You will have to pay that amount within a period of 50-60 days according to regulations. Documents you need to prepare include the original household registration book and photo ID card. You will receive money the same day someone comes down to appraise and verify your current property status.
Who are the bowlers?
The people behind their bowling activities are those who have "face blood", reputation in the gangster world. Because it is a black credit and is not protected by the law with an "exorbitant" interest rate, there will be a situation where borrowers can avoid debt, so this is the time when the "brothers and sisters" in the gangsters use their loans. use his "forte" to collect debt.
Although it is an unsecured loan, debtors who avoid debt will not be able to run away or go anywhere. There is only one way and that is to leave the "separate country".
Because it is black credit behavior that is behind by individuals organizing gangster activities, their looting greatly affects the security and order situation of society. The idea that it does not affect too much, but the consequences it brings are difficult to predict. The later part of the article will highlight the dark corner of their pick-up, caused by those who "pick them up".
Risks when performing bowling
Due to the interest rate of up to 140%/year, many people find them unable to pay and lead to foreclosure. The people behind them are related to gangster activities, so the debt collection is not peaceful at all.
The life of debtors as well as relatives will not be peaceful due to frequent disturbances, life is completely turned upside down.
The risk is too great, it is difficult to repay the debt on time, so the writer does not encourage picking them up at all.
Do they break the law by looting them?
According to the current provisions of the 2015 Civil Code, the maximum interest rate for a civil transaction is 20%/year. Civil Code article 201:
Any person who, in a civil transaction, lends money at an interest rate 5 times higher than the highest interest rate prescribed in the Civil Code, earns an illegal profit of between VND 30,000,000 and under VND 100,000,000 or has been fined for a violation. Those who commit administrative violations of this act or have been convicted for this crime, have not yet had their criminal records remitted but continue to commit them, shall be subject to a fine of between VND 50,000,000 and 200,000,000 or a non-custodial reform for up to 3 years. .
Committing the crime of obtaining illegal profits of VND 100,000,000 or more, the offenders shall be subject to a fine of between VND 200,000,000 and 1,000,000,000 or a prison term of between 6 months and 3 years.
The offenders may also be subject to a fine of between VND 30,000,000 and 100,000,000, a ban from holding certain posts, practicing certain professions or doing certain jobs for one to five years.
With such a high interest rate of picking them up, those who give them will be held responsible before the law.
The act of organizing them to pick up dishes is completely against the law.
The dark corner of organizational behavior
As mentioned above, they are organized and behind by individuals and gangster lines, so it threatens and hides great risks that threaten the security of society's life.
Often those who "pick them up" (borrowers) when they come to pick them up, they have reached an impossible financial end. With exorbitant interest rates that apply to debts, debtors will be increasingly cornered, unable to pay.
When debt evasion occurs, the lender will find all ways to force the debtor to repay the debt, including violations of the law. These can be mentioned in ways such as: threatening phone calls, harassing debtors' residences, throwing dirt, etc., including beatings.
Just go to google or youtube to search for keywords: black credit or the consequences of picking them up, what are they… there will be thousands of results.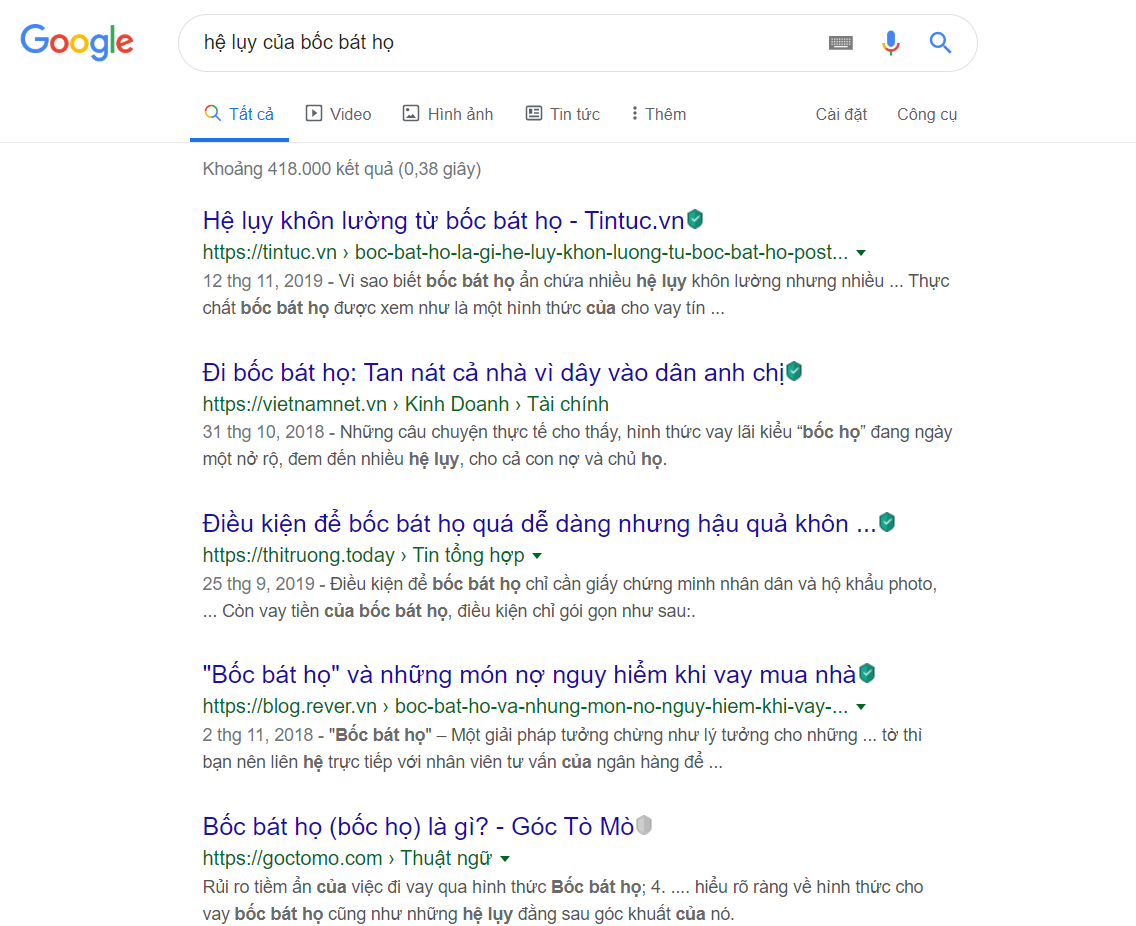 The results brought are all the bad effects that they have caused to society as well as the families of the debtors. Many cases of injury stem from their pick-up.
Not only debtors but debt collectors also have potential risks
The high interest rates, while the loan procedures are simple, they have become a potential source of funds for industrious vagabonds. When being foreclosed on, being pushed into the doldrums with such debtors often develops dangerous behaviors.
Typically, according to the press reported at the end of September 2018, the case of Mr. N.Đ.L (23 years old, Nghe An), practicing "collecting surnames" was stabbed to death by an object in My Dinh 2 ward (South district). Tu Liem) also shocked public opinion. At the investigation agency, the subject testified that he had known N.Đ.L. and after exchanging words about not paying, he took a knife and stabbed Mr. L.
Black credit acts that are not protected by law when a dispute occurs will have incalculable harms.
Should they be picked up to invest in cryptocurrencies?
Picking them up contains a lot of risks as well as its dark side that can completely turn your life upside down, so I never encourage you to go "pick them up".
As for picking them up to invest in cryptocurrencies, I advise you to never think about it.
Particularly, investing in buying and selling Bitcoin or cryptocurrencies in general has a lot of potential risks. The price of Bitcoin as well as the price of most coins fluctuates greatly in a short period of time. If you dump them to invest in cryptocurrencies, you are multiplying your risk hundreds of times.
Once again I would like to confirm don't pick them up at all to invest in cryptocurrencies.
Conclude
This article Virtual Money Corner is made to explain to readers what they are as well as to warn readers about this black credit activity.
I hope that the article will provide useful information to readers, so that readers can prevent and avoid the troubles that turn your life upside down that they bring.
Virtual Currency Corner