Many of you must have invested in this Tellor (TRB) coin during the DeFi fever around mid-July this year. So do you know all the information about this TRB coin? Why should you invest in this Tellor TRB coin? What is the potential of TRB? Check out the details below
What is Tellor?
Tellor developed the protocol Oracle Decentralized uses Proof-of-Work and Staking to provide a secure and trustless option for importing high-value data into smart contracts on the Ethereum network through Staking Miner (Miners must staking TRB into Tellor's system).
Information about TRB Token
Should I invest in TRB Token or not?
We'll go over them one by one: What problem does Tellor solve? How to solve? Team Dev is capable of solving or not? Which investors have invested in the project?
From the above issues, you will make your own decision whether to invest in this cryptocurrency or not?
What problem does Tellor solve?
As everyone knows, smart contracts on the Ethereum network are completely independent and any information or access to off-chain data is restricted.
By creating a system where feed input is secured by a network of miners staking (Miner Staking), Tellor creates trustless access to off-chain information ( off-chain). This article will highlight the structure of this system and give an overview of the rewards and assumptions used to ensure honest input so that it is accessible by all contracts. smart Ethereum. The inputs to this data bank are secured by a network of stake miners. Tellor uses crypto-economic incentive mechanisms that reward miners who submit honest data and punish the bad guys, through the issuance of Tellor tokens, Tributes (TRB) and dispute mechanism.
More specifically, the input to the data chain is secured by a hybrid Proof-Of-Work (PoW)/Proof-Of-Stake (PoS) consensus mechanism and by selecting the average of the five inputs. received first. The PoS layer requires miners to stake Tellor's token, Tribute, in order to be allowed to mine, and their stake could be cut if the value reported by the miner is charged. If the Tribute holders vote the value as valid then the challenger's fee will be awarded to the miner. The PoW layer is a consensus protocol similar to Bitcoin and uses a similar incentive mechanism through the issuance of Tributes, which are used to request data from miners.
How Tellor Works
Query: Users can request specific queries to update to the next chain in the ETH network by adding a reward (TRB TIP).
POW: The above queries become POW (Proof-of-work).
The Tellor smart contract manages the requests and issues the highest limit queries for data providers to mine along with the PoW challenge.
Value output: Data providers turn PoW into data updates. A network of fixed data providers competes to exploit the PoW challenge and submit required new data updates.
Readable data feeds: The official data value is readable as an on-chain price feed. Among the first 5 data providers to settle PoW and send new data, the average value determined by the Tellor contract is the final value and is placed on-chain in a readable feed.
Disputed: Work done can be appealed. All submissions can be disputed by the token holder (query). The stake (which is the amount of TRB miners bet to be able to mine) of the data provider will be cut if he does not appeal the dispute.
Who is the Tellor project team?
In general, the project team is quite close, has worked together for a while, used to make a coin called Daxia, but failed. A group of people invited each other to form a team including Founder, CEO, CTO, …, specific information as shown in the photo.
Note: The staff of the team continues to expand, (they still post technical members on linkedin)
Brenda Boya Co-founder and CEO. She is an Ethereum developer and previously an economist in the US Government. Before that, Brenda was the lead developer and Vice President of Daxia.
Nicholas Fett is the CTO. He is actively designing and developing a system for off-chain data access and validation on Ethereum. Before that, Nicolas was the founder and CEO of Daxia.
Michael Zemrose co-founder. He describes himself as an expert in developing, communicating, implementing and sustaining strategic initiatives. Michael was previously the CSO at Daxia.
Score Team on https://coincheckup.com/coins/tellor/analysis#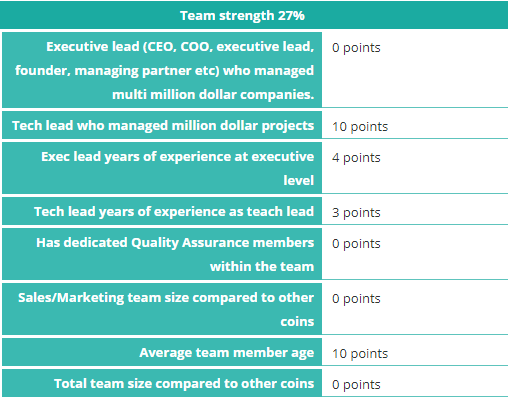 Comments on Teams & Projects
Strength of team + advisors: very low score
Products + coin strength: quite high, 85 and 63 points
Business: pretty low
Partner ( Cooperation )
Recently collaborated with lina fancie
Investors & Advisors
Tellor has famous large investors such as: MAKER, Binance Labs, Consensys…
Roadmap – Project Roadmap
There is no clear information online, but recently there was an important update of Tellor: V2 with the following main points:
Limit of reward per miner
No time limit for dispute
Multi-round dispute
Increase stake from 1,000 TRB to 2,000 TRB to control individuals with bad intentions
According to information on Medium, updates are often fully posted by the Tellor Core team.
Tokens Release & Unlock
Tellor has identified four different methods for issuing tokens:
– Continuous release
– Rate constant 114% >> 17%
– Reduced release
– Rate based on need
The exchange has listed the Tellor TRB token
There are many exchanges such as Binance, Huobi Global, BKex, Bibox, Hoo, Hotbit, ..
If you buy and sell in VND, you can buy and sell at: https://bitmoon.net/mua-ban/tellor Bitmoon is a very reputable address, quick, easy, and convenient transactions with both VND.
Forward TRB Price
Compared to the Oracle Chainlink project, Tellor has a capitalization of 280 times smaller, with Band Protocol, Tellor is 3.6 times smaller.
Tellor's circulating supply is also quite small with about 1 million 3 TRB, inflation about 3960 TRB per day. In a year, the token supply will be relatively small, with only about 2.19 million TRB circulating in the market.
==> The price has reached $ 87 at one point and is currently divided by 4. However, in the long run, the price of $ 90 is completely achievable.
Media channel of the Tellor . project
2.5K Telegram Members
3.2KZK Twitter Followers
113 YouTube subscribers
Above is all the information about the Tellor project that the GTA team has researched and made specific comments. With the trend of DeFi having great attraction, investing in this project is considered GOOD and has potential.
Q&A about the project at Group
Group Telegram: https://t.me/GTAmargin
Channel GTA: https://t.me/GTAmarginchannel
Channel News: https://t.me/goctienao
Fanpage: https://fb.com/groups/tradecryptovietnam