Recently, the ecosystem Terra constantly launching projects NFT new. Talis Protocol is one of those projects. Together GTA research find out Talis Protocol Is there any potential for investment?
What is Talis protocol?
Talis Protocol is a platform connecting artists, buyers, sellers and printing businesses to trade NFT products.
Talis makes connecting artists and businesses easier than printing through Print on Demand (PoD). The project is committed to creating a decentralized autonomous NFT trading market, managed by artists. In addition, Talis Protocol is one of the projects that can solve the problems of NFT projects such as pricing, using NFT as a loan asset, NFT auction, etc.
Highlights of the project
When the artists mint out NFT in Talis Protocol it will be possible produce a certain amount of xNFT (connect with real-life printing business).
You can simply understand that when you buy a print of NFT, you are buying that extra production xNFT. xNFT will be transferred to the printing business to create actual products (t-shirts, paintings, …) through the PoD mechanism.
PoD Mechanism is an e-commerce model for businesses that produce custom products that are printed after placing an order. Talis is the first platform to incorporate NFT and PoD to help connect artists-customers-print businesses more conveniently.
Each of these physical prints is authenticated by a digital receipt on the blockchain with the corresponding QR code. This represents that artists have copyright to the artwork they create, including digital NFTs and real-world productions.
Q2 2022 project development team complete construction of the DAO . structure the NFT market will be self-governed by the artist community. Applying the DAO model helps the network community to have the right to:
Make and vote on proposals for network improvement
Resolve art copyright disputes through Talis Court 'Artist Justice Court, TaLISA
Accept or reject the project partnership
Launching new projects through Talis . Workshop
In addition, Talis Protocol also offers a new way to make money, that is wNFT. Artists can lend their wNFT to investors for a period of time to make a profit. And investors can legally mint xNFT for sale. Profit will be divided in Smart Contract
For example, when you sell an xNFT copy, 35% of the profit will go to the artist, then 65% of the profit will go to the investor.
Talis Protocol creates a index for valuing NFT – is NFT Value Index. The algorithm of the NFT Value Index will calculate the value of the NFT based on all of the following factors:
Purchase value.
Floor price.
Frequency of borrowing and buying.
Recent loans and purchases.
Peer prediction.
Number of sold and unsold products.
Recent viewership to determine popularity.
All-time viewership to determine the lifetime value of intellectual property.
Rarity.
Thanks to this stat, Talis Protocol has gained another feature which is make NFT as collateral. That means users have to create a Pool with UST or TALIS, then if anyone wants to borrow money, then send NFT to it. You can borrow up to 50% of the value of NFT. But because of the feature that there is no second replacement, you will not be able to deposit more assets to maintain margin and avoid liquidation, so you should pay attention to this point.
Similar projects
Updating…
Roadmap – Project development roadmap
Year 2021
Team Talis will focus on releasing an artist-specific, decentralized NFT marketplace to sell digital art products. In addition to supporting the CW721 and CW1155 networks, Artists will be able to generate income from the Anchor Protocol integration. To do this, Talis will initiate the Artist and Print Business validation process through the creation of community moderators. This role will be dissolved after full decentralization is applied.
Q3/2021
Launch of White Paper / Lite
MVP
* Interface CW721 and CW1155
* Gallery browsing
*Standard sale of artwork, including royalties
* Artwork Auction
* NFT Mining API.
Genesis Airdrop
Start Airdrop Weekly
Register for the first printing business
Pylon IDO
Q4/2021
NFT management
NFT Bridge
Launch of social features
Connect with Anchor Protocol
More about the project can be read: Anchor Protocol
2022
Next year, Talis will look to integrate PoD services. Having created the NFT marketplace, linking Print Business and artists, Talis is looking to optimize the platform through the addition of NFT-backed loans, DAO governance, and features other attractions.
Q1/2022: Implement connections with printing businesses
Q2/2022: Talis develops and operates under the DAO system, with features such as staking, voting, creating wallets…
Q3/2022:
Launch of investment-related features such as:
Artwork rental
Call for project capital
Dutch Auction
End of Airdrop
Team- project team
Here are some of the members the project revealed:
Eloi / CaptainCookies – Team Lead
Director of Digital Communications and Marketing, more than 10 years of experience as an auto dealer in the field of media consulting and e-commerce. Over the past 10 years, Eloi has dedicated her time to building and participating in web2 projects in a variety of industries.
For example: Distributing sports, fashion and travel clothing, etc.
Anthony / Crunch – FullStack Dev
Scientist, Anthony is passionate about technology in biomedical, startup. Full-stack engineer with background in human biology and genetics/health. Loves high value .jpg images and is the designer of TALIS PROTOCOL blogs.
Thomas holds a Phd in Genetics. But branched out to be Product Owner at FrenchTech with 12 years of experience. He is responsible for working with end-users and product-related problem solving, and driving Talis product improvement. He has a very important function in
It can be seen that there is not too much outstanding information from the members of the project, but project advisors from members in Terraform Labs – the founding team of the current Terra.
You can read more about Terra here
Partners & Investors – Partners & Investors
Some of Talis' partners include: Angel Protocol, Apollo DAO, Pylon Protocol, StarTerra, Terraform Labs, …These are projects in the Terra ecosystem.
Tokennomic
Token Use Case
While $UST will be used to purchase NFTs, TALIS will power the rest of the protocol. Holders of TALIS tokens will be able to:
Project management.
Tips to reward artists.
Rewards for events, Bounty system.
Transaction fee.
In addition, with the TALIS token, you can:
Monetize Talis through Anchor Protocol integration
Talis shares into a collateralized loan
Provide liquidity to the UST-Talis . team
Support and help develop projects in the ecosystem
Talis Protocol also has a token council called TALISA, used to protect the rights of artists when there is a copyright dispute.
Basic information about the TALIS . token
Token Name: TALIS Token.
Ticker: TALIS.
Blockchain: Terra.
Token Standard: Updating…
Contract: Updating…
Token Type: Utility, Governance.
Total Supply: 10,000,000,000 TALIS.
Circulating Supply: Updating…
Token Allocation – How to allocate tokens TALIS
Community Reserve Fund: 25%
Liquidity, Staking Rewards: 20%
Team: 15%
Public Sale: 15%
Private Sale: 10%
Airdrop: 10%
Seed Sale: 5%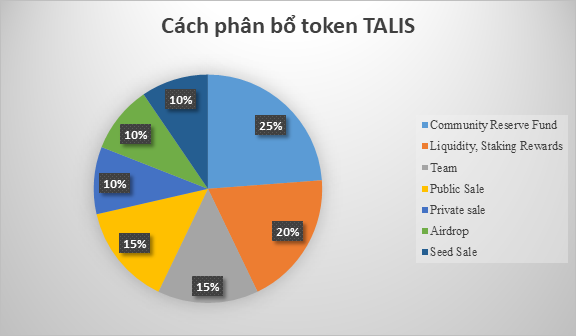 Token Release Schedule – TALIS . token payment schedule
Team: Lock for 12 months, then pay every day for 2 years.
Public Sale: No lock.
Private Sale: Pay tokens on June 1, 2022, within 1 year.
Seed Sale: Pay tokens on March 1, 2022, within 1 year.
How to earn and own TALIS Token
You can own TALIS by:
Buy on DEX.
Become a Creator and Get Sponsored.
Join buy at Launchpad.
Join the administration and Bounty system.
Participate in Talis Protocol events.
Join to receive Airdrop.
Tips from the community.
Cooperate with Talis Team on special events.
TALIS . storage wallet
TALIS is a CW-20 token, so it will be stored on appropriate wallets such as: after launch. Details will be updated later.
Current TALIS token rate
Updating…
Exchange TALIS
Currently, TALIS is not open for sale, so it cannot be traded.
Conclude
Talis Protocol is the first platform to bring artists, customers and printing businesses closer together. The project will overcome the weaknesses of the current artist-printer connection platforms, helping artists and printing businesses get more benefits. In addition, Talis Protocol can value NFT assets, so these assets can be mortgaged, creating new earning opportunities for you.
Here is all the information GTA Research researched the project Talis Protocol and is not investment advice. Hope this article will help you get the necessary information and give your personal opinion about the project. Thank you!
Buy and sell reputable and safe cryptocurrencies in VND here. This is one of the most prestigious exchanges in Vietnam today.
Join the discussion with GTA team at:
Website | Facebook | Twitter | Trading | Research | Youtube