Swipe (SXP) currently has an ROI of 320.25% (approximate return on investment if purchased at launch time), a level of profit that makes many investors pay attention to it. So…
What is Swipe? What is Swipe Token (SXP)?
Should I invest SXP tokens or not?
Buy and sell SXP tokens Where is the reputation?
Swipe token wallet Which should be used?
If you are looking to find out Swipe and potential invest SXP tokens, this article is what you need to find.
What are you waiting for, let's start the article!
Maybe you are interested:

What is Bitcoin? Bitcoin investment guide for beginners?
What is Swipe?
Swipe (SXP) is a crypto-fiat gateway with the task of connecting existing payment networks with cryptocurrencies in real time. It provides you conveniences like a cryptocurrency wallet (Swipe Wallet), visa card (Swipe Visa) thereby allowing cryptocurrencies to be used as fiat money.
With Swipe, the cryptocurrency conversion can be done in seconds.
Project Swipe earned 12 million USD in August 2019 when conducting private sale and public sale SXP token.
The mission of the Swipe . project
Swipe was born with the aim of making crypto finance applicable to real life by connecting existing payment networks with cryptocurrency.
Swipe's Solution
Swipe allows users to deposit cryptocurrency in Swipe Wallet, and you can instantly convert that amount of crypto to cash (fiat) via Swipe visa debit card.
Highlights of Swipe
Fast conversion speed: cryptocurrency conversions are done in real time and approved within seconds.
Ability of extension: the Swipe Visa card works anywhere Visa payments are allowed.
Security: all user assets Swipe Wallet All have deposit insurance. Besides Swipe received the payment card industry data security certificate ("PCI DSS").
User-friendly: cardholders do not need manual action to convert crypto to fiat, because Swipe Network has support for all conversions.
Deflation: when the user uses Swipe Network and use SXP, 80% of transaction and withdrawal fees are burned directly by smart contracts.
Some project milestones achieved
May 2020: release Swipe Wallet v1.3.
Jun 2020: release Swipe Wallet v1.4.
April 2020: Swipe activate Samsung Pay for cardholders Swipe Visa,
March 2020: Swipe allows users globally to send cryptocurrency through iMessage.
March 2020: Swipe Visa available on Google Pay.
February 2020: Swipe formed a strategic partnership with Chainlink to bring in the necessary data Swipe Network.
February 2020: Swipe Cooperation with CertiK to launch smart contracts Swipe Network and build a time-locking mechanism for groups of tokens.
Swipe . Products and Technical Infrastructure
Products existing products
Swipe Wallet
Swipe Wallet is the primary hub for accessing Swipe's product ecosystem. The wallet supports depositing, storing and withdrawing fiat currencies, stablecoins and other cryptocurrencies.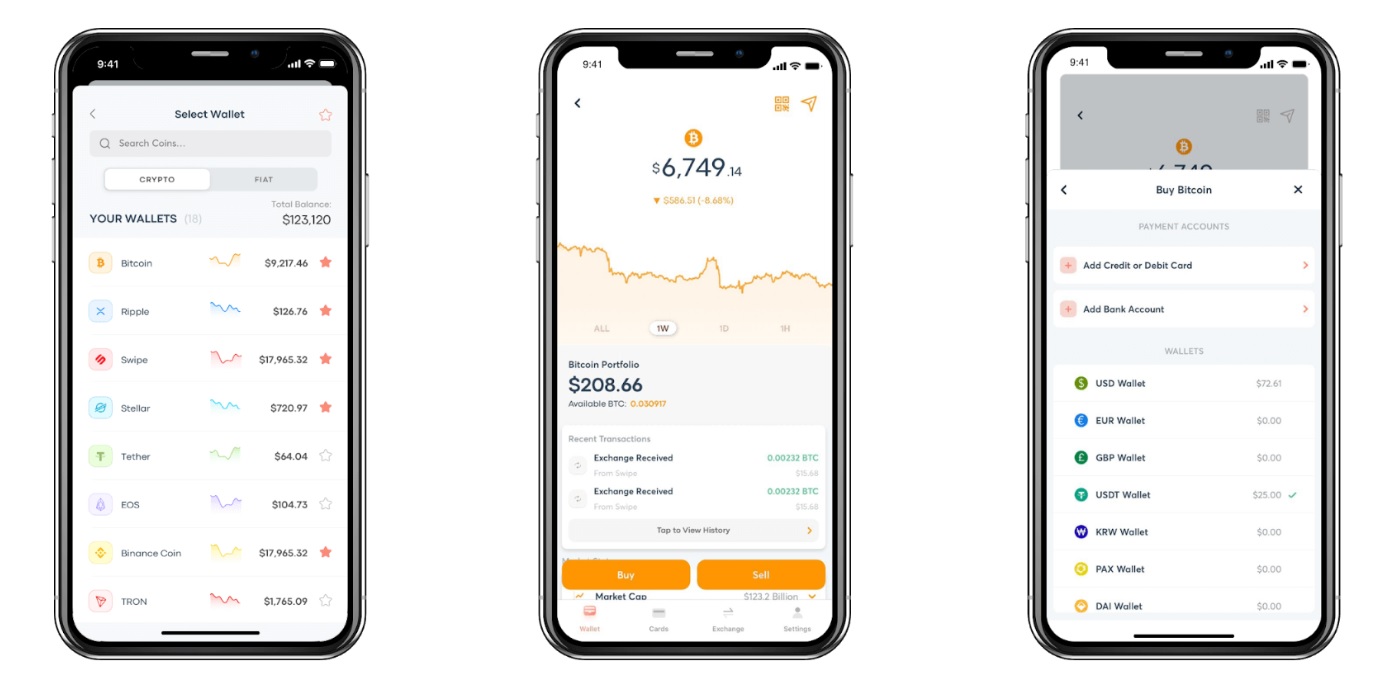 Besides Swipe Wallet also provides market data of supported cryptocurrencies. Users will be able to access price and volume data of their cryptocurrencies with ease.
Swipe Wallet allows users to buy and sell cryptocurrencies with fiat currencies, stablecoins, or other supported cryptocurrencies. Users can purchase supported cryptocurrencies using a linked bank account and credit or debit cards.
Swipe Visa debit card
Swipe Visa debit card provided with two options: Swipe Saffron and Swipe Slate. Card Swipe Saffron don't ask you stake SXP but you will have a lower spending limit along with that you will get 1% cashback in Bitcoin (BTC) when you use this card.
What about the card? Swipe Slate will have a higher limit and get 4% cashback in Bitcoin.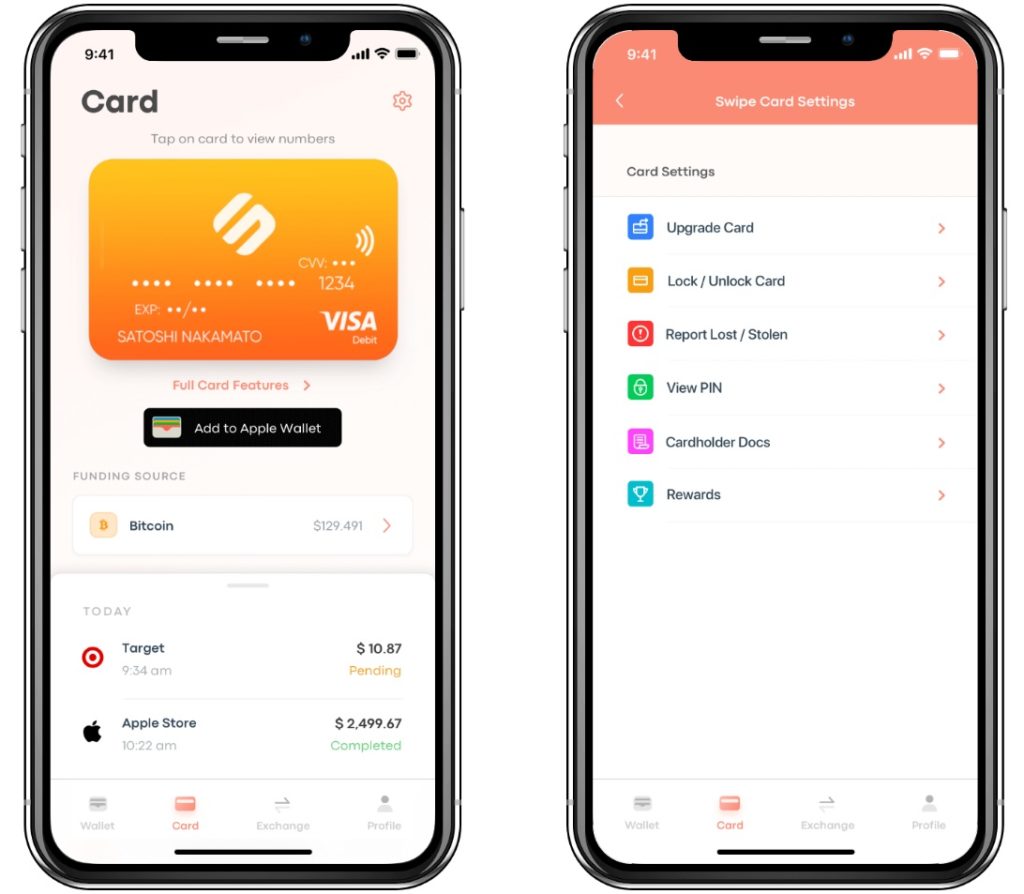 Card Swipe Visa can be managed directly using the mobile application. Once a user has ordered a card, they can activate the card with Swipe Wallet and track the status of the card. Users can view the card number and history by tapping on the card or on the relevant transaction. Additionally on the app there will be additional security options including: freeze or release the card, upgrade the card. , view the PIN for ATM access and view the card number.
When the user links Swipe Visa with Swipe Wallet they will be converting cryptocurrencies into fiat money.
Technical infrastructure
Swipe network operates off-chain, using Swipe API and on-chain, using the Ethereum blockchain. Users can activate access to Swipe Network with only 1 SXP token. All transaction fees and wallet fees are paid in SXP. The following chart shows the smart contract interactions: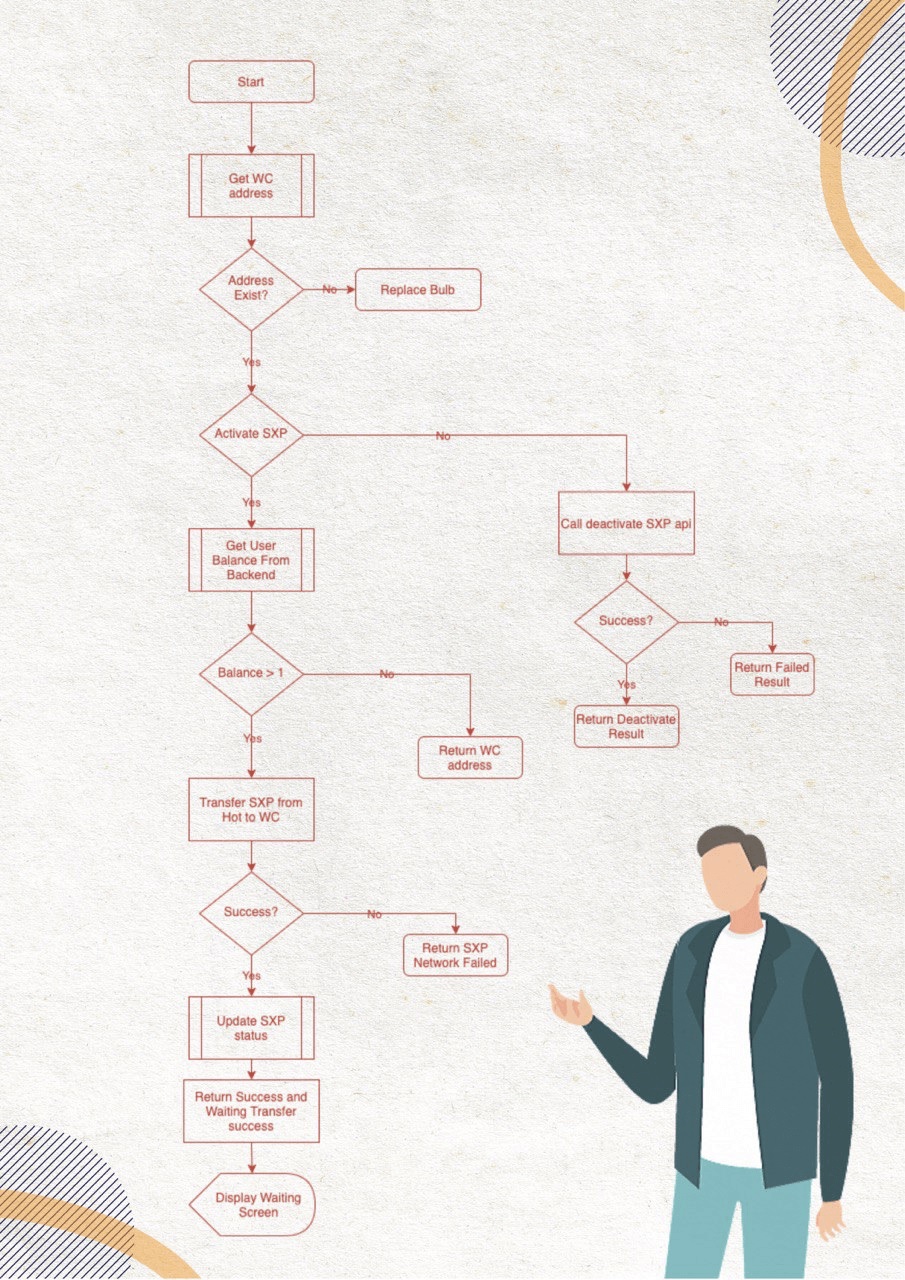 When there is a transaction on Swipe Network, 80% of the fee (calculated in SXP token), will be automatically destroyed by smart contract. The rest of the fees will be retained by the smart contract. Future, Swipe plans to distribute fees collected through a Proof-of-Stake mechanism to network validators. All transactions are updated directly on the onchain, and then transmitted in the Swipe API to notify users on the blockchain. Swipe Wallet.
What is Swipe Token (SXP)?
Swipe token symbol: SXP, is the base currency of Swipe. It plays a key role in maintaining stability, security, and economic impetus for network participants.
SXP token used to buy and sell, pay transaction fees or hold to get a discount. You can also use SXP tokens to participate in Swipe staking and get rewarded with SXP tokens.
In addition, 80% of SXP tokens obtained through fees will be destroyed automatically through smart contract.
SXP token distribution rate
6.52% distributed through Private Sale round.
13.48% distributed through Public Sale round.
20.00% is held by the team.
40.0% is allocated for the reserve fund.
20.00% allocated to founders.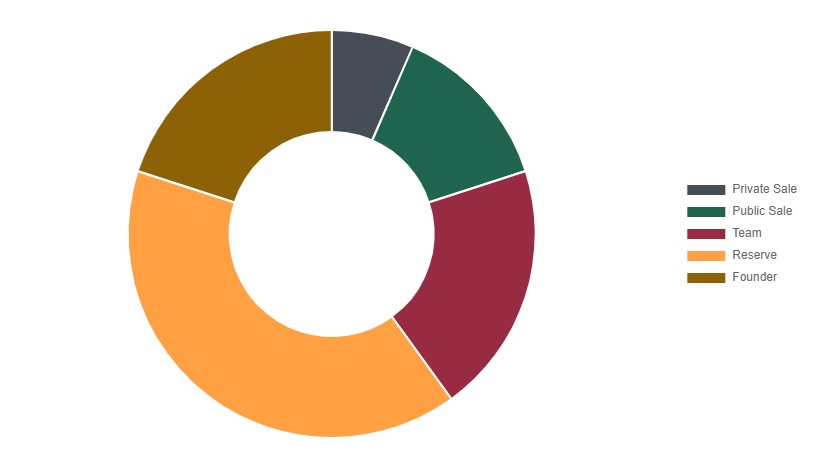 SXP token release schedule
Here is the distribution route SXP token: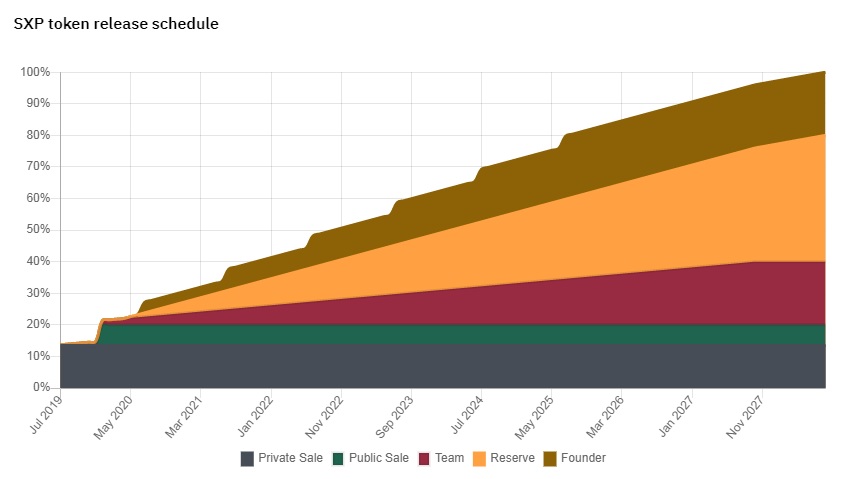 Should I invest SXP token or not?
Deciding exactly which coin or token to invest in is very difficult because the cryptocurrency market is very volatile. So, I will outline some key points for you to refer to then learn more and make your own judgment and investment decisions.
Develop team Swipe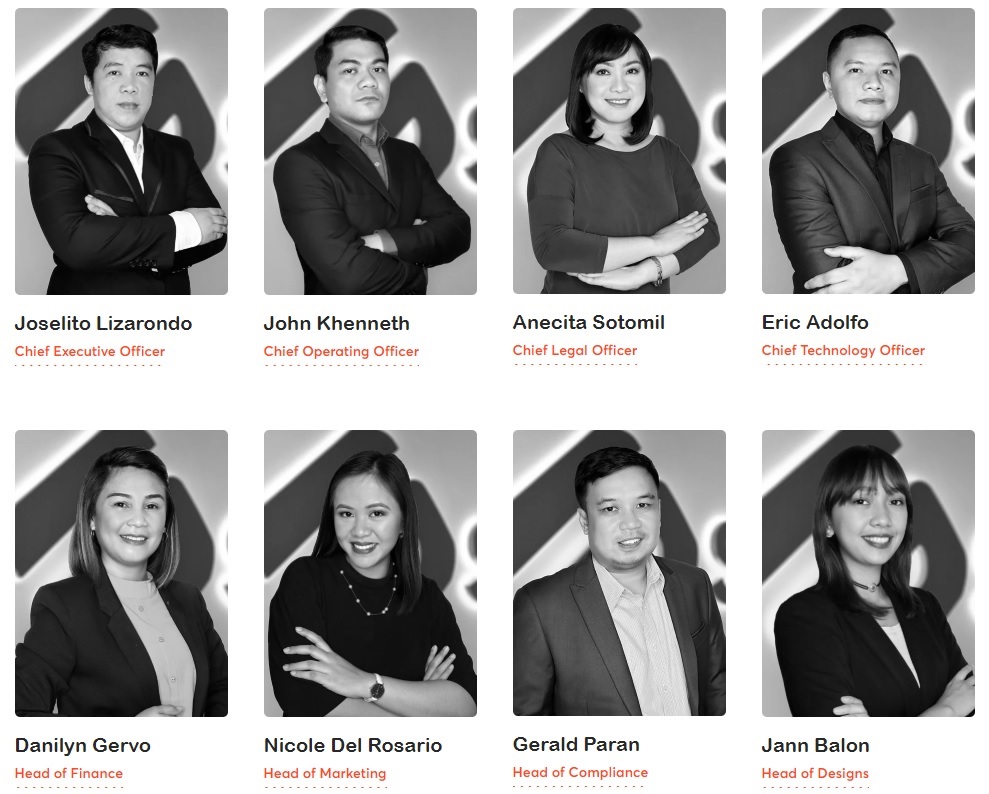 The development team are all individuals with skills and experience in the cryptocurrency field:
Joselito Lizarondo: holds the position of CEO. Joselito is an OTC crypto trader, as well as an early Bitcoin investor and miner.
John Khenneth: holds the position of COO. John is a former Senior Creator at Vibal Group, and Designer at ASEC Asia.
Anecita Sotomil: holds the position of legal director. Anecita is a former tax and legal officer at PwC and American Express.
With a team with a lot of experience as well as capacity in both technology and business, Swipe promises to be developed in a sustainable way.
The Binance acquisition of Swipe
On July 7, Binance officially confirmed the news of buying back most of the shares of Swipe. However, Binance has yet to disclose the value of the deal in detail.
As part of the deal, Binance has listed SXP . token of the Swipe starting from 7/7 and open trading for pairs SXP/BTC (Bitcoin), SXP/BNB (Binance coin) and SXP/BUSD (stablecoin Binance USD).
Yes You may be interested:

What is Binance exchange? Basic User Guide, Registration and Authentication 2020
Binance also owns a certain amount of SXP tokens after this deal. The exchange said "most" Their SXP tokens will be locked for years.
Furthermore, Swipe has also listed BNB on its platform, allowing Swipe users to buy and sell BNB using a linked bank account. This makes it possible for BNB to be exchanged for fiat via Swipe's Visa debit card.
With just a brief introduction to this deal, you can already speculate on its impact on the potential of the company. SXP token. Binance exchange is the largest and most influential cryptocurrency exchange in the market at the moment. So when supported by Binance, Swipe promises to have certain development steps.
Development roadmap
Q2-2020:
Expanding service coverage throughout Asia-Pacific and Southeast Asia.
Q3-2020:
Launch bearing accounts, credit and lending on Swipe wallet
Q4-2020:
Extended service coverage in North America.
Q1-2021:
Add support for more payment channels to expand service coverage in Latin America and Africa.
SXP token price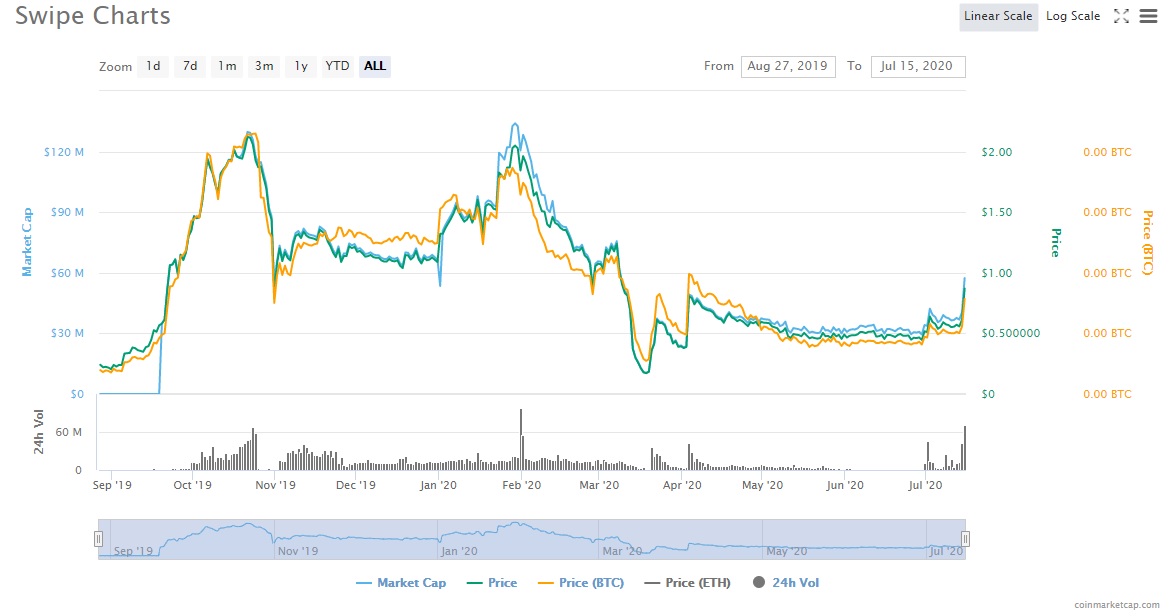 Currently, at the time of writing SXP token price is being traded at 0.858 USD. Price Highest token SXP so far is set at $2.13 (October 21, 2019). Meanwhile, the lowest price ever of SXP token is 0.161 USD set on 18/03/2020.
Where to buy and sell SXP tokens?
At the present time, investing in cryptocurrencies as well as buying and selling cryptocurrencies has become much more popular. It is considered one of the most popular ways to make money online. That's why, the buy SXP, SXP token sale has also become much simpler.
In this article, I will introduce to you the 2 most popular and simple ways to buy and sell at the moment.
How to buy and sell SXP tokens in VND
Currently, there are many exchanges that support cryptocurrency trading in VND, but separately buy SXP tokens For prestige, I think the best currently is the Bitmoon exchange.
See more articles:

What is Bitmoon? Bitmoon Exchange Basic Guide for Newbies 2020
The advantage of Bitmoon is low fees, high liquidity, support for many coins and can store coins right on the exchange. Besides, Bitmoon has been operating for a relatively long time and the reputation level is guaranteed.
Bitmoon has high liquidity and reputation, so I believe that for basic trading needs, cash out in VND, Bitmoon is enough to apply.
Prestigious international SXP token trading floor
The advantage of all international exchanges is that they support many types of coins, besides also supporting other forms of trading such as Margin, Futures.
For those of you who have traded a lot and have experience, you can use and trade regularly on international markets.
Below is the floor name and transaction fee comparison table for your reference.
If you want to learn about which floor, you can click on that floor's name in the table, there will be a detailed article on that floor.
| | |
| --- | --- |
| Exchanges | Transaction fee |
| Binance | 0.015-0.100% |
| Bittrex | 0.25% (most sour – should not trade) |
| Kucoin | 0.080 – 0.100% |
Mainly trading SXP token Your account on international exchanges all use BTC, USDT … to conduct trading.
SXP token wallet should use
Depends on usage coin SXP your wallet that you will choose for yourself the appropriate wallet.
The best choice for this wallet is Trust Wallet, with a friendly and easy-to-use interface.
Maybe you are interested:

What is Trust Wallet? How to create a Trust Wallet and use details
Since SXP is an ERC-20 token, you can completely use the current popular supporting web platforms such as: MyEtherWallet nice MetaMask.
Maybe you are interested: What is MyEtherWallet? Instructions on how to create a MyEtherWallet wallet and how to use it
This wallet is suitable for those who often transact.
Some Reputable trading platform that you can refer to are: Bitmoon exchange, Binance exchange…
Conclude
This article has summarized the most basic information you need to know about Swipe and SXP token. With this article, I hope that readers can grasp some of its investment potential.
Although it will take some time to read the entire article, I hope that your time will not be wasted.
If you find the article interesting and useful, do not hesitate to share it with your friends.
Good luck!
Virtual Currency Corner