Blockchain cannot access real-world information available outside of their network. Although they can guarantee that on-chain data will not be tampered with. Protocol SPHINX came into being as a data bridge that could convert information into data that could be written to blockchain.
What is Sphinx concept?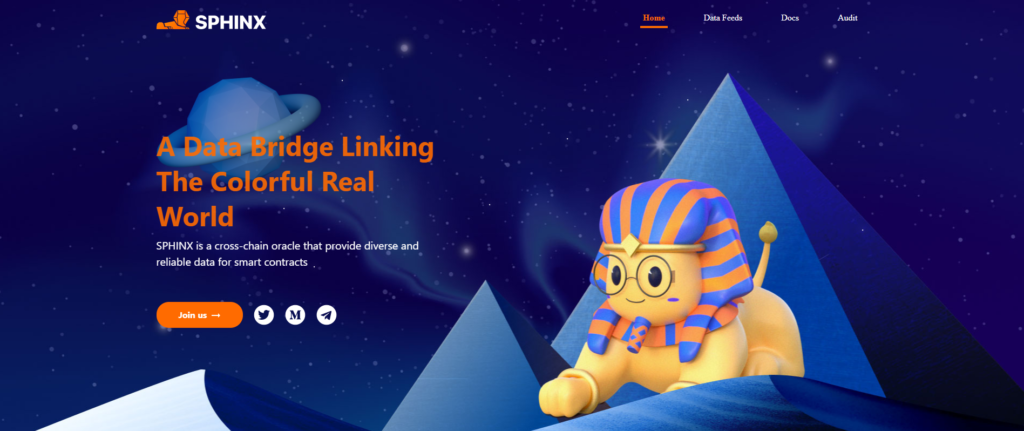 SPHINX is the generation cross-chain oracle New provides accurate and comprehensive asset prices for BSC and the ecosystem multi-chain.
Sphinx . Functions and Highlights
SPHINX is a new generation of cross-chain oracle, based on high performance public chain, BSC, they are committed to providing accurate, fast and comprehensive asset prices for BSC and the ecosystem multi-chain.
SPHINX effectively ensures the security of data through its own unique mechanism. With the high performance of BSC, users can quickly get the prices of different assets on SPHINX oracle.
At the same time, data can also be used by Dapps on Ethereum, Polkadot and other public chains through the protocol IBC.
The main function of Sphinx
SPHINX used as a fee for staking. Each quote will take 1% processing fee, this amount will be deposited into the bounty pool. Send tokens SPX can get rewards from the weekly bounty pool.
Used to pay the cost of calling property prices. Present, SPHINX is in developer beta, free to data fetching API parties and open to all Dapps. In the future, a community vote will be taken to determine whether data users should be charged.
Used to vote and participate in governance SPHINX. Each token SPX represent administrative rights. Community members can use the token SPX to initiate governance plans or vote on a proposal.
Highlights of Sphinx
SPHINX have high resistance to attack. In the design of SPHINX, forging an existing quote requires providing an asset twice as large as the existing quote asset for a pledge, if the new price is 10% different from the original price, an additional deposit is required. scale of 10 times the current quoted price. The exponential design of this product effectively prevents malicious attacks.
SPHINX support multi-chain and multi-asset. It has built its own oracle platform on many public chains, helping assets single-chain efficiently scale across multiple platforms and integrate into the eco-structure of public chain new and faster.
Further, SPHINX can get a response in seconds while every block generates a corresponding price. Performance is synchronized with the main chain and it can better react to market changes.
Main target audience of SPHINX that's all Dapps Ask for an asset price, such as lending, binary options, de-neutralization trading, futures trading and other financial derivatives, etc.
Similar projects
When it comes to the oracle industry, the leading names that we can't help but mention are LINK and BAND when they did a great job in every way.
However, with the above special mechanisms, it also makes SPHINX become unique.
Roadmap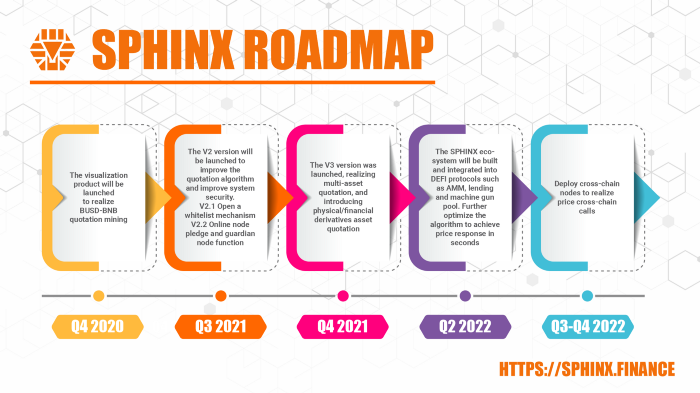 Q4/2020
Product visualization will be released to realize the mining of BUSD and BNB quotes.
Q3/2021
Released version V2 to improve the quote algorithm and system security.
Version V2.1 released the whitelist engine.
Version V2.2 completes the online node and its functionality.
Q4/2021
Release of V3: realizing multi-asset quotes and introducing physical/financial derivatives quotes.
Q2/2022
The SPHINX ecosystem will be built and integrated into Defi protocols such as AMM, lending and machine gun pools. Further optimize the algorithm to gain price feedback in seconds.
Q3-Q4/2022
Implement cross-chain nodes to make price cross-chain calls.
Partners and Investors
Updating
Tokenomics
Token User Case
Role in the SPHINX . system
There are 3 roles in the system SPHINX, It's a:
Miners: Provide quotes and pay commissions to receive SPX tokens.
Verifier: If a quote deviates from the market price, a verifier can trade the quoted asset at that price for a profit.
Price caller: Contract or account to call quotes provided by SPHINX.
Operation model
Miners enter the price into the quote contract, then enter the two assets into the quote contract according to the price ratio, and do mining for SPX token rewards.
After entering the asset contract, wait for the time T0. During this period, Verifier can purchase assets with miner quotes. If no one makes a transaction in T0, the quote will be accepted by the system; if Verifier is fully traded, the price is invalid. Partial transaction is partially invalid. After this time, the assets can be retrieved.
Verifier needs to issue a new quote while fulfilling the order. The size of the new quote is required to be beta times the size of the order. Verifier pays no commission on orders received and does not participate in mining rewards.
Verifiers can not only take orders for miner quotes, but also take orders for previous validators' quotes, as long as they ensure that the order size is beta last time.
In this way, the price series p0 -> p1 -> p2 …… and the asset size series x0 -> x1 -> x2 …… with time T0 being the maximum quote period are formed. Among them, due to the limit on the asset size, the price chain and the asset size chain will eventually terminate due to the capital constraint.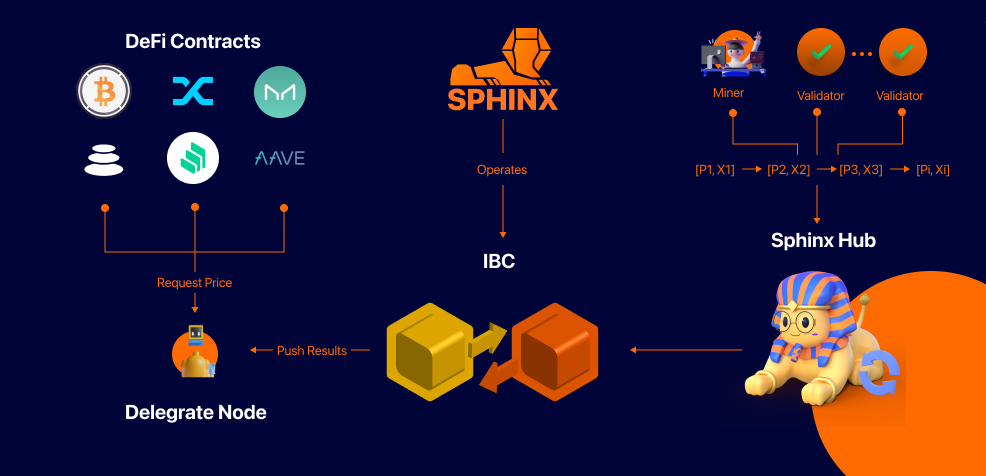 Finally, the block price is formed. In the SPHINX protocol, prices are written in blocks, and the effective quotes in the block are generated according to a certain algorithm. Assuming that the effective quote for a given block is (p1, x1), (p2, x2) (p3, x3)… then the block price P = ∑pi * xi / ∑xi, if the block has no signal quote As a result, the previous block price will be used.
Token Basics
Token Name: Sphinx Finance.
Ticker: SPX.
Blockchain: Binance Smart Chain.
Token Standard: BEP-20.
Contract: N/A.
Token Type: Utility.
Total Supply: N/A.
Circulating Supply: N/A.
Token Allocation
The total amount of SPX tokens in circulation is 1,000,000,000. The token distribution is as follows: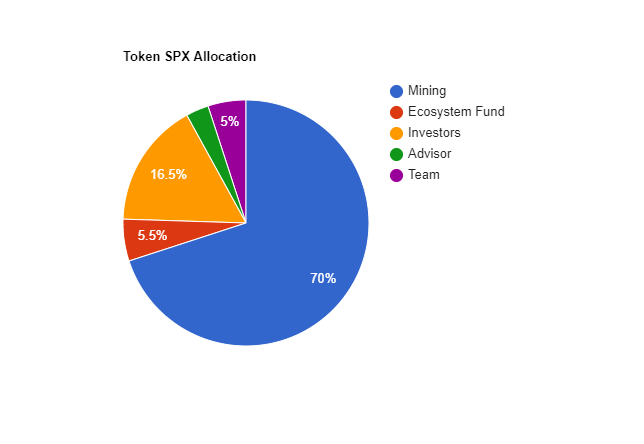 70% – Mining: 70% of SPX will be mined as block rewards for miners in the Sphinx oracle network.
5.5% – Ecosystem Fund: will be used for partners building the Sphinx ecosystem.
16.5% – Investors: will be locked for 2 years and will be paid annually.
3% – Advisor: To individuals or groups who helped Sphinx in the early stages. Will be locked for 2 years and will be paid annually.
5% – Team: will be locked for 4 years and paid annually.
Where do you buy it
Currently SPX token is not open for public sale at any exchange. SPX just completed the "SPHINX Spring Festival Airdrop" program from 01/29/2021 8:00–02/05/2021 8:00 (UTC)
Link to buy, sell and exchange reputable coins: https://bitmoon.net/
Current SPX rate
Updating
Website: https://sphinx.finance/
Twitter: https://twitter.com/SphinxProtocol
Medium: https://sphinxprotocol.medium.com/
Telegram: https://t.me/sphinxprotocol
Conclude
Of course, nothing is perfect and SPHINX also face many challenges. It is hoped that through the efforts of the whole team, SPHINX can provide new models and standards for the oracle industry.
Here is an overview of the project SPHINX that team GTA summarized to give you an overview of the project, not investment advice.