Siacoin (SC) a platform with the ambition to provide an attractive decentralized cloud storage infrastructure. So…
What is Sia? What is SC coin?
Should I invest SC coin or not?
Buy and sell SC coin Where is the reputation?
Siacoin Wallet Which should be used?
If you are looking to learn the background Sia and potential investment SC coin, this article is what you need to find
What are you waiting for, let's start the article!
Maybe you are interested: What is Bitcoin? Bitcoin investment guide for beginners?
What is Sia? What is Siacoin (SC)?
Sia is a blockchain platform that aims to provide a decentralized cloud storage infrastructure. It connects users who need to store files with a global network of servers ready to provide unused hard drive space.
Sia allows this market to operate without intermediaries. Secure more affordable hosting deals when compared to traditional cloud service providers.
Sia Network using consensus algorithm Proof-of-Work (PoW).
And Siacoin (SC) is the base currency of the blockchain Sia.
What is Siacoin (SC coin)?
As noted above, Siacoin (symbol: SC) is the base currency of blockchain. It plays a key role in maintaining stability, security, and economic impetus for network participants.
Basic information of SC coin
| | |
| --- | --- |
| Token symbol | SC |
| Blockchain | Sia |
| Consensus protocol | PoW |
| Maximum total token supply | Unlimited |
| Total tokens in circulation | 41,817,047,634 SC |
How to mine Siacoin
Similar to Bitcoin mining, Siacoin (SC) can be mined with a dedicated ASIC miner.
However, SC only supports ASIC miners issued by Obelisk company.​
That is, you cannot use ASICs manufactured by Bitmain to Siacoin Mining Okay.
Currently, the most popular way to dig Siacoin is to participate in the Mining Pool. Why?
Because mining is where you compete fiercely on hashrate, when you use a small number of miners, there is little chance to win block rewards with pools.
Some large mining pools Siacoin you can refer to as Luxor, Hyperpool, F2pool and Siamining.
What is Siacoin (SC) used for?
SC coin As the base currency of the Sia blockchain, it is mainly used in the Sia decentralized storage ecosystem.
SC will be used to pay transaction fees in the Sia blockchain network. In order for the network to operate stably.
You have to pay for data storage packages which are quite expensive when using traditional data storage platforms like Amazon S3, Dropbox, Google Drive…
With Sia Storage Platform, the cost you have to pay for this is much lower. Specifically, the storage fee on Sia only costs $ 2 / terabyte per month.
Of course, you will have to pay this fee in SC equivalent to the value of 2$.
Rent a place to store data
Unlike traditional data storage platforms, they own or lease back the hardware to create a place to store data.
With Sia, they allow users with hardware and a need to rent space to store that data. And get back the profit in SC.
As you can see, all rental or rental activities are required to be paid in SC through Sia's smart contract, File Contracts.
Should I invest in Siacoin (SC) or not?
Attention: no investment is 100% safe and every decision carries risk. In any case, it's up to you to invest or not. Here is some useful information that can impact your return on SC coin investment.
Competitors
All online activities Sia are required to pay in Siacoin (SC) Therefore, the future of SC strongly depends on the Sia Platform.
It is predicted that the cloud storage market will reach the trillion dollar mark by 2020.
So, how much market share will Sia have while competing with rivals?
Traditional: Amazon S3, Google Cloud, Dropbox, Microsoft Azure

Direct: Maidsafe, Storj, Filecoin, Dadi….
You can refer to Sia's development roadmap: https://trello.com/b/Io1dDyuI/sia-public-roadmap
Siacoin Price (SC)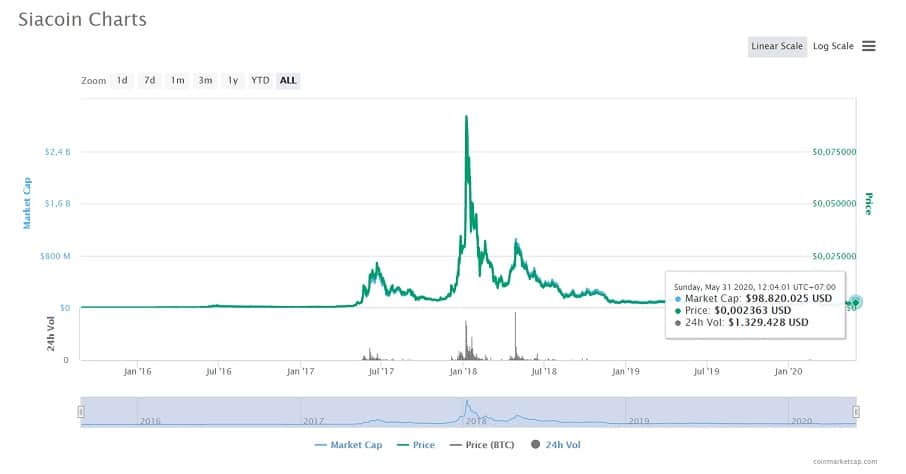 Currently, at the time of writing price SC coin is trading at 0.002 USD. Level highest SC price so far is set at 0.112 USD (November 2019). That is, compared to the peak price, then SC token price currently dividing nearly 56 times, a difference that makes you pay attention when you want invest SC coin.
Meanwhile, SC's all-time low of $0.000011 was set on December 1, 2015.
Where to buy and sell Siacoin (SC)?
At the present time, investing in cryptocurrencies as well as buying and selling cryptocurrencies has become much more popular. It is considered one of the most popular ways to make money online. That's why, the buy SC, sell SC has also become much simpler.
In this article, I will introduce to you the 2 most popular and simple ways to buy and sell at the moment.
How to buy and sell SC coins in VND
Currently, there are many exchanges that support cryptocurrency trading in VND, but separately buy SC For prestige, I think the best currently is the Bitmoon exchange.
See more articles: What is Bitmoon? Bitmoon Exchange Basic Guide for Newbies 2020
The advantage of Bitmoon is low fees, high liquidity, support for many coins and can store coins right on the exchange. Besides, Bitmoon has been operating for a relatively long time and the reputation level is guaranteed.
Bitmoon has high liquidity and reputation, so I believe that for basic trading needs, cash out in VND, Bitmoon is enough to apply.
The prestigious international SC trading floor
The advantage of all international exchanges is that they support many types of coins, besides also supporting other forms of trading such as Margin, Futures.
For those of you who have traded a lot and have experience, you can use and trade regularly on international markets.
Below is the name of the exchange and a comparison table of transaction fees for your reference.
If you want to learn about which floor, you can click on that floor's name in the table, there will be a detailed article on that floor.
| | |
| --- | --- |
| Exchanges | Transaction fee |
| Houbi | 0.070-0.20% |
| Okex | 0.060 – 0.150% |
| Binance | 0.015-0.100% |
Mainly trading SC Your account on international exchanges uses ETH, BTC, etc. to buy and sell.
Siacoin wallet should use
Depends on usage SC your wallet that you will choose for yourself the appropriate wallet.
Suitable for those who want to store SC long term and few transactions.
The advantage of cold wallet is that it is safe and optimal for storage. Cold wallets you can refer to to choose from are: Ledger Nano S, Ledger Nano X.
Maybe you are interested: What is ledger nano S cold wallet? Latest User Guide and Security 2020
The best choice for this wallet is Trust Wallet, with a friendly and easy-to-use interface.
Maybe you are interested: What is Trust Wallet? How to create a Trust Wallet and use details
This wallet is suitable for those who regularly trade.
Some Reputable trading platform that you can refer to are: Bitmoon exchange, Huobi exchange, Binance exchange…
Conclude
This article has summarized the most basic information you need to know about Sia platform and Siacoin (SC). With this article, I hope that readers can grasp some of its investment potential.
Although it will take some time to read the entire article, I hope that your time will not be wasted.
If you find the article interesting and useful, do not hesitate to share it with your friends.
Good luck!
Virtual Currency Corner