Serums (SRMs) is a DeFi (decentralized finance) project that combines FTX and Solana (another DeFi platform) offers a fully decentralized derivatives exchange solution. So…
What is serum? What is SRM token?
Should I SRM investment tokens?
Buy SRM tokens Where is the reputation?
Serum token wallet Which should be used?
By reading through this article and having the answers to the questions above, you will have a clear understanding of Serum floor and SRM token as well as why at the time of writing, the ROI of SRM has reached 7104.66%. So what are you waiting for, let's start the article!
---
What is serum? What is SRM token?
According to its homepage, Serums presents it as the world's first fully decentralized derivatives exchange with trustless cross-chain trading built in collaboration with a series of Defi experts and crypto exchanges.
Serums Built on the Solana Blockchain, it was created to address the existing vulnerabilities in the DeFi space. Currently, Serum is still in the testing phase with real users, and promises to be officially put into operation in the near future.Maybe you are interested:
Why Serum was born?
Currently, DeFi is rapidly evolving to create a superior financial system that overcomes the limitations of traditional finance. However, DeFi still has many problems to solve that prevent it from reaching its full potential. Follow Serums, the remaining problems are:
Centralization (concentration)
DeFi platforms were born with the aim of creating a decentralized finance, but most current projects need a centralized oracle to provide data.
Different DeFi platforms, using different protocols or blockchains make cross-chain transactions very difficult.
Stablecoins are always fixed with a price of 1 USD. However they depend on the bank issuing those stablecoins. If the issuing bank closes, who will sponsor and guarantee the value of stablecoins?
Currently, the DeFi market uses an Automated Market Making (AMM) system. This system allows users to trade without placing orders, everything happens automatically. However, this also has its downside. If the market is volatile, users need limit-orders to protect their assets.
There is an inherent disadvantage of DeFi that when the system has more users, the network fees will be very expensive, the transaction speed is much slower when compared to the CEX exchange.
So what does Serum do to overcome these problems?
What is Serum Solution?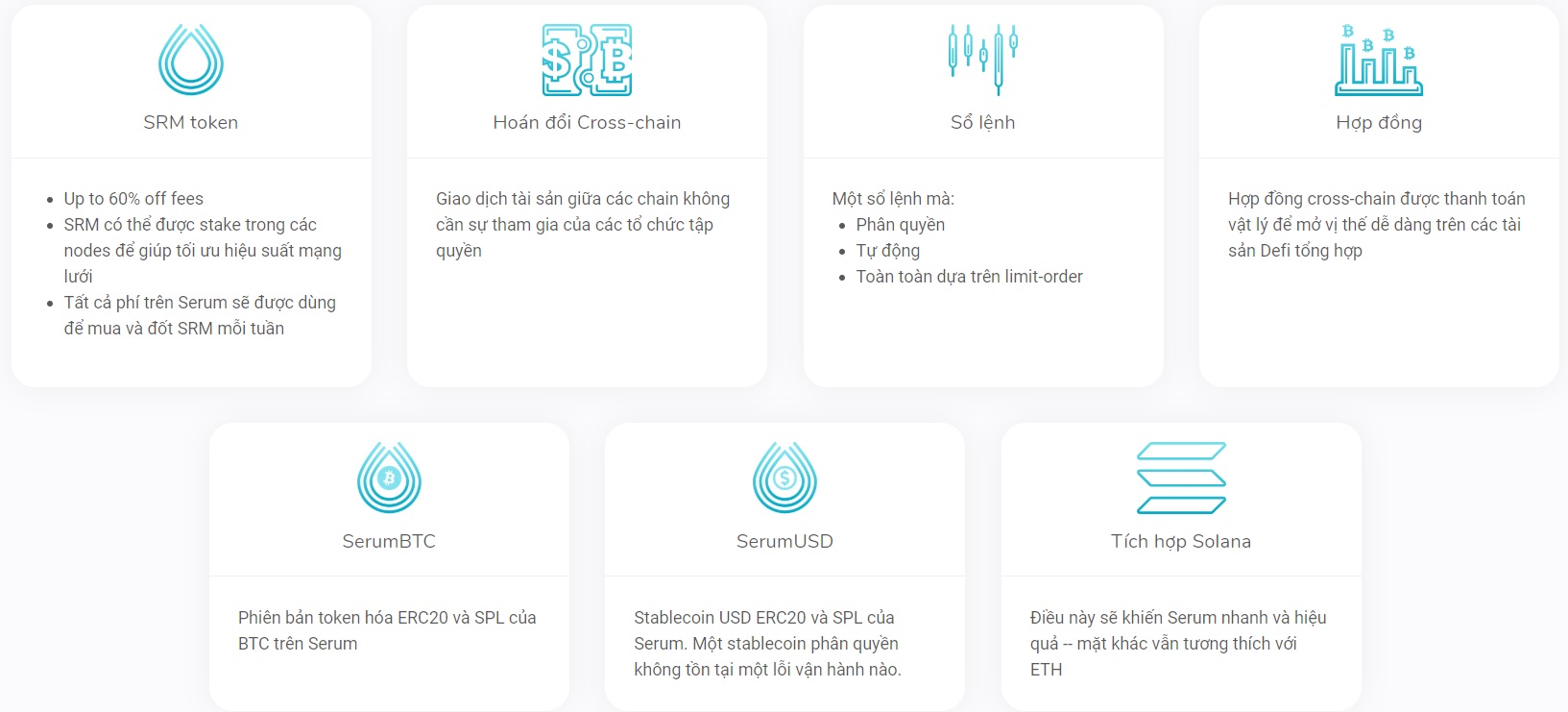 To solve those problems, Serums will be a fully functional decentralized exchange with cross-chain transactions with the same speed and appropriate fees. Although developed on Solana, it will be able to interoperate with the Ethereum blockchain. Serums is made up of seven key components that help it solve what DeFi has left behind:
SRM tokens: will be fully integrated into Serums, as a utility token. When you own SRM tokens, you will receive a reduced transaction fee. Along with that, SRM will be periodically redeemed and destroyed.
Cross-Chain Swaps: This function allows the exchange of assets between chains securely without intermediaries.
Orderbook: Serums will provide limit Orderbook. Thereby traders are in complete control of their orders. Orderbook and order matching are fully automated on-chain.
Full combination of Ethereum and Solana: Making the interaction with the Ethereum ecosystem, ERC-20 tokens and Solana on Serum fast and efficient.
Stablecoins: Serum launches new stablecoin model: SerumBTC and SerumUSDa, the tokenized product is completely independent of any bank.
What is SRM token?
As noted above SRM token to be utility token of the Serums. It plays a role in maintaining security as well as creating economic incentives for network participants. Present, SRM token is still an ERC-20 token. However, in the near future, after completing the testing phase, the SRM token will switch to Solana blockchain operations.
| | |
| --- | --- |
| Token symbol | SRM |
| Blockchain | Ethereum |
| Token Standard | ERC-20 |
| Contract | 0x476c5e26a75bd202a9683ffd34359c0cc15be0ff |
| Total Supply | 161,000,001 SRM |
| Circulating Supply | 50,000,000 SRM |
| Reported Circulating Supply | 31,000,000 SRM |
| Max Supply | 10,000,000,000 SRM |
Basic information SRM token
SRM Token Allocation

SRM Token Release Schedule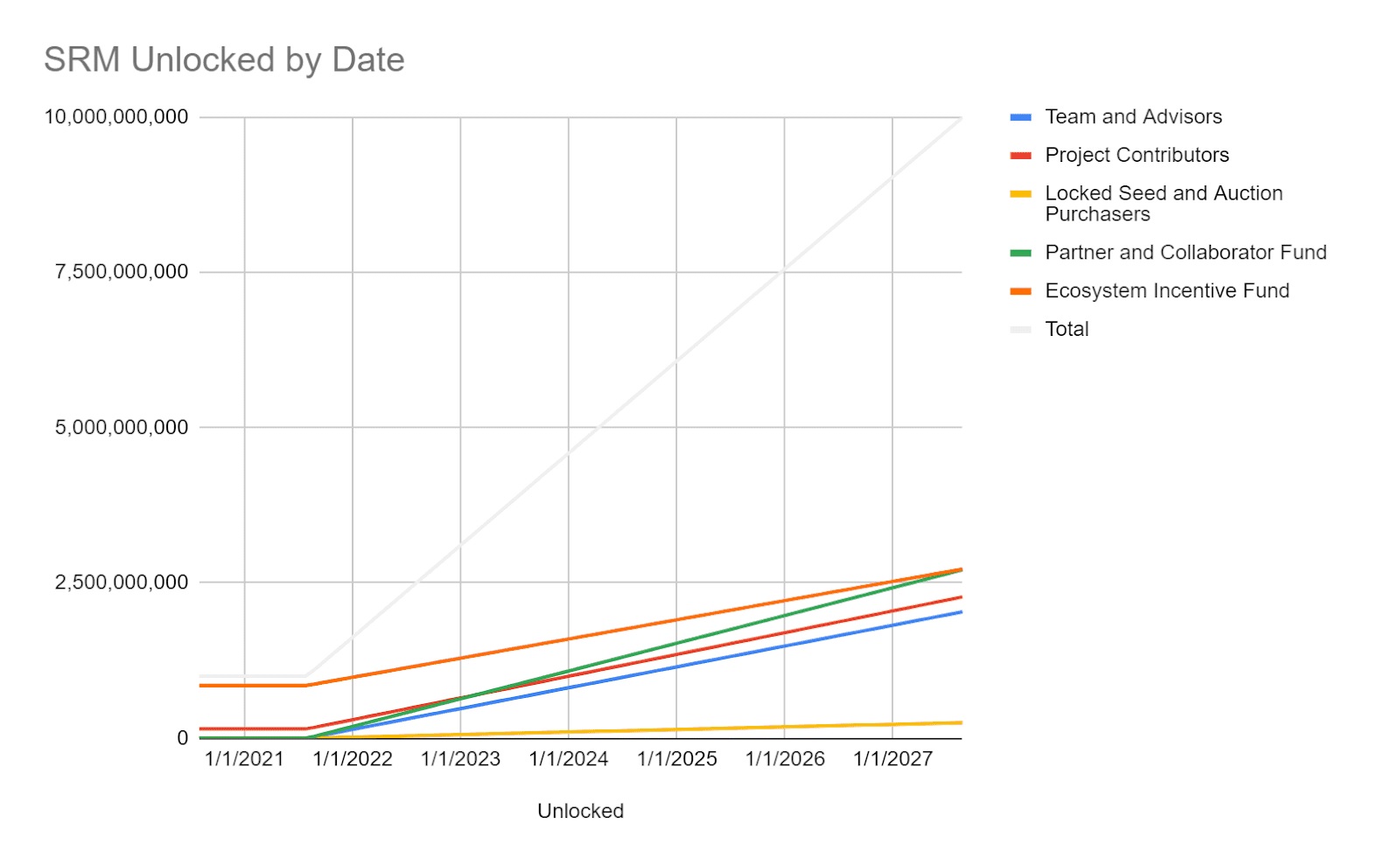 10% of total supply SRM token unlocked at start. The remaining 90% share the same unlocking schedule. All of them are fully locked for the first year, and then unlocked at regular intervals for the next 6 years, approximately 1/2190 daily. All SRM token in the seed sales are all locked.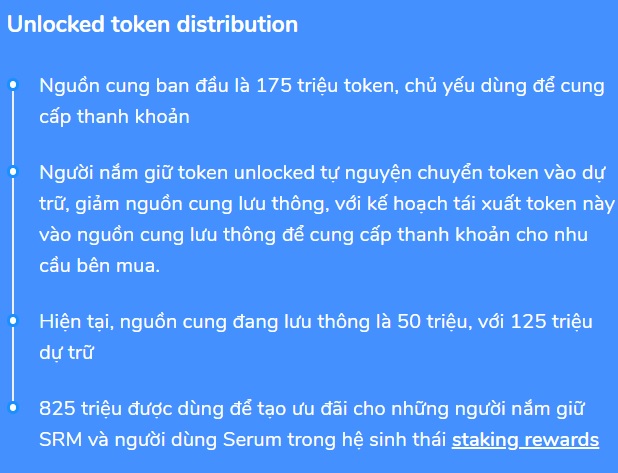 What is SRM token used for?
All net fees are SRM token obtained on Serums periodically destroyed. With that, SRM token used mainly in the ecosystem of Serums for the following purposes:
Users holding SRM tokens will have the right to vote on development decisions and project orientation Serums.
The condition to participate in staking is to own at least 11,000,000 SRM token.
Serums will set aside a fund as a reward for nodes. Details of staking rewards readers can refer to at the link: https://projectserum.com/staking-voting
In addition to functions such as administration and staking rewards, paying for transaction fees is a basic function of SRM token. Transaction fees on the Serum collected will be periodically destroyed. Along with that, when you hold SRM tokens, you will enjoy a discount on transaction fees:
Just holding SRM will get 1-50% off the above fees Serums.
Hold 1,000,000 SRM will get 60% off the above fees Serums.
Why invest in SRM token?
Serum development team
According to the whitepaper, the project Serums developed and managed by Serum Foundation, is a team of experts in cryptocurrency, trading and decentralized finance.
In addition, you can also watch the floor Serum DEX is a product launched by FTX exchange, a derivatives exchange – cryptocurrency trading. Along with that is a list of advisors for the project who are all experienced in blockchain technology development. Notable names on the list of advisors include:
Robert Leshner – Founder, Compound
Calvin Liu – Chief Strategy Officer, Compound
Sam Bankman-Fried – CEO, FTX and Alameda Research
Sebastian Conybeare – Software engineer, Alameda Research
Gary Wang – CTO, FTX
Dragon King – Founder and CEO, TomoChain
Dan Friedberg – Fenwick & West
Clement Ip – Partner, Genesis Block
Dan Matuszewski – Director and Co-Founder, CMS
Shane Molidor – Business Development Manager at BitMax
Santiago Roel Santos – Partner, ParaFi
A strong team of advisors and an experienced development team, hope to Serum DEX Official launch will not be far away.
Partner
Not only has a strong team of advisors, the list of partners of Serum is also famous and has confirmed its position in the crypto space such as: FTX exchange, Solana exchange, BitMax exchange, Coingecko, …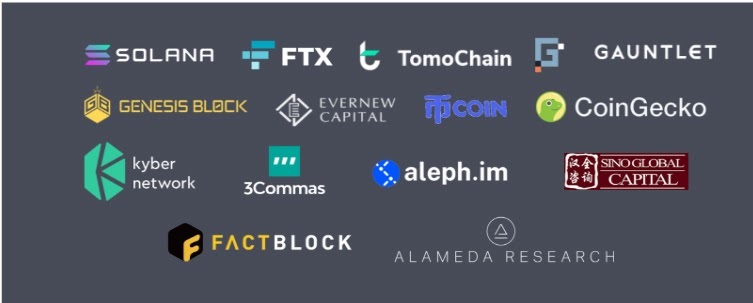 Potential and future of Serum
Currently, the DeFi decentralized finance market is booming, and the solution Serum is aiming for is urgently needed. However, the Serum has not officially launched yet. Comes with the cross-chain technology of Serums very attractive.
Will in the context of DeFi still maintain the heat and last until the end of the year, when? Serums Launch your product SRM token price pump or not?
In addition, in the list of Serum's partners, there are 2 exchanges that are FTX and BitMax. With the support of these two exchanges, Serum Foundation will take advantage of the opportunity and push the price of SRM token up to how much? Up to now, the ROI of SRM has been 1,461.57%, a number worth considering for investors.
Where to buy and sell SRM tokens?
At the present time, investing in cryptocurrencies as well as buying and selling cryptocurrencies has become much more popular. It is considered one of the most popular ways to make money online. That's why, the buy SRM, sell SRM tokens has also become much simpler.
In this article, I will introduce to you the 2 most popular and simple ways to buy and sell at the moment.
Buy and sell SRM tokens in VND
Currently, there are many exchanges that support cryptocurrency trading in VND, but separately buy SRM tokens For prestige, I think the best currently is the Bitmoon exchange.
See more articles: What is Bitmoon? Bitmoon Exchange Basic Guide for Newbies 2020
The advantage of Bitmoon is low fees, high liquidity, support for many coins and can store coins right on the exchange. Besides, Bitmoon has been operating for a relatively long time and the reputation level is guaranteed.
Bitmoon has high liquidity and reputation, so I believe that for basic trading needs, cash out in VND, Bitmoon is enough to apply.
Prestigious international SRM token trading platform
The advantage of all international exchanges is that they support many types of coins, besides also supporting other forms of trading such as Margin, Futures.
For those of you who have traded a lot and have experience, you can use and trade regularly on international markets.
Below is the name of the exchange and a comparison table of transaction fees for your reference.
If you want to learn about which floor, you can click on that floor's name in the table, there will be a detailed article on that floor.
| | |
| --- | --- |
| Exchanges | Transaction fee |
| Binance | 0.015-0.100% |
| Okex | 0.060 – 0.150% |
| BitMax | 0.2% |
| Kucoin | 0.080 – 0.100% |
| FTX | |
Mainly trading SRM token Your account on international exchanges all use BTC, USDT … to conduct trading.
Serum token wallet should use
Depends on usage SRM token your wallet that you will choose for yourself the appropriate wallet.
This wallet is suitable for those who regularly trade.
Some Reputable trading platform You can refer to it as: Bitmoon exchange, Binance exchange…
The best choice for this wallet is Trust Wallet, with a friendly and easy-to-use interface.
Maybe you are interested: What is Trust Wallet? How to create a Trust Wallet and use details
In addition, you can choose Solana wallet to store SRM tokens.
Conclude
This article has summarized the most basic information you need to know about Serums and SRM token. With this article, I hope that readers can grasp some of its investment potential.
Although it will take some time to read the entire article, I hope your time will not be wasted.
If you find the article interesting and useful, do not hesitate to share it with your friends.
Virtual Currency Corner
Join the discussion with GTA team at:
Website | Facebook | Fanpage | Twitter | Trading | Research | Youtube