Privacy is one of the most pressing global issues today. Currently, early blockchains such as dash, monero or Zcash cannot solve the problem of network expansion. In this article, GTA will take a look at a project dedicated to solving this problem for users – that is Secret Network:
Secret Network (SCRT) What is it and was born to solve what problem?
SCRT and information related to coin
Should you invest in? Secret Network are not?
---
What is Secret Network (SCRT)?
Secret Network is the first open source blockchain that provides data privacy by default with the goal of sustainably improving the adoption and usability of security solutions, for the benefit of all. people.
What problem does Secret Network solve?
Today, blockchain technology is gradually becoming more popular with everyone and is widely applied in fields such as education, healthcare, etc.
With blockchain, all information is public, anyone can check it, solving the problem of transparency.
However, that also gradually leads to a new problem, which is that the blockchain reveals all your data to everyone, such as:
Know what you have paid
Know your home address when you use a decentralized ride-hailing service
If you want to get blockchain accepted by the whole world, you need to solve that problem immediately.
Secret Network – a decentralized network, born as an answer to this forever unanswered question, solves this privacy problem, helps to secure and scale the decentralized web.
Highlights of Secret Network
As the first blockchain to support encryption from the input, output, and state of smart contracts, Secret Network allows building all kinds of decentralized applications. This can increase the core value of the following industries:
Decentralized Finance – Decentralized Finance
Support asset transfers, loans, loans and more while still protecting privacy.
Data Sharing – Share data
Share and monetize your data while remaining secure.
Machine Learning
Discover insights while protecting basic data.
Healthcare Industry – The healthcare industry
Enables encrypted data research, driving innovation.
Gaming Industry – Game industry
Enables a more open and useful gaming experience.
How Secret Network works
Step 1: User sends encrypted input to the network
Step 2: Validators (secret nodes) perform computations on encrypted data
Step 3: Suggest validator to send encrypted output data
Step 4: Validators reach consensus on the outcome
Step 5: Encrypted output data and encrypted contract status recorded on Secret Network
The Secret Network is a decentralized network of computers (secret nodes) that use a trusted execution environment (TEE) to enable secure, private computing on encrypted data. TEEs act like a "black box" for data processing and they are used in all kinds of everyday platforms like smartphones and video game consoles.
Secret Apps – powered by Secret Smart Contracts, protecting privacy – are built using CosmWasm smart contracts written in the Rust programming language and deployed on the Secret Network.
The Secret Network blockchain itself is based on the Cosmos SDK/Tendermint, which means the network has independent consensus, on-chain governance, and features like slicing and delegation. The project is secured by the SCRT native coin, which must be staked by network validators and used for transaction and administration fees.
Information about SCRT
What is SCRT?
SCRT is the original coin of Secret Network
Coin Use Cases
SCRT is used to:
Making transaction fees
Staking
Administration
Current information
Ticker: SCRT
Blockchain: Secret
Circulating supply: 69,703,477 SCRT
Total supply: 174,904,821 SCRT
SCRT Allocation
What exchange is SCRT currently on?
Present, SCRT have been traded on exchanges such as Binance, Hotbit, Bitmoon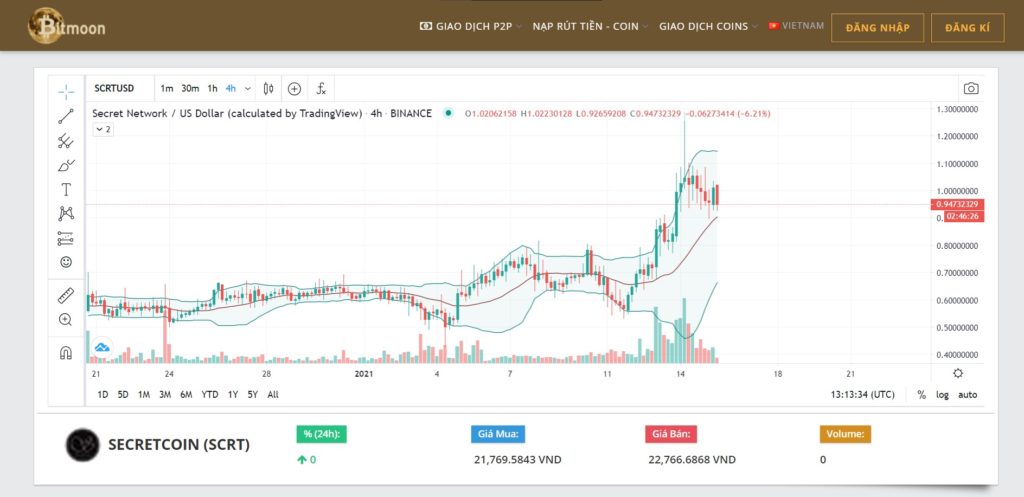 Link to buy and sell: https://bitmoon.net/mua-ban/secretcoin
See more articles: What is Bitmoon? Bitmoon Exchange Basic Guide for Newbies 2020
Team, Partners and Investors & Advisors
Team
Secret Network is developed by Enigma team and other participants from the ecosystem
Partners
TrustToken – TrueFi decentralized lending platform and token maker backed by assets including TrueUSD, the world's dollar-backed stablecoin with on-chain live audits
Investors & Advisors
not found
Roadmap
not found
Should you invest in the project?
Through what GocTienAo shared with you, I hope that you have grasped a part of the project and can make your own investment decisions!
Conclude
The above article has provided you with an overview to details of the Secret Network project. Hope GocTienAo has given you useful information about the project. If you find it interesting, please share the article with your friends!
Virtual Currency Corner
Join the discussion with GTA team at:
Website | Facebook | Twitter | Trading | Research | Youtube