What is Saffron Finnance?
Saffron Finance is a protocol for the encryption of on-chain assets that allows liquidity providers (LPs) ownership of encrypted assets.
LPs can flexibly leverage crypto assets without interruption, while LPs can fully utilize leveraged staking and manage risk at the same time.
Saffron Finance was born to provide LP support solutions to minimize risks and optimize profits
Highlights of Saffron Finance
Tranche: When depositing assets into the above pools Saffron Finance, LPs will have 3 tranche to choose, for each tranche there will be a certain level of risk when a system problem occurs.
AA tranche: LPs when choosing AA tranche will make less profit but will be compensated when system failures cause asset loss.
A tranche: LPs when choosing A tranche will earn more profit than AA tranche but will not be compensated when system failures cause asset loss.
S tranche: are often used to balance and keep the ratio of profits generated between 2 tranche A and AA always at a constant rate.
Epoch Epoch is the unit of time when the LP provides liquidity to the pools on the platform. Each Epoch is 14 days. At the end of each epoch, LPs will have the right to unlock the assets and profits of the liquidity provision.
Information about the project Saffron Finance
Investor–Partners

Although the team of investors is not many, but impressed with the big guys like Coinbase, CMS, Dragonfly Capital has partly ensured the quality of the project.
Not only that, the project also attracted many partners such as: Multicoin Capital, CMS Holdings, DeFi Technologies, Focus Investments, Tally Capital, Meltem Demirors, Tegan Kline, Brandon Chez, Marc Weinstein, DeFi God, Leo Cheng, Benjamin Simon, Maple Leaf Cap, Shiliang Tang, Feng Liu, MrBlock.
Project team
Currently, information about the project's team is still at zero. If in the near future, the identity of the people behind the project's development is announced, I will update in this article.
Roadmap
No information….
Basic information about SFI token
| | |
| --- | --- |
| Token Name | Saffron.finance |
| Ticker | SFI |
| Blockchain | Ethereum |
| Token Standard | ERC-20 |
| Contract | 0xb753428af26e81097e7fd17f40c88aaa3e04902c |
| Token Type | Utility Token, Governance Token |
| Total Supply | 100,000 SFI |
| Circulating Supply | 75,090.891 SFI |
Token Use Cases
With the role of both Utility token and Governance token based on Ethereum's ERC-2o token standard, SFI is used for:
As a reward for LPs when participating in liquidity mining on the Saffron Finance platform.
Vote to participate in the project governance process.
LPs must stake SFI in the system if they want to participate in A trance.
Token Allocations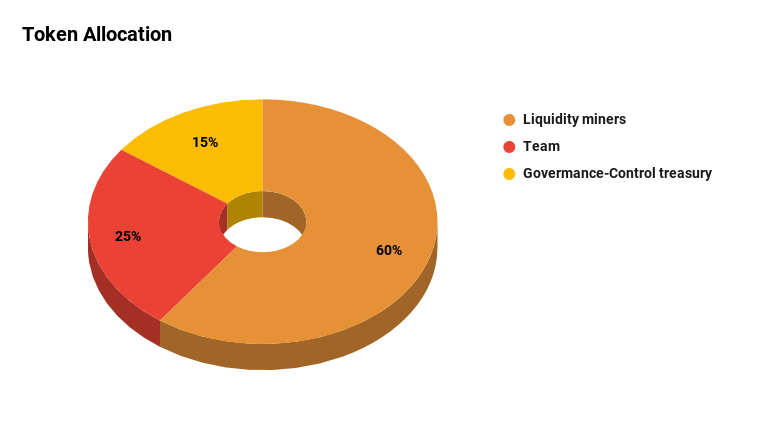 Token Release Schedule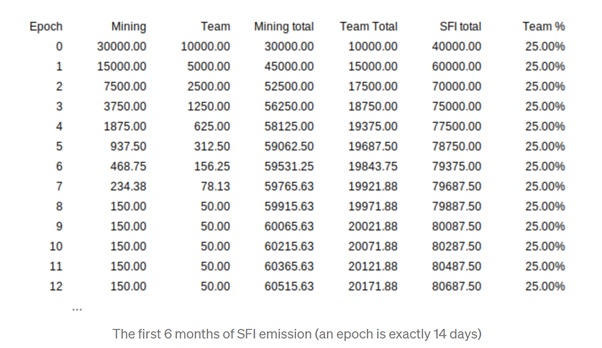 The project's tokens will be used to develop and provide liquidity on decentralized exchanges.
Approximately 15,000 tokens will be available to Saffron treasury after the first six months of TGE SFI. This ensures continued flexibility in the protocol. The On-chain governance mechanism, once implemented, will be able to decide how to allocate the remaining funds.
Where to trade SFI tokens?
Present, SFI token has been traded on a number of exchanges with a total daily trading volume of nearly $4 million.
Exchanges that support SFI trading include:
Conclude
Saffron Finance is a very good platform that allows LPs to manage the risk to their assets when participating in liquidity mining. Along with that, the project has a huge array of investors and partners which is also a big plus point for the project.
However, an equally negative point is that the current project team is still anonymous and has not published the roadmap for each development stage.
I hope that what is provided in the article will bring useful information to readers. If you find the article useful, don't hesitate to share it with others!
Good luck!
Virtual Currency Corner
---
The opinions in this article are personal and do not constitute financial investment advice!