The blockchain and financial lending market has developed into a global ecosystem where investors and traders exchange assets. However, the current platforms are not prepared to meet the needs of the market, there are still gaps.
The first: Limited support for one-chain transactions with different crypto assets on different blockchains. You cannot use your ETH to participate in the Binance ecosystem and vice versa.
Second: Current interest rate models are not efficient enough to account for the low cost of borrowing as well as the high cost of capital.
Tuesday: Limited supported collateral types for blockchain-based stable coins and tokens.
Final: In today's blockchain ecosystem, users can have their assets liquidated at any time.
In the following article, GTA Research presents a decentralized system for the purpose of lending based on blockchain, allowing financial markets to work and creating a safe positive profit approach to storing assets. .
What is Rikkei Finance?
Rikkei Finance is a DeFi project from Vietnam, with a team of industry experts who have been developing a blockchain lending platform. They apply decentralized technology to improve traditional ideas such as lending, credit and even insurance. The platform leverages blockchain technology to enable cross-chain integration, which means they can accept multiple digital assets operated on another blockchain network and display it at an equivalent value. , thereby helping them become a real-time currency trading network.
Rikkei Finance is built on Binance Smart Chain that establishes a currency market with key features such as:
Enjoy high speed and low transaction costs by leveraging Binance Smart Chain.
Borrow cryptocurrencies, stablecoins, and NFTs without having to negotiate terms like terms, interest rates, or collateral with a peer-to-peer counterparty.
Offer cryptocurrencies, stablecoins, and NFTs, and earn interest and token rewards for providing protocol liquidity backed by collateralized assets.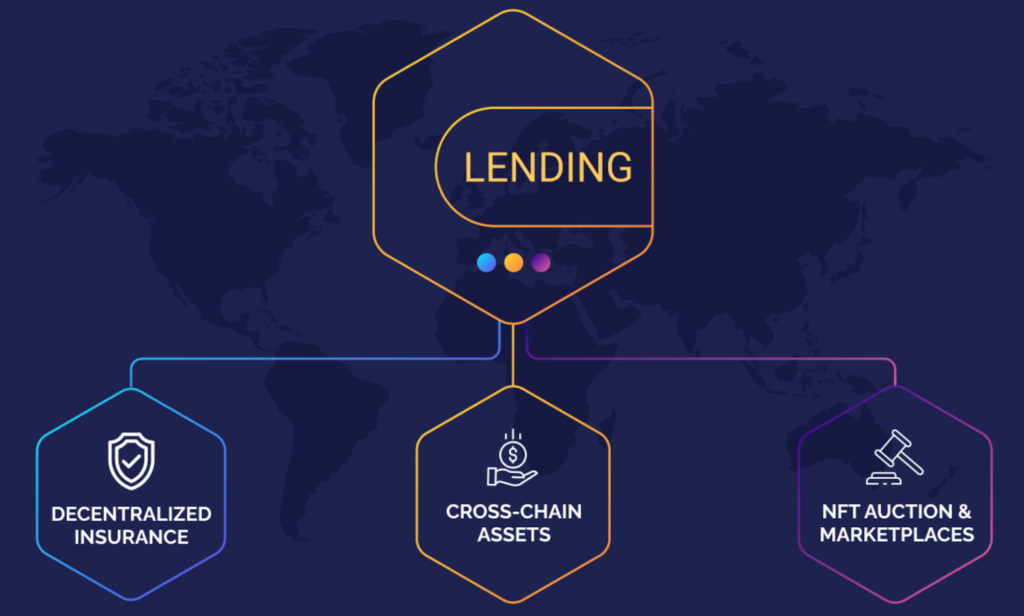 Project function
Rikkei Finance is a revolutionary DeFi platform, with Lending at its core: Cross-chain support, NFT collateral, interest and P2P Insurance.

Cross-chain support: Rikkei Finance allows users to lend and borrow any digital asset regardless of its blockchain using wrapped tokens.
Interest model: Improvements to the project's interest rate model address two key points: one to make borrowing less expensive during low usage periods and one to increase liquidity providing incentives over usage periods. high.
Collateral: Collaterals are supported on the Rikkei Finance platform. Users are free to decide which assets can be used as collateral based on the project's asset rating system. In particular, in addition to stablecoins and blockchain-based tokens, users can stake NFT assets as collateral for a loan or offer loans to other users on non-fungible tokens.
Insurance: Rikkei Finance promotes a worry-free user experience by allowing participants to purchase insurance for asset liquidation. The first loan & insurance combination to ensure the safety of the lender.
Similar projects
The development of DeFi in general, and the Lending & Borrowing platform in particular is increasing rapidly, users are no longer too unfamiliar with names like AAVE, RAMP, COMP… most projects are built on Ethereum blockchain. This platform has major disadvantages, but there is no denying the influence of Ethereum on the crypto market.
Rikkei Finance is still new to compare with the big players in the Lending industry, the project built on BSC shows that this is a remarkable plus point, in order to overcome current gaps such as cost, speed, interest…
Highlights of Rikkei
This protocol will reduce interest rates to increase borrowing rights and encourage more participants to provide digital assets for lending activities, by rewarding suppliers with RiFi tokens.
The protocol also ensures the stability of the system through a 5-step process of asset selection, which is used to implement a spontaneous liquidity queuing system. Assets will be valued and ranked based on multi-liquidity metrics, then subjected to in-depth analysis and voting before being officially added to the pool.
More specifically, RiFi Lending will be developed towards more cross-chain compatibility with the goal of promoting new breakthroughs to improve the field of digital assets.
Roadmap – Progress of the project

Q2/2021
Token Sales
Launching Rifi.Lending Dapp on BSC
Cross-chain development for Rifi.Lendung
Developing NFTs Dapp
Q3/2021
Launching Rifi.NFTs Dapps
Support ETH & Solana on Rifi.Lending
Development of Rifi.Insurance
Q4 / 2021
Launching Rifi.Insurance
Polkadot support on Rifi.
Improved features, integrations and tools
Team – Development team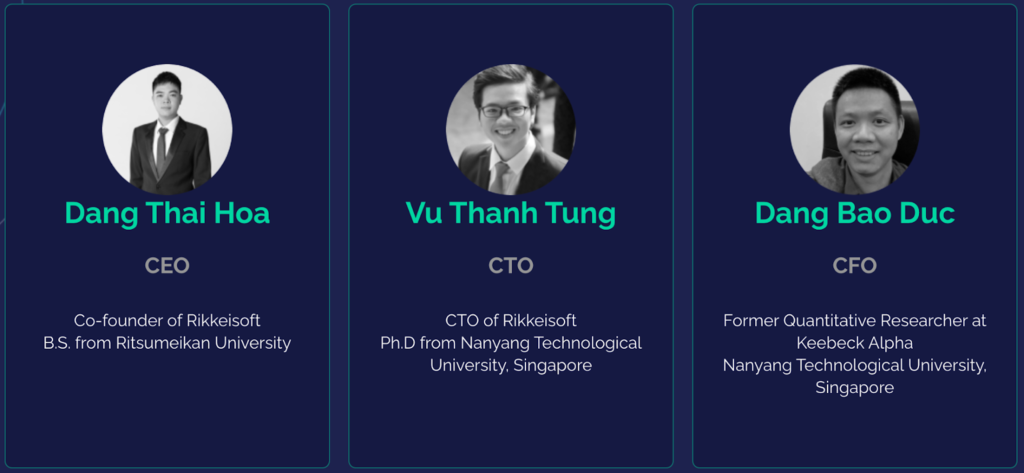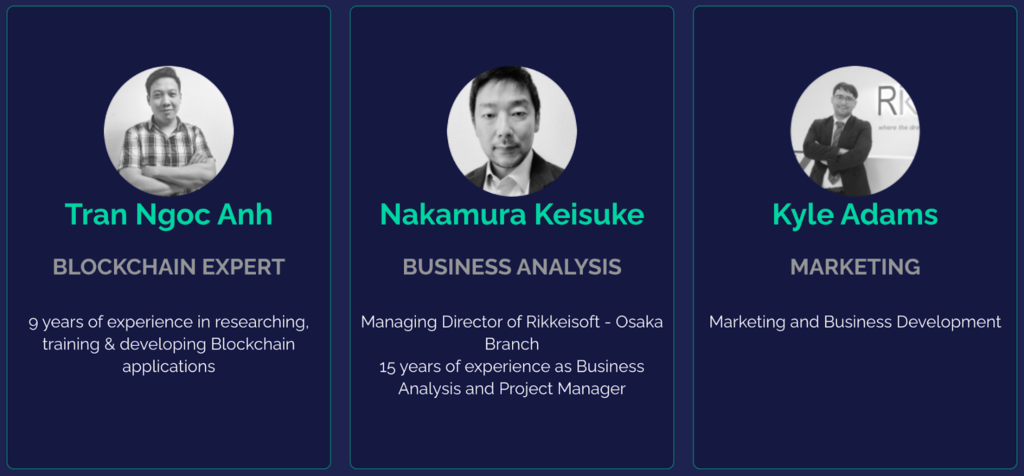 Dang Thai Hoa: Holding the position of Co-founder of Rikkeisoft, graduated with a bachelor's degree from Ritsumeikan University
Vu Thanh Tung: As CTO of Rikkeisoft, graduated with PhD from Nanyang Technological University, Singapore
Dang Bao Duc: Former quantitative researcher at Keebeck Alpha, Nanyang Technological University, Singapore
Tran Ngoc Anh: Having 9 years of experience in researching, training and developing Blockchain applications
Nakamura Keisuke: Rikkeisoft CEO – Osaka Branch, 15 years of experience as Project Manager and Business Analyst
Kyle Adams: Marketing and Business Development
Advisors – Advisors for the project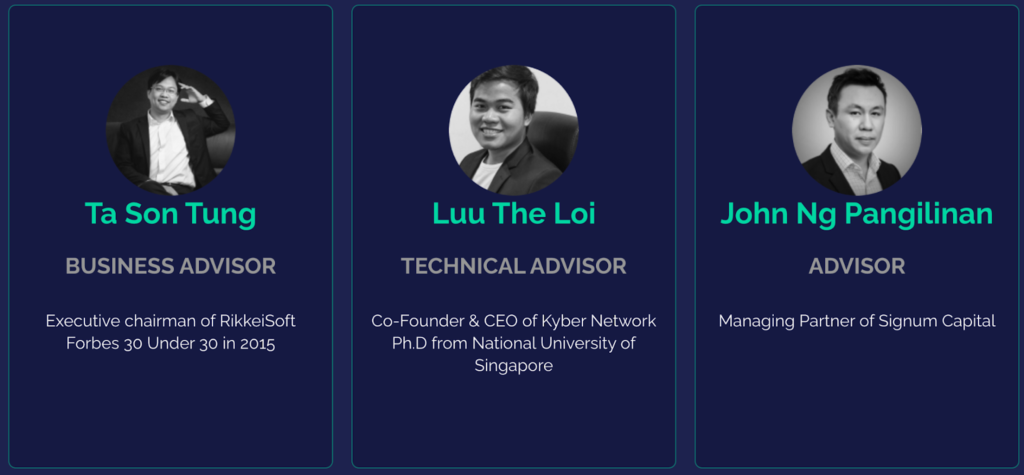 Rikkei's advisors are all people with certain success in the blockchain field.
Partner – Partner
Updating..
Investors – Investors
The project has received investment from reputable investors in the blockchain industry, including HyperChain Capital, Kyber Network, Signum Capital, PNYX, X21digital.com, LD Capital, Tomochain, Kernel Ventures, Trade Coin VietNam, Coin98, Kyros Ventures (Coin68), YBB Foundation Limited, Ark Stream Capital and Inc inclusive Capital.
Tokenomics
Token Use Cases:
The RIFI token will play an important role in the operation of the Rikkei Finance ecosystem and will have many utilities such as:
Pay: As the currency of the native platform, RIFI will be used by users to pay all platform fees and premiums.
Administration: RIFI will allow holders to propose, debate and vote on governance proposals to define features or parameters of the Rikkei Finance platform as well as protocol improvements.
Reward: To motivate users (lenders) to play the role of liquidity providers and place their digital assets in lending pools for borrowers to use, liquidity providers will be rewarded with tokens. RIFI according to each user's relative contribution after different tuning and correction parameters.
Similarly, to promote the use of the platform among borrowers with liquidity requirements, borrowers will also receive RIFI rewards for using the services of lending groups.
Token Basics
Token Name: Rikkei Finance Token
Ticker: RIFI
Blockchain: BSC
Token Standard: BEP-20
Contract: updating
Token type: updating
Total Supply: 500,000,000 RIFI
Circulating Supply: updating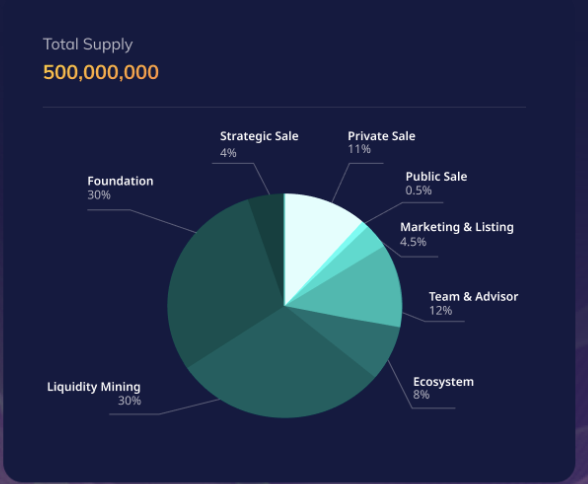 Liquidity Mining: 30%
Foundation: 30%
Token Sale: 15.5%
Team & Advisors: 12%
Ecosystem: 8%
Marketing & Listing: 4.5%
Token Release Schedule – Token Distribution Plan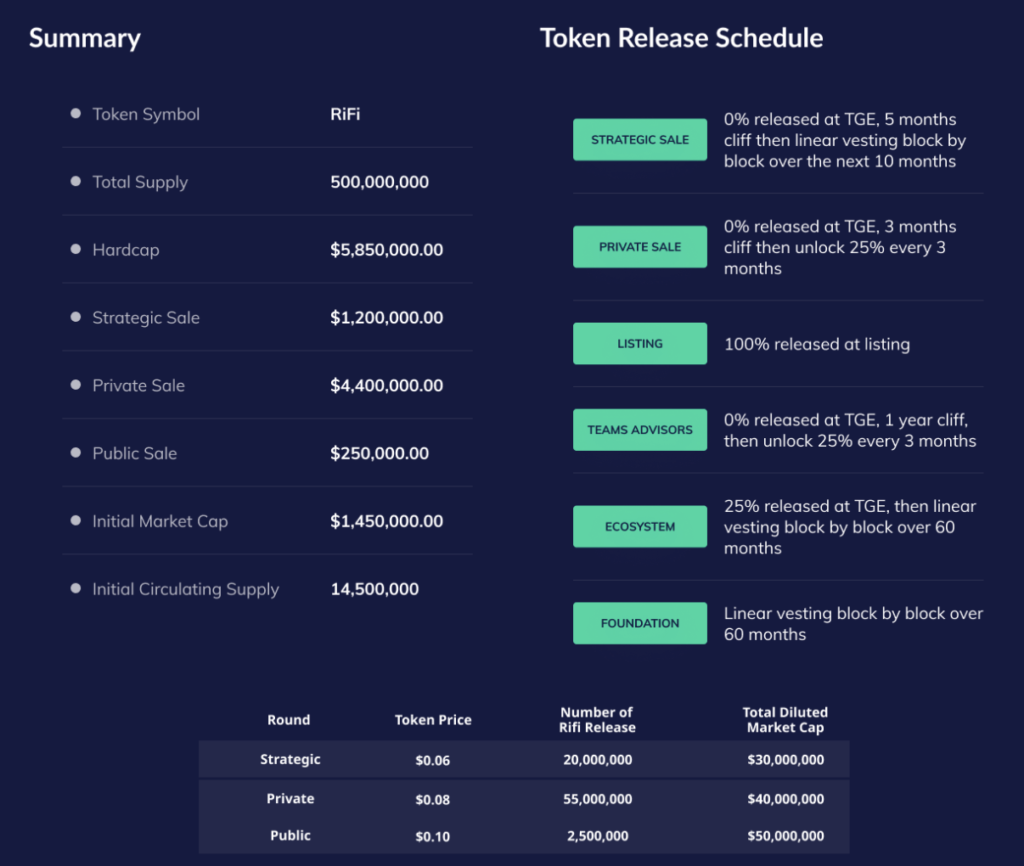 Twitter: https://twitter.com/RikkeiFinance
Website: https://rikkei.finance/
TG: https://t.me/RikkeiFinanRikkei Finance – Homece
Conclude
Rikkei Finance team aims to build a safe, sustainable and convenient protocol for users to participate in lending activities easily. With its multi-fold interest rate model, RiFi will create a strong and sustainable Lending platform. The project is built from a promising Startup Vietnam and has completed a funding round of $5.6 million from reputable investors.
The above is all information that GTA Research team has researched about the Rikkei Finance project and is not investment advice. Hope this article will help you get the necessary information and give your personal opinion about the project.