Quickswap (Quick) is a project that has received a lot of attention from you in recent years. There are times when the Quick token has grown to $1,500. Is that the great growth of the project or not? Let's GTA team find out if the project has potential to invest in the future or not?
What is Quickswap (Quick)?
QuickSwap is a decentralized exchange running on Polygon (formerly Matic Network) – a layer 2 scaling solution of Ethereum. QuickSwap can trade any ERC20 asset at lightning speed with very low fees. Many NFT projects such as OpenSea and Decentraland have also migrated to Polygon and are available on the QuickSwap DEX platform.
Like other AMMs, Quickswap will not match your trades using the order book, but the seller will put the assets in a place called the liquidity pool, after which the buyer will swap the assets they have with the assets. in the pool via smart contract.
Project Functions
Combining a community-centric governance structure and a fair token distribution model, QuickSwap is empowering traders while removing costly barriers to DEX entry for crypto users. Generally speaking. Liquidity mining and yield farming opportunities will encourage the growth of a robust liquidity provider ecosystem.
QuickSwap is created and supported by some of the most prominent thought leaders in the industry in the areas of tokens and contract standards on the Ethereum blockchain and Layer-2 scalability. For DeFi to thrive, we need low-cost, high-performance infrastructure to overcome these technical barriers. The Layer-2 solution is the solution and QuickSwap is leading the Layer-2 DEX array, providing a solution to the high transaction fees and congestion problems of current Layer-1 DEXs.
Features available when using Quickswap:
No license required
Users can list any ERC20 token on QuickSwap. Unlike traditional exchanges that have to get permission from any individual or organization to list assets.
Trading layer 2
Transactions on QuickSwap are powered by Polygon, which is a Plasma-based Ethereum on Layer 2 scalability solution. The token swap on QuickSwap is done in less than two seconds with a very low gas cost.
However, transactions on Polygon still maintain security due to the performance improvements brought about by the layer 2 solution, while still enjoying the security benefits of Ethereum.
Trade without detention
Unlike centralized exchanges like Binance, users can trade directly from their personal wallets like Metamask and many others that support ERC20.
This means that traders are in full control of the private keys of their tokens as there is no need to send tokens to the exchange wallet.
Liquidity Mining
Users can probably refer QuickSwap for a reward of QUICK tokens.
Productive farming
QuickSwap charges 0.3% per transaction. Those fees are used in a number of ways, but one way is that part of all fees collected is paid to the liquidity providers according to their percentage of ownership in the liquidity pool.
Profits on QuickSwap work the same as in other AMMs. Of course this has the potential for losses, if not closely monitor their positions to avoid this.
Community Administration
QuickSwap is a community managed project. QUICK token holders will provide governance to the platform, following the necessary processes to make modifications to the protocol as necessary.
QUICK token holders can submit protocol change proposals and vote on factors like which pools are eligible to mine QUICK tokens, etc.
Similar projects
Highlights of Quickswap
Quickswap (QUICK) is considered the version of Uniswap on Layer 2. Quickswap has 2 highlights:
Easy to understand and use for users who used to use Uniswap: Just Custom RPC and users can easily use Quickswap, everything else is similar to the operation on Uniswap.
Low fees close to zero: Because it is built on Polygon (layer 2 of Ethereum), Swapping on Quickswap costs almost nothing, users only pay 0.3% of the fee for Liquidity Providers.
Roadmap
Updating…
Team – Project team
Nick Mudge: Nick is an Ethereum Smart Contract programmer, code reviewer, security auditor and web developer with over 6 years of blockchain programming experience.
Sameep Singhania: Sameep is the Co-Founder and Director of blockchain development and consulting firm Ginete Technologies.
Investor – Investors
Updating..
Partner – Partners
Quickswap has prominent partners such as:
Lunar Digital Assets: Lunar Digital Assets is a blockchain marketing and consulting firm.
Polygon Foundation: Closely supports the QuickSwap team on a technical level and has provided a grant to the Quickswap team.
Starter: IDO platform, allowing projects to raise capital. With this combination, in order to participate in IDO, users must use the LP token of the START/QUICK pair, as well as projects funded by QUICK.
Token
Token Use Cases
Governance: QUICK holders can participate in platform governance through Voting.
Liquidity Mining: QUICK is used as a reward for users who provide liquidity for Quickswap.
Basic information about QUICK
Token Name: QUICK Token.
Ticker: QUICK.
Blockchain: Ethereum, Polygon.
Token Standard: ERC20.
Contract:

0x6c28aef8977c9b773996d0e8376d2ee379446f2f (Ethereum)

0x831753DD7087CaC61aB5644b308642cc1c33Dc13 (Polygon).
Token type: Governance.
Total Supply: 1,000,000 QUICK.
Circulating Supply: 160,000 QUICK
9.3. Token Allocation – How to allocate tokens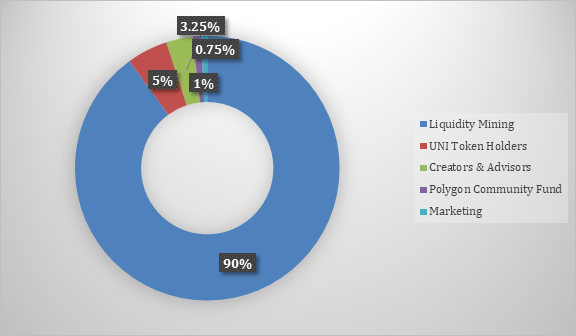 How to allocate QUICK . tokens
Liquidity Mining: 90%
UNI Token Holders: 5%
Creators & Advisors: 3.25%
Polygon Community Fund: first%
Marketing: 0.75%
Token Release Schedule – Token Payment Schedule
The supply limit of the $QUICK token is 1,000,000 tokens. Most (96.25%) tokens QUICK is for the community and liquidity providers. Tokens will be distributed over a period of time 4 years
3.25% of the token supply has been devoted to contributors and advisors to the project. These tokens are awarded gradually over a period of 546 days. Relatively low group allocation rate compared to other projects in the same field
Current QUICK rate
QUICK token storage wallet
With the ERC20 version of the QUICK token, you will have a lot of wallet options to store this token. You can choose from the following wallets:
Floor wallet
Popular ETH wallets: Metamask, Myetherwallet, Mycrypto, Coin98 wallet
Cold wallets: Ledger, Trezor
Buy and sell QUICK
Currently QUICK token is being traded on 2 decentralized exchanges: Uniswap, Quickswap.
Conclude
Quickswap is leading upper DEX space Polygon and Polygon are leading Ethereum's Layer 2 adoption. this is a Very potential project In the context of Defi growing stronger and more and more protocols appearing to provide liquidity to make profits on the Ethereum blockchain, this generally leads to network overload and extremely high transaction fees. high. Quickswap is increasingly showing its position as in recent times more and more projects are listed on the Quickswap exchange and the amount of liquidity locked in the protocol is more than 100 million USD. Going forward, Quickswap will continue to grow strongly providing users with a smooth experience and especially extremely low transaction fees compared to DEXs operating on Layer-1 of Ethereum.
Here is all the information GTA Research team researched the project Quickswap and is not investment advice. Hope this article will help you get the necessary information and give your personal opinion about the project.
✅ Join the discussion with GTA team:
Website | Facebook | Twitter | Trading | Research | Youtube
Buy and sell reputable coins at Bitmoon