Game Play to Earn is a term that is no longer strange to you. But to choose for yourself which game is "delicious" to plow, to be able to make a lot of money is a difficult question. Today I will introduce to you a game project, play freely and make money that is Polygonum Online. Let's learn about the project with GTA.
What is Polygonum Online (POG)?
Polygonum Online is a cross-platform free-to-play NFT game with a free NFT Marketplace, supply and demand controlled by the user. There are many ways to make money on Polygonum Online such as: buying and selling items on NFT Marketplace, improving characters and selling skill points (SP).
Project highlights
The plot of this game starts from the diseased village and spreads to the surrounding areas, affecting the global zombie epidemic. At this point, you are the lucky player to survive and search for survival in a world full of man-eating zombies.
At this time, the game world is divided into 3 main battle zones. In each area, players need to overcome different tasks and find ways to help the red area where people are stuck to ensure zombies and help them, as follows:
FARM zone – Safe area.
Free item storage
Upgrade items, repair
NFT Market
NPC Market
NPC quest
Private island – build your own farm and benefit
PVE – Fake safe zone.
Divided into sub-zones with different enemy levels. Enemy level depends on the value of their loot.
Resource extraction (wood, plants, cloth, meat, etc.)
Ore mining (stone, metal, gold, etc.)
Complete NPC quests
Enemies (wild animals, Zombies)
PVP Area – Danger Zone
City 1 (MIDDLE) – low zombie density, low chance of zombie boss appearance
City 2 (HARD) – high zombie density, high chance of appearing zombie boss
The Battle of the Players
Zombies

Default Zombies
Fast Zombie – fast movement speed and default strength
Strong zombies – strong
Boss zombie – fast and strong
Main features in the game
Ecosystem in the game Polygonum Online (POG coin) operated with the main goal of targeting the user community on their ecosystem, and they provide players with a lot of interesting features, such as:
Cross-platform support: The main server manages and shares many smaller workstations and connects on many different devices such as: PC, mobile, tablet, browser….
NFT Marketplace: A common market for all servers on the system and players can create their own supply and demand on this ecosystem.
Skill Points (SP): Game time can be spent exploring and improving skills, as well as hunting zombies
Exploit: Mine coins and in-game resources to earn POG Coins
Stake – Stake POG: To get unique NFT items in this game.
Corporations – social components: You are the creator of the rope that connects and unites players in the green areas together. To create a strong community of players against the zombie apocalypse.
Corporation War: Massive battles between communities of players are inevitable in the real-time upheaval of hunger and zombies. You need to defend your territory and win resources for the benefit of your community.
Boss: You need to hunt strong enemies with NFT items as a valuable part of your successful hunt.
Tournaments: PVP activity with ranking system and ranking rewards for tournament winners.
Event: You register to participate will receive valuable rewards.
Mission gift
Building a green ecosystem: Through buildings and farms in his PVE area.
Insurance: Construction of buildings, vehicles, items, …
Lease: Also the giver can rent out a portion of territory, transport, items from Polygonum & farm to new players.
Similar projects
Rust is a survival game that releases an open world with a huge community of participants while Polygonum Online is a survival shooter with more objects (FARM, PVP, PVE) and rewards tokens during gameplay .
PUBG (traditional game) is the best battle royale game, on mobile version with more than 10 million users. Polygonum Online rewards players every time they perform a mission. Create items and mine valuable resources to convert to tokens.
Roadmap – Project development roadmap
Quarter 4/2021
Release of Smart Contract
Officially opening the first IDO program for the project
Release of NFT items in the game
Launch of NFT Marketplace feature
Performance boost for World Bosses đa cross-platform version
Quarter 1 of 2022
Alpha Version Launch: PC Demo Version
Increase the number of items in the game to: 150 types of gas crops, PET, agricultural products and tasks, …
Provides new Agility character: balance, crawl, dodge, hang, ledge, strafe, roll, vault
Add new features Climbing: free climbing, climbing ladders, short climbs, …
Attracting 25,000 new players through Marketing and Communication
Quarter 2 of 2022
Skill system Demo version on mobile
New skill point upgrade system
Upgrade the survival battle feature in the game
3rd quarter of 2022
Finalize the Website version
Added Battle-pass feature
Insurance for valuables and items in the game
Building protection systems such as: barriers, buildings, barbed wire fences, …
Quarter 4/2022
Tournaments
New means of transportation: boats, canoes, helicopters, ….
Lease transport and Items
Renting vehicles and in-game items
Quarter 1/2023
Add Virtual Reality (VR) Augmented Reality feature
Attract 200,000 regular players through marketing and communication activities
Introducing the new Battle Pass event in the game for the first time
Team – Project development team
Nikita Marcius (CEO + CTO) – CEO of Marcius Capital, founder of Marcius Studio. Fullstack Nodejs developer for 4 years.
Andrey Rusanov (CFO + CMO P/T) – Private bank for 4 years. Stock market trader for 6 years on NYSE, NASDAQ, MOEX and Binance.
Alexander Pykhtya (marketing assistant) – 4 years in marketing, 3 years in crypto.
Marcius Studio – Game and web development with expertise in:
Game Development – ​​2 game developers with 6 years of experience each. Key areas of expertise include: C#, Unity.
Game designer – 3 years working on commercial projects.
Game UX/UI designer – 4 years.
Level Design – 5 years of experience in level design. 4 years in PC, Mobile and VR game level development at X-tech and Arloopa company (Level Designer) and at NDIGITEC company (Senior Level Designer).
Web and Blockchain Development.
Investor – Investors
Polygonum Online receives investment from many large funds such as Dao Maker, Kyros Ventures, ZBS Capital, Rater Capital…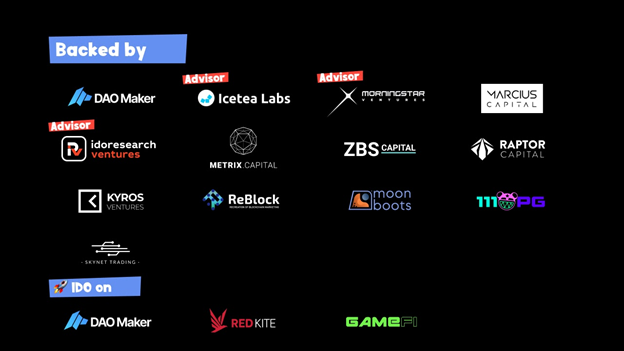 Next time, the project will IDO on 3 platforms: DAO Maker, Redkite, and GameFi. Guys, don't miss it.
Partner – Partners
The project has many big partners such as: DAO Maker, Icetea Labs, Morningstar Ventures, Marcius Capital, IDOResearch Ventures… There are also many reputable and familiar names such as: Metrix Capital, ZBS Capital, Raptor Capital , Kyros Ventures, ReBlock, MoonBoots….
Token
Token Use Cases
Players participating in the Polygonum Online game ecosystem they can earn benefits from the game and can play and earn money at the same time. Through features, such as:
Buy and sell in-game items
Mine ore and discover new mineral regions to get POG
Stake POG with receiving NFT game items
Rewards for completing quests and in new events
Buy insurance for buildings, vehicles, items, … in the game
Rent territories, vehicles, items from Polygonum and from other new players
Basic information about POG token
Token Name: Polygonum Online
Ticker: POG
Blockchain: Binance Smart Chain
Token Standard: BEP-20
Contract: Updating
Token Type: Utility
Total Supply: 100,000,000 POG
Circulating Supply: Updating
Token Allocation – How to distribute POG tokens
Private / Seed Round: 16%
Public Round: 5%
Team: 13.5%
Advisor: 7.5%
Game Farming / Mining: 30%
Liquidity: 15%
Marketing: 8%
Treasury: 5%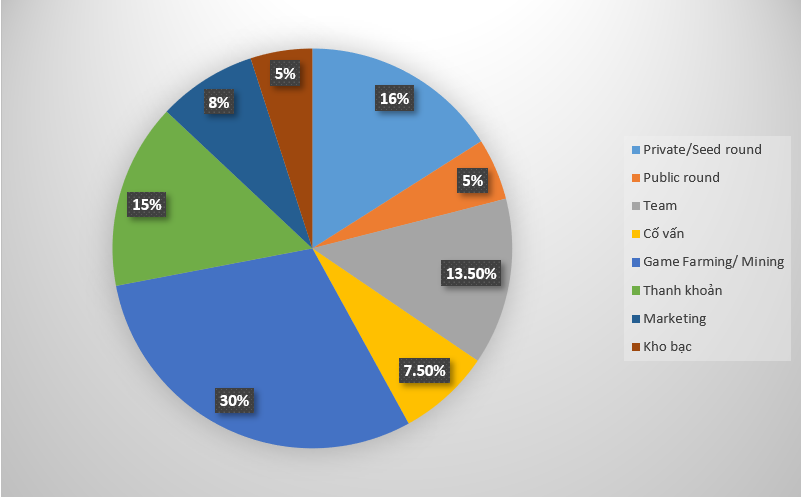 Token Release Schedule – POG token payment schedule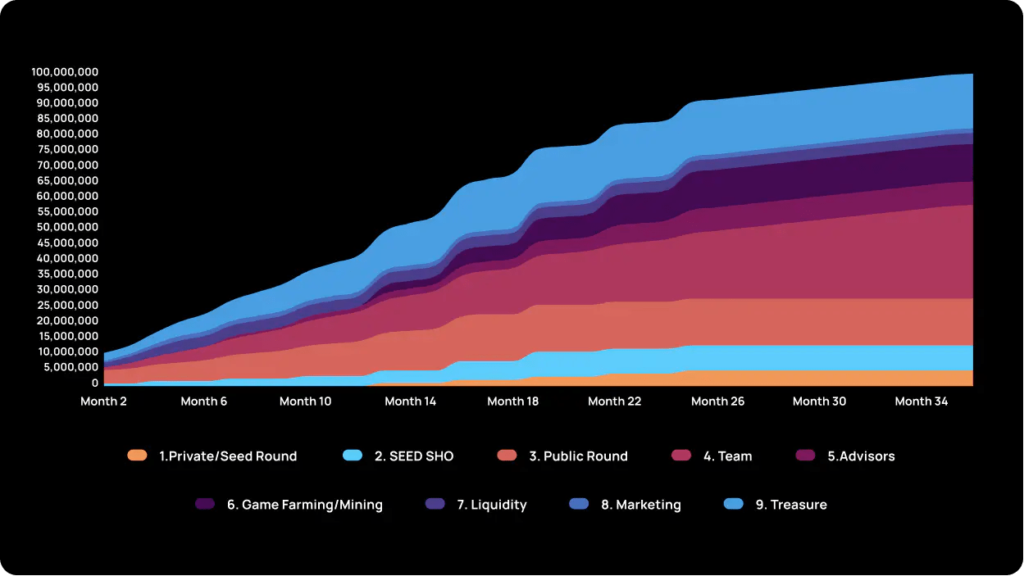 ● Private / Seed Round: TGE 15%, cliff 3 months, then 5.66% monthly
● Seed SHO round: TGE 20%, then pay linearly 20%
● Public Sale: TGE 20%, then pay linearly 20%
● Team: cliff12 months, then 20% every 3 months
● Advisors: cliff 6 months, July 7,10,13,16 – 10%, Month 19,22,25, – 20%
● Farming/mining game: Cliff 1 month, then 2.9% monthly
● Liquidity: TGE 26%, then 3 months 3%, then 5% monthly
● Marketing: TGE 10%, cliff 3 months, then pay 10% every 3 months until it runs out
● Treasure: cliff 12 months, then pay 20% every 3 months until it runs out
Current POG coin rate
updating…
Where to buy and sell POG?
Updating…
POG Store Wallet
POG tokens are stored on Coin98 Wallet and Metamask
Conclude
Polygonum Online is a cross-platform free-to-play NFT game with a free NFT Marketplace, supply and demand controlled by the user. The game is invested by many famous backers in the market. With a capable development team and a clear development roadmap, in the future I believe that the game will have its own place in the game market. Let's wait for the performance of Polygonum Network.
Above is all the information that GTA Research team has researched about the project Polygonum Online and is not investment advice. Hope this article will help you get the necessary information and give your personal opinion about the project.
Buy and sell reputable and safe cryptocurrencies in VND here. This is one of the most reputable brokers Vietnam now.
Join the discussion with GTA team at:
Website | Facebook | Twitter | Trading | Research | Youtube