Party Parrot is a project operating in the field of Lending live Solana Ecosystem – The ecosystem has the fastest expansion rate and attracts the most cash flow today. Although the official product has not been released yet, Party Parrot has received a lot of attention from the community.
In this article, let's GTA Research learn about the project Party Parrot and PRT coins please.
---
What is Party Parrot?
Party Parrot is a Lending platform in Solana Ecosystem. In the Parrot platform, users can deposit various asset classes to mint out Parrot's stablecoin PAI.
For an ecosystem to grow and explode, Lending is a key area in the DeFi Stack so that Solana can attract users and cash flow in the DeFi market. Therefore Party Parrot will be a very important and potential project in the Solana ecosystem.
The Parrot protocol is equipped with a margin trading algorithm designed to allow the value of LP tokens locked in DeFi to be accessible. The protocol mainly relies on LP tokens used as collateral for all activities in its ecosystem.
Party Parrot is set up to create a margin trading product or virtual AMM where PAI tokens will be used as a tool to benefit the whole Parrot community.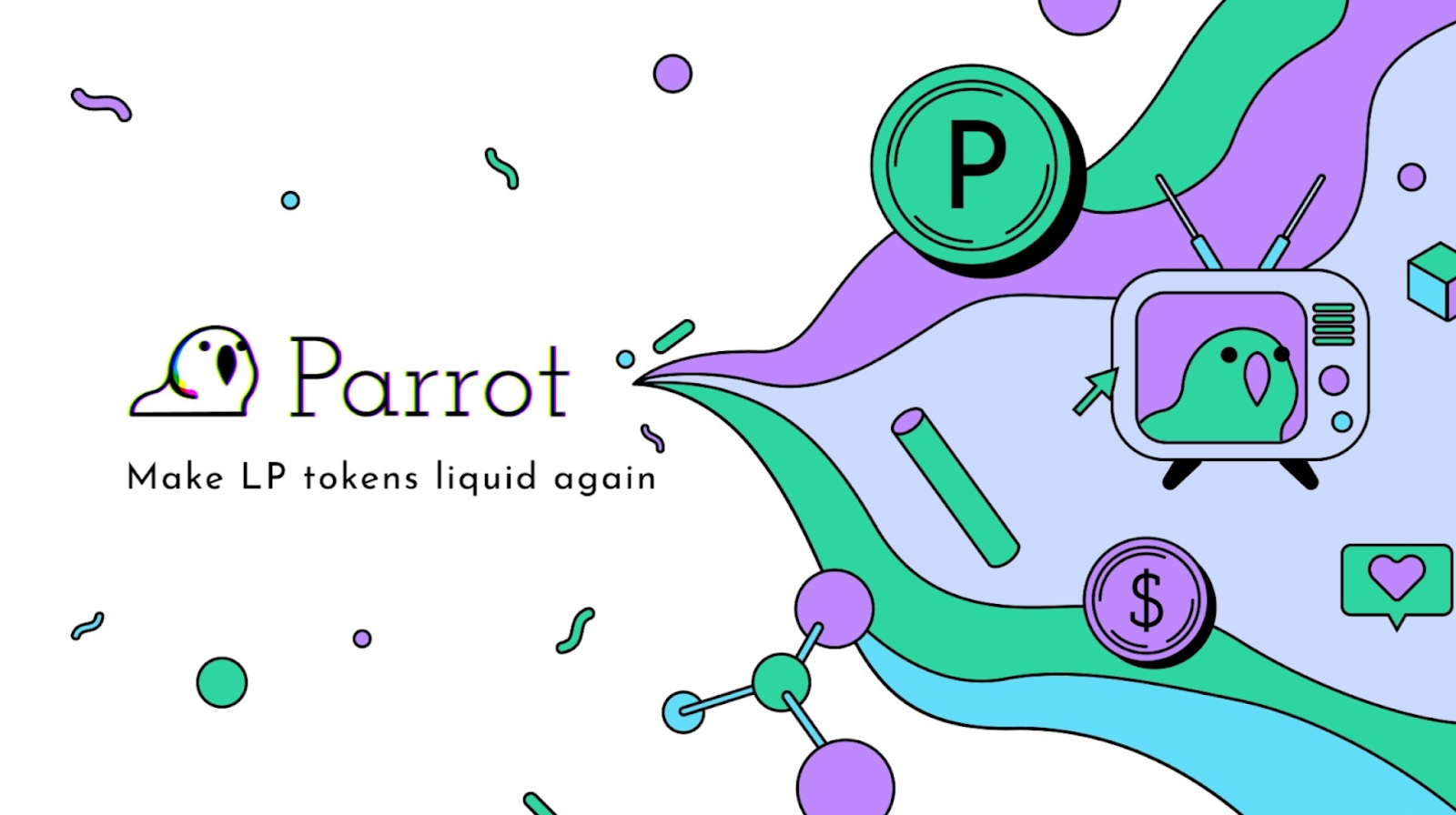 The first product is StableCoin with PAI . token
Also built on the Solana blockchain ecosystem, stablecoin PAI was the first product of the Protocol. Once fully operational, the token will play an important role in the platform's ecosystem. Currently, the token is available on the devnet for testing purposes and is open to all Crypto enthusiasts:
• Stake ETH and BTC pairs on layer 1 of the swap platform and earn token LP yields (ETH/BTC)
• Use LP token bridge to Solana
• Use LP token as collateral and Mint token PAI
Economic model of the protocol
The Parrot protocol will collect fees from the services it provides, use the fees to redeem PRT on the open market and back to PRT as protocol incentives. The three main sources of protocol fees are:
Fees collected on minting PAI tokens
Interest rates
Liquidation of assets
Fees collected on the loan market
Transaction fees for virtual market maker protocol (vAMM)
Highlights of Party Parrot
The highlight of Party Parrot is the mechanism to unlock and bring circulating value to LP tokens. With Party Parrot, LP tokens will be further used in the lending and borrowing liquidity network.
After depositing to mint PAI, PAI can be used in the same market as DAI, VAI. The popularity of PAI will depend on the scalability of Party Parrot in the Solana system.
Similar projects
Similar projects to Party Parrot such as: MakerDAO (MKR & DAI), Venus (XVS & ROLE), Unit Protocol (DUCK & USDP)
When was the project established?
The project was established in April 2021
The project's Twitter was established in April 2021 and currently has 10.2K Follows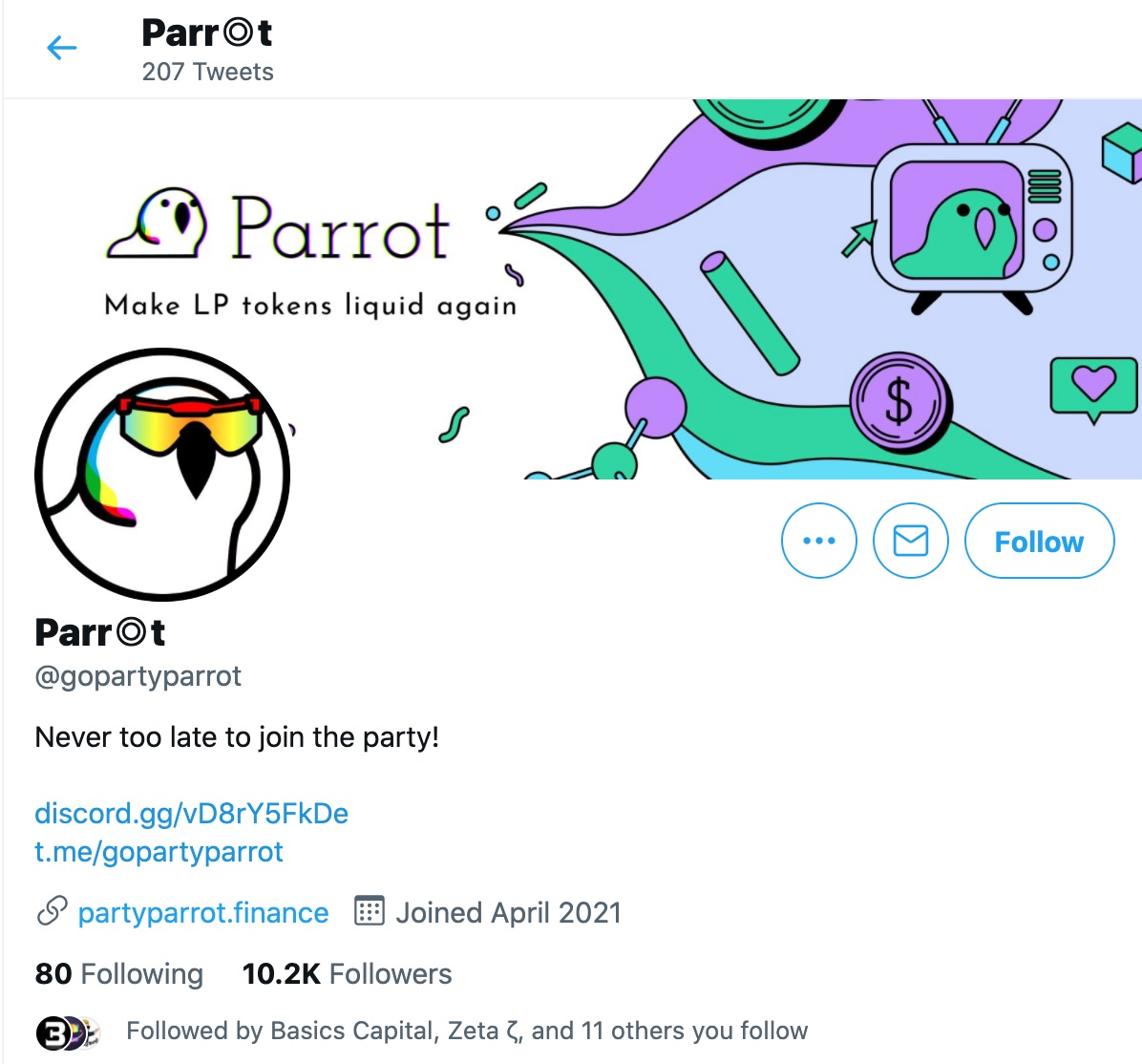 Roadmap – Project Roadmap
Q2/2021
Develop the basic functionality of stablecoins and collateral.
Q3/2021
Develop Lending function with LP token as collateral.
Q4/2021
Developed Margin Trading using PAI as collateral.
Team – Project team
Updating…
Investors & Partner – Investors & Partners
Updating…
Tokenomics
The Party Parrot platform will use two types of tokens: PRT and PAI.
PRT is the native token of the system.
PAI will be a minted stablecoin based on the value of assets deposited into the project.
Information about PRT . Token
Token Name: Party Parrot.
Ticker: PRT.
Blockchain: Solana.
Token Standard: SPL.
Contract: Updating…
Token Type: Utility.
Total Supply: 1,000,000,000 PRT.
Circulating Supply: Updating…
Token Allocation
Recommended protocol : 35%
Angel team : 17.5%
Ecosystem and partners: 20%
Seed Round : 17.5%
Protocol Administration Reserve : 10%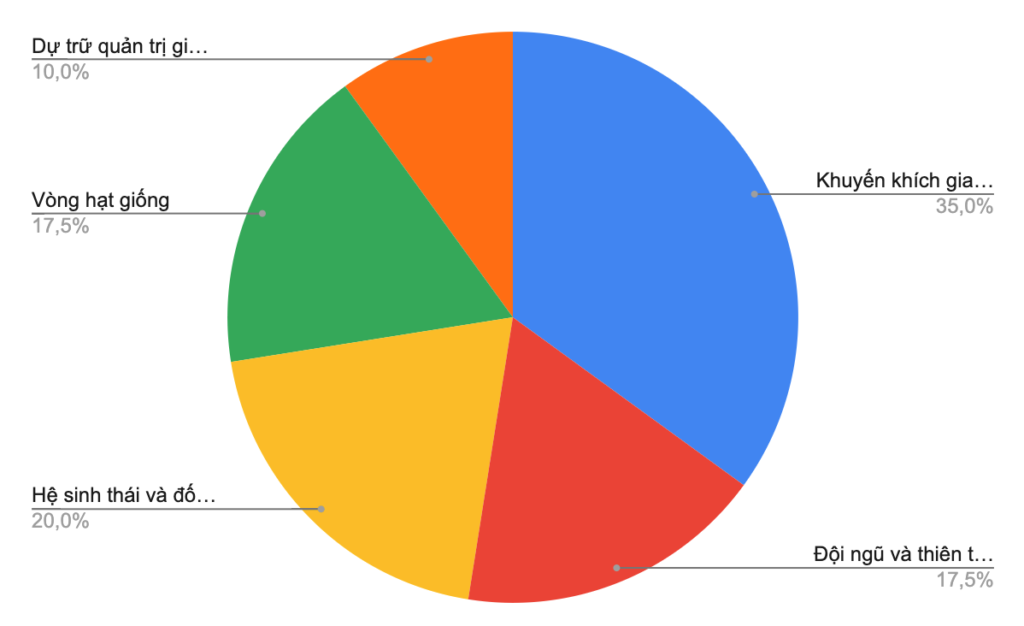 Token Release Schedule PRT
Team and Founder: Token will be locked for 1-3 years.
Seed round: Token will be locked for 1-3 years.
Token Use Case PRT
Party Parrot (PRT) tokens will be applied:
Fees for tasks on the platform.
Compensation for insurance pools.
Mint out PRT to clear bad debts in tough market.
Staking to receive gPRT (incentive mechanism similar to xSUSHI or vDODO)
The Party Parrot system will collect the following fees:
Fixed fees on PAI stablecoins.
Loan interest on Parrot platform.
Liquidation penalty.
vAMM transaction fees.
Current Party Parrot Rate
Updating…
Where to buy – Sell Party Parrot tokens
Updating…
Conclude
This is a project in the field of Lending – one of the focus areas of any business DeFi Ecosystem any. The project's team and investor team are anonymous, so this is also a big minus point of the project. I hope in the future, Party Parrot will soon complete the product for community launch.
Here is all the information GTA Research team researched the project Party Parrot and is not investment advice. Hope this article will help you get the necessary information and give your personal opinion about the project.
Virtual Currency Corner
Join the discussion with GTA team at:
Website | Facebook | Fanpage | Twitter | Trading | Research | Youtube