Metaverse has always been the most interesting topic in recent times, with pioneering projects in this field having achieved certain successes but with the great development of current technology the possibility of Metaverse will be a very strong trend. Today GTA Research will introduce to you a project of Metaverse.
What is OVR?
OV R is an AR (Augmented Reality) and VR (Virtual Reality) platform developed on the Ethereum ecosystem. OVR provides users with mobile devices or smart glasses to enhance AR interaction with the real world.
OVR's goal is to connect the real world and the virtual world together, OVR provides all the tools needed to create immersive, interactive and virtual reality experiences in a decentralized way.
With technology compatible with mobile devices and smart glasses, OVR is delivering a new Augmented Reality (AR) experience to users.
Features of OVR
OV R provides an AR (Augmented Reality) and VR (Virtual Reality) platform to connect the real world and the virtual world. Users can experience an AR (Augmented Reality) and VR (Virtual Reality) platform in a whole new way.
Some key features on the system:
OVR Node: OVRNode is responsible for hosting AR (Augmented Reality) and VR (Virtual Reality) content. The OVRNodes form a decentralized Interplanetary File system (IPFS), providing optimal efficiency for transactions.
OVR Stake: Platform users who want to support the OVR ecosystem can Stake OVR tokens. When tokens are staked, holders will have the authority to participate in voting on system operations.
OVR App: People can download the OVR app on both iOS and Android operating systems. Everyone can earn money on this system.
OVR Land: Virtual real estate on OVR is called OVR Land, users can create their own property auction activities. In addition, users can also mint tokens on their Land.
OVR Live: OVR Live allows users to create their own Avatar by uploading a photo from the device or taking a selfie. Users can freely customize the features that suit them with ultra-realistic 3D rendering.
OVR Live Event: Thanks to the combination of Augmented Reality and Blockchain, users can participate in events of their idols in their own home on OVR.
OVR Treasures: OVR Tresure Hunt offers a similar experience to the Pokemon Go game. Users use their devices to search for treasures at the location where they are.
OVRExperiences: Experiences created in OVRLands can be executed as OVRExperiences that can be bought and sold in the platform. OVRExperiences can be bought and sold through the OVR Marketplace, with transactions secured through smartcontracts.
OVR SDK: OVR designed the SDK so that developers can easily deploy applications on the blockchain. The OVR SDK provides users with the ability to manage spatial borders and 3D asset positioning.
OVR Marketplace: This is the main place to participate in buying, selling and auctioning of the system
OVR Cashback: OVR Cashback in OVR tokens for OVRLand purchases. With OVRAdv, the platform provides a decentralized advertising infrastructure where OVRLand holders can earn passive income with OVR tokens by putting content sponsored content into their AR experience.
Project highlights
OVR provides users with a completely new experience for AR (Augmented Reality) and VR (Virtual Reality) platforms.
The project has created a fairly complete ecosystem for a blockchain project. The project has most of the features that other projects possess.
You can see that the project is running moneyflow quite well on its ecosystem. Moneyflow will flow relatively little to the outside under the current model.
For users who do not have the conditions to participate in their idol's activities, this is an opportunity for users to interact with their idols.
OVR diversify the gameplay so that users will be less bored when the platform has only 1 feature, the game.
Users can fully profit from the system, from selling virtual real estate or staking….
Roadmap- Project roadmap
2019: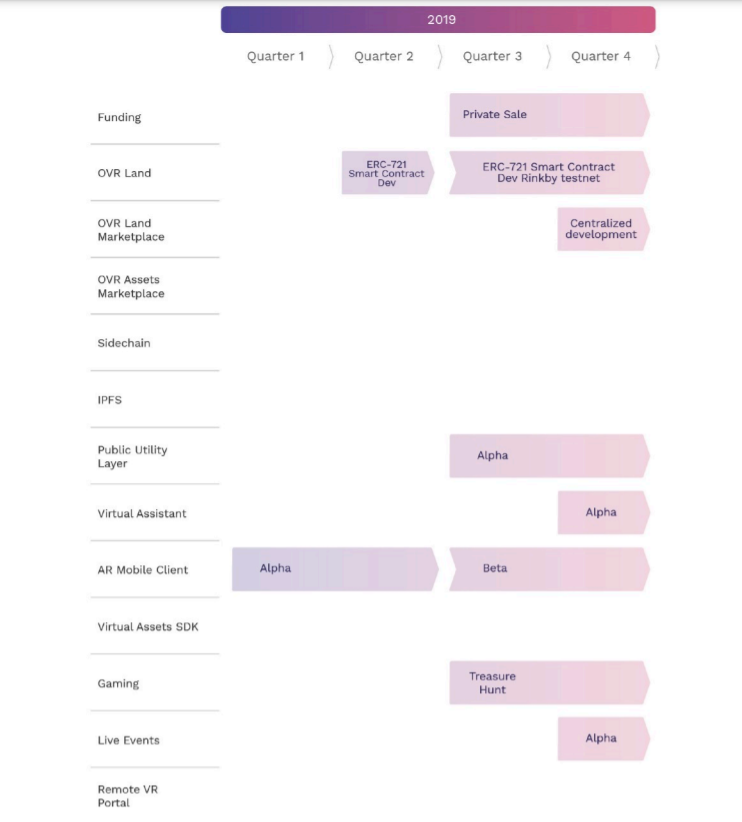 Roadmap nyear 2020: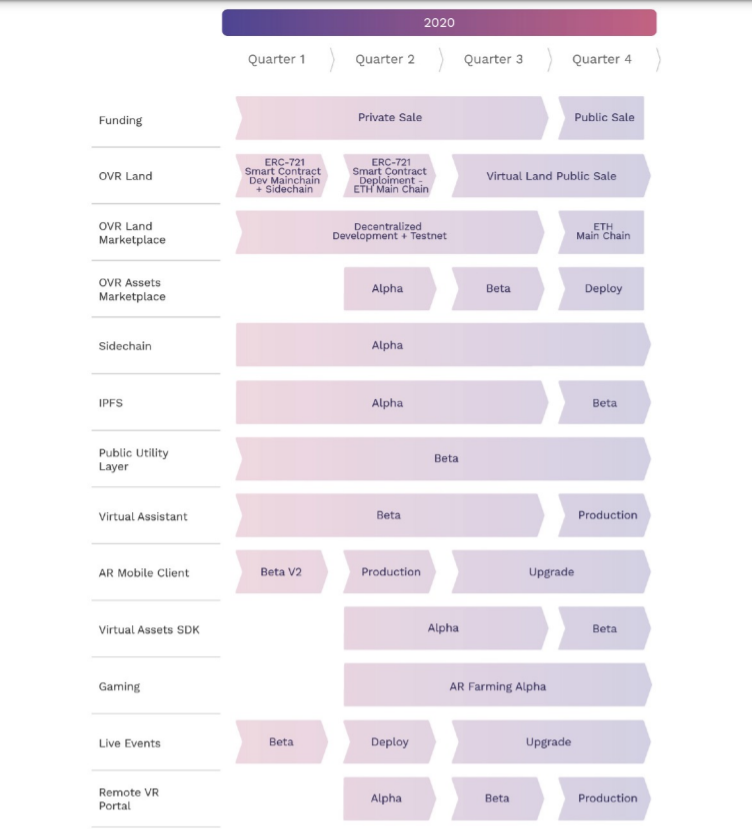 Roadmap nyear 2021:
Team- Development team
CEO, Davide Cuttini: He is a software engineer with extensive experience in the field of Augmented Reality and Blockchain. In addition, he is also the CEO of Gezapp and co-founder of BidPrenium.
COO, Diego Di Tomaso: He is COO of OVR, Advisor to PwC and MBA. He has extensive experience in system operation and development.
CSO, Mattia Crespi: He is an IFTF Researcher, Founder of Qbit Technologis, Co-Founder of OVR.
Marketing Director, Lydia Wang: She has extensive experience in the field of market research. Specializing in Advertising, Marketing, Sale, etc. She graduated with a master's degree from the London School of Economics and Political Science.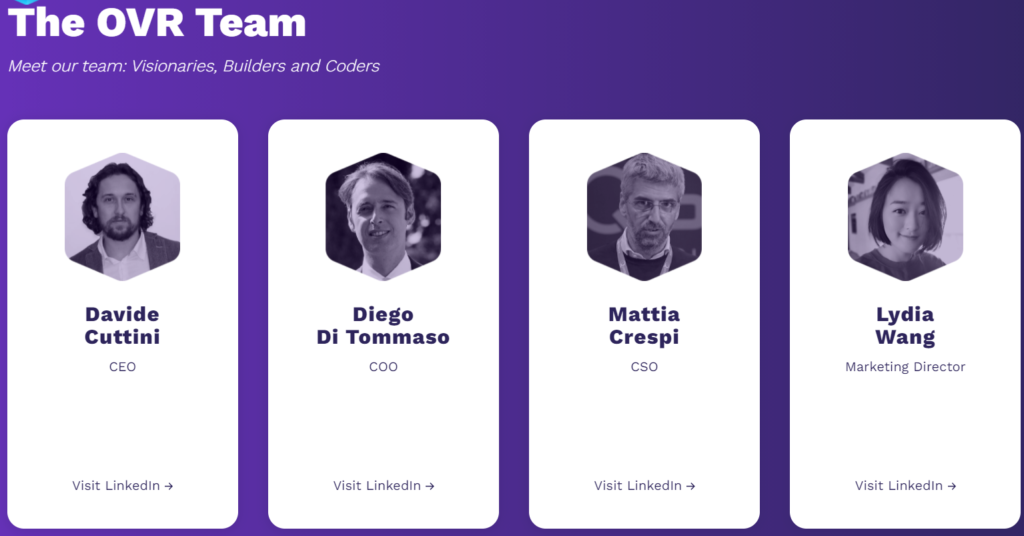 In addition, there are many members with many years of experience in many different fields. Detailed information about the project team you can update here.
Investor- Investor
Updating…
Partner- Partner
Updating…
Token
Token Use Case
OVR token makes it possible for users to earn profits by participating in the system, Users can buy, rent, sell OVRLand with OVR.
Users can bring OVR tokens to Stake to get profit from staking and have the right to participate in voting for the project's governance activities.
OVR tokens are also used to cashback users when they participate in OVRLand transactions.
Activities on the system will pay fees by OVR
Basic information
Token Name: OVR Token
Ticker: OVR
Blockchain: Ethereum
Contract: 0x21bfbda47a0b4b5b1248c767ee49f7caa9b23697
Token Type: Governance, Utility,…
Total Supply: 110,000,000 OVR
Circulating Supply: 17,300,000 OVR
Token Allocation
Updating…
Token Release Schedule
Updating…
Current OVR rate
I will get data from Coinecko so that everyone can update the OVR rate easily.
Where to buy and sell OVR Tokens?
Currently, OVR Token has been listed on many different CEX and DEX exchanges. Exchanges that support buying and selling OVR tokens today such as: Pancake Swap, Uniswap, Gate, Bitmart, MEXC,,….
Project community
Website: https://www.ovr.ai/
Twitter: https://twitter.com/OVRtheReality
Telegram: https://t.me/OVRtheReality
Medium: https://medium.com/ovrthereality
Discord: https://discord.com/invite/PBcECmFQYZ
Evaluate
This is a whole new standard compared to the AR experience. As we all know the PokemonGo craze in previous years has created a new wave for today's technology platforms and now it's about combining AR with Blockchain and earning money. Such a combination has caused a new wave for the Crypto market. Will according to the development of trend metaverse technology in general and OVR in particular, there will be a great growth in the future?
Above are GTA Research's evaluations of the OVR project, hopefully through the above article you have updated with useful information. This article is for reference only and is not intended to encourage investment.
Buy and sell Coins at Prestigious Bitcoin exchange in Vietnam?
In addition, if you want to buy and sell coins in VND at the Bitcoin exchange in Vietnam, you can visit Bitmoon to trade! This is one of the most prestigious exchanges in Vietnam today.