With the Cosmos ecosystem gradually expanding its ecosystem, from completing 100% of the roadmap to supporting building products. Cosmos is a potential ecosystem in the crypto market. AMM is an indispensable product of an ecosystem. Today let's learn about the Osmosis project with GTA Research, one of the first AMMs of the Cosmos ecosystem!
---
An article that you need to read to understand the huge potential of Cosmos Network: What is Cosmos Network (ATOM)? Something to know about the Cosmos ecosystem.
What is Osmosis?
Osmosis is an AMM DEX built using the Cosmos SDK. This is one of the first AMM exchanges built on Cosmos.
Present Osmosis is aiming to be the most innovative AMM exchange across ecosystems. The reason why I say that I will mention right below.
Features of Osmosis
Osmosis has many features planned during development to improve liquidity incentives beyond what AMM can do.
In addition, Osmosis has the same basic features as other AMMs such as: Trade, Pool, Airdrop, Assets, Stake, Vote.
Trade features: Users can swap asset pairs on Osmosis
Pool features: Users can provide liquidity for trading pairs on Osmosis and receive rewards according to different pools.
Airdrop features: Users will do quests on Osmosis and receive rewards.
Assets features: At this feature, users can manage their assets on Osmosis.
Staking Features: Users can become validators of Osmosis by staking the project's tokens.
Voting feature: This feature allows OSMO token holders to participate in voting system activities.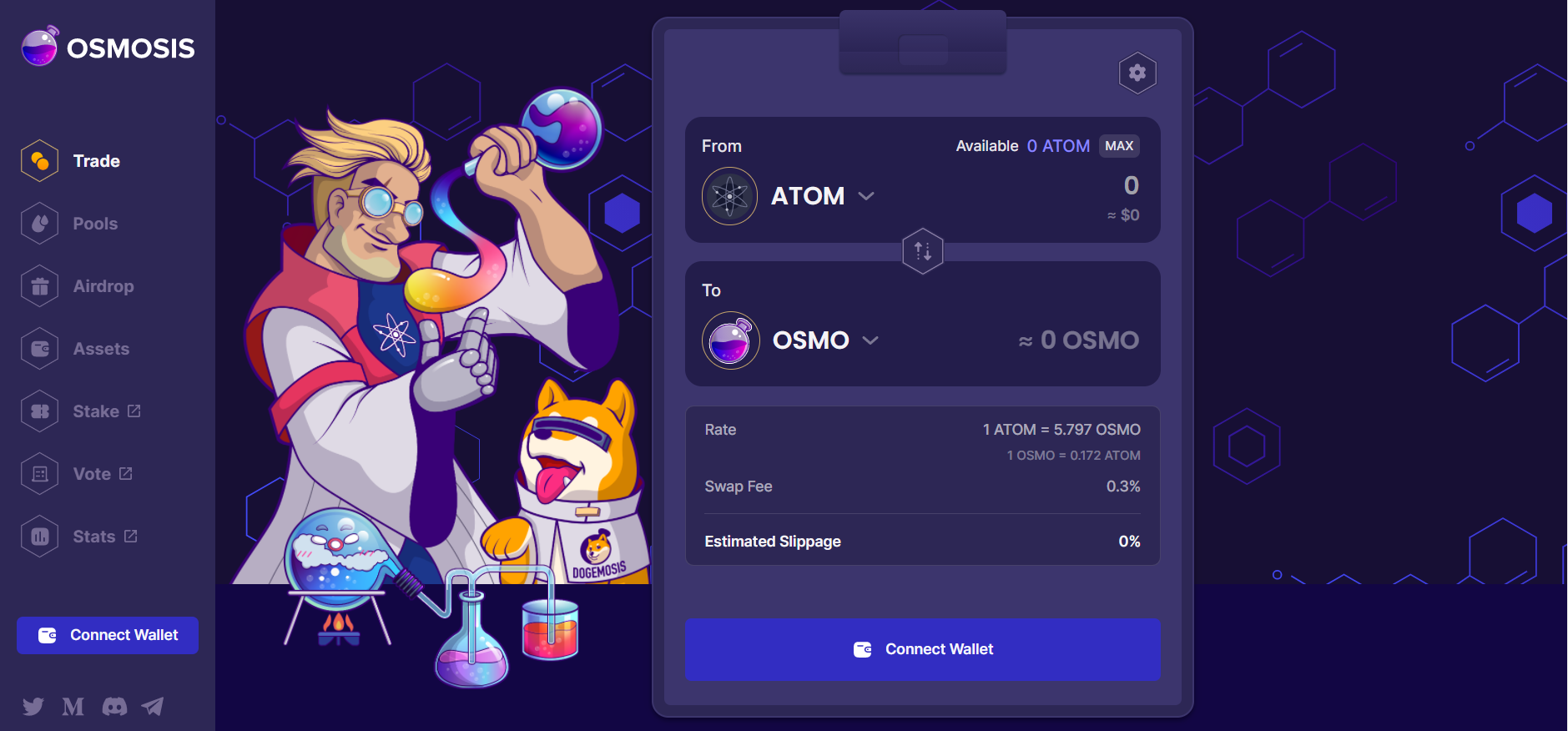 Similar projects
Osmosis is considered as a combination between Uniswap and Curve, so by taking ideas from these two projects, it can be considered that the above two projects are two projects that have similarities with Osmosis.
Uniswap is a leading AMM exchange on Ethereum with a current TVL volume of nearly 3 billion USD and daily trading volume up to billions of dollars. When Uniswap released V3 it proved its superiority over AMMs on other ecosystems.
Curve is the largest stable exchange in the Ethereum ecosystem. Currently, Curve is also the top AMM in the market with many different Stable trading pairs. Curve has also attracted the attention of many global investors.
Project highlights
Osmosis is an advanced AMM protocol built on top of the Cosmos SDK that allows users to easily design and build their custom AMMs.
The project is connected to IBC from the very beginning, it allows the project to be connected to the entire Cosmos ecosystem with tens of billions of dollars in funds.
As soon as Cosmos completes the implementation of Gravity Bridge, Osmosis can easily access and support ERC20-formatted assets on Ethereum.
The AMM structure on Osmosis is not hard-coded, the algorithms or parameters on Osmosis can be completely customized.
Pool creators can easily customize the parameters to suit their Pool and they can easily manage their Pools.
The assets that are currently supported on AMM can be easily added or removed.
Osmosis pools have different curves that make Stable Assets easy to deploy and operate on Osmosis.
Osmosis easily inherits the basic features of the two largest AMMs on the market, Uniswap and Curve Finance.
Roadmap- Project roadmap
Updating…
Team- Development team
Updating…
Investor- Investor
Updating…
Partner- Partner
Updating…
Token
Token Use Case
The project will issue a new Token with the code OSMO, the OSMO Token is used in the following cases:
Users can stake OSMO tokens on the system and get rewarded
OSMO tokens are used to incentivize system liquidity
OSMO token holders can participate and vote on OSMO activities.
Basic information
Token Name: Osmosis Token
Ticker: OSMO
Blockchain: Cosmos
Contract: Updating…
Token Type: Utility, Governance
Total Supply: 1,000,000,000 OSMO
Initial Supply: 100,000,000 OSMO
Token Allocation
OSMO tokens will be distributed according to the following ratio:
Liquidity reward mining: 40.5%
Developer Vesting: 22.5%
Staking Reward: 22.5%
Strategic Reserve: 5%
Airdrop: 5%
Community Pool: 4.5%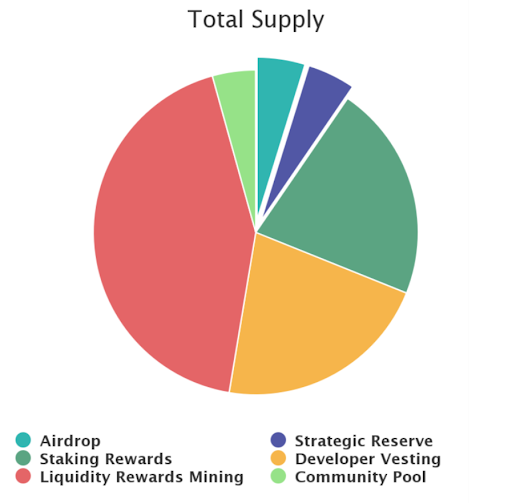 Token Release Schedule
The OSMO token issuance schedule is as follows: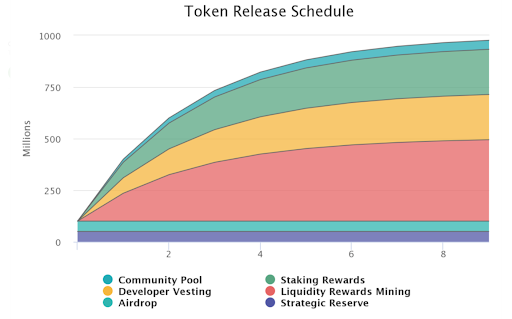 How to own OSMO token tokens
Currently, if you want to own this Osmo Token, you can only trade on Osmosis.
Also you can get Osmo tokens through Airdrop on the system.
Project community
Evaluate
Osmosis is a leading AMM on the Cosmos ecosystem, it is a relatively old ecosystem but the development in its ecosystem has not really exploded. When Cosmos finishes updating Gravity Bridge, it is likely that this ecosystem will really explode.
Above are GTA Research's evaluations of the Osmosis project, hopefully through the above article you have gained useful information. The above information is for reference only and does not encourage investment. Thank you!
Virtual currency corner
Join the discussion with GTA team at:
Website | Facebook | Twitter | Trading | Research | Youtube