Orion Protocol (ORN) is a DeFi platform on the list of top 10 DeFi projects worth noting in the second half of 2020 that GTA recently mentioned. So…
What is Orion Protocol? What is ORN token?
Should I invest ORN token or not?
Buy ORN tokens Where is the reputation?
Orion Protocol Wallet (ORN) Which should be used?
Once you have the answers to the questions above, you will have a certain basis for determining the investment potential in this area. ORN token of the Orion Protocol. So what are you waiting for, let's start the article!
Maybe you are interested:

What is Bitcoin? Bitcoin investment guide for beginners?
What is Orion Protocol? What is ORN?
Orion Protocol is a project, a DeFi (decentralized finance) platform using the Ethereum blockchain that aims to provide a solution to several problems in the DeFi space by aggregating the liquidity of the entire money market. (CEX, DEX, swapping pool) into a single decentralized platform. Besides that, Orion Protocol is the first project implemented Dynamic Coin Offering (DYCO), a new token sale process.
Why was Orion Protocol born?
Currently, there are many cryptocurrency exchanges along with the price difference of the same coin and token on the exchanges often taking place. Every time a trader wants to use a certain exchange, they must register and perform steps to verify a new account. Along with that, the linkage between centralized exchanges (CEX) and decentralized exchanges (DEX) is very poor.
This leads to, the management of the portfolio, the execution of trades by traders on many exchanges becomes difficult and difficult to manage.
What does Orion Protocol do?
To solve the above problems of the market, Orion Protocol You have the following abilities:
Summarize, combine liquidity
Orion Protocol provides a standardized protocol to connect CEX and DEX exchanges. Thereby it allows all parties to participate in the transaction process in a completely decentralized manner. All operations and operations of the protocol are performed on the blockchain and it can also be integrated with any other blockchain model.
Through the use of PoS, DPoB together with ORN token play a leading role, each transaction on Orion Protocol made by a broker through a decentralized exchange. Brokers earn rewards of ORN token when making these transactions.
Orion's smart contract can be deployed in different programming languages ​​(Solidity, Rust, …) through which its application on other platforms becomes simple.
The high-performance Orion matching engine is built on an aggregated orderbook, updated from every exchange in real time.
Wallet Orion Protocol can be integrated into all popular widely used wallets. It provides users with a secure storage solution.
What is ORN token?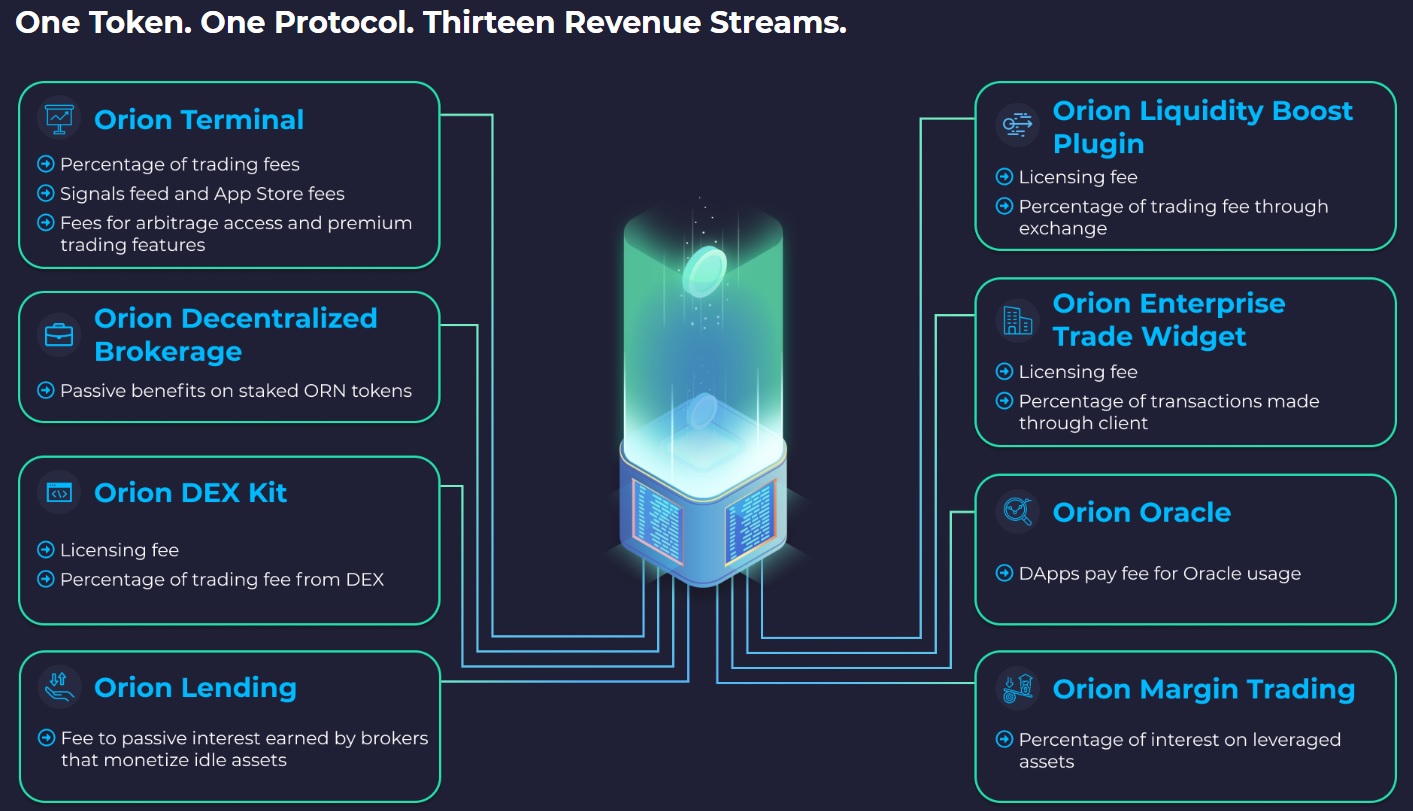 ORN token to be Utility Token of the Orion Protocol according to Ethereum's ERC20 token standard. It is integrated across the entire protocol and into all major transactions in the form of internal currency or utility tokens.
Maybe you are interested:

What is ERC20? Learn more about ERC20 tokens and ERC20 wallets
When you hold ORN token will bring many benefits. In addition, Orion will also provide additional value for users and incentivize them to hold ORN tokens including:
Transaction discount.
Advanced features.
Access the protocol and profit from the ORN stake.
| | |
| --- | --- |
| Token symbol | ORN |
| Blockchain | Ethereum |
| Contract | 0x8fB00FDeBb4E83f2C58b3bcD6732AC1B6A7b7221 |
| Decimals | 8 |
| Token Standard | ERC-20 |
| Maximum total token supply | 100,000,000 ORN |
| Total tokens in circulation | 4,030,000 ORN |
| Rank Market cap | 388 |
Basic information of ORN token (updated at 15:00 on August 17, 2020)
ORN token distribution (%)
ORN token release schedule
Why invest in ORN token?
Orion Protocol Founders Team
Alexey Koloskov (CEO): Alexey is a blockchain developer and chief architect of Waves 'DEX. He has extensive experience in developing and managing banking system software and managing large-scale IT projects. Over the past few years, Alexey has built a reputation as an active and professional participant in the blockchain development community.
Kal Ali (COO): Kal is a founding partner at Kanix and a Blockchain strategy advisor for several projects: Holochain, Morpheus Network, and Quant Network. He specializes in partnerships and overall business development/structure, handling all administrative and operational duties of Orion. Kal holds a finance degree from Rutgers Business School and is an expert in applying traditional finance to the cutting-edge Blockchain space.
Timothea Horwell (CMO): Timothea Horwell is a commercial-oriented marketing strategist with a focus on driving business and revenue growth. From developing business strategies for clients at a start-up incubator to founding and leading the Marketing & Research department at Telefonica UK, one of the largest telecommunications companies in the world.
It can be seen that Orion's leadership team is all qualified in the fields of technology, finance, and marketing. It is likely that the team will solve the outstanding problems of blockchain and will promote the investment potential of the company ORN token.
Orion Protocol Development Roadmap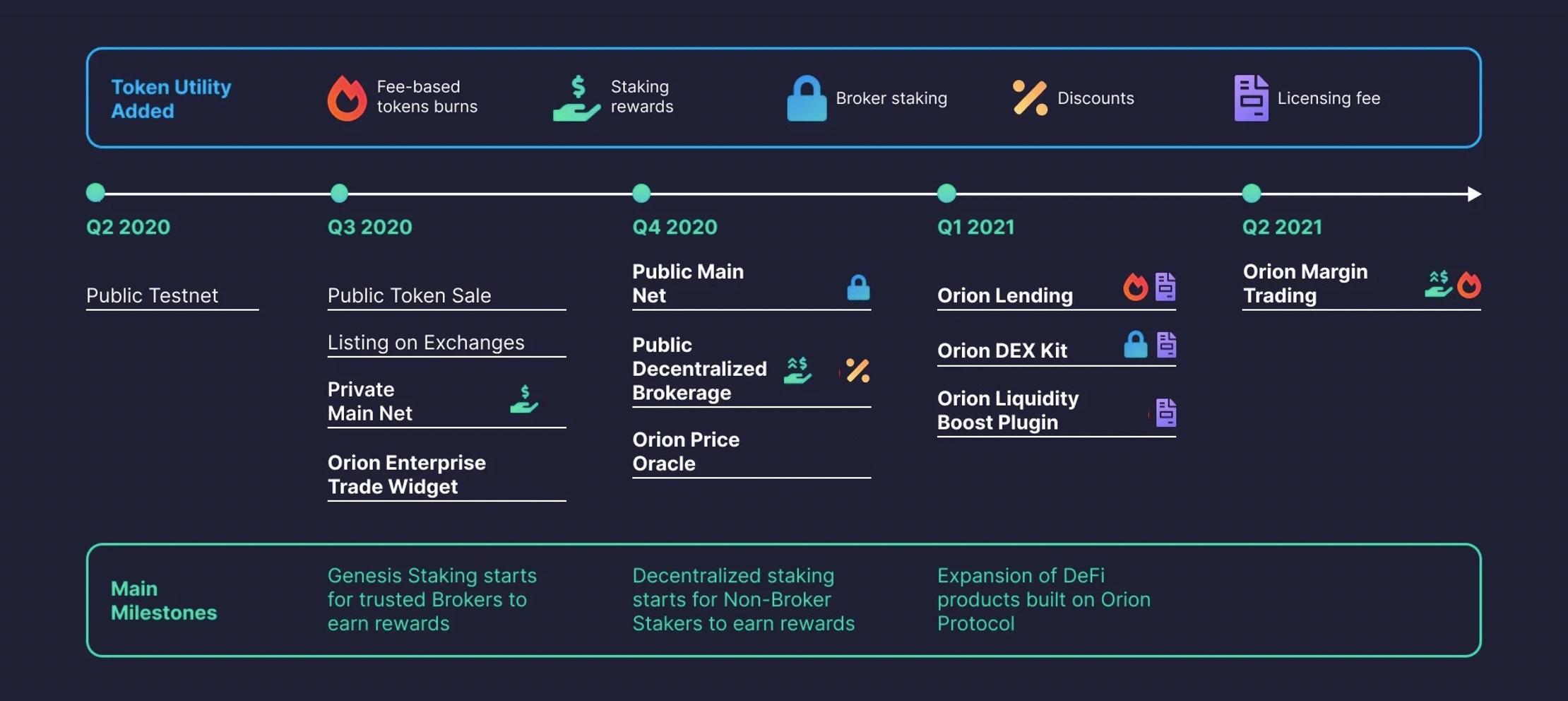 The future of ORN tokens
Target of Orion Protocol is to build a DeFi platform that integrates the liquidity of all platforms (CEX, DEX) with ORN token are utility tokens. So when Orion Protocol The more blockchains are applied and integrated, the more the demand for use ORN token will increase accordingly. With DeFi being a hot trend at the moment, with the solution that Orion provides, it is likely that ORN token will have price increases in the near future.
Besides, when investing ORN token you need to note:
The maximum total supply of is 100,000,000 ORN but in current circulation there are only 4,030,000 ORN. That is, the number of ORN tokens in circulation accounts for only 4.03% of the total ORN supply.
The ROI of ORN at the time of writing is 423.28%.
The points mentioned above will greatly affect the investment potential of ORN tokens at the present time.
Where to buy ORN tokens?
Currently, do ORN just completed the token sale in the middle of last month and according to Coinmarketcap, the market data of this token has only been available since July 17, 2020, so there are relatively few exchanges that support exchanges.
Some international exchanges that support buying and selling ORN tokens are summarized in the table below:
| | |
| --- | --- |
| Exchanges | Transaction fee |
| Kucoin | 0.080 – 0.100% |
| BitMax | 0.2% |
| Uniswap | ~ |
You can click on the name of the floor you want to learn about in the table above, there will be a link to the tutorial article and introduction to that floor.
Orion Protocol wallet should use
Depends on usage ORN token your wallet that you will choose for yourself the appropriate wallet.
The best choice for this wallet is Trust Wallet, with a friendly and easy-to-use interface.
Maybe you are interested:

What is Trust Wallet? How to create a Trust Wallet and use details
Since ORN is an ERC-20 token, you can completely use current popular supporting web platforms such as: MyEtherWallet nice MetaMask.
Maybe you are interested:

What is MyEtherWallet? Instructions on how to create a MyEtherWallet wallet and how to use it
In addition, if you regularly trade ORN tokens, you can choose to store ORN at an exchange that supports trading this token (Kucoin exchange, BitMax, …)
Conclude
This article has summarized the most basic information you need to know about Orion Protocol and ORN token. With this article, I hope that readers can grasp some of its investment potential.
Although it will take some time to read the entire article, I hope your time will not be wasted.
If you find the article interesting and useful, do not hesitate to share it with your friends.
All investment statements above are personal. All investment decisions are made by you and you are responsible for your assets. Good luck!
Virtual Currency Corner