Solana is an ecosystem that is quite interested in many blockchain projects due to its cost-effectiveness as well as the speed it brings. The projects built on Solana have now reached hundreds and are still actively blooming. Orca is an AMM built on Solana with a user-centric goal that has received a lot of response from the community. So Orca what? Let's go find out below this article.
See more: What is Solana Network? Detailed information about Solana ecosystem
What is Orca?
Orca is a general decentralized exchange DEX operating under the AMM mechanism built on the Solana platform. Orca operates with the motto of taking the community as the center. Take advantage of Solana with fast speed and low cost Orca is building an apparatus for the long term, not in the form of fomo.
Orca is receiving a great response from the investment community since its launch. Team Orca is trying day and night to develop a strategy that is beneficial to the community in accordance with the established motto.
Why did the Orca choose Solana?
Solana is not simply a chain with optimal points in terms of fees or transaction speed. When Orca choose Solana , then Orca is choosing an entire ecosystem backed by Sam Bankman-Fried – CEO behind one of the world's largest derivatives exchanges FTX and CEO of one of the most prominent crypto investment funds – Alameda Research
The Solana network is extremely optimized with 400ms block times, 50,000TPS and an average transaction fee of only $0.00001. It all works simply and without the complications of side-chaining or sharding. What catches everyone's attention is that the Solana network is constantly expanding, the Solana engineering team is actively developing open source code so that third-party developers can build on Solana.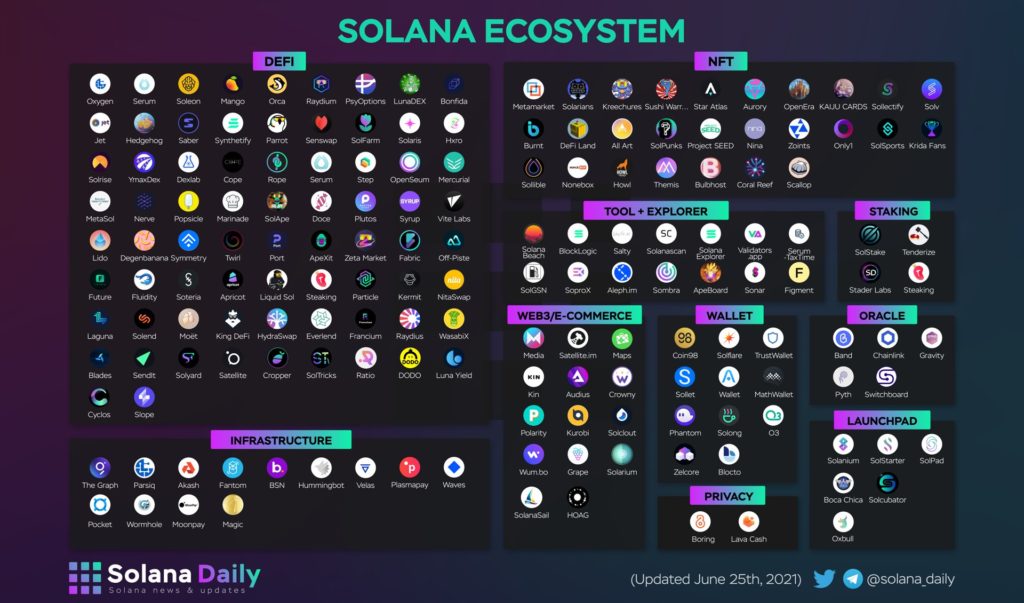 Although it has only been launched for more than a year, the ecosystem has grown extremely fast and wide, with a series of quality projects built. I believe that in the near future Solana will explode strongly and herself Orca also benefit from that.
Project features
Compared to previous AMM exchanges Orca also has the same features as:
Swap: Orca provides an easy-to-see user-friendly interface that takes full advantage of Solana processing at lightning speed at near-zero cost.
Liquidity: Orca offers 19 pairs of tokens, users can provide liquidity and for profit. This profit is deducted from the token exchange fee.
Collectibles: is a repository of NTFs tokens, unlike normal tokens, tokens are issued and created the same, NFTs tokens are different tokens on a contract and are limited in number.
Similar projects
Projects with the Solana network: SerumSwap, Raydium, etc. These two projects are also the two most prominent DEX exchanges in the Solana ecosystem. Currently also a partner of Orca.
Some AMM DEXs on other ecosystems are also growing:
Highlights
Take advantage of Solana's most outstanding advantages of Orca are the transaction speed and fees.
From the perspective of the project team, there are a number of advantages as follows:
Every member of our core team is a software engineer so they have a thorough understanding of the product. In addition, they have worked on Ethereum before, so they will learn a lot from the network.
First-mover advantage: As one of the first projects to receive funding to develop applications on Solana, surely Orca will be more important than ever.
Development roadmap
Roadmap in the 2nd & 3rd quarters of 2021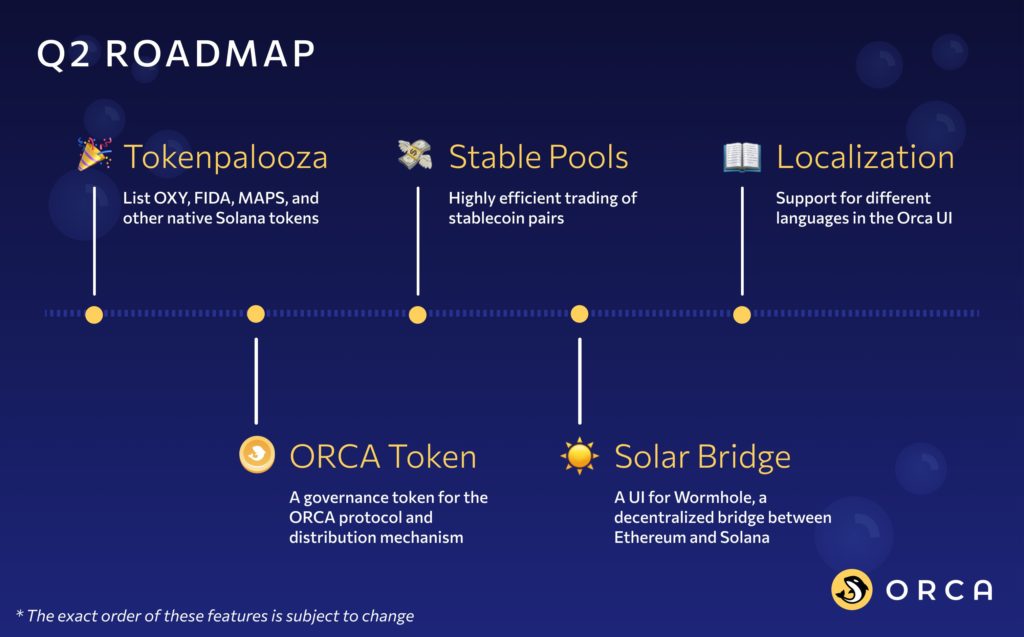 List some tokens: OXY, FIDA, MAPS and SOL tokens.
Launch of Stable Pool: Offers attractive APR up to 35%. Up to this point, Orca has reached $1.5 million in liquidity.
Improved user interface, multi-language support
Launching the governance token
Solar Bridge construction
The sharing of the project team about the upcoming vision at the meeting on June 28:
In preparation for the launch of the governance token, the team will focus on developing and innovating the core AMM to improve capital efficiency for liquidity providers.
Plan to decentralize the Orca protocol in the next few years, community-driven governance.
In a nutshell, you can see that Orca is going quite slowly, but above the article I mentioned Orca aims to build a DEX for the sake of users and put users first, they do not fomo do it. That's why they want to build a solid strategy as the core foundation for safely and effectively developing the project.
Team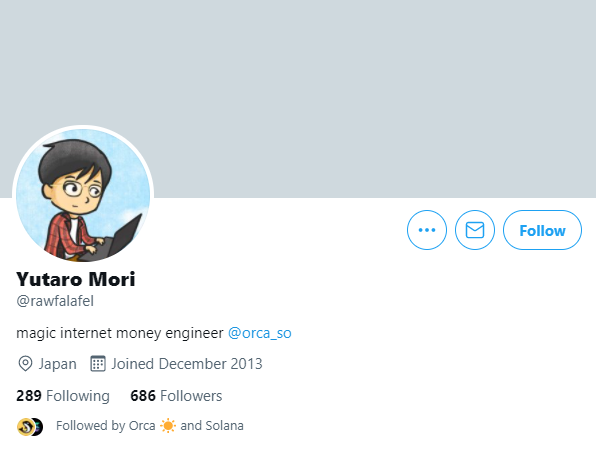 Yutaro Mori, aka Rawfalafel, is one of the co-founders of Orca and has a passion for cryptocurrency. An industry-trained software engineer, With his research, he became an engineer at UMA before coming to Orca.
Co-founder and de facto head of product of Orca. Basic knowledge of engineering and design. After earning her BS and MS in Computer Science at Stanford, she worked as a software engineer at Coursera.
Michael Hwang, aka tmoc, is an experienced software engineer at Google. With his love for cryptocurrencies, he took a break and started researching and then came to Orca.
Milan Patel, aka milan is the marketing department of Orca. Experienced in working at a large bank in McKinsey. After that, he switched to programmer, and studied the field of cryptography and became the PM for Ethereum 2.0 Staking.
The CEO of Solana once commented that they are constantly impressed by the engineering, design and expertise of the team Orca. This is not too surprising when the team Orca have a lot of experience working with Ethereum, they have the experience to draw to develop their products.
Partner
Orca is currently collaborating with projects in the ecosystem mainly to support more complete construction: Serum, Raydium, Map.me, Oxygen … The future will expand cooperation to the outside and they are developing bridges with other ecosystems.
Investors
The project was built by a grant from Solana Foundation.
Solana Foundation is an investment fund built by the Solana network with the goal of building, supporting and developing the Solana network and Orca is one of the first projects invested and built by the fund.
Information about tokens
Although there are plans to launch a token, we have not seen the latest announcement from Orca.
Orca does not want to be a project that only issues tokens and does not bring real value to users. And the most special is the FOMO bubble of speculators, it will cause users to suffer heavy losses if they invest in a token that has no value.
Most important, Orca still want to build a strong enough development community on Solana ecosystem. An ecosystem of designers, developers, and moderators contributing to Orca's development.
Community
Conclude
About current products Orca still low compared to other AMMs, liquidity and TVL are still quite low because there are not many features to attract users, but with a new project like Orca, it takes time for the project team to develop. .The project is funded by the foundation Solana Foundation hopefully with the upcoming explosion of Solana will create conditions for the explosion of Orca. Currently there is no announcement about the launch of the project's native token, I will update the latest information as possible so that you can keep up with the project.
Above is all the information that GTA Research team has researched about the project Orca and is not investment advice. Hope this article will help you get the necessary information and give your personal opinion about the project.
Virtual currency corner
Join the discussion with GTA team at:
Website | Facebook | Twitter | Trading | Research | Youtube