Ontology was founded by the company Onchain (do Dahong Fei and Erik Zhang founder) in November 2017.
History of Ontology (ONT)
Onchain is a Chinese technology company that has been building blockchains and Distributed Network Architecture (DNA) for businesses since 2014.
Co-Founder CEO Da HongFei and CTO Erik Zhang created the NEO/GAS blockchain (originally called Antshares) in April 2016 after 22 months develop.
Then in November 2017, Onchain launched Ontology.
The mission Ontology want to do that is to be a trusted, comprehensive decentralized network. The platform is focused towards connecting real-life elements with blockchain networks for businesses and organizations.
To do this thing, Ontology brought Ontology Trust Network.
Ontology Trust Network
The Ontology Trust Network is composed of 3 layers:
Scenarios: In class Scenarios will verify all information of the user.
Modules & Protocols: After the information has been verified, it will be linked to this module class.
Ontology Network Chains: This class has a cross-chain function that allows different chains to connect with each other.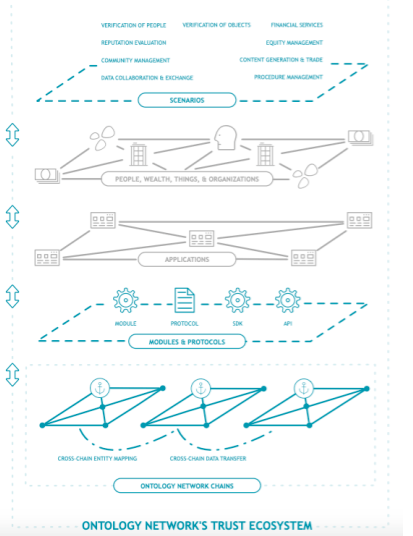 To maintain the stability and operation of this platform, ONT . coin play an important role.
What is ONT coin?
ONT . coin is the base cryptocurrency of Blockchain Ontology.
Instead of the traditional ICO, Ontology chose a series of airdrops on blockchain NEO in February 2018. Airdrops are distributed to .'s newsletter subscribers Ontology (1000 ONT airdop), attendees NEO DevCon (500 ONT airdrop) and ANCHOR (.01 ONT).
Initial, Ontology (ONT) running on NEO's Blockchain platform according to the NEP-5 token standard.
However, after completing the Mainnet on 30/06/2018, ONT . coin officially switched to running on Blockchain platform of Ontology.
Maybe you are interested: What is Neo? Things to know about the latest NEO coin in 2020
| | |
| --- | --- |
| Token symbol | ONT |
| Main Blockchain | Ontology |
| Block generation time | 1-30 seconds |
| Transaction completion time | 5300+ per second |
| Token Standard | OEP-4, OEP-5 & OEP-8 |
| Total supply | 1,000,000,000 ONT |
| Total traffic | 613,348,625 ONT |
Besides the platform Ontology has a similarity with Neo blockchain it's a dual token governance system. That is, outside ONT . coin there is another token that works on Ontology blockchain, ONG.
What is Ontology Gas (ONG) Coin?
Ontology Gas (ONG) – like GAS in Neo Blockchain, Ontology Gas (ONG) is used to pay "gas fee" in Ontology Blockchain.
With a fixed total supply of 1 billion tokens, ONT is allocated by the development team at the following rate:
15% is held by Ontology Core Team with 3.75% unlock rate per year for 4 years.
28% are held by Institutional Partners with a token lockup period of 2 years, disbursed every 6 months with a 7% unlock rate.
10% belongs to NEO Council.
25% is the budget to develop the Ontology Ecosystem ecosystem.
10% Ontology Technical Community Reward.
12% released for free to the Ontology Community.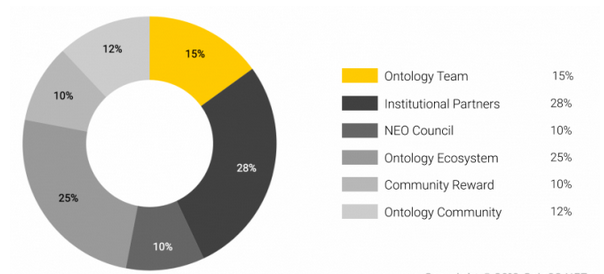 ONT Wallet
With ONT wallet in the form of software on a computer OWallet wallet, official wallet of Ontology (ONT), is the most optimal choice for you.
Owallet Wallet Currently only available on desktop with Microsoft, macOS and Linux operating systems.
Besides, those who have storage needs ONT . coin then form ONT wallet you should choose cold wallet. There are currently several cold wallets such as: Ledger Nano S, Nano X; Trezor well worth your choice.
In addition, the most optimal mobile application ONT wallet currently is the Trustwallet wallet, which you can refer to.
For those who often trade, the exchange wallet is the most optimal choice. Some reputable exchanges such as: Binance exchange, Bitmoon exchange, Huobi exchange,… all support ONT wallet.
Should I invest in ONT?
Up to now, more than 40 dApps have been developed and operated on ONT's platform.
Currently ONT is ranked 28th on the chart according to Coinmarketcap with a large volume of transactions on exchanges.
However, to see whether to invest or not, depends on many factors, the market, luck…
You should research carefully and make your own decision!
Where is the reputable place to buy and sell ONT?
At the present time, investing in cryptocurrencies as well as buying and selling cryptocurrencies has become much more popular. It is considered one of the most popular ways to make money online. That's why, the buy and sell ONT has also become much simpler.
In this article, I will introduce to you the 2 most popular and simple ways to buy and sell at the moment.
Buy and sell EOS in VND
Currently, there are many exchanges that support cryptocurrency trading in VND, but separately Buy and sell reputable ONT I think the best currently is the Bitmoon exchange.
See more articles: What is Bitmoon? Bitmoon Exchange Basic Guide for Newbies 2020
The advantage of Bitmoon is low fees, high liquidity, support for many coins and can store coins right on the exchange. Besides, Bitmoon has been operating for a relatively long time and the reputation level is guaranteed.
Bitmoon has high liquidity and reputation, so I believe that for basic trading needs, cash out in VND, Bitmoon is enough to apply.
International reputable EOS trading platform

The advantage of all international exchanges is that they support many types of coins, besides also supporting other forms of trading such as Margin, Futures.
For those of you who have traded a lot and have experience, you can use and trade regularly on international markets.
Below is the floor name and transaction fee comparison table for your reference.
If you want to learn about which floor, you can click on that floor's name in the table, there will be a detailed article on that floor.
| | |
| --- | --- |
| Exchanges | Transaction fee |
| Binance | 0.015-0.100% |
| Houbi | 0.070-0.20% |
| Okex | 0.060 – 0.150% |
| Bitfinex | 0-0.2% |
| Bittrex | 0.25% (most sour – should not trade) |
| Kucoin | 0.080 – 0.100% |
Although the international exchange has the advantage of trading volume as well as high liquidity, the disadvantage is that you cannot trade in VND. Almost every transaction buy and sell ONT All of you use USDT for transactions.
Conclude
This article has summarized the most basic information you need to know about the platform Ontology. With this article, I hope that readers can grasp some of the investment potential of ONT . coin.
Although it will take some time to read the entire article, I hope that your time will not be wasted.
If you find the article interesting and useful, do not hesitate to share it with your friends.
Good luck!
Virtual Currency Corner