In this 4.0 technology era, you must have heard of it BlockchainHowever, its application in practice is quite complicated and not simple. To make it easier for users, an upcoming project will solve this problem. Let's find out if this is the solution and if you should invest in it.
What is NEAR?
NEAR is one of the most anticipated technologies in 2020 as it solves both the scalability and usability issues (easier to use for new users) that have prevented existing chains from growing and costs soar, so apps finally have the potential to work at a consumer scale with real consumers.
NEAR is a platform decentralized application built on top of the NEAR protocol, a revolutionary proof-of-stake blockchain that uses sharding to scale and an innovative account model to make apps as usable as on the web today. Unlike most "next generation" blockchains, NEAR's uniform sharding design allows developers to take advantage of simplicity in push-to-deploy while benefiting from design sharpening Nightshade, offering flexible scalability and fee stability – all hidden from developers and users.
Blockchain applications are very complex. NEAR makes it simple to build, use, and scale them.
Homogeneous sharding (uniform sharding feature) divides the network into pieces so that computations can be done in parallel, is the only technology that can scale the network at a rate comparable to its growth rate without forcing applications to build the entire blockchain of the network. their own.
Highlights of the NEAR . project
Technology
NEAR uses a new sharding technology that enables applications to scale while enhancing the interoperability that is critical for building complex ecosystems like decentralized finance and the open web. . The core account model also allows developers to build apps with unmatched usability.
Team
NEAR is being built by very good engineers who have extensive experience in transportation systems of the size and complexity of NEAR, including two 2-time ICPC world champions, 2 gold medals , a Latin American champion and many other programming finalists.
Co-founder Alex Skidanov is the director of engineering at database company MemSQL, and co-founder Illia Polosukhin developed the TensorFlow machine learning library as part of Google before they teamed up to build NEAR. .
Ecosystem
More than 100 collaborators from around the world have been quietly building on the technology that is currently being deployed. NEAR has independent Guilds that support a distributed community, partnerships with well-known companies, and more than a dozen projects that are expected to launch soon after MainNet goes live.
Current progress
NEAR's MainNet is ready to go and more than 300 validators are required to join TestNet is encouraged. MainNet is currently operating with transfer restrictions until the network's validators vote to unlock it.
What is NEAR token?
NEAR is the native token of the network. It is used for staking and payment of fees.
The NEAR supply starts at 1,000,000,000 tokens and grows at a maximum rate of 5% per year.
NEAR transaction fees are burned, so at high usage NEAR tokens become deflationary.
NEAR transaction fees are kept low over time as network capacity dynamically expands through sharding.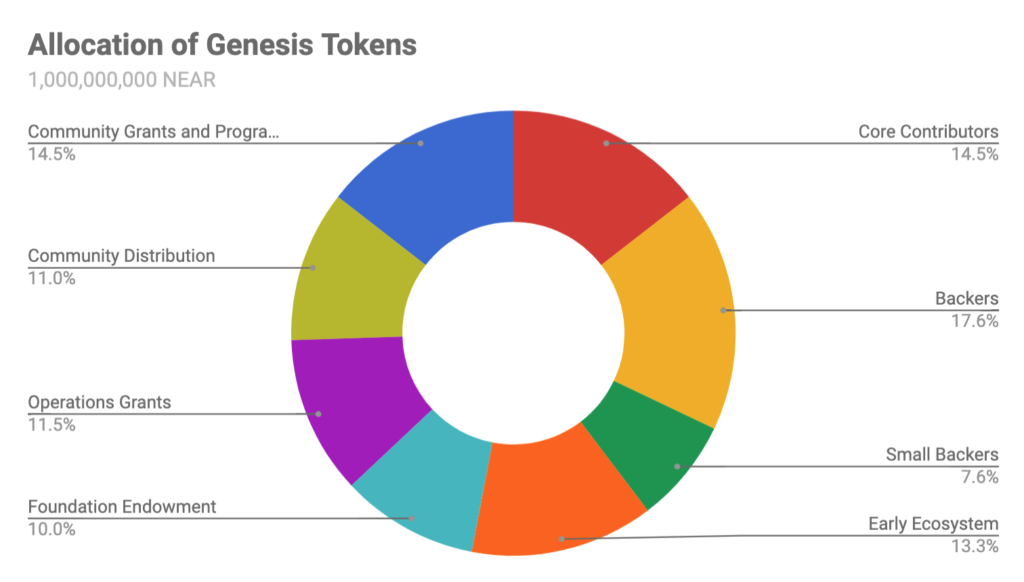 Organizations that support NEAR
NEAR benefits from the support of famous backers, who all lock the tokens they receive for the long term. Initial fundraising is done through convertible notes, all of which are expected to fully convert into tokens. All keys are released linearly over the specified time period.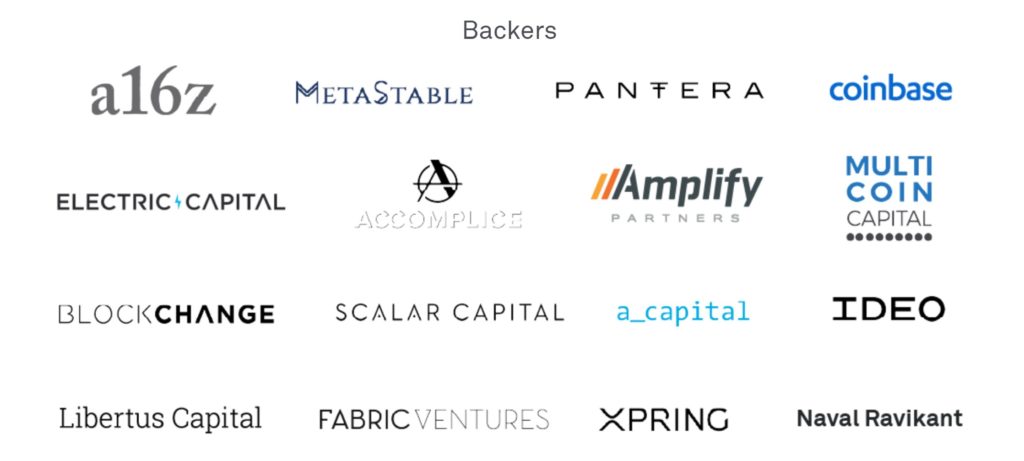 Development partner
More than a dozen projects are expected to launch on MainNet within a few months of going live. NEAR has partnerships with leading custodial, wallet and application providers who will integrate with the network and make it accessible to people around the world.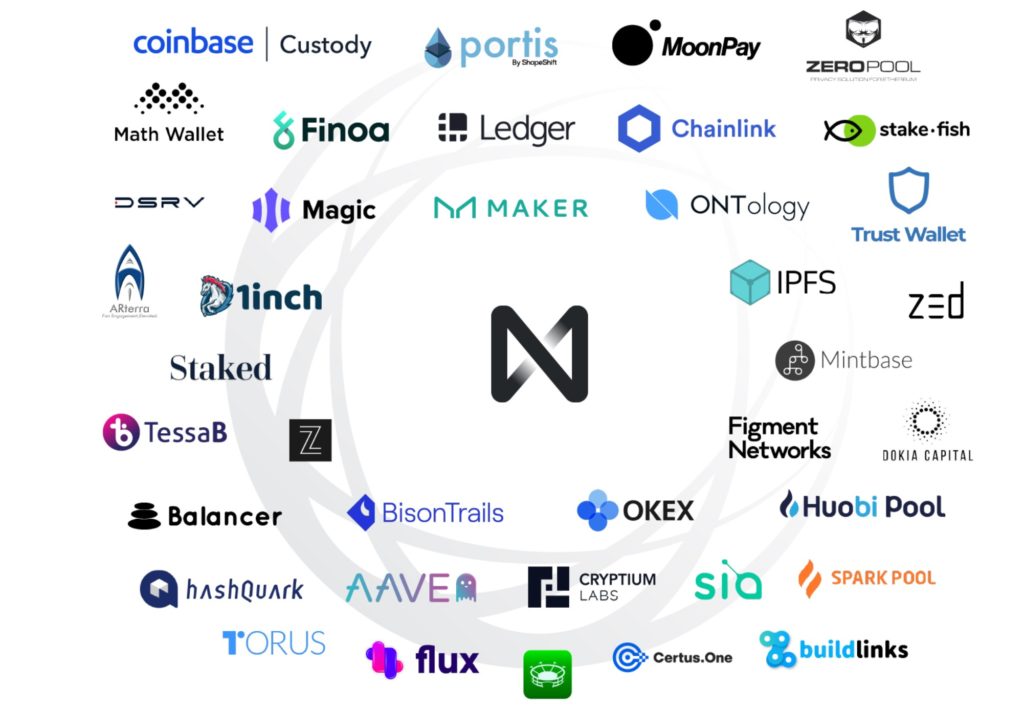 NEAR Protocol's Ecosystem
Currently, Near protocol has fully developed its pieces: DeFi, NFTs, Tools, Wallet, …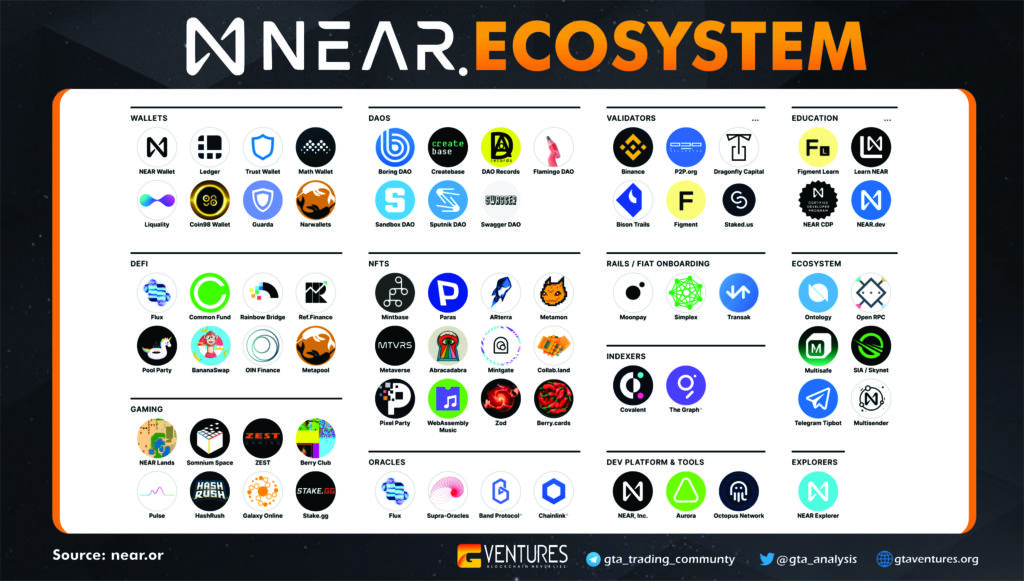 To participate in Near's ecosystem, it is essential that everyone knows how to use Near's wallet: (update soon).
Where to buy and sell NEAR Token?
Currently Near has been officially listed on Binance, Huobi to trade with many pairs such as USDT, BTC, etc.
You can also Near transactions in VND at Bitmoon.net: https://bitmoon.net/mua-ban/near-protocol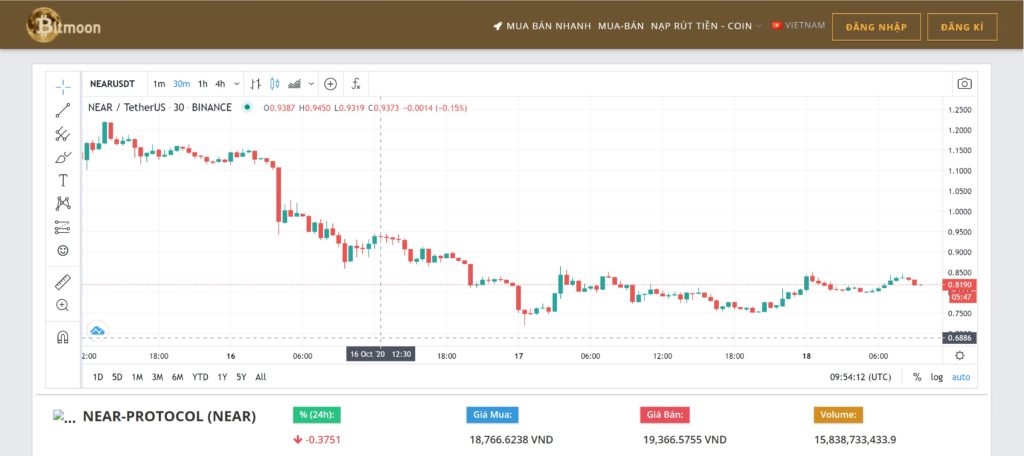 A few things to know about Lock token Near
All tokens begin to unlock from the moment the transfer restrictions on the network are lifted. Most locks are long-lived and release linearly after triggering a transfer. The development core team is locked for 48 months and disbursed in installments every 12 months. The initial circulating supply is around 158 million tokens.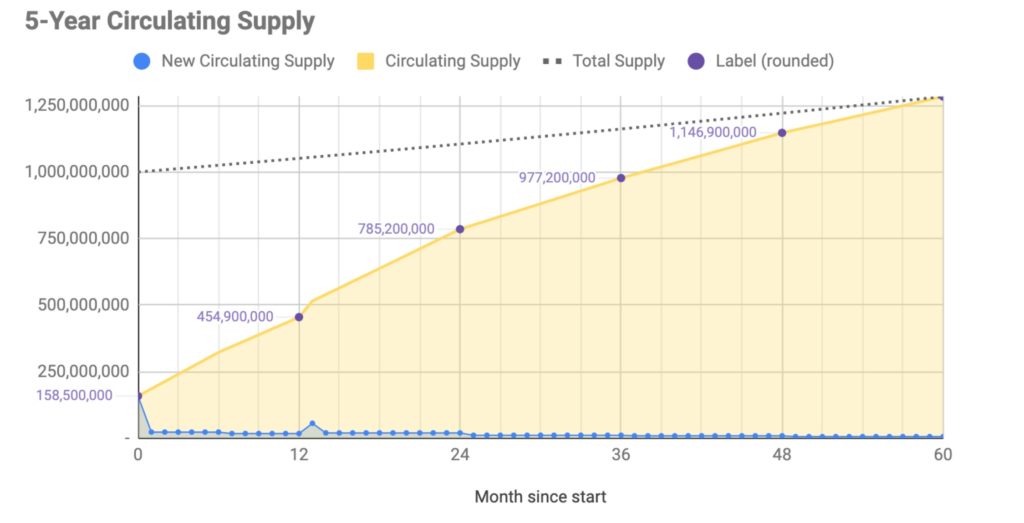 It must be said that this is really a very large project and the opportunity to buy Tokens does not seem to be easy at all. Please take advantage.
Evaluation of the potential of NEAR
This is a project that is basically solving the core problems of the Blockchain ecosystem. Therefore, it is also attended by many investors and Partners. Just seeing the Team has investors and partners, you will recognize the big names in the Crypto industry such as: Coinbase, Huobi, Chainlink, Ledger, etc. So why did you ignore this project??
If you need more information, join the group
Channel: https://t.me/gta_trading_channel
Group: https://t.me/gta_trading_community
Fanpage: https://fb.com/groups/tradecryptovietnam