As you all know, DeFi (Decentralized Finance) has been very developed recently, lending and borrowing platforms are an integral part of Defi, which attracts a lot of money inflows. in an ecosystem. In today's article, GTA will introduce to you about Moola Market (Moola) – a Lending project on the Celo ecosystem.
What is Moola Market?
Moola is a non-custodial liquidity protocol built on the Celo blockchain that gives users access to yield and credit.
In Moola, the project will solve the problem of people who have idle money and want to make a profit, as well as those who want to borrow that money to serve their purpose. Depositors earn interest by borrowers, and borrowers get credit. Loans can be over-collateralized or flashloan under-collateralized.
Moola's Problem Solving
Moola's vision is to become a key lending & borrowing piece in the Celo ecosystem. To do that, Moola has built a model inspired by leading platforms in the field such as Aave, Compound.
Moola is designed to be safe for both depositors and borrowers. Lenders will transfer crypto assets into liquidity pools (LPs) to receive interest on the exchange. Borrowers will join a pool of LPs to find properties to borrow and mortgage with the property required by Moola. Moola does not have any time limits regarding deposits. Lenders can withdraw money anytime they want.
Moola currently supports a total of 3 crypto assets:
Celo: The native asset of the Celo . platform
Celo Dollars (cUSD): An asset that is stable in terms of US dollars
Celo Euro (cEUR): An asset that is stable in the price of the Euro currency.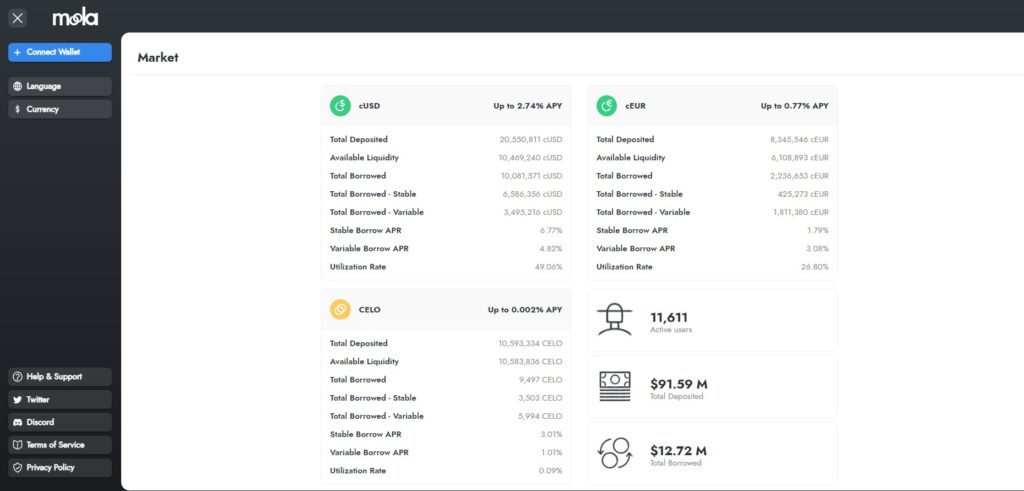 Quick loans Flash loans is also Moola's core business, giving you access to substantial amounts of funds in a short period of time from Moola's liquidity pool without offering any collateral. This is a unique tool that makes you profitable in a short time. Moola Market is the first Flash Loans integrated Lending platform on Celo.
Team – Project development team
Founder of Moola Market is Mr. Patrick Baron. He founded Moola in 2021.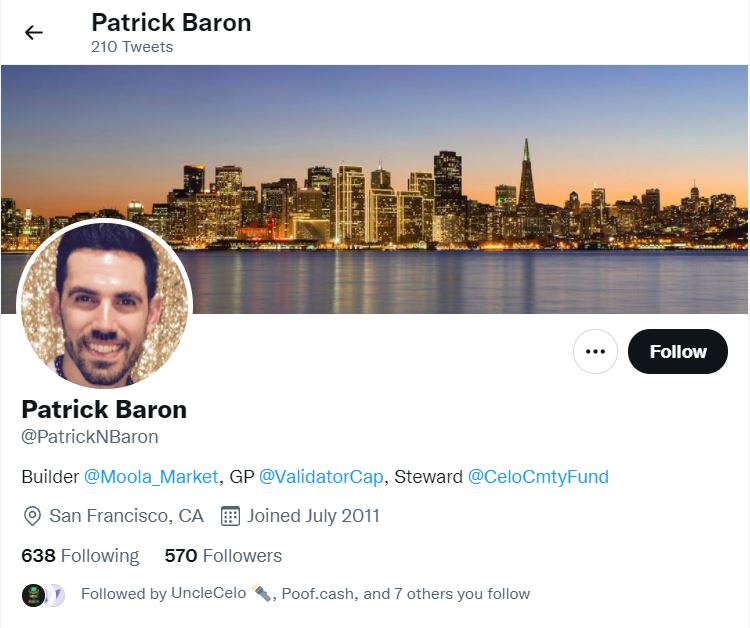 Investors – Investors
Moola has raised $1.4 million from Polychain Capital, Flori Ventures, Davoa Capital and other angel investors.
Token
Detailed information about Moo
Token Name: Moola Market.
Ticker: MOO.
Blockchain: Celo.
Contract: 0x17700282592D6917F6A73D0bF8AcCf4D578c131e
Token Type: Utility, Governance.
Total Supply: 100,000,000.
Circulating Supply: Updating…
Token Use Case
MOO is a utility token and Governance is used to:
Administer, participate in community voting activities
Stake MOO on Ubeswap pools to receive transaction fees and incentives in MOO tokens.
Token Allocation – Token Allocation
Moola Community Treasury: 51,037,859.5.
Pre-Sale: 23,570,000 VND
Founders: 10,000,000 VND
Future Employees: 5,000,000
Celo Reserve: 5,000,000
Contractors/Advisors: 3,520,000
Early Supporters: 1,872,141
Token Release Schedule
Pre-Sales: Pay tokens within 12 months.
Founders: Pay tokens within 12 months.
Buy & Sell MOO tokens
Currently you can trade MOO on Ubeswap. See instructions for trading on Ubeswap here.
Current MOO Rate
Community
Similar projects
Other projects that also provide lending & borrowing services like Moola:
Ethereum: Compound, Aave, Curve Finance,…
Binance Smart Chain: Alpha, Venus Finance, Alpaca Finance, …
Solana: Solend, Port Finance, Parrot,…
Polygon: EasyFi, Ramp,…
Avalanche: BenQi,…
Polkadot: Konomi, Equilibrium…
Cosmos: Cream Finance,…
summary
Above is all the information about Moola Market – the leading lending and borrowing platform on the Celo ecosystem today. With the growth potential of Celo and its ecosystem, Moola is definitely a project you should not miss if you are interested in Celo Ecosystem.
Hope this article will help you get the necessary information and give your personal opinion about the project.
You can join the discussion with GTA
Website | Facebook | BILLIONwitter | Trading | Research | Youtube | Tiktok