Metaverse has always been a universe that makes people "crazy" for it, with modern technology platforms coming together to bring a whole new experience to users. The heat of Play to earn has not shown any sign of easing, but there have been continuous international projects designed to satisfy the needs of users. Today, let's learn about this Mech Master project with GTA Research.
What is Mech Master?
Mech Master is an RPG game, where players can freely build their own world with items from futuristic technology and fight to protect their territories.
As you all know, the RPG series has always attracted a lot of players around the world and is constantly being sought after by the community, I can name very famous RPG titles such as: Sekiro, Assassin, World of Warcraft, Genshin Impact,…
Features of Mech Master
According to the information provided by the development team, the game has 6 main features:
Collect feature:
Includes 2D and 3D items
Special Features
Gacha System
Decentraland Features:
Build your own territory
Do all activities in your territory
Metaverse Features:
User can build 3D- MECHA
Take a picture with my Mech
Built and Customize Features:
Personal Mechas
Rewards from assembling the Mecha
Create your own collection
Battle & Event Features:
Adventures
Master Mecha Area
Tournaments
Trading Ranking Social features:
Trade on Marketplace
Compete with other players
Show off your Mech
Communicate in private chat and world channel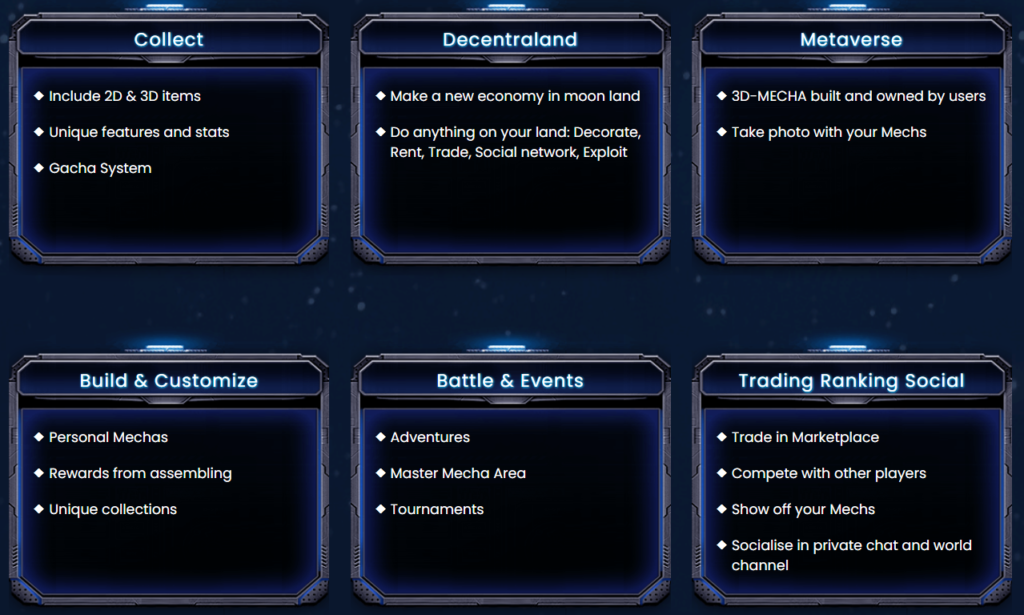 Gameplay of the project
Here I will describe the Gameplay of the project so that everyone can update easily.
Battle
Players will assemble a team of 5 Mechas to fight other opponents to earn Mech Tokens. The battle is turn-based, each Mecha will have a turn to move around the map and attack Mechas on the opposing side.
The terrain is designed according to tiles and each tile has a different attribute, there is a large library of Mechan, pilots and equipment, along with elements like commander, weather that make the battle more intense than ever. time out.
Build your own Moonbase
Players can buy lands and develop their own cities on the Moon. Build strongholds, factories, barracks, facilities… and develop the economy and the Mechan army.
Mecha Production
Mech Token and other resources such as minerals, gold… will be rewarded after each battle. Players can use those resources to produce new Mechas, new equipment, and then trade with other players on the Mech Master Market.
Daily Tasks
Battle other players, get resources, grow Moonbase, produce new Mechas and earn through trading on Mech Master Market.
Project highlights
Having an ecosystem of its own around it ensures that the system becomes extremely diverse.
There is quite a variety of gameplay and the characters in the game are very beautiful and attractive.
The project is designed according to a gameplay that is noticed by many gamers around the world, this will attract a lot of gamers around the world, in addition, the project will also attract a lot of investors. follow the Play to earn array because this is a project with different gameplay compared to other projects.
Roadmap- Project roadmap
3rd quarter of 2021:
Game Design and Art Concepts
Sell ​​Gacha NFT
Launching Marketplace
IDO
Quarter 4 of 2021:
Stake tokens to upgrade Mecha
Mech 3D
AR Application
Quarter 1 of 2022:
Equipment
Supply Gacha equipment
Launch of DAO platform & device improvement
Master Mecha Arena (IOS+ Android)
Second quarter of 2022:
Tournament Launch
Selling Moonland
3rd quarter of 2022:
Launch of Land customization and Guild battle
Quarter 4, 2022:
Multichain Deployment: ETH & DOT versions via PolkaFoundry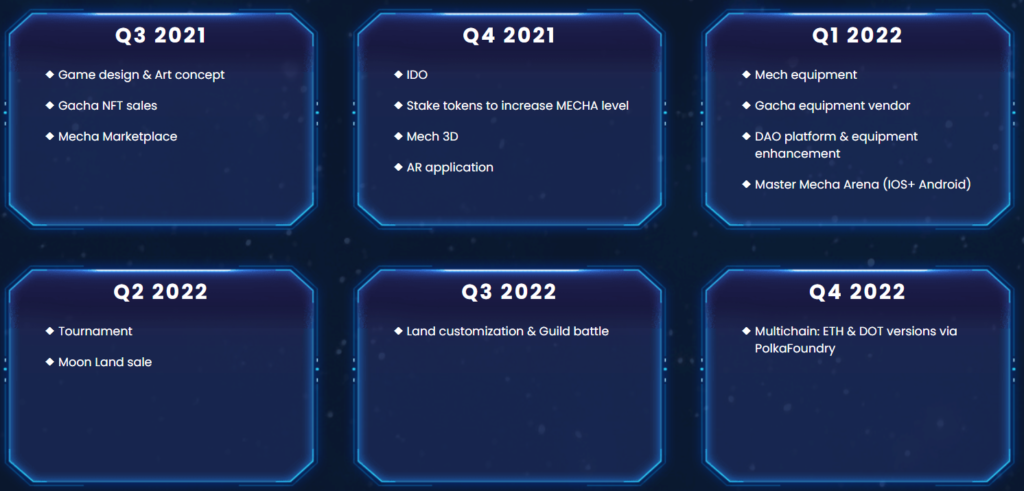 Team- Development team
PM, Hikari Mai: Hikari has more than 10 years of experience in the IT field, 7 years as a manager at some of the largest IT companies in Vietnam for the Japanese market, and 2 years working in Japan with big companies such as NTT Data, Fujitsu, ..
Head of Marketing, Ron Nguyen: Ron has 10 years of experience in marketing and has worked with companies from small to large in management positions, including Line Vietnam, NHG and Enterprise Rent-a-Car.
Game Designer, Long Hoang: With extensive knowledge of visual design and team management, Long is able to identify and solve problems quickly and competently.
Art Director, Anh Nguyen: He is a 2D concept artist with more than 15 years of experience in the field of 2D art.
Head of 3D Art, Hoa Pham: He has more than 10 years of experience in the gaming industry. He is the main key leader in 3D and Technical Artists.
Lead Unity, Tu Hoang: He is a programmer with many achievements in the field of programming while in school (two thirds and one second in national competitions) and University (first place in IBM Worklight Application Development).Advisor, Thi Truong: He is the Founder of Icetea Labs, PolkaFoundry and RedKite. He also advises on a number of blockchain projects such as Faraland, Bunicorn, Kaby Arena, etc.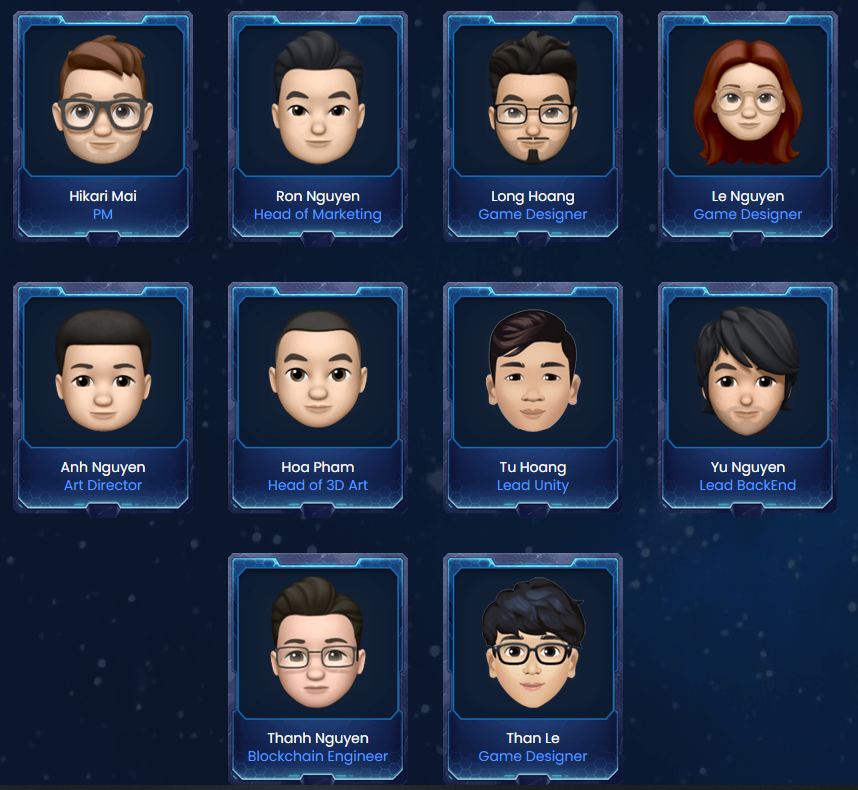 Investor- Investor
The team has had the participation of many famous investment funds such as Youbi Capital, Magnus Capital, Basics Capital, …

Token
Token Use Case
The team develops a utility token for the project with the code as MECH. The MECH token is used with features such as:
In-game currency: The MECH token will be used to pay for in-game activities. The MECH token is used to upgrade Mechan, land and weapons, etc. In addition, the MECH token is also used to participate in activities on the MECH universe.
Staking: Participating users can Stake MECH tokens to receive rewards, the rewards can be Mechan, items or MECH.
Gacha System: MECH holders can use MECH Tokens in Gacha system to receive rewards.
Governance: Holders holding MECH tokens can participate in voting on system activities. The more MECH tokens, the more voting rights a user has.
Basic information
Token Name: Mech Master Token
Ticker: MECH
Standard: ERC-20
Blockchain: BSC, Polygon, Polkadot
Total supply: 650,000,000 MECH ONLY
Token Type: Utility
Token Allocation
Game incentives: 24%
Advisor & Team: 20%
Foundation: 20%
Liquidity & Listing: 12%
Private Sale: 10%
Marketing: 7.3%
Seed Sale: 3.5%
Airdrop: 2%
Public Sale: 1.2%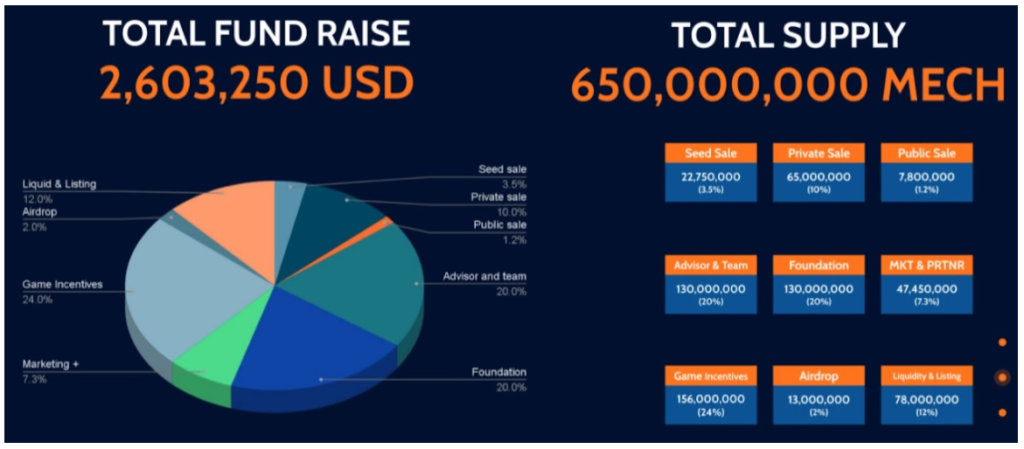 Token Release Schedule
Updating…
Project community
Website: https://mechmaster.io/#/
Whitepaper: https://whitepaper.mechmaster.io/
Twitter: https://twitter.com/MechMaster_IO
Telegram: https://t.me/MechMaster_Official
Medium: https://mechmaster.medium.com/
Youtube: https://www.youtube.com/channel/UC4syNhfjzAxB7Uf6bguItLQ
Discord: https://discord.com/invite/xs8MDRvbaF
Evaluate
Mech Master is a game project that in my opinion is extremely potential, the project brings a new gameplay to the entertainment industry in general and to blockchain in particular. In the near future, it is hoped that the development team will further diversify the products in the game, which will develop even more strongly. The development team has many years of experience in all fields, promising to bring a new breeze to the gaming community.
Above are GTA Research's evaluations of the project Mech Master, hope through the above article you have gained useful information.
The article is for reference only, not to encourage investment.
Buy and sell Coins at Prestigious Bitcoin exchange in Vietnam?
In addition, if you want to buy and sell coins in VND at the Bitcoin exchange in Vietnam, you can visit Bitmoon to trade! This is one of the most prestigious exchanges in Vietnam today.