What is Math Wallet?
Math Wallet is a cross-platform (mobile/desktop/extension/hardware) cryptocurrency wallet that allows storing multiple coins such as BTC, ETH, Polkadot, Filecoin, EOS, Solana, BinanceChain, Cosmos…
Math Wallet also features a cross-chain token exchange, a multi-chain DApp store.
Math Wallet Project
Math Wallet problem solving
Featured of a cryptocurrency wallet
Create an in-app wallet, allowing you to store, receive and transfer tokens easily in a 'one stop' experience with up-to-date instructions.
Track your portfolio and track earnings from anywhere, and earn rewards without leaving your wallet
Secure your assets with Private Keys, Memo phrases, 2-Factor Authentication, etc
Stay up to date on the latest Math News and blockchain news, curated by their team on Twitter and Blog
Support for decentralized applications (DApps) that work on blockchain like ETH, EOS, TRON, Cosmos, Polkadot, etc
Additional Features of Math Wallet
Cryptocurrency Swaps and Exchanges: Swap USDT to BTC/ETH/EOS/TRX/ATOM/DOT within 3 seconds on Math Cloud Wallet.
Multi-chain Ecosystem: Full support for over 40 high-performance public chains.
DApp Development: DApp developers can use Math Wallet API for development.
Math Wallet features?
Math Wallet has created many features in order to establish comprehensive custody solutions, cryptocurrency transactions in the decentralized ecosystem to be simpler and more convenient.
Typical features of Math Wallet Highly rated by many users such as:
Security: This is the feature that has been the top concern of Math Wallet. They have implemented tight security steps like 2-Factor Authentication, Reminder, Private Key and many more security features.
Update: The quick and convenient information update feature is also added by Math Wallet. When they set up the portal right in the app.
You will not have to access any other application or browser to update new information about Math or any information related to the blockchain industry in general.
All of this information has been selected by Math's team of censors and provided right in Math's application.
Storage wallet: Math's app is also equipped with a wallet that allows users to store and trade tokens easily and simply.
It gives users a great experience when "All in one". At the same time, it is very convenient to have a detailed user guide.
Income control: New features are also equipped by Math. That means you won't have to leave your wallet interface and still be able to control your earnings, rewards, and monitor your investment portfolios.
Decentralized Application: As mentioned above, Math provides applications that operate on different blockchain chains such as ETH, EOS, TRON, IRISnet, Ontology, YAS…
Token swaps and trades: You can do token swaps in a snap. You can swap with all the tokens available on the system very simply.
Math Wallet products make it unique
MATH DApp provides users with access to DApps such as Math Cloud Wallet, Polkadot VPoS Pool, Near Staking Tools, Binance Staking Tool, Uniswap, SushiSwap…
MATH VPOS Pool allows users to stake their crypto and get up to 30% APR. Another component of the MATH ecosystem is MathChain, which is a second layer blockchain based on Substrate.
MATH Token is an ERC20 token that enables staking, provides a validation infrastructure for networks, and provides rewards to users.
MATH DApp Factory provides users with tools that can simplify the development of exchanges, games, and other decentralized applications.
MathSwap is an instant and secure token exchange that allows users to build crypto portfolios with an automated quantum trading system.
MathNews provides the latest information, news about public chains supported by the MATH ecosystem.
MathPay is an electronic payment gateway.
The time the Math Wallet project was established
The project was established in December 2018
The project's Twitter was established in December 2018 and currently has 89.5K Follows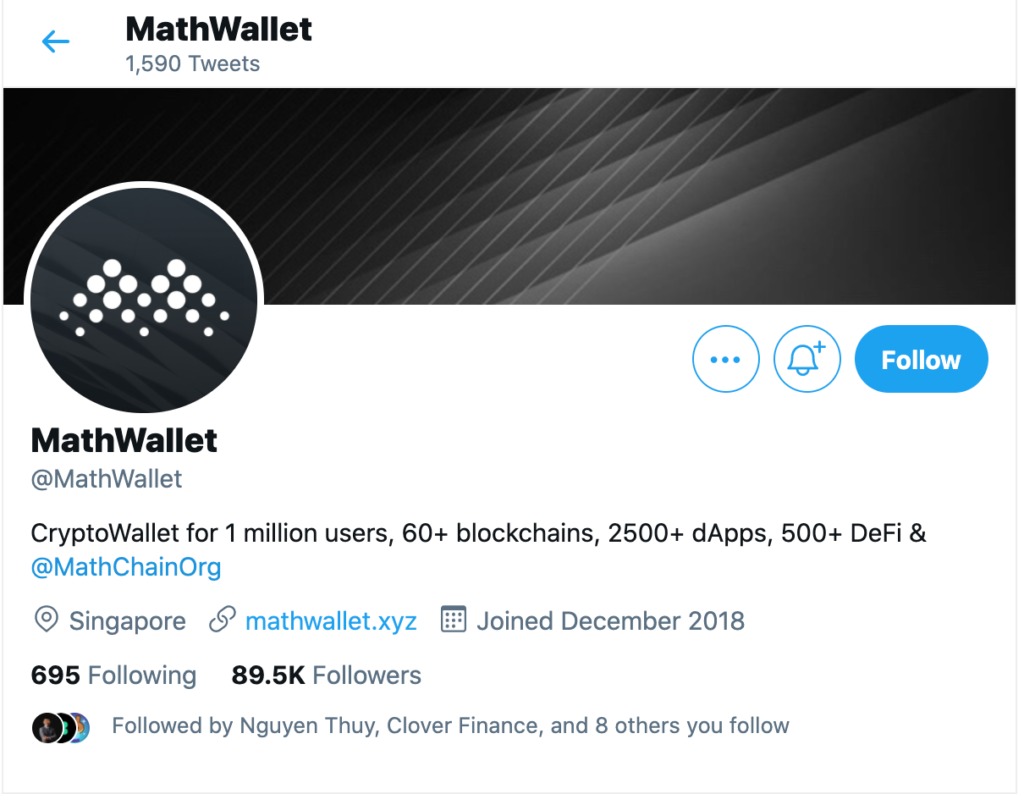 Math Wallet project team
Math Wallet development team
Currently, according to information on coinmarketcap, the Founder and CTO of MATH is Eric Yu.
Before creating Math Wallet, Yu was the CTO of Zhongtopia, the largest mutual aid platform in China with over ten million users. He is also the CTO and co-founder of XunFang Tech.
Investor
According to information from the announced project, their Backed is full of big and terrible names such as: Alameda Research, Binance Labs, Mutilcoin Capital …
This Backed according to the information and on MATH's Twitter, has been backed by Backed as well as Investor followers such as Justin Sun, CZ, Gate, Clover, Kylin Network, PancakeSwap, Binance Smart Chain…
Advisors & Partners
General information of the MATH token
Tokenomics
Tiker : MATH Token
Ethereum Contract: 0x08d967bb0134f2d07f7cfb6e246680c53927dd30
Contract Binance Smart Chain : 0xf218184af829cf2b0019f8e6f0b2423498a36983
Maximum Supply : 200,000,000 MATH
Current price on Coinmarketcap : $1.94
MATH Token is currently being traded on exchanges such as MXC, GATE, HBTC, Uniswap, Hotbit, FTX…
Token Sale
Updating…
Roadmap
Updating…
Community Information
Conclude
MATH is invested by big organizations like Binance, Alameda, Multicoin .. are all big names, so we think the project is very good, so it attracts many investors.
We also see that the profit that MATH brings to users is quite large. Especially with making more profit through VPOS mining. That has made it attract a huge number of users.
According to the latest announcement, MATH claims that it currently has 1 million users and this number is expected to increase in the future.
Above is all the information that GTA Ventures has researched about the MATH project. This is not investment advice, hopefully the article will help you give the necessary information, your personal opinion about the project.
GTA Ventures
Join our discussion and stay up to date with our news at:
Research
Channel: https://t.me/gta_research
Group: https://t.me/gta_research_chat
Trading
Channel: https://t.me/gta_trading_channel
Group: https://t.me/gta_trading_community
Facebook
https://www.facebook.com/goctienao/
https://fb.com/groups/tradecryptovietnam