MakerDAO (MKR). So…
What is MakerDAO? What is MKR token? but can do such a thing?
Where to buy MKR tokens?
Should I investment MakerDAO are not?
MKR token wallet Which should be used?
With the work MakerDAO is leading DeFi platforms in terms of token value locked and Maker Dominance reached 29.02%, why not spend a little bit with this article to learn about it in detail along with its potential investment MKR token huh. So what are you waiting for, let's start the article to answer the questions above!
Maybe you are interested:What is Bitcoin? Bitcoin investment guide for beginners?
What is MakerDao? What is MKR token?
MakerDAO is a platform Decentralized Finance (DeFi) developed on Ethereum blockchain to support and maintain stablecoin price DAI there is always a stable price of 1 USD. Anyone can use it MakerDAO to lock the collateral (like ETH or any other token that Maker supports) and create stablecoin DAI.
In MakerDAO, with MKR token, owners can vote on network specifications, governance initiatives such as Stability Fee (stability fee), collateralization rates and properties allowed to be used as collateral, etc.
Why MakerDAO was born?
As can be seen, the cryptocurrency market often has huge price fluctuations, so the role of stablecoins is very important. These stablecoins always have a fixed price (or extremely small changes) and are pegged to a fiat currency (commonly the US dollar – USD). Thereby, stablecoins make it much more convenient for investors to trade or pour capital into a certain project.
However, it is a fact that currently popular stablecoins are in the hands of centralized institutions (like Tether-issued USDT). Issues related to transparency, as well as guaranty for the amount of stablecoins issued, always make the crypto community stir. Therefore, there is a need for a decentralized financial platform that allows anyone who meets the requirements to transparently issue stablecoins. From there, MakerDAO was born.
With MakerDAO, the mortgage of property, issuance stablecoins DAI, take back collateral, destroy tokens… are all operated by Smart Contract. As a result, transparency and decentralization are fully guaranteed.
How MakerDAO Works
When you proceed to lock the collateral into MakerDAO, the processes will be operated through Collateralized Debt Position Smart Contracts – CDPs.
CDPs will lock the user's collateral, then pay them stablecoins DAI. When the user wants to withdraw the locked asset, the user must return the received DAI, plus the fee. Specifically:
Create smart contract to deposit collateral:
In this step, the user will create a transaction sent to the Maker to create a smart contract. Users need to deposit collateral to be able to receive DAI coin.
Stablecoin DAI is generated by smart contract based on collateral value.
User can request quantity TOUGH that I want to receive. However, this number must be within limits based on the value of the collateral. After receiving, the number DAI coin This will be recognized by the smart contract as your loan in the system.
Return the received DAI number and stability fee
Before the user wants to get the collateral back, the user needs to return the received DAI coin with a fee called the stability fee. This fee will be calculated based on the time that the user borrows. User can use MKR token or DAI to pay the stability fee.
Withdrawal of collateral
After paying enough DAI and stability fee for the system MakerDAO, the collateral in the smart contract will be owned by the user. Users can withdraw collateral whenever they want.
What is MKR token?
MKR token is an ERC-20 token and is Utility Token as Governance Token of the MakerDAO platform, plays an important role in system administration. Therefore, users can use MKR token to vote on network governance decisions as well as Stability Fee (stability fee). Stability Fee also used for redemption MKR token from the open market, then destroyed to help curb inflation.
Maybe you are interested:What is ERC20? Learn more about ERC20 tokens and ERC20 wallets
If you mention MKR token in MakerDAO without talking about stablecoin DAI it's really flawed.
What is DAI coin?
As mentioned above, DAI coin is a stablecoin created when the user MakerDAO collateral assets to the platform.DAI coin is a stablecoin pegged to the USD. Therefore, DAI coin price always fixed at 1 DAI = 1 USD.
Should invest in MakerDAO are not?
MakerDAO solves the issuance problems of other stablecoins
There are currently more than 28 types of Stablecoins and Tether (USDT) accounts for over 82% of the market share, an almost absolute dominance compared to other coins.
All other Stablecoins were born after Tether to solve Tether's lack of transparency about the amount of money they continuously printed in 2017 and until now continue to be unknown. However, most coins like TrueUSD, Paxos Standard, Binance USD, etc. do not make users more confident.
So what makes MakerDAO different?
MakerDAO is a DeFi platform through which users can create stablecoin DAI. That is, all transactions, all assets are public and transparent.
MakerDAO ensures that every DAI coin created is backed by collateral that guarantees value. And these assets are locked in the Smart contract. Therefore, the price of DAI is always maintained at 1 $.
In addition, with the current market, DeFi is very hot. Most of the prices of tokens of DeFi-related projects have increased, showing no signs of cooling down. With the Maker Dominance reaching 29.02% shows that this platform has great potential in the near future.
MakerDAO Founders Team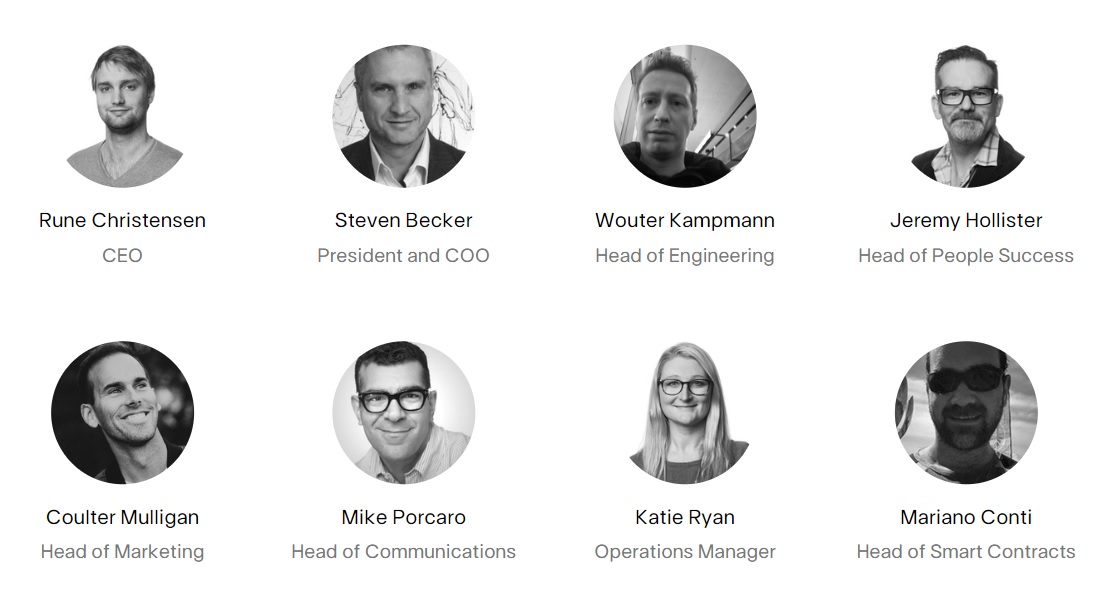 Rune Christensen (Founder & CEO): Since 2015, Christensen has focused on developing MakerDAO and stablecoins. Previously, he was a co-founder of Try China, an international recruitment service company. He studied Biochemistry at the University of Copenhagen and studied International Business in Copenhagen.
Steven Becker (President & COO): Steven is responsible for business operations, risk management and marketing. He is an investment professional with 20 years of experience. Steven is CAIA Association Certified, and Certified as a Financial Risk Manager (FRM) by the Global Association of Risk Professionals.
Andy Milenius (CTO): Prior to joining the team, Andy worked as a Software Engineer within Amazon Web Services. Andy holds a degree in Computer Science from the University of Michigan.
There are also many other talents, see https://makerdao.com/en/team.
As can be seen, the development team of MakerDAO are all experts with experience from the field of technology to finance. This ensures that MakerDAO has a solid "internal force" for future development.
MKR price and market cap

At the time of writing, MKR token price is trading at 743.01 USD. With its market capitalization reaching $747,154,145, it ranks 27th in terms of market capitalization. In addition, the current ROI of MKR token is 3,262.13%.
Where to buy and sell MKR tokens?
At the present time, investing in cryptocurrencies as well as buying and selling cryptocurrencies has become much more popular. It is considered one of the most popular ways to make money online. That's why, the buy MKR, sell MKR tokens has also become much simpler.
In this article, I will introduce to you the 2 most popular and simple ways to buy and sell at the moment.
Buy and sell MKR tokens in VND
Currently, there are many exchanges that support cryptocurrency trading in VND, but separately buy MKR tokens For prestige, I think the best currently is the Bitmoon exchange.
See more articles:

What is Bitmoon? Bitmoon Exchange Basic Guide for Newbies 2020
The advantage of Bitmoon is low fees, high liquidity, support for many coins and can store coins right on the exchange. Besides, Bitmoon has been operating for a relatively long time and the reputation level is guaranteed.
Bitmoon has high liquidity and reputation, so I believe that for basic trading needs, cash out in VND, Bitmoon is enough to apply.
International reputable MKR token trading platform
The advantage of all international exchanges is that they support many types of coins, besides also supporting other forms of trading such as Margin, Futures.
For those of you who have traded a lot and have experience, you can use and trade regularly on international markets.
Below is the floor name and transaction fee comparison table for your reference.
If you want to learn about which floor, you can click on that floor's name in the table, there will be a detailed article on that floor.
| | |
| --- | --- |
| Exchanges | Transaction fee |
| Binance | 0.015-0.100% |
| Houbi | 0.070-0.20% |
| Okex | 0.060 – 0.150% |
| Bitfinex | 0-0.2% |
| Bittrex | 0.25% (most sour – should not trade) |
| Kucoin | 0.080 – 0.100% |
Mainly trading MKR token Your account on international exchanges all use BTC, USDT … to conduct trading.
Wallet MKR tokens should be used
Depends on usage coin MKR your wallet that you will choose for yourself the appropriate wallet.
Suitable for those who want to store coin MKR long term and few transactions.
The advantage of cold wallet is that it is safe and optimal for storage. Cold wallets you can refer to to choose from are: Ledger Nano S, Ledger Nano X.
Maybe you are interested:

What is ledger nano S cold wallet? Latest User Guide and Security 2020
The best choice for this wallet is Trust Wallet, with a friendly and easy-to-use interface.
Maybe you are interested:

What is Trust Wallet? How to create a Trust Wallet and use details
Because MKR is an ERC-20 token, you can completely use current popular supporting web platforms such as: MyEtherWallet nice MetaMask.
Maybe you are interested:

What is MyEtherWallet? Instructions on how to create a MyEtherWallet wallet and how to use it
This wallet is suitable for those who often transact.
Some Reputable trading platform You can refer to these are: Bitmoon exchange, Huobi exchange, Binance exchange…
Conclude
This article has summarized the most basic information you need to know about MakerDAO and MKR token. With this article, I hope that readers can grasp some of its investment potential.
Although it will take some time to read the entire article, I hope your time will not be wasted.
If you find the article interesting and useful, do not hesitate to share it with your friends.
All investment statements above are personal. All investment decisions are made by you and you are responsible for your assets. Good luck!
Virtual Currency Corner