AMM( Autonomous Market Makers) is currently very hot and is widely used in DEX(Decentralized Exchange), Loop Finance also provides such an exchange. The following article will give an overview of the Loop Finance project. Please refer!
What is Loop Finance?
Loop Finance is an ecosystem project Terra, the main function of the project is AMM – Loop Markets floor like other AMM such as: Sushiswap, Uniswap. In addition, the project also creates a community to share quality articles through the write2earn mechanism or also a place for NFT transactions.
Highlights of the project
Loop Markets-AMM DEX
Loop Markets will list many assets on Terra as well as other ERC-20 and SPL (Solana) tokens thanks to the Wormhole ETH-Terra-Solana bridge.
The initial transaction fee will be 0.5%.
0.3% will be given to liquidity providers.
0.1% will be distributed to Stake LOOP people.
0.1% to anyone doing a GUI or a referral.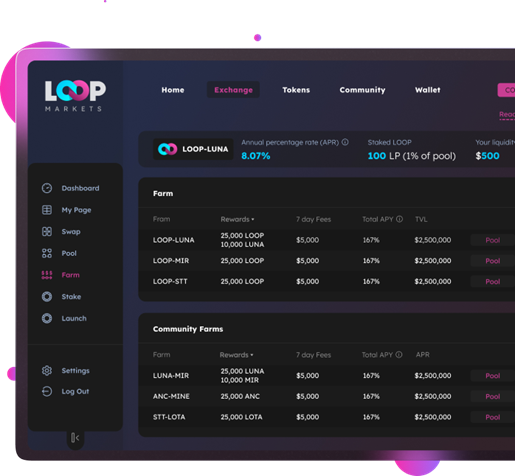 Loop Wallet
The project will combine with Loop Wallet to support payments through cryptocurrencies. Users will be able to pay with any token on Terra, and merchants will receive an amount of Stablecoins (via swap from Loop Market). This means that for every crypto payment in the Loop app, a corresponding Loop Markets DEX transaction occurs. Besides, transactions on Loop Wallet will be refunded in LOOP. The vision of the project is that through Loop Wallet users can pay for real-life products with cryptocurrency in your wallet through e-commerce transactions. The wallet also has a partnership with Doordash, an online food ordering company.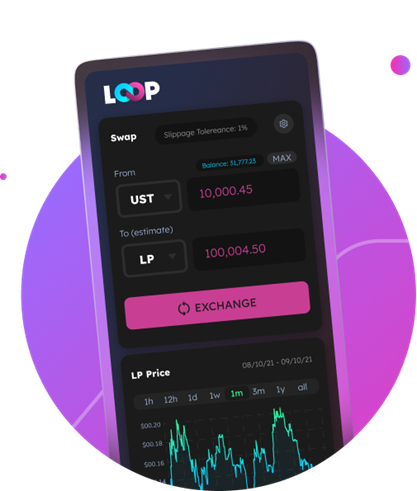 Here, I will talk a little bit about Loop Market's Model, there are 2 loops that will help the project develop:
With the work encouraged to receive LOOP when trading, more people want to own LOOP but don't want to buy, they will choose Loop Wallet over other wallets. And as the number of transactions on Loop Wallet increases, Loop Markets will also grow, resulting in an increase in the LOOP price. This is a small loop.
Besides, if the above loop happens more and more times, the aforementioned Stablecoin will have a high consumption. Since Loop Markets is building on the Terra platform, it is very likely that this Stablecoin is UST. When UST increases Buy demand, all other projects also developed, leading to Loop Market also growing. This is the whole ecosystem loop.
NFT Trading Market
This feature is not available yet. But the people stake LOOP will also receive a part of the fee like the DEX exchange.
Bonus
Currently, the project also develops a community where quality articles from everyone are contributed. The motivation for writing that article was to receive the LOOPR token. Brothers can stake LOOPR to get LOOP and there will be liquidity for this token.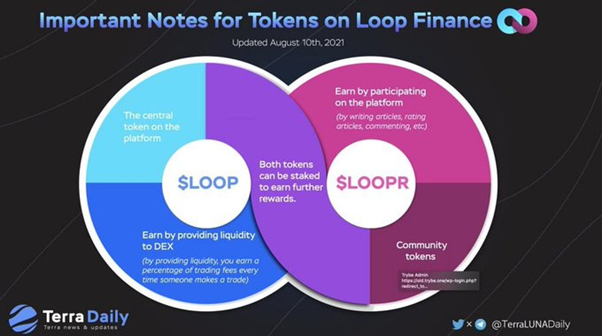 Similar projects
Team- Project team
Loop's team currently has more than 30 experts to develop the project. Some notable names are:
Tom Norwood- CEO & Co-founder of Loop Finance
Tom graduated from RMIT University with two degrees: multimedia communication and content editor. Currently, Tom is the CEO of Loop Finance, an entrepreneur with experience in many industries. He has experience building software for 2 years and blockchain products for 5 years (and loves writing fiction).
Tristan Pollock– Head of Marketing Department
Tristan is a technology entrepreneur, community builder, and startup investor who invested $30 million in 200 companies as a Silicon Valley venture capitalist. And he also has experience working with many large corporations such as: Kanye West, Google and Nike.
Simon Rahhme– Co-founder & Head of Partnerships Department
Simon is the co-founder of Loop, has expertise in partner development for blockchain projects, besides he also advises Fortune 100 & FTSE 100 companies.
Marcela Rodriguez– Portfolios
She graduated with an MBA from RMIT University. She is currently in charge of Loop Wallet, in addition to being in charge of Loop's financial planning, she was previously a portfolio manager for government funds and is very knowledgeable about running businesses. in different industries.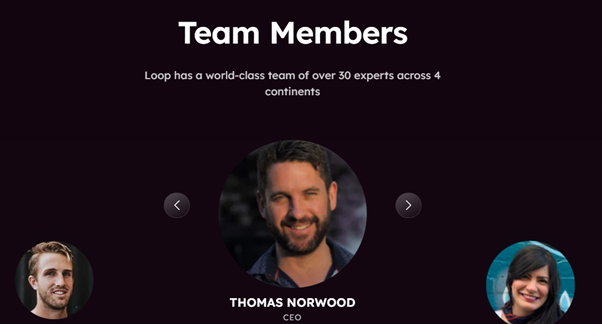 Roadmap- Development Roadmap
Jul 2021
Q3 2021
Add Wormhole bridge and Terraswap pool to UI.
Q4 2021
Added Incentives for Community pool.
Integration with Xdefi Wallet and Thorchain.
Q1 2022
Q2 2022
Launching LBP for other projects to implement IDO.
Q3 2022
Investor-Investor
The project is invested from other projects with the same Terra ecosystem. And some other names like: Collider Labs, Accomplice.
Partner – Partners
Loop Finance is currently working on many other projects within the Terra community and outside. Some notable names such as: Starterra, Angel Protocol, Pylon Protocol, Akash Network, Loterra, Spa, Neptune, Apollo, Kujira,…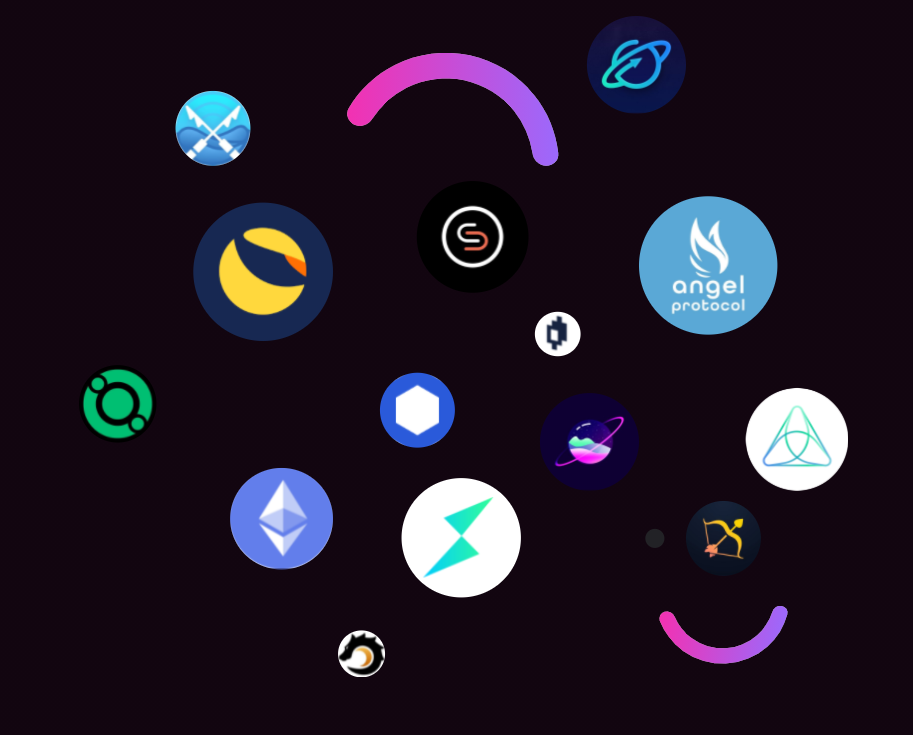 Tokennomic
Token Use Case
LOOP holders have the right to participate in governance on the protocol
Used for users to pay transaction fees using LOOP on their DEX
User must hold LOOP to be able to use liquidity or yield farm function on DEX
Information about Token LOOP
Token Name: LOOP Token.
Ticker: LOOP.
Blockchain: Terra
Token Standard: Updating…
Contract: Updating…
Token Type: Governance.
Total Supply: 1,000,000,000 LOOP.
Initial Token Circulation: 16M in the first month
Platform Raise: 2,875,000 UST
Circulating Supply: Updating…
Token Allocation- How to allocate LOOP . tokens
Liquidity Mining : 22%.
Partnerships: 18%.
Invest Round: 20%.
Team: 15%.
Community Fund: 25%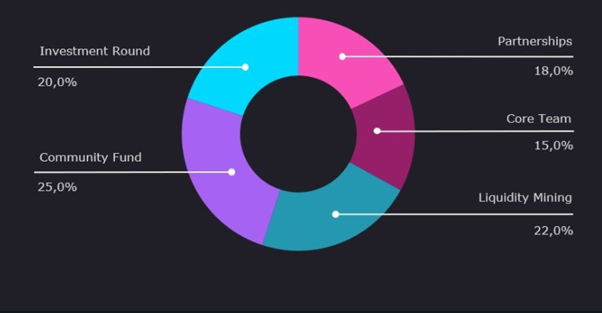 Token Release Schedule- LOOP . token payment schedule
Private sale: has been selling this round since May 2021. Lock for 6 months and pay in installments within 30 months.
Public Sale: Currently open for sale through the Starterra platform with 2 sales.
Phase 1: Locking period for 6 months and amortizing within 30 months.
Phase 2: The lock period is 1 week and the installments will be paid within 6 months.
LOOP Pylon Gateways Pool
Loop pledges to pour 40,000,000 LOOP into Pylon Protocol for you to dig pools. Currently, they only offer 20,000,000 LOOP with the above Pool prices and interest rates. Please note that prices and interest rates may change according to that market! And here is the token payment time of the Pools for your reference:
Pool 1: Granted within about 18 months. Get Tokens after 9 months
Pool 2: Granted within about 12 months. Get Tokens after 6 months
Pool 3: Granted within about 6 months. Get Tokens after 3 months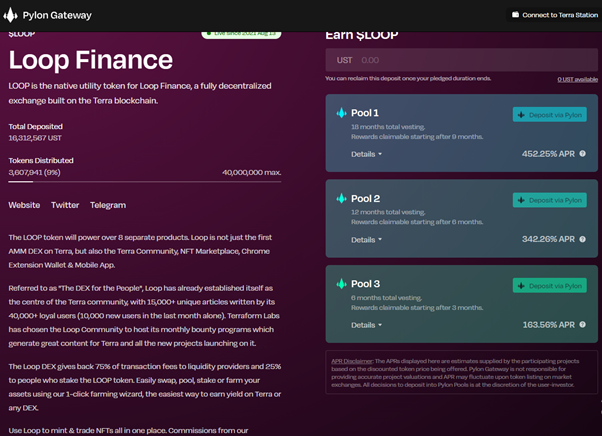 Token Sale
Round
Token Name
LOOP
Private Sale Allocation
≈120,000,000 LOOP
Private Sale Token Price
0.0134 USD/LOOP
Round 1
Public Sale Allocation
15,000,000 LOOP
Public Sale Token Price
0.025 USD/LOOP
Round 2
Public Sale Allocation
25,000,000 LOOP
Public Sale Token Price
0.1 USD/LOOP
LOOP Pylon Gateways Pool Allocation
40,000,000 LOOP
Pylon Gateways Pool Token Price
Current price: 0.035 USD/LOOP
Pool 1
11,500,000 LOOP
APR Pool 1
436.49%
Pool 2
6,000,000 LOOP
APR Pool 2
329.64%
Pool 3
2,500,000 LOOP
APR Pool 3
160.19%
LOOP token storage wallet
LOOP tokens will be stored on LOOP Wallet and other wallets compatible with the token standard
LOOP token exchange
Immediately after the launch, LOOP will be listed on their own DEX
Website: https://www.loop.markets/
Twitter: https://twitter.com/loop_finance
Telegram: https://t.me/loopfinance
Discord: discord.gg/r3Anx7jB
Conclude
Loop Finance has a vision in attracting more general users to DeFi. Designing DeFi-derived advantages and making them mainstream through user-friendly applications in the competitive e-commerce market is a feature of many projects built on Terra. – including Loops.
Here is all the information GTA Research researched the project Loop Finance and is not investment advice. Hope this article will help you get the necessary information and give your personal opinion about the project. Thank you!
Buy and sell reputable and safe cryptocurrencies in VND here. This is one of the most prestigious exchanges in Vietnam today.
Join the discussion with GTA team at:
Website | Facebook | Twitter | Trading | Research | Youtube