What is Livepeer (LPT)? What is the outstanding project that is listed by Coinbase and added to the portfolio by Grayscale fund? Let's find out with GTA, guys!
What is Livepeer (LPT)?
Livepeer is a decentralized video streaming infrastructure built on the Ethereum blockchain.
Livepeer has 2 websites:
Functions of Project Livepeer (LPT)
Livepeer provides a scalable and cost-effective infrastructure solution that can meet today's streaming needs. In addition to taking up 80% of internet bandwidth consumption, video streaming is also extremely expensive, largely because video distributors must first transcode the video before playing it.
The costs incurred mean that many video streaming companies have resorted to selling user data and injecting users into ads to earn revenue to pay their infrastructure bills. Livepeer seeks to provide an open, decentralized, incentivized token and open network to replace the above model, and Livepeer claims that it can reduce costs by up to 50 times compared to legacy methods .
How does Livepeer work?
Livepeer relies on a group of users it calls "I sent him to check me. What flaws hope he directed. Thank you" to handle the transcoding needs of application developers who are part of the network. These people have added their computers to the Livepeer network, and they trade their computing resources like bandwidth, CPU, and GPUs for the LPT cryptocurrency that powers the network. They are considered "Video Diggers".
Any developer who wants to use the Livepeer network to provide transcoding and distribution services must pay for those services in LPT tokens. LPT holders can also stake or become a proxy, thus earning profits from the tokens they are holding while also helping to secure the network without being directly involved in the provision of machine resources. to speed up the transcoding process.
Once the Livepeer technology and protocol is delivered, it will allow users to participate in the following process:
Video on your camera, phone, monitor or web cam and send video it to the Livepeer network.
The nodes running in the network encode it into all the formats needed to approach any supported device. Users running these nodes will be incentivized through fees paid by the broadcaster in ETH and given the opportunity to build a reputation through protocol tokens to earn the right to do more work in the future.
Any user on the network can request to watch stream and it will automatically be delivered to them in near real time.
Similar projects
AIOZ is a project similar in function to LPT
What's outstanding about Livepeer (LPT)?
Decentralized: No company or individual controls the Livepeer network. Build video apps that connect directly with your audience.
Easy to use: Livepeer's forwarding API makes it quick and easy to integrate Livepeer.com into your UGC platform.
High level of trust: Make sure your audience stays engaged by delivering high-quality video streams with 99.99% reliability.
Adjustable scalability: The freedom to scale up or down so users can manage the content creator's needs without over-investing in infrastructure.
Good price: Livestream at a fraction of the cost of comparable services.
Roadmap – Project development roadmap
This sketch of Livepeer's stages, starting with the current Snowmelt stage and ending with Oceanic, offers a path forward from the centralized streaming infrastructure we have today to an ecosystem. Full range of decentralized video services we envision the future.
Team – Project development team
In 2017, the founders of the Livepeer project founded a company called Livepeer, Inc that aims to facilitate the initial development of the project, kick off the supply and demand sides of the network, and direct the direction of the network. lead the project's path to decentralization.
Currently Livepeer is operated by Livepeer, Inc. who developed and published the protocol. Ultimately, the project will be fully managed by the community. The founders of Livepeer are Doug Petkanics and Eric Tang.
Doug Petkanics: to be managing director by Livepeer Inc. Prior to founding Livepeer in 2016, he was the Co-Founder and VP of Engineering of Wildcard Inc, a native browser and publishing platform for the mobile web. A serial entrepreneur, he is also the co-founder of Hyperpublic, a data platform that organizes local information around the world that was acquired by Groupon in February 2012.
Eric Tang: to be Livepeer Inc.'s CTO. He's been with Petkanics for most of his career, first as a lead developer at Hyperpublic, and then as a co-founder of Wildcard Inc. He graduated from Carnegie Mellon University with a BS/MS degree in Electrical and Computer Engineering, Computer Science, and Business Administration.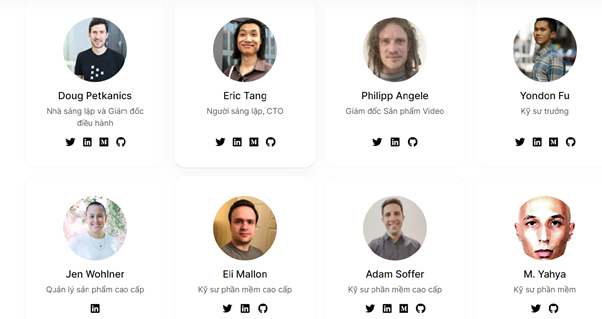 Project development team
Partners – Partners of the project
Updating…
Investors – Investors of the project
The project received investment from large organizations such as: Multicoin Capital, Notional Capital, Turing Capital, Pantera Capital…
Tokenomics
Token use case – function of token LPT
The purpose of Livepeer token (LPT) is coordinate, initiate and encourage participants to make sure the Livepeer network is as cheap, efficient, secure, reliable, and useful as possible. In the Livepeer protocol, LPT is required to do the work of transcoding and delivering the video on the network. The more LPTs you own, the more work you can do on the network in exchange for fees. As network usage increases, so does the need for dispatchers and therefore LPTs.
In addition, it is also used to payment, livestream on Livepeer
Basic information about LPT token
Token Name: Livepeer
Ticker: LPT
Blockchain: Ethereum
Token Standard: ERC-20
Contract: 0x58b6a8a3302369daec383334672404ee733ab239
Token Type: Utility, governance
Total Supply: 23.740,319 LPT
Circulating Supply: 23.740,319 LPT
Token allocation – how to distribute LPT . tokens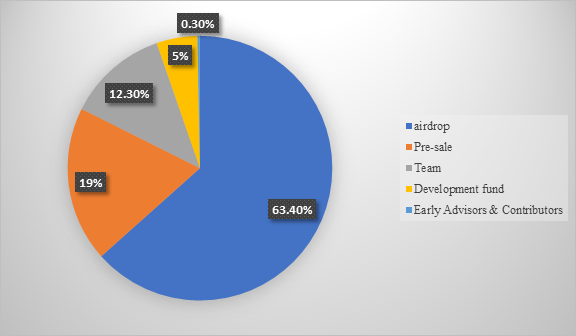 Airdrop: 63.4%.
Pre-sale: 19%.
Team: 12.3%.
Development Fund: 5%.
Early Advisors & Contributors: 0.3%.
Token sale
Pre seed sale: 0.94$/LPT
Seed sale : 3$/LPT
Token release schedule – LPT . token payment schedule
Out of the initial 10,000,000 LPT, 6,343,700 LPT were distributed to the community through the open MerkleMine algorithm, 1,235,000 LPT were retained by the founders and original team (vesting for 36 months) , 1,900,000 LPT was sold in the pre-sale (vesting over 18 months), 500,000 LPT was put into the long-term development fund and 21,300 was released as a grant to some early advisors and collaborators .
Project raised 3.85 million USD from two pre-sale buys where 9% of the genesis 10MM LPT token supply sold for $0.94/LPT and 10% of the genesis 10MM LPT token supply sold for $3/LPT .
The project is also raised $8.15 million in the next equity round.
Currently, all tokens have been unlocked (unlocked).
Current LPT token rate
Where to buy and sell LPT?
Currently you can buy LPT on the following exchanges:
Conclude
Livepeer is a potential project in the investment portfolio of Grayscale because it aims to revolutionize the radio and television industry by taking advantage of blockchain. LPT's open source platform allows users and developers to participate in the administration and development of the platform completely free of charge. The growing ability of digital cameras to produce high-quality video is driving the radio, media, and Livepeer industries toward accelerating the process of enabling end-users. benefit from decentralized computing resources and cryptocurrencies to start experimenting and participating. Livepeer is transforming live video streaming and is on its way to becoming an industry leader.
Here is all the information GTA Research team researched the project Livepeer (LPT) and is not investment advice. Hope this article will help you get the necessary information and give your personal opinion about the project.