Defi from the 2020s until now has always been the focus of attracting many big-name projects. There are pieces of the puzzle that make up a special Defi ecosystem, in which it is impossible not to mention the field of Lending-Borrowing, one of the financial leverage mechanisms that contribute to the prominence of Defi.
---
An article that you need to read to understand the huge potential of Cosmos Network: What is Cosmos Network (ATOM)? Something to know about the Cosmos ecosystem.
What is Kava Network?
Kava Network is a lending-borrowing platform developed on Cosmos Network and operates on a Proof of Stake(PoS) consensus mechanism based on Tendermint.
Kava is built using the Cosmos SDK (part of the Cosmos network). Kava is a Defi platform for Crypto Assets that specializes in providing Stablecoin loans and allowing users to collateralize crypto assets backed by KAVA.
Kava provides financial products for businesses that integrate with Kava's platform to enable loans, investments, and profits from the cryptocurrency market.
Features of Kava
The features of Kava mostly provide services related to Lending-Borrowing:
Users can withdraw USDX ,by locking the asset collateral in a smart contract (Smartcontract)
Users can stake USDX for more profit
Users can take out a wide range of mortgage loans to create aggregate leverage for any supported digital asset.
StableCoin maintains: Kava uses the self-auction feature of guaranteed debt to limit risks to maintain the stability of USDX.
Products of Kava
Kava CDP Platform
Kava's main product is the Kava CDP Platform, where users can collateralize their assets to borrow USDX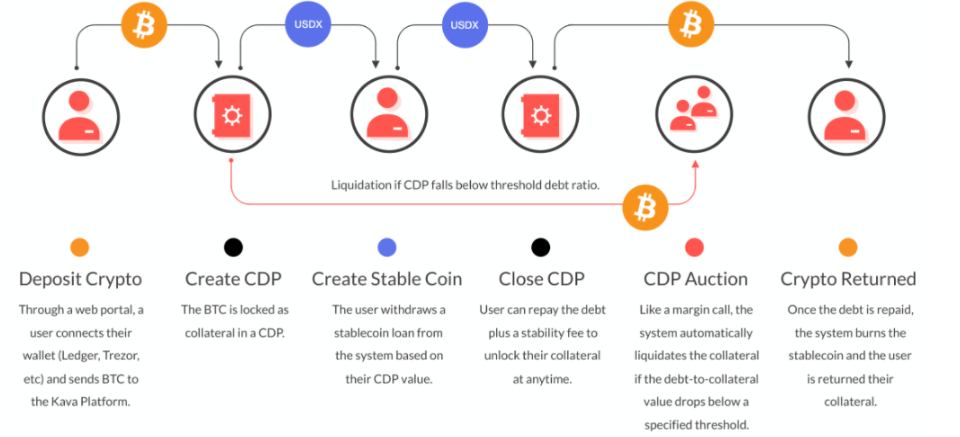 Cosmos SDK
As the introduction above, we also know that Kava is built on Cosmos-SDK, an open source code for building Proof-of-Stake blockchains publicly.
Features of the SDK include:
Tendermint Core: Kava consensus engine is built on top of Byzantine Fault Tolerant consensus engine designed to support PoS
Cosmos Modules: Kava can deploy modules on the Cosmos network
Modular Architecture
There are 4 core modules of the Kava platform:
Price feed module: Implement simple pricing oracles where the oracles listed in the listing whitepaper have different assets in the system
Auction module: The auction module conducts 3 separate auctions to control supply, bad debt and surplus value in the CDP system. Forward Auction. A seller sets an increasing price for an item. Each bid will increase the price. Used when there is a surplus of fees collected in the system. The surplus will be converted into stablecoins and sold in exchange for Kava.
Reverse Auctions: Buyer requests a discount for one or more items. Used when governance tokens are sold in exchange for stable coins to cover shortfalls after failed auctions
Forward reverse auction: Buyers demanded price increases for many items and pushed prices to the highest level. After the highest price is reached, each bid reduces the quantity being sold for the highest price. Used when collateral is seized from a risky CDP and sold for stablecoins.
CDP module: This is where the CDP is created and the state of the debt system is stored. It allows users to create, modify and close CDPs for any type of collateral
Liquidation module: Monitor price-based CDP status in the price feed module. It seizes collateral from CDPs whose rates are below the specified threshold for that type of collateral.
Similar projects
With features like Lending-Borrow, there are quite a few projects with built-in features. I will introduce 2 projects with similar features that are currently in the top 1 and top 2 in the field of Lending-Borrowing.
We have ETH's AAVE project: https://www.coingecko.com/en/coins/aave AAVE is also a Lending-Borrow platform developed on the platform of ETH, the current cap of AAVE is close to $4,500,000,000 and its current price is $368.47
https://www.coiningecko.com/en/coins/compound Compound Finance project also has similar features as Kava project with Lending-Borrow feature. COMP has a cap of about $2,170,000,000 and COMP's price is currently $414.70
Project highlights
Kava provides users with high-value cryptocurrencies, open access to loans, leverage, and stablecoins for hedging.
Kava's USDX can be linked, providing the holder of this token with a profit
Kava has the ability to grow to support many new cryptocurrencies and provide new aggregation products.
Development team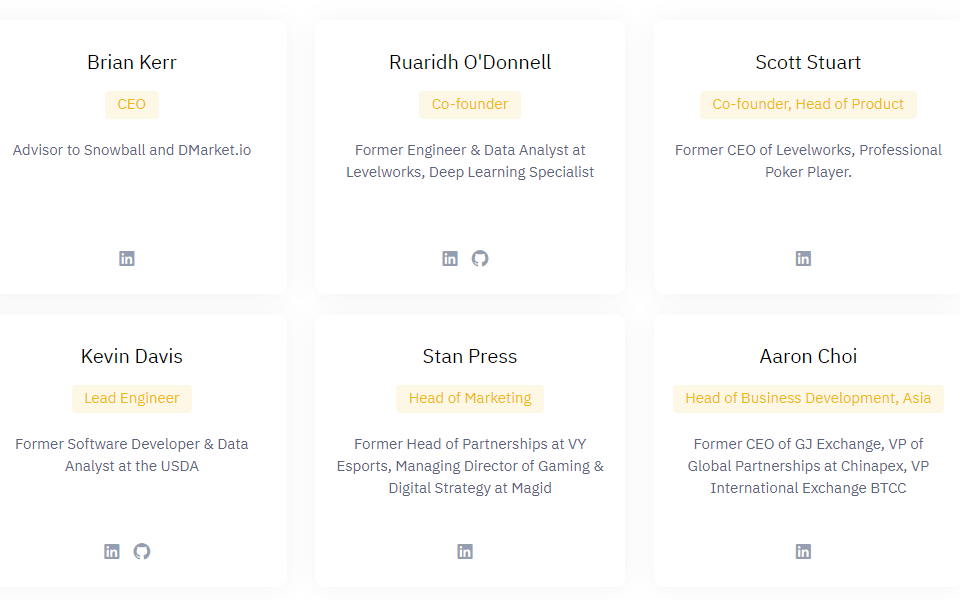 Roadmap- Project roadmap
Q2 2019:
Release of the MVP of the Kava CDP system
Launching Testnet version 1.1
Kava Founders Reward Program to incentivize users to run validator nodes
Launching Testnet 2000
Quarter 4 of 2019:
Release Testnet 3000
Run Mainnet
Released beta CDP system
On-chain check for validator
Q1 2020:
Testnet 4000 with beta CDP system and launch of bug-checking program for rewards
Second quarter of 2020:
Launch of cross-chain assets in CDP Mainnet system
Integrate the custodian BTC peg into the CDP system test network
Q3 2020:
Integrate supervisory and unattended BTC pegs into the CDP system mainnet
Road map in 2021 of the project:
Kava 5 Q1 2021:
Hard Protocol V2
Enhanced services for Kava Cloud
Kava 6 quarter 2 2021:
Launch of AMM
Kava SAFU Fund Proposal to Enhance User Protection
Launching Kava Staking Derivative
Kava 7 Q3 2021:
Release of Robo Advisor apps and services
Launching Ethereum Bridge v1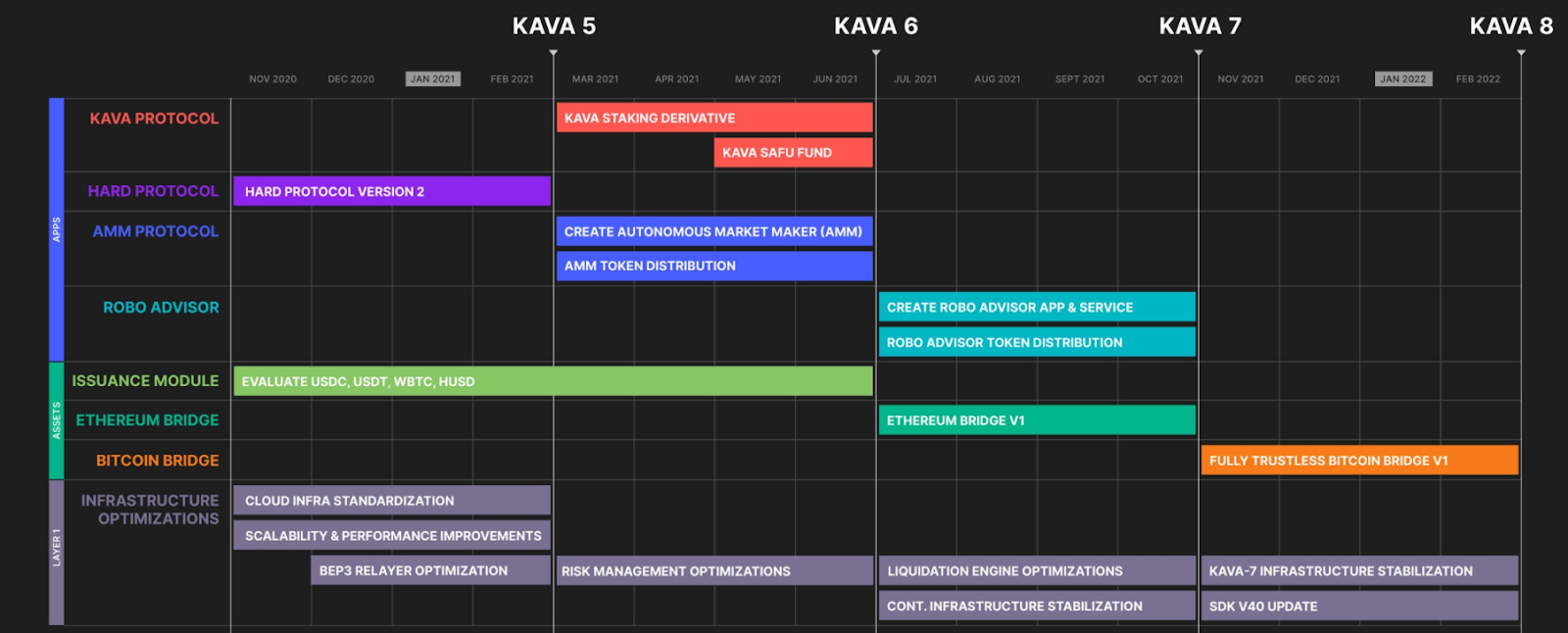 Team- Development team
Updating…
Advisors- Project Advisor
Investors- Investors
Updating…
Partners
Updating…
Token
Token Use Case
KAVA token use cases:
Security: Give KAVA to validators
Administration: KAVA is used for recommendations and voting on important parameters in the system.
Loan
USDX use cases:
Margin trading, leverage
Hedging by interest rate
Pay
Basic information about KAVA
Token Name: Kava Protocol Token
Ticker: KAVA
Blockchain: Binance Chain
Token type: Payment, Governance
Total Supply: 130,869.671 KAVA
Circulating Supply: 70,172,142 KAVA
Token Allocation
Kava tokens are allocated as follows:
Private Sale 1: 30.05% price 0.075/KAVA
Private Sale 2: 5.02% price 0.25/KAVA
Private Sale 3: 4.93% price 0.4/KAVA
Binance LaunchPad sale: 6.52% price 0.46/KAVA
Kava labs shareholders: 25%
Treasury: 28.48%
Token Release Schedule
The chart below shows monthly circulating KAVA.
Where to buy and sell KAVA?
Currently Kava is being sold at most famous CEX exchanges. Exchanges that allow buying and selling of KAVA they quote from Coingecko.
Project community
summary
The Kava project is a very potential project, but it still has some information that investors need to know. The first is that the project development team still does not have clear information. Second, there is still not much information about large investment funds. But the project has had very clear successes, typically the current Marketcap is quite good, we still need such developments of the project.
The above is all information that the GTA Research team has researched about the Kava Protocol project and is not investment advice. Hope this article will help you get the necessary information and give your personal opinion about the project. Thank you!
Virtual currency corner
Join the discussion with GTA team at:
Website | Facebook | Twitter | Trading | Research | Youtube