What is Karura?
Karura is the core of decentralized finance on Kusama. In essence, then Karura and Acala like a pair of twins with almost identical codebase and it allows the platform to be cross-chain transact.
Karura's parachain is a fast and powerful platform, Karura allowing financial applications to exchange easily, cheaply and quickly this will improve the efficiency of each transaction and shorten the transaction time to a minimum.
Karura's Functions
Karura will be a network that continuously regenerates and develops new technologies as they are deployed across the Acala.
Karura will interact with Kusama and serve their tasks as a decentralized financial hub.
Acala and Karura will work in parallel to support the community on Polkadot and Kusama. When Kusama successfully connected with Polkadot then Karura and Acala will be able to interact with each other.
Karura will assist users to build highly scalable, low transaction fees, and interoperable DApps with other chains.
In addition, Karura gives users features such as:
Unlock staking liquidity: Karura will allow users to staking KSM to get LKSM (Liquid KSM). This token will be used in any DEFI apps built into its ecosystem.
Unlock cross-chain liquidity: Users can transfer tokens from other blockchains such as BTC, ETH, etc. into Karura through bridges and get paid by wrapped tokens.
No more unbounding preiod: Karura will support users to unlink with Kusama without users needing to wait 7 days for authentication.
Latest Technology Releases: As the twin to Acala, as new technologies are deployed on Acala then Karura will also inherit those technologies.
Highlights of Karura
Karura is built to inherit plug-and-play from the network's validators and is interoperable with all blockchains on its bridge. Kusama.
The construction of DApps on Karura extremely simple, low fees and highly scalable.
Ability to update new technologies extremely quickly, Karura and Acala are likened to a twin so when core technologies are deployed on Acala then Karura will also be updating those technologies for its platform.
As a parachain connected to Kusama's Relay Chain, Karura will be able to tap into the cross-chain ecosystem of Kusama.
Features being rolled out on Karura
Karura is implementing the following new technologies to provide Kusama and Substrate:
Solid user base and building Blocks: Karura will provide a multi-collateral (kUSD) stablecoin, liquidity for L-KSM and DEX. Karura can also access other Blockchains through the bridge of Kusama.
Sophisticated Customization: Developers can deploy and build standalone models and pay with their tokens. Users can exploit the above features by using the frameworks of Karura.
Optimized for DEFI: Developers will be supported by native oracles integrated in the code, they can build independent economic models using the use of native oracles. Substrate and take advantage of Karura's diverse payment capabilities to pay with any token.
Increase liquidity for cross-chain: Karura will provide throughput and liquidity to blockchains connected to Kusama.
Soon Karura will launch CrownLoan on Kusama. For more information about this project you can refer here.
Team- Development team
Karura's development team is also the development team for the Acala project.
Ruitao Su (Co-Founder): He is the co-founder of Acala and currently he is also the CEO for Laminar, a margin trading platform and synthetic assets. He has extensive experience in developing decentralized protocols.
Bette Chen (Co-Founder): She is also the Co-Founder of Laminar and Acala. At Laminar, she specializes in product design, developing token economics and leading DApps.
Fuyao Jiang (Co-Founder): He is the Co-founder of Acala and Founder of PolkaWallet. He is also one of the community builders for the Polkadot ecosystem.
Bryan Chen (Co-Founder): He is also Co-Founder of Acala and CTO of Laminar. He is a great contributor to building up Substrate.

Roadmap- Project roadmap
Karura will have 4 stages of development:
Stage 1: CrowdLoan and Auction
CrowdLoan Referral Program
Pre-registration for Karura CrowdLoan
Winning the Auction on Kusama Parachain
Launch Karura Genesis.
Complete distribution of KAR tokens
Stage 2: Governance through PoA
Governance via Proof of Authority protocol
System upgrade
Permission to open the Kusama to Karura bridge
Distribution of KAR tokens
Get KAR Token
Implement board governance
Stage 3: Governance through Council
Council Governance with Democracy
Democracy Deployment
Remove Sudo
Allow token transfer
Launching Karura DEX
Allow borrowing stable coin kUSD
Upgrade L-KSM (Liquid KSM)
Allowing the bridge between 2 chains Bitcoin and Ethereum
Supply USDT
Update Liquid Staking
Implement transfer feature in Kusama
Deploying Acala Virtual Machine on Karura
Stage 4 governance through the Elected Council
Detailed information about the team's schedule you can follow HERE.
Investor- Investor
As you know, Acala and Karura are twins designed by the same development team, so the investment funds and partners for Acala are also the investment funds and partners for Karura.
Acala is contributed by many major investment funds in the world such as CMS, Republic Labs, Coinbase Ventures, Polychain Capital, etc.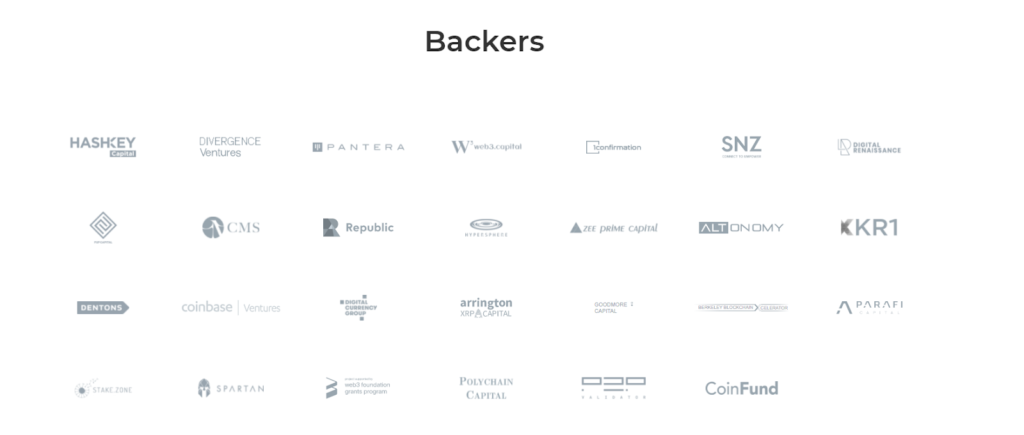 Partner- Partner
In addition to being supported by partners and VCs, Karura also has strategic partners to revolutionize its project.
With the contribution of 2 communities owned by the development team, the 2 partners above will have specific contributions to develop the project.

In addition, when participating in the successful parachain auction on Kusama. Karura there will be more great partners Kusama and Polkadot.
Token
Token Use Case
Karura will issue tokens for its project with the code KAR. The functionality of KAR will be used in the following areas:
Administration: Karura will empower the community to vote and promote the development of Karura.
Deploying Pallets: Allows users to deploy new Substrate pallets on Karura by staking KAR.
Smart contract development: Allows users to deploy DApps and Smartcontracts on Karura's platform after they Staking KAR.
Transaction Fees: KAR will be used as a fee for activities on its platform.Node Incentivisation: Incentivize nodes and forward messages to Kusama.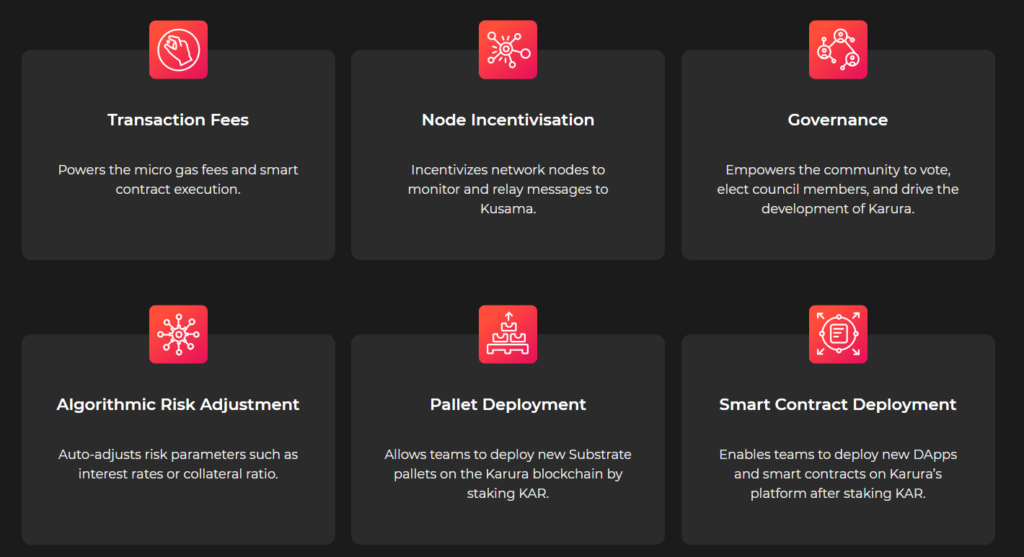 Basic information about KAR
Token Name: Karura Token
Ticker: KAR
Max Supply: 100,000,000 KAR
Token Type: Utility,…
Relay Chain: Kusama
Token Allocation
Karura allocates KAR tokens as follows:
Community: 60.87%
Early Backer: 18.33%
Backer: 10.08%
Founding Team: 10%
Token distribution in the Community:
Auction Reward: 34%
Treasury/Reserve: 11.62%
Reward Reserve: 10.25%
Ecosystem Development: 5%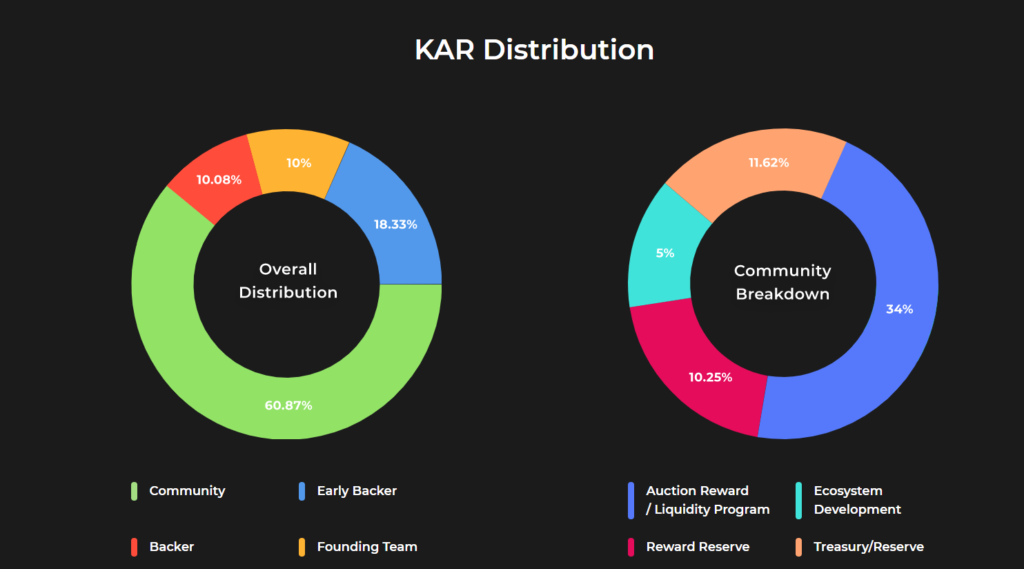 Token Release Schedule
The KAR allocation schedule will be implemented as follows:
Founding Team: Token will be Locked for 18 months and paid in the next 18 months.
Early Backer: Lock for 12 months and pay in the next 12 months.
Backers: Lock for 1 month and pay in 5 months.Parachain Auction Supporters: No lock 30% will be paid when there is liquidity and vesting in 48 weeks.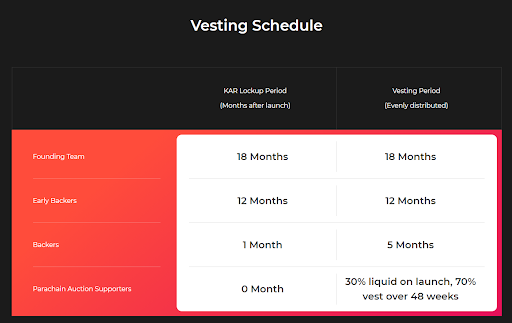 Parachain Auction Allocation: KAR will be rewarded to the first aid participants in the Parachain auction on Kusama. After receiving 30% tokens will be unlocked and 70% will be paid within 48 weeks.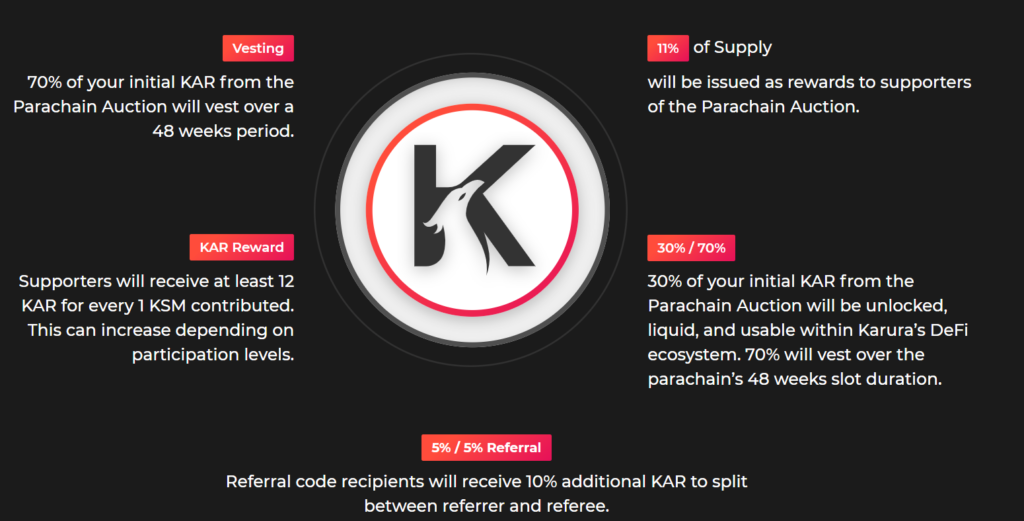 Project community
Website: https://acala.network/karura
Twitter: https://twitter.com/KaruraNetwork
Telegram: https://t.me/karuranetwork
Discord: https://discord.com/invite/HpsZx5r
Linkedin: https://www.linkedin.com/showcase/karuranetwork/
Evaluate
Karura is doing very well in its capabilities to grow and scale in the ecosystem. By successfully auctioning 1 slot on the parachain of Kusama, Karura has taken another step on its development path. With the contributions of many major partners, Karura promises to bring great products to its community.
Above are GTA's reviews of the project Karura, hope through the above article you have some comments about this project. The above are personal objective assessments and not investment advice, hope you guys often give criteria for yourself before "down". Thank you!