During this altcoin season, I will introduce you to detailed projects from AZ to have a mouth-watering altcoin season. One of the rather promising projects is – JUST (JST).
Hope this article will answer your questions:
What is JUST?
What is USDJ? What is JST?
Where to buy and sell JST?
Should I invest in JST?
What is JUST?
JUST is a decentralized lending platform where users can stake TRX through JUST's CDP portal to generate USDJ, a stablecoin pegged to USD at a 1:1 ratio. JST can be used for interest payments, platform maintenance, and other operations on the blockchain.
JUST has 2 main tokens:
Development team JUST
The JUST platform has a dynamic and elite team. In the engineering team, 50% of the employees are from Alibaba, Tencent, IBM and other world-class Internet companies, with rich experience in product design and development.
JUST's financial analysis team comes from a number of global Investment Banks, and the operations team has experience in blockchain operations. At the same time, JUST is also a staunch supporter of the TRON ecosystem.
What is USDJ Stable coin?
USDJ is a new currency created through decentralized smart contracts on the TRON network. Anyone can pledge TRX as collateral to create USDJ.
The creation of USDJ is completely free, as long as TRX is used as collateral. USDJ is pledged to be pegged to the US dollar at a 1:1 USDJ:USD ratio through collateralized debt positions (CDPs).
USDJ will become an integral part of the TRON DeFi ecosystem.
The process of participating in creating USDJ Stable coin
1. Property mortgage
Use Tron as collateral. Convert TRX to PTRX (ratio of TRX:PTRX is 1:1), this is the only collateral accepted by the system for the moment.
2.Create CDP (Collateralized Debt Positions) to deposit collateral
Send Tron to JUST to generate CDP, then convert TRX via PTRX, with that collateral, into the CDP to generate the USDJ.
3.Generate USDJ through CDP
Meanwhile, the same debt will be created and the collateral will be locked and the asset can only be withdrawn when the debt is paid. (Collateral value of 150% of loaned asset)
For example: If you deposit 1500$ TRON into JUST, you will be able to borrow 1000$ USDJ.
4. Acquisition of collateral
To redeem the collateral, the debt must be paid in USDJ along with the loan fee paid in JUST Platform Tokens, JST.
If the price of the collateral falls and the debt cannot be repaid, a liquidation mechanism will be activated to auction the collateral to repay the debt.
The residual net worth of the debt and penalty fees will be kept in the CDP and can be withdrawn. (penalty fee is 13% of the loan)
What is JST?
JUST(JST) is a token of the JUST platform with the main purpose of being used as fees for loans and is built on the TRC-20 platform.
JST was opened for IEO sale on Launchbase Poloniex in early 2020, but most users could not buy tokens. However, the price after IEO has increased quite strongly (about 5 times).
Up to now, the price is still increasing strongly after the IEO (x3.71x)

Basic Information JST
Ticker: JST
Blockchain: TRON
Token Standard: TRC-20
Token type: Utility Token
Total Supply: 9,900,000,000 JST
Initial Circulating Supply: 396,000,000 JST
Token Allocation
Ecosystem: 30% supply
Seed sale round: 11% supply
IEO Sale: 4% supply
Partner: 26% supply
Holding team: 19% supply
Airdrops: 10% supply (for TRON holders)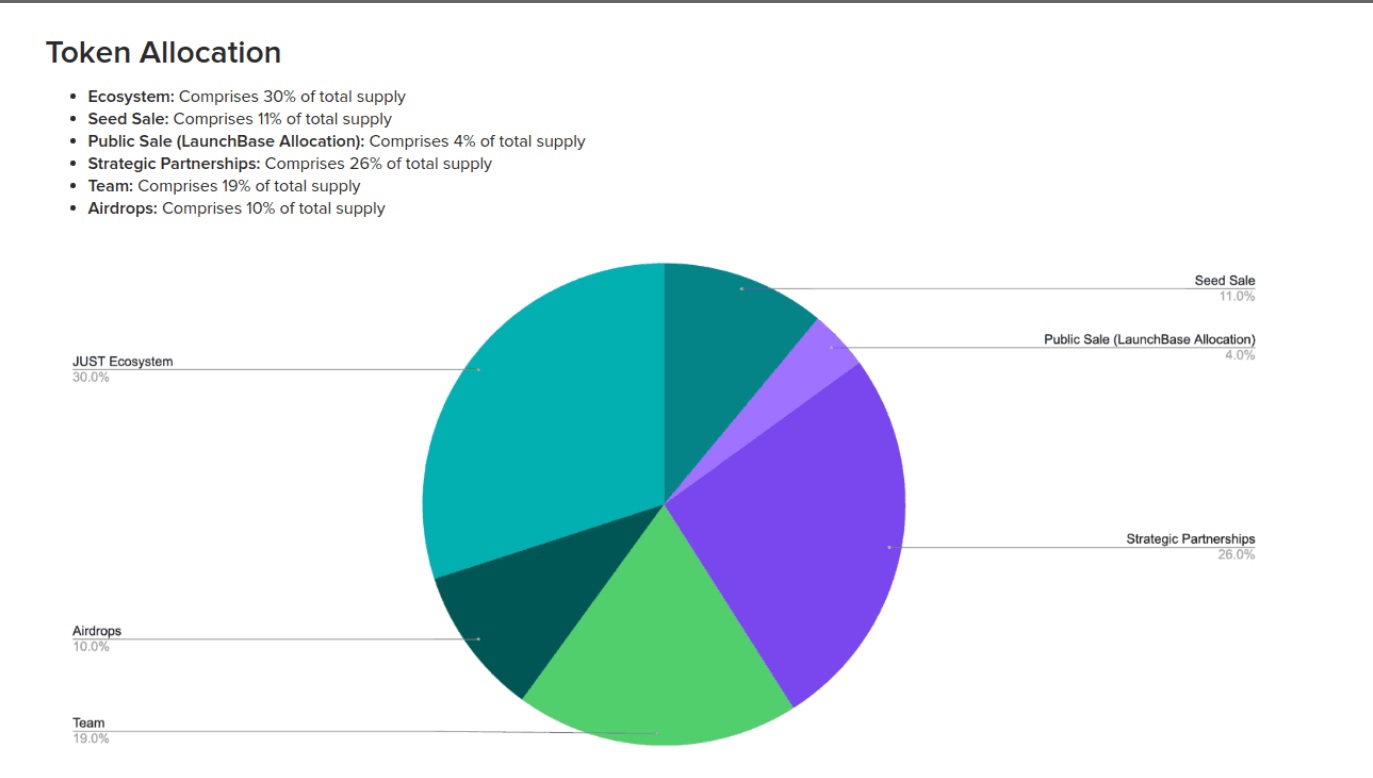 Token Sale JUST (JST)
The project issued a Seed Sale round of funding in February 2020.
The project sold out of tokens and raised more than 3 million dollars.
ICO Price: 1JST = $0.003.
JST Release Schedule
Below is the JST return route. Please refer to it to make an investment decision!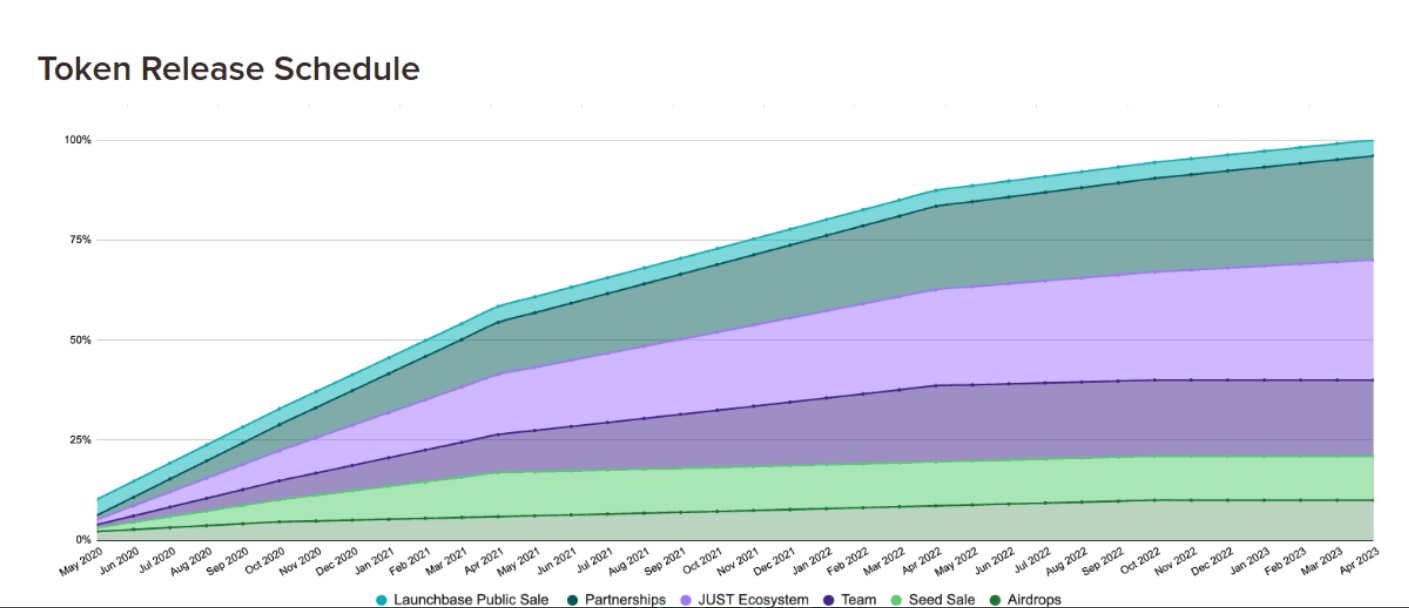 Purpose of JST
Governance
JST holders have the right to participate in JUST system administration. By participating in community voting, JST holders have decision-making power and control over the operations of the JUST platform.
Pay interest
JST token is used to pay interest to individuals holding JST tokens in the system.
JST token is used to pay interest on maturity of USDJ loan contract on JUST platform.
Gas fee
JST tokens are used to pay transaction fees on the JUST platform and penalty fees when collateral falls below a predetermined liquidation level.
Where to store JST?
JST is released on the TRC-20 platform. So you can completely store JST on Tron Wallet or Bitcoin exchanges that support JST trading.
These are the floors: Poloniex and MXC
Where to buy and sell JST?
Currently, you cannot buy and sell JST in Vietnam Dong because most exchanges in Vietnam do not support JST trading. However, you can buy and sell JST with USDT or BTC… on international exchanges.
1/ Poloniex floor
2/ MXC
How to buy as follows:
Step 1: Buy USDT, BTC on Vietnamese exchanges
You can buy it anywhere, but you should buy it on Bitmoon, a very reputable exchange, good price and very cheap fee. 0.1%.
Bitmoon also has a portal USDT-TRC20, so USDT withdrawal is free of charge and very fast.
Buy USDT: https://bitmoon.net/mua-ban/tether


Step 2: Send USDT to the exchange MXC and buy JST
After you have USDT, you send it MXC . floor for buy JST. I recommend this floor because its trading volume is higher than Poloniex's.
Those of you who do not know the MXC floor should read this article!
What is MXC floor?

What is MXC? Learn more about the MXC . exchange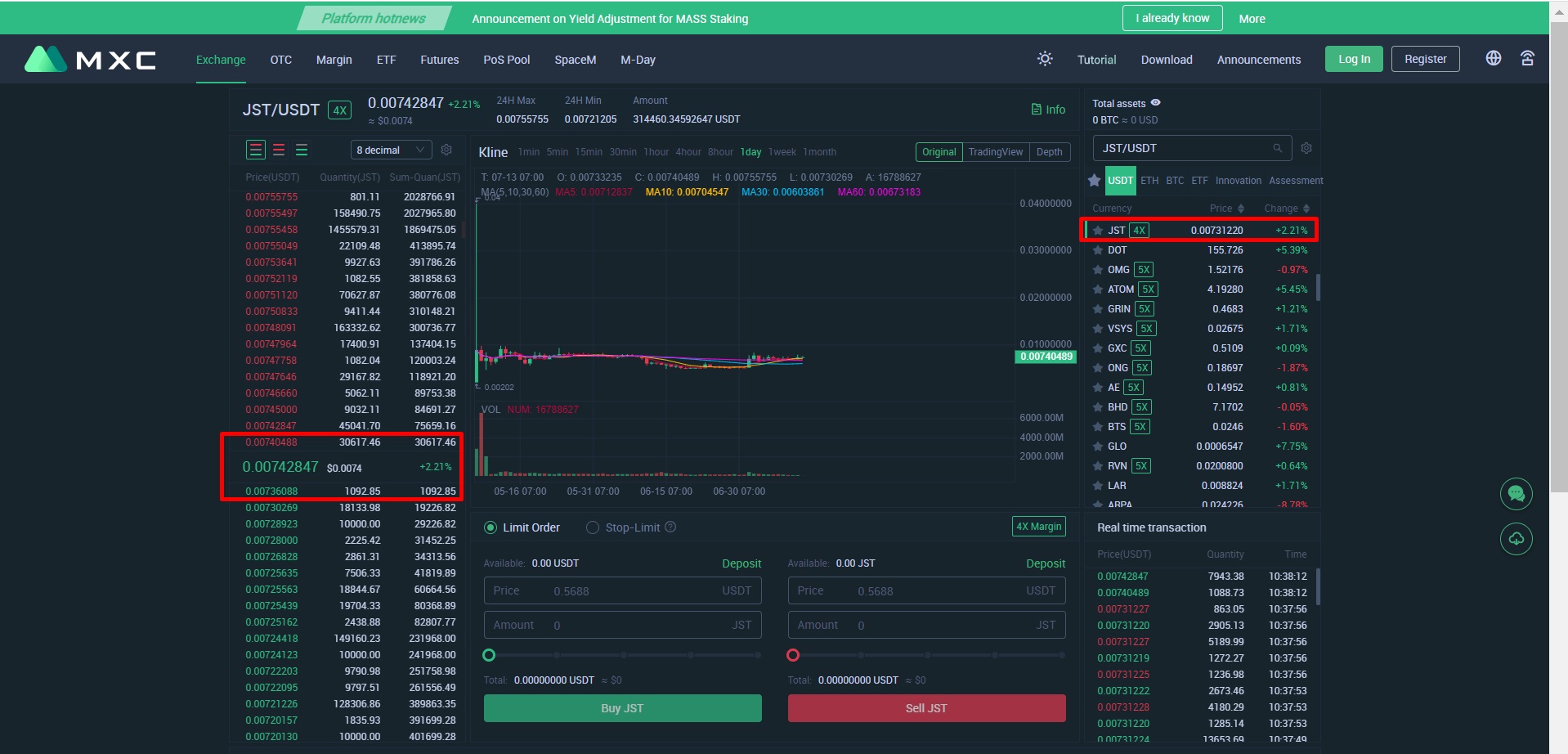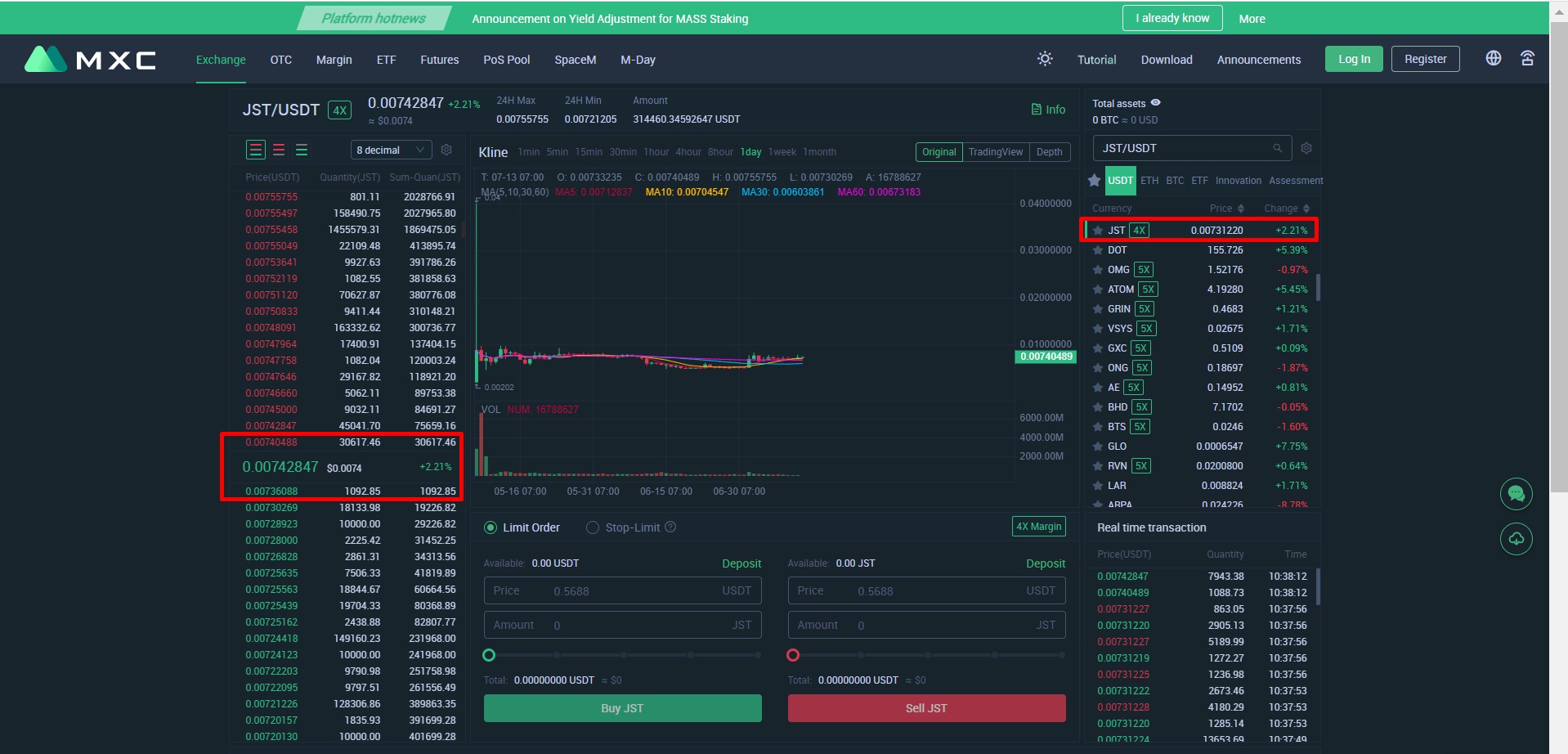 You guys place an order to buy JST and you're done!
Should I invest in JST?
JUST is a decentralized lending platform (DEFI) so the project will face competition from other blockchain projects such as MakerDAO, Constant…
The project needs to offer attractive incentives to users and strong marketing so that many people know about the project.
However, this platform is still quite new, but Defi is the trend and will be the future, with the help of Poloniex, Justin Sun.. hopes the project will be strongly promoted.
Epilogue
Currently buying altcoins, especially Defi is trending, altcoin projects on defi promise to fly strongly. Hopefully with the information I provide for you to learn about what JUST is and will have an objective view to make a decision to invest in JST or not. Wish you luck!