HOPR – a pioneer in Web3 data security, is a data security project aimed at securing user data and information. In this article, I will learn what HOPR is and should I invest?
What is HOPR Protocol?
HOPR – a pioneer in Web3 data security, is a data security project aimed at securing user data and information.
"As Web 2.0 gave companies and corporations control over users' information and data, the team at HOPR showed us how their decentralized network can commit to privacy at home. microdata level and empowering users,"
HOPR is based on blockchain technology and implements value exchange through HOPR token. HOPR uses an independent, peer-to-peer, decentralized network managed by users, so it is not managed by any party.
What makes HOPR Protocol so special?
Features that make HOPR Protocol special:
Mixnet
These are some of the routing protocols that make it difficult to track the data exchanged on the internet. The structure uses a proxy server to mix data and messages from different sources and mix them together.
The shuffled data is then delivered individually to their source. The point is to break the direct link between sender and receiver so that data and messages are hard to track.


Cover traffic
Cover traffic or cover traffic is random data sent over the mixnet. These data have no intrinsic value. But there is the function of adding more traffic in the mixnet. The more data in the mixnet, the more efficient it is and the harder it is to track each data packet.
When the traffic in the mixnet is low, other users are encouraged by the HOPR token to send random packets of data into the mixnet.
Cover traffic effectively provides anonymity making it difficult, almost impossible, to associate metadata with its sender.
These are the two features that make HOPR special.
What is HOPR Token?
HOPR is the foundation token of the HOPR Protocol. HOPR is used to pay transaction fees, or to Stake and Vote.
Token Name: HOPR Token
Token Symbol: HOPR
Network: Ethereum
Standards: ERC20, ERC777
Total supply: 1BN HOPR
Initial circulating supply: 130M HOPR
Features of HOPR token
HOPR has 3 main functions which are: Pay, Stake, Vote
Pay: Spend HOPR tokens to send data over HOPR network with complete data and metadata security.
Stake: Lock HOPR token in your node to relay user data and include traffic. The more you stake, the more data you can relay and the more coins you can earn.
Vote: Any HOPR token holder will be able to vote on proposals affecting the HOPR network, including HOPR fees and other specifications
Token allocation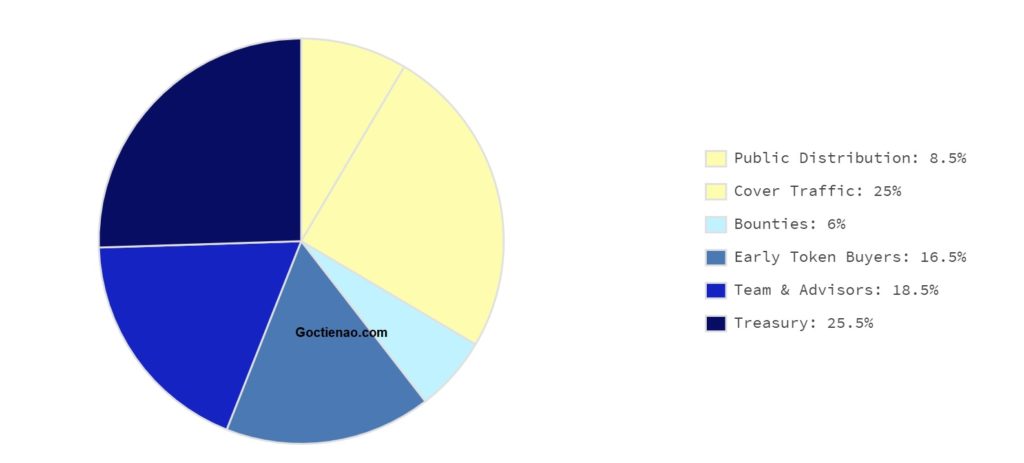 Token Distribution Schedule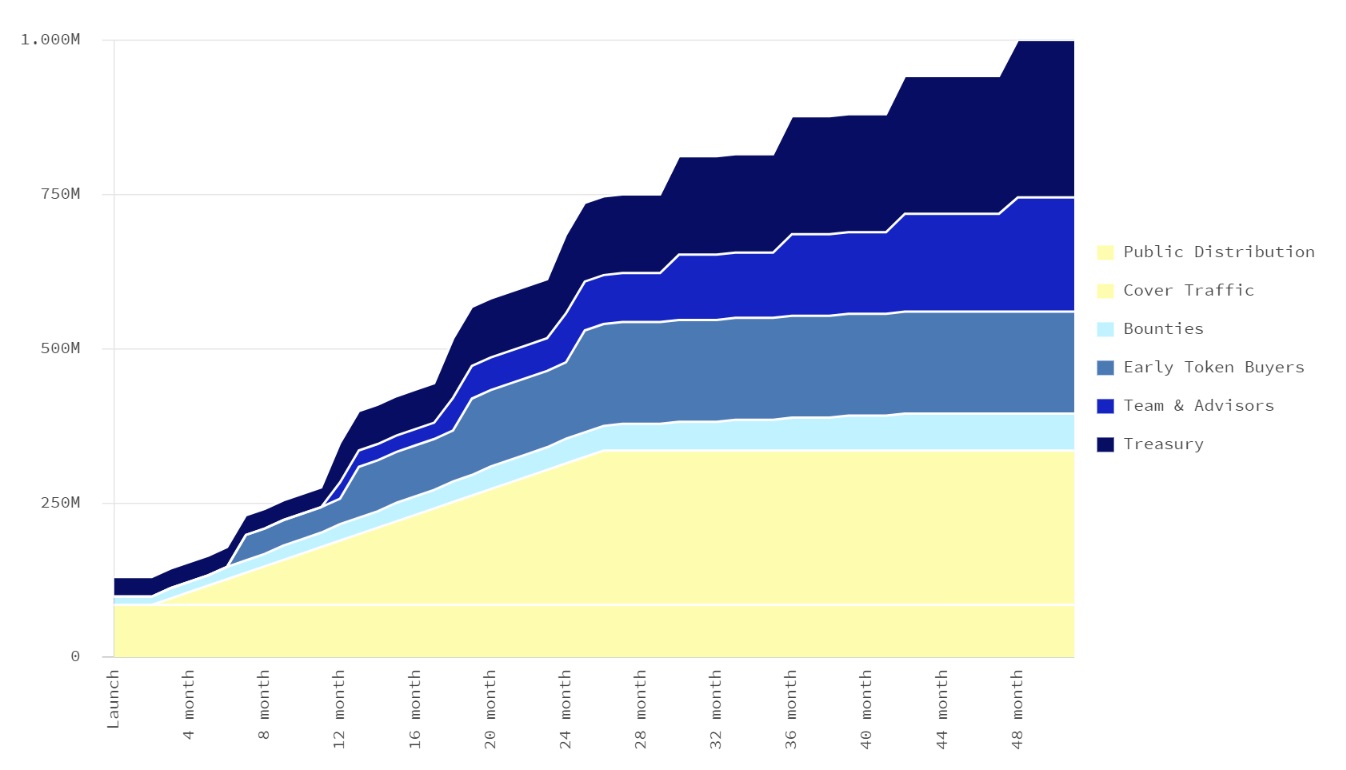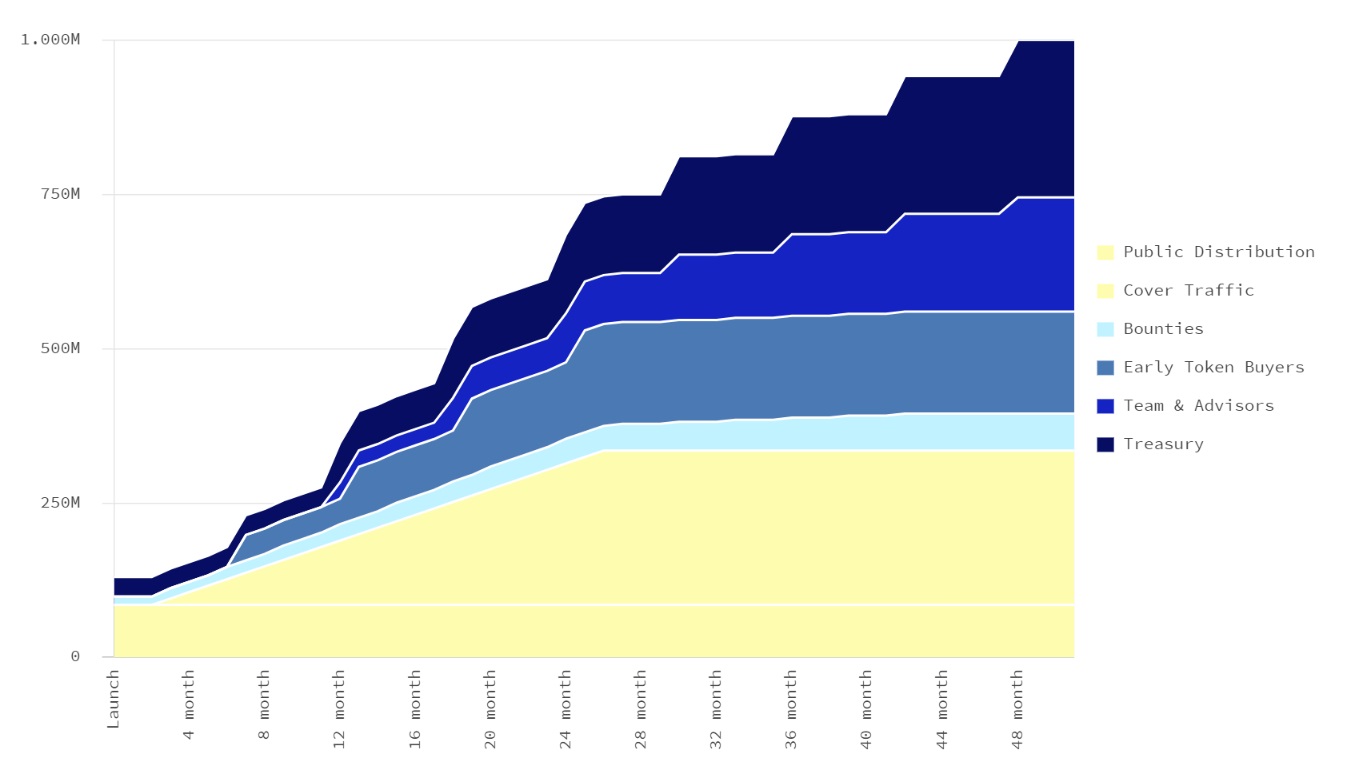 Above is the HOPR token distribution schedule, please refer! HOPR tokens will be issued over a period of 5 years.
You can refer to the token release schedule to find out when to buy or sell coins if you are investing!
Roadmap
The project has a pretty clear and detailed Roadmap for your reference: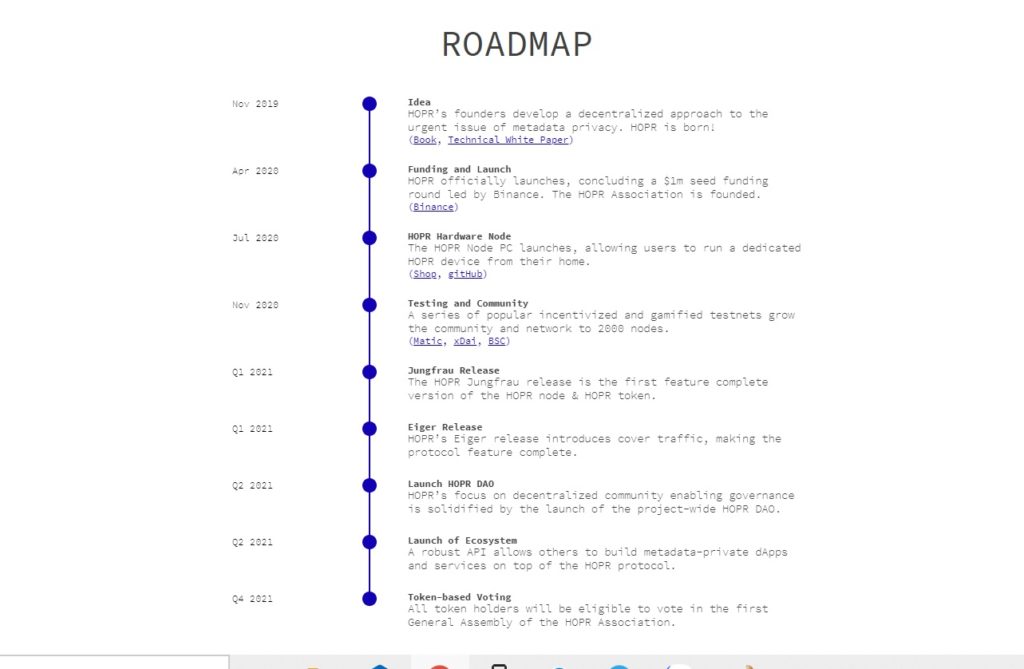 Q1 2021, Jungfrau Release,Eiger Release: HOPR Jungfrau is the first feature complete version of nodeHOPR & HOPR token. Eiger introduces covered traffic, making the protocol feature complete.
Q2 2021,Launch HOPR DAO, Launch eco: The focus on the decentralized community allows governance to be consolidated with the launch of the project-wide HOPR DAO. A powerful API that allows others to build dApps and metadata security services on top of the HOPR protocol.
Q4 2021: Token-based Voting: All HOPR token holders will be eligible to vote in the first General Assembly of the HOPR Association.
Since most of it is done, I will only mention the 2021 goals that their roadmap mentions!
HOPR Token Sale
HOPR has sold out and is now listed on CEX exchanges, so I won't mention it here!
Who is the HOPR team?
Dr. Sebastian Burgel, a technology entrepreneur who has been heavily involved in the blockchain industry in Switzerland, founded HOPR. He is also Co-founder and CTO for Validity Labs and Sonect.

Who are the backers of the HOPR project?
Binance Labs led a $1 million strategic investment round in HOPR just before the company's token sale. In addition, other big names participating in the investment round include Focus Labs, Spark Digital Capital, Caballeros Capital and Synaitken.
Looking at this "family" like this, you also feel quite reassured!

Who are HOPR's partners?
Below are HOPR's partners, all of which are quite famous projects.

Where is HOPR token being traded?
HOPR is being traded at 2 CEX exchanges: MXC and Gate.io with HOPR/USDT and HOPR/ETH trading sessions.
In addition, you can also swap HOPR on Uniswap, but swap here will cost quite a lot!
Where to store HOPR?
You can store directly on MXC . floor or Gate.io. However, you can also store it on Erc-20 wallets such as Metamask wallet, Coinbase wallet, Trustwallet …
Should I invest HOPR?
The HOPR network leverages blockchain technology to provide a decentralized and self-sustaining system. HOPR will be managed by its users, who will be anonymous and untraceable so it will be quite a new direction in this field.
In addition, the project is invested by Binance Labs, Au21 Capital, Caballeros Capital… then maybe this is a good project.
However, which price zone is good and reasonable to invest in depends on many factors, as well as your technical analysis ability. Hopefully with the information you provide, you have decided to invest or not, and if you invest, you should choose a reasonable entry!
Wish you luck!
Group Telegram: https://t.me/GTAmargin
Channel GTA: https://t.me/GTAmarginchannel