Gods Unchained (GODS) is a "play to earn" game project created and developed by Immutable-X to support the scale and user experience expected from triple-A games.. IMX is also a project that has just been tokenized. sale on Coinlist in early September. So Gods Unchained What's special? Let's find out through the article below.
What is Gods Unchained?
Gods Unchained is a free card trading game where players can compete in epic duels using fantasy cards. The game is built to fundamentally change the way games work on Ethereum: using Ethereum technology to bring true digital ownership to players, as well as providing a means to earn items important in the game.
WOODods Unchained built by former engineers of Google and Riot Games, sponsored by the largest gaming investor in the world and led by the former Chief Game Officer of MTG Arena.
Highlights of Gods Unchained
Gods Unchained is the first game project to sell token sale on Coinlist. In addition, the project also has the following highlights:
Epic Game Economy
Gods Unchained provides real ownership of in-game items by turning them into ERC-71/NFT tokens. The introduction of the GODS token heralds a new era of "Play to Earn" mechanics, giving players more options to earn meaningful assets. With GODS, players can purchase new card packs and chests, craft their own NFT cards and earn staking rewards – interact with Gods Unichaied on a deeper level.
Titanic Community
With over $34 million worth of NFTs traded. Gods Unchained has a community of passionate missionaries. The game has more than 450,000 registered players even though it's still in beta. Over the past 6 months, Gods Unchained has doubled its player count, increasing weekly active players by 5x. The GODS token is designed to strengthen the existing community and player base.
Built to Scale on Ethereum
Gods Unchained will move to build on Immutable-X – Ethereum's first Zk-rollup protocol for gas-free NFT minting and trading. Zk-rollups allow higher transaction speeds than Ethereum mainnet without compromising security for users. The move to Immutable X has allowed Gods Unchained to achieve 2.5x larger NFT transaction volumes than the Ethereum mainnet.
Similar projects
Similar game projects to Gods Unchained are Axie Infinity…
When was the project established?
The project was first announced in 2018.
The project's Twitter was established in June 2018 and currently has 36.5K Followers.
Team – Project team
Gods Unchained created and developed by Immutable-X. Immutable X is the project behind Gods Unchained backed by investors like Galaxy Digital and Coinbase.
The Gods Unchained team consists of world-class engineers, entrepreneurs, game designers, and economies from leading companies including Google, Atlassian, Riot Games, Electronic Arts, Goldman Sachs, etc.
Roadmap – Project Roadmap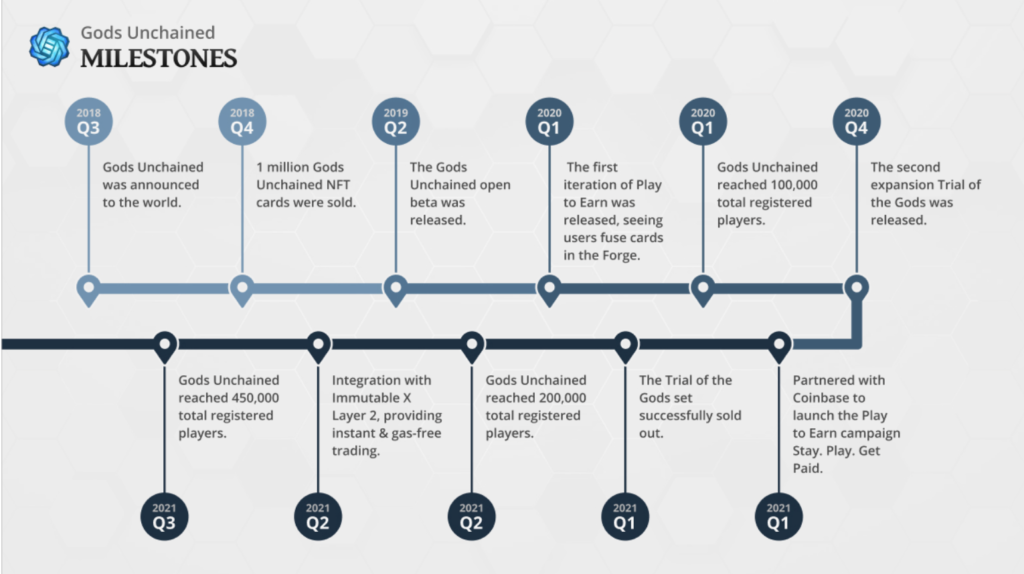 Investors & Partners
Gods Unchained is invested by big funds like Coinbase, Continue Capital, OKEx…
Tokenomics
GODS . token details
GODS designed to accelerate the growth of Gods Unchained by encouraging game engagement, incorporating new NFTs, and competitive gameplay. It will also be rewarded to community members, developers and content creators who contribute to the expansion of the Gods Unchained ecosystem.
Token Allocation
Total supply: 500,000,000 VND Tokens are distributed as follows:
• Play to Earn Rewards: 34%
• Reserve: 25%
• Community and ecosystem fund: 20.5%
• Community allocation: 7%
• Token sale: 7%
• Token Foundation: 6.5%
Token Release Schedule
Use cases
Crafting new playable and tradable NFTs
In Gods Unchained, players can use GODS tokens to generate new NFT tokens, which can be used in-game or traded in the marketplace. As this happens, a new NFT is minted directly into the blockchain, giving the player real ownership of the item.
Buy in-game items
GODS tokens can be used as partial payment for all purchases made in the shop as well as market fees. If a user chooses not to use GODS for payment or does not have enough tokens to pay the fee, a 20% fee will be automatically swapped on the open market. All GODS used for shop purchases will be transferred to the Staking Rewards Pool.
GODS token holders can staking to get reward
Staking rewards will be distributed to all users who qualify as active bettors. These rewards will be distributed from the Staking Rewards Pool, consisting of GODS tokens obtained in the Gods Unchained store, the marketplace, and the Forge. To qualify as an 'active racer', a user must have voted on a proposal in the last 30 days and must hold GODS on the Immutable X protocol for the entire bonus period.
Governance and voting
Holding GODS allows users to participate in governance voting regarding the development of the general ecosystem of Gods Unchained. GODS token holders will be able to vote on token-related proposals through decentralized governance.
Proposals will cover the following topics:
• Allocate token reserves.
• Distributing community funds & ecosystem.
• Changes in GODS token offering.
• Grant recipient or grantee.
Governance is done on Ethereum, with wallet balances taken on both Ethereum and Immutable X. The more GODS a user holds, the greater their voting power.
Details of token sale on Coinlist
Token allocation details are as follows:
Option 1:
Token Price: $0.336/Token
Maximum purchase: $100-$500
Token sale time: 17h UTC on October 13, 2021
Token Release: 50% of tokens are unlocked after 90 days (on or around 11 Jan 2022), the remaining 50% unlock linearly over 12 months.
Option 2:
Token Price: $0.24/Token
Maximum purchase: $100-$500
Token sale time: 23h UTC on October 13, 2021
Token Issuance: Tokens start unlocking after 90 days (on or about 11 January 2022) and will be unlocked for 12 months.
Community
Website: https://godsunchained.com/
Twitter: https://twitter.com/GodsUnchained
Discord : https://discord.com/invite/godsunchained/
Gods Unchained is one of the biggest crypto and blockchain projects in this type of game. There are plenty of cryptocurrency-based mobile games out there, but the inclusion of blockchain in online strategy games is a literal game-changer. We could soon see a massive shift in business models across industries like gaming and music (with digital assets primarily) to blockchain-based operations, gaming, and NFTs. Crypto also gives projects and game companies like Gods Unchained a unique way to profit as their native cryptocurrency increases in value.
Here is all the information GTA Research team researched the project Gods Unchained and Not investment advice. Hope this article will help you get the necessary information and give your personal opinion about the project.