CryptoKitties – one of the irreplaceable token projects (NFT) first, make blockchain Ethereum halted at the end of 2017 due to massive congestion, developer Dapper Labs saw that and realized that current generation blockchains are not built to handle such demand.
Instead of simply finding another home for the decentralized application (dApp) or wait for Ethereum scaling solutions to mature, Dapper decides to build a blockchain that they and other developers can rely on. That is what Flow is – a purpose-built blockchain that powers things like NFT collectibles and large-scale crypto games.
CryptoKitties will soon migrate to Flow, and with the great success of NBA Top Shot Dapper and many other developers have signed on to Flow as NFT explodes. It can be said that the Flow blockchain is very strong in the NFT array until now
What is Flow blockchain (FLOW)?
Flow is a layer-one blockchain built for the next generation of consumer applications, games and digital assets. Currently, the project has started to join some of the world's leading brands such as NBA, UFC, Ubisoft, Warner Music Group and Dr Seuss. It also leverages independent developers, leading organizations, and complementary infrastructure partners.
Flow is built by the team Dapper Labs, the organization that created CryptoKitties and is the inventor of the ERC 721 NFT standard on Ethereum.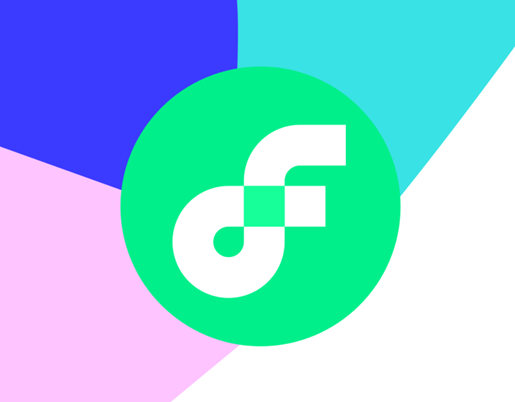 Project highlights
Flow has live applications, nearly 100 venture-backed startups or enterprise developers are building on top of Flow, and a fast-growing community catching up with new developments. leading player in the blockchain space.
Factors that make Flow different:
Multi-role architecture: Flow's core architecture is unique. It allows the network to scale to serve billions of users without decentralization or decentralization of consensus.
Safety-oriented programming: Flow uses Cadence. A safer and faster programming environment specially designed for digital assets and smart contracts.
Developer Ergonomics: Created by developers and for developers: Flow makes building new applications and protocols safe, fast, and efficient.
Onboarding users: Designed from the ground up for mainstream adoption, Flow is the only blockchain that builds usage enhancements into the protocol layer.
Available user base: Top developers and some of the biggest brands in the world (NBA, UFC, Dr Seuss, etc.) are building on Flow, bringing to a base of billions of fans.
How Flow Blockchain Works
With most blockchains, the nodes in the validator (Validation) store all the information (account balances, Smart Contract Code, …) and do all the work related to transaction processing on the chain.
However, with Flow it is different, they separate the other tasks into 4 roles:
Collection: Collect buttons increase efficiency.
Consensus: Consensus nodes ensure decentralization.
Execution: Execution nodes allow for speed and scale.
Verification: Verification buttons ensure correctness.
Dapper shared that breaking up the tasks makes it more efficient to process transactions than rival blockchains. It is an alternative to sharding or scaling the storage and computing needs of a blockchain across multiple nodes. Flow does not use sharding, and this way the project will be able to maintain the ACID (atomicity, consistency, isolation, and durabilit) and allow developers to build on each other's work.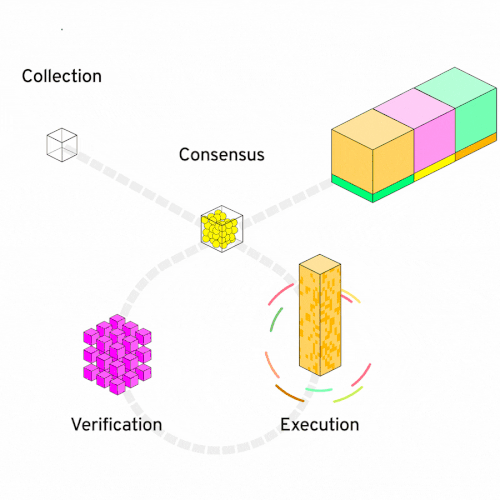 With multi-node architecture, it will solve the network congestion problem that other blockchains are facing. To do this, the nodes have separated the computation and verification tasks. This allows the Flow blockchain to process more transactions and faster at the same time, improving the user experience on the Flow blockchain.
Inside:
Consensus and Verification together play a role of optimizing security and decentralization, enabling a high level of engagement even for individuals using conventional hardware with home internet connections.
Collection and Execution together perform fully verified tasks, which makes them less vulnerable to attack. However, implementing these nodes requires specialized hardware in a professionally managed data center.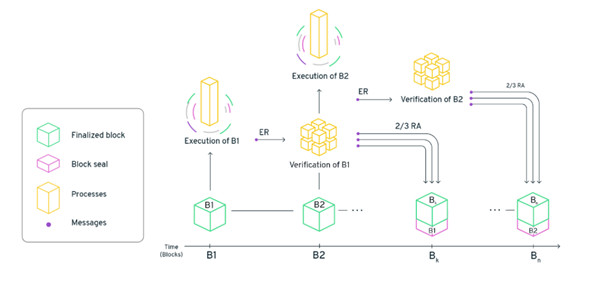 Simply put, anyone with an internet connection can participate as a Validator for Flow, at multiple levels depending on the number of tokens you use to stake. Flow uses a Proof of Stake model, which allows users to staking a certain number of FLOW tokens to participate in the network.
In this way, the validator node are still involved in validating every transaction, but they only do one of the validation stages.
Thus, these Nodes can specialize and greatly increase the efficiency of transaction validation. This allows Flow to process transactions many times faster and with lower costs.
Flow also owns upgradeable smart contracts, allowing smart contracts deployed in beta to then be edited and upgraded before being finalized. Smart contracts and user accounts on Flow can always interact in an ACID transaction. This ensures Flow apps benefit from great user experiences and full compositing capabilities, allowing developers to easily build on each other's work.
Sharding and layer 2 solutions disrupt aggregation and reduce network effects for dapps and smart contracts by removing ACID guarantees from the execution environment. With Flow, any application can be a platform.
You can refer to the Flow blockchain ecosystem: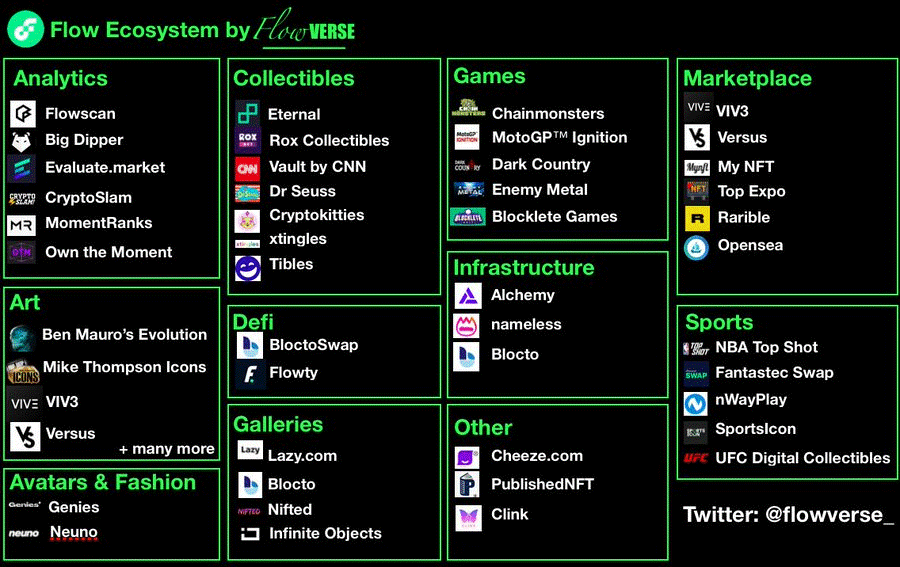 Other similar projects:
Some other similar projects in the field of games, NFT products such as: Polygon (MATIC), Polkamon (PMON), Decentraland (MANA) …
Roadmap
· December 2019: Released developer preview Flow – a simulator that helps develop smart contracts. Dappers Lab used it to develop NBA Top Shot.
January 2020: Flow MVP – complete transaction cycle per node
· March 2020: Dev Portal – Introduce developers to Cadence through hackathon
· March 2020: Multi-Node, complete node skin, specialize nodes. Helps speed up transaction processing
· April 2020: Full happy Path – Perfecting the consensus and enforcement mechanism
· June 2020: Beta Mainet v0.1
Deployment stores smart contracts/Dapps generated by user data. Get started with NBA and related NFT collectibles
·September 2020: Source code licensing
·September 2020: Launch of Token FLOW
·November 2020: Create node . authentication routine
The Flow network uses a delegated consensus mechanism (Dpos) to elect node validators
Team- Project team
The FLOW Blockchain project team can be said to be quite qualified with many names that have participated in previous Gaming and Blockchain projects such as: Topshot, NBA, UFC, …
Roham is the CEO of Dapper Labs, creators of CryptoKitties, Flow, and NBA Top Shot. He holds a bachelor's degree in Economics and a bachelor's and master's degree in Biological Sciences from Stanford University. Prior to Dapper Labs, Roham was the founder and CEO of Axiom Zen.
Dieter – Founder and CTO: Dieter developed and shaped the first waves of emerging technology. He is the co-founder of CryptoKitties and the author of the ERC-721 proposal that identifies NFTs on Ethereum. Prior to CryptoKitties, Dieter was the Chief Architect at Axiom Zen.
Michael Naayem – Sales Manager: Before helping found Dapper Labs, Mik served on the Board of Directors of Axiom Zen. He worked at Zen prior to launching CryptoKitties.Mik is the founder and CEO of Fuel, a platform he grew to over 225 million users before selling to Animoca in 2017.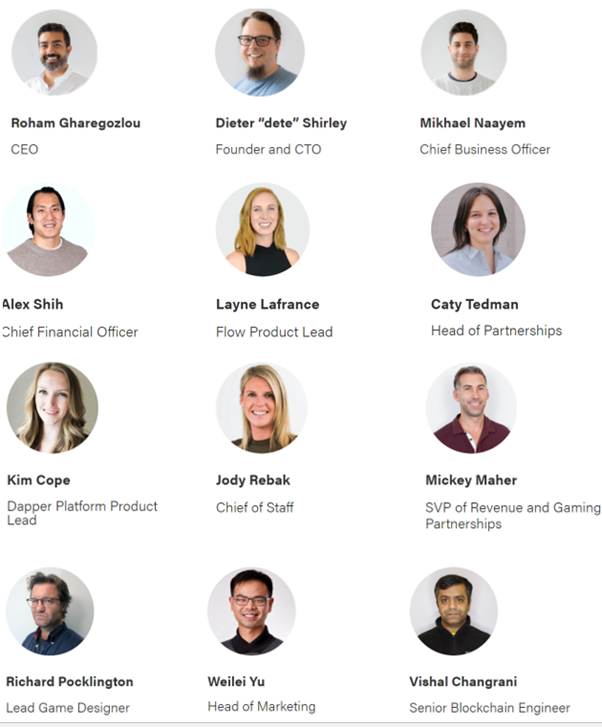 Investor – Investors
The project's Backers are particularly impressive with typical names such as: Coinbase Ventures, SamsungNext, SVAngel, a16zcrypto, Alchemy…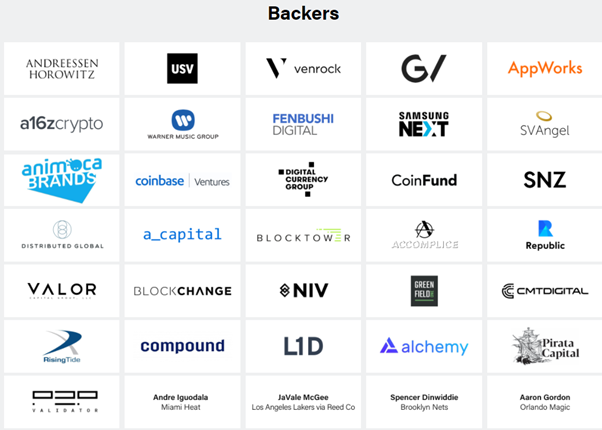 Partner – Partners
Flow Blockchain has many major partners such as global brands such as Cryptokitties, NBA, UBISOFT, Samsung…

Tokennomic
Token use case
FLOW coin is a native token in the Flow ecosystem and is used for the following purposes:
Staking: Lock FLOW to participate in validating transactions on Flow Blockchain and receive a reward of FLOW Coin.
Governance: FLOW Holders can participate in the governance of Flow's ecosystem through FLOW Coin.
Transaction Fees: FLOW coin is used as transaction fee on Flow Blockchain (like ETH as transaction fee on Ethereum).
Currency: Used as currency in Flow's ecosystem.
Basic information about Token FLOW
Token Name: FLOW.
Ticker: FLOW.
Blockchain: Flow Blockchain.
Contract: updating
Token type: Utility + Governance
Token Standard: updating…
Total Supply: 1,376,980,045 FLOW.
Circulating Supply: 61.980.045 FLOW.
Token Allocation – How to allocate FLOW . tokens
Ecosystem Reserve: 29%
Dapper Labs: 20%
Pre-Launch Backers: 20%
Team: 18%
Future Sales: 13%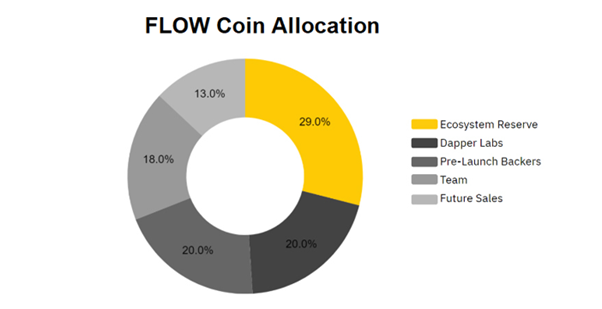 Token Release Schedule – Token Release Schedule FLOW
Ecosystem Reserve: Ecosystem Reserve will be locked for 12 months or used as collateral and will not go into circulation.
Dapper Labs: Pay monthly for 5 years.
Pre-Launch Backers: Tokens are locked for a year and paid out every month for 12 months thereafter.
Team: tokens are locked for 1 year and paid monthly for 3 years thereafter.
Future Sales:

Community Distribution Sale: lock for one year and pay monthly for 12 months thereafter.
Dutch Auction: Lock for 1 year and pay off in 1 installment.
Token Sale
FLOW conducted 2 rounds of selling on Coinlist: Community Distribution Sale and Dutch Auction.
Community Distribution Sale:
Taking place from September 22 to October 2, 2020.
Selling price is $0.1/FLOW.
Each person can only buy up to $1,000 (equivalent to 10,000 FLOW).
The total maximum supply for the Community Distribution Sale is 10%.
Dutch Auction:
Taking place from September 23 to October 6, 2020.
Bid price starts at $1 and then lowers to $0.1 (reverse auction)
There is no limit to the maximum number of Tokens that people can buy.
The total supply for Dutch Auction is 2 – 6%.
Flow rate
On which floor do you buy and sell FLOW?
You can buy FLOW at Binance, Okex, Huobi, etc.
Website: www.onflow.org
Discord: discord.com/invite/J6fFnh2xx6
Twitter: twitter.com/flow_blockchain
Forums: forum.onflow.org
Telegram: t.me/flow_blockchain/99
Conclude
Flow blockchain is considered one of the blockchains with the largest community in the market. Flow has helped developers build new applications and protocols that are safer, faster, and more efficient. The project will also have many new features that will help solve the complexity of the decentralized system, allowing many decentralized application developers to use Flow's blockchain to serve their needs in a fairly comprehensive way. .
Purdue research lead David Broecker said in an interview with Coindesk: "If Ethereum is blockchain 2.0, then we consider Flow as version 4.0. We see Flow as blockchain technology for the mass market."
Here is all the information GTA Research researched the project Flow Blockchain and is not investment advice. Hope this article will help you get the necessary information and give your personal opinion about the project. Thank you!
See more: What is Mina Protocol? Why is it creating a huge attraction for investors in 2021?
Buy and sell reputable and safe cryptocurrencies in VND here.
Join the discussion with GTA team at:
Website | Facebook | Twitter | Trading | Research | Youtube