NFT puzzle pieces in ecosystems are expanding and getting the attention of many people. Of course, Internet Computer is no exception. There are more and more NFT projects in this ecosystem, so a question arises: "Where will those NFTs trade (buy/sell)?". The answer is Entrepot – the first NFT Marketplace on the Internet Computer. So, what is Entrepot and what projects are running on it. Let's go with GTA to find out now.
Learn about Internet Computer's ICP token here: Dfinity's 'Internet Computer' (ICP) token launches straight into the top 10 cryptocurrencies
What is Entrepot?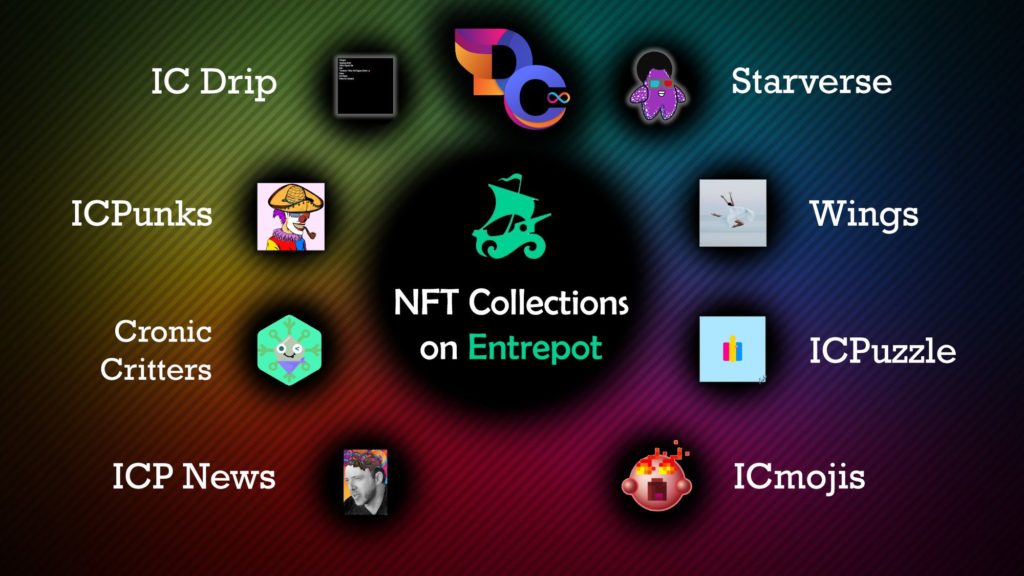 Entrepot is known as the first fully decentralized NFTs (NFTs Marketplace) digital goods exchange Internet Computer developed by Toniqlabs.
In particular, the platform allows users to connect with wallets (Plug Wallet, Stoic Wallet) to buy, sell, exchange and trade collectibles, in-game games (Game NFT) or Blockchain-based products operation of Smart Contract without being controlled.
In addition, this is also a place where NFT projects want to sell presale or public sale, everyone can buy at Entrepot.
Why is it named Entrepot?
This marketplace is not coincidentally named that Entrepot. Entrepot roughly translates to "transshipment warehouse". Usually a transshipment warehouse is a port, city, or trading post where goods can be imported, stored, or traded. Such centers play an important role in trade.
Entrepot offers a similar role in the digital world: a point of exchange where users can store and trade digital assets in a decentralized, unregulated way.
Projects are trading on Entrepot
Cronic Critters
Cronics is the first collectible NFT released by ToniqLabs. They started at 0.2 ICP, and now the Cronics exchange is 5.8 ICP. Since their launch, they've received incredible feedback, sold out in 48 hours, and developed an impressive community.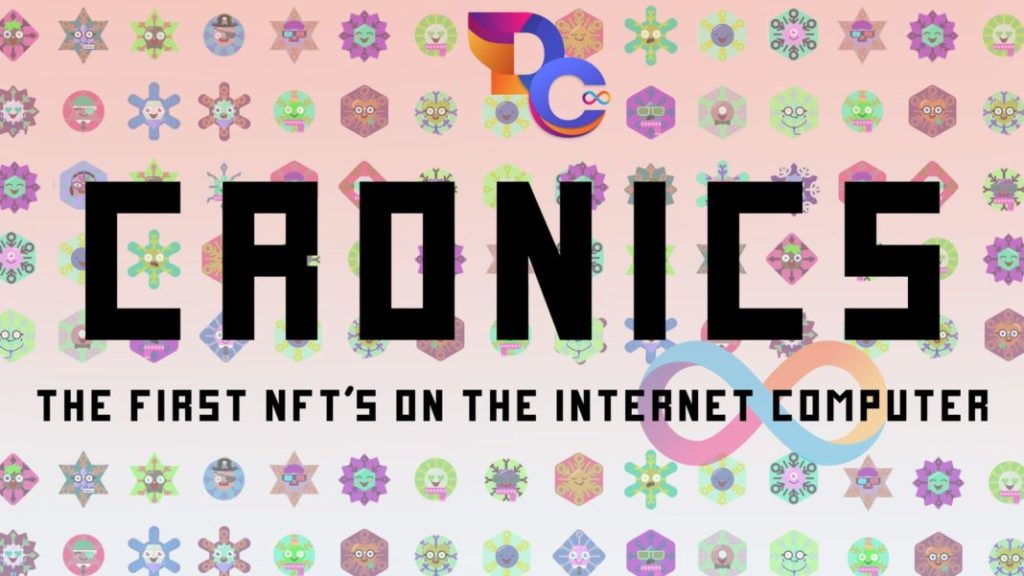 With outstanding features such as customizing Cronic to show personalization, breeding Cronic offspring based on the characteristics of the parent Cronic, or simply customizing Cronic to your liking, not to mention to Cronic's gameplay style it will make Cronics more exciting and desirable than ever
Learn about Cronic here: Cronic Critters – The first NFT on Internet Computer
ICPuppies
NFT ICPuppies is a collection of 10,000 NFTs of randomly generated 8-bit puppy dogs. It opened for sale of NFTs at 10 pm on October 9 in Vietnam time. The selling price of this NFT ranges from 0.4 to 1 ICP. Currently available for transactions on Marketplace and the current min price is 1.6 ICP/NFT.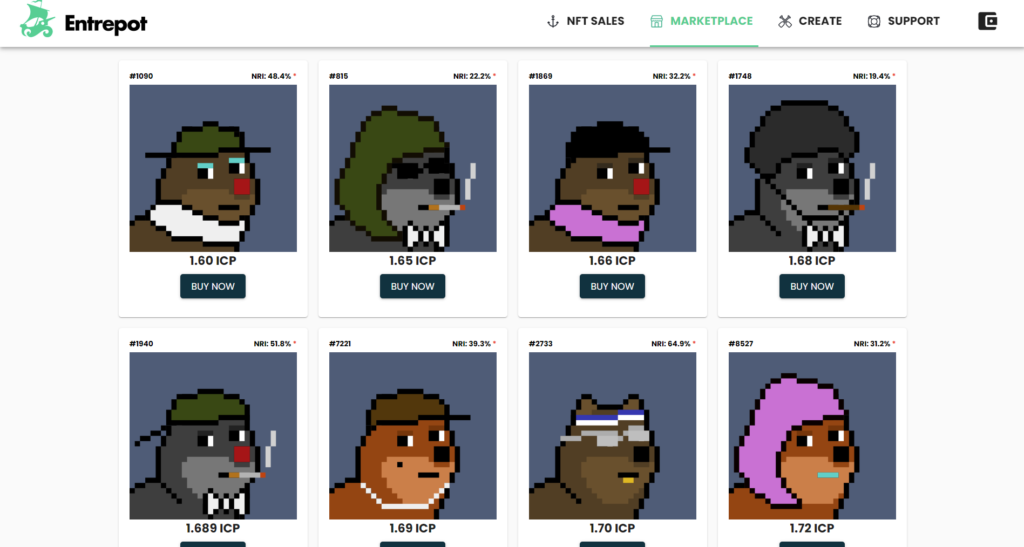 The price of NFT will depend on NRI (Rarity indicator). With NRI of the ICPuppies then they operate on a bell curve. That means the rarity at both ends of the curve is equally rare.
Simply put, ICPuppy 1% as rare as ICPuppy 99%. The 1% rate has only the general stats but combined, the rarity is extremely low. 99% have very rare property.

Starverse
Starverse is an NFT collection of rare and unique Stars. It's the result of collaborative efforts between Mac and Mir (ToniqLabs Creative Lead), the ToniqLabs team, and the team from DSCVR. The total supply is 5,500 and they are already streaming for early adopters of DSCVR and Entrepot.

Stars of the Starverse comes in three varieties:
Proto Stars: These stars represent 75% of all Stars in the Starverse, with only 4125 minted.
Cosmic Stars: These stars represent 17% of all stars in the Starverse, with only 1210 cast stars. Each star is similar to Proto Stars, except with the addition of "universe only" elements and the addition of a cool background.
Supernova: Supernovas are the highest-ranking Stars of the Starverse, with only 165 minted. Supernovas are one-of-a-kind Stars with custom costumes (5 of each cast, each with a different setting). If you have one of these, you are really lucky.
ICPunks
ICPunks clown-based collections were inspired by '90s hip hop duo Insane Clown Posse and NFT's original project CryptoPunks.
Its founders were brothers Przemek and Tomasz Chojecki, along with Adam Stępnik. Its plans include creating an Internet Computer NFT marketplace before the end of the year.

At launch on September 1st, 10,000 ICPunks NFT Airdrops were claimed in less than 30 minutes.
ICmojis
ICmojis NTF was created by Visions Graphics, a graphic designer with 15 years of experience.
At the time of launch, there were 50 sets of 30 different ICmojis available on Entrepot. These 1500 originals will never be minted again, but new ICmojis will be added to the collection over time.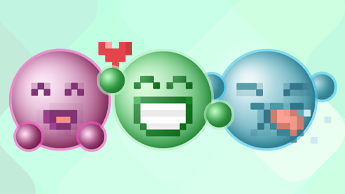 In addition, the game will be created with emojis. The first tool announced in their roadmap is "ICmoji Origins", launching in early October.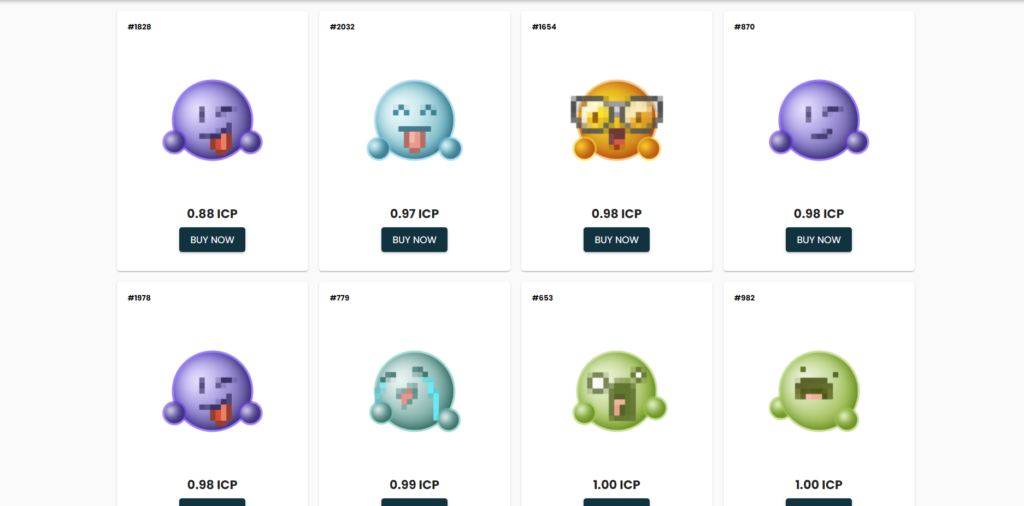 In this team fighting game, 3 ICmojis will be used to fight, each ICmojis will have an elemental (fire, water, etc.) and skills that they can use in battle. More ICmoji games will be announced in the near future.
What to prepare when trading on Entrepot?
Of course, this is a product that runs on the Internet Computer blockchain, so you need to prepare a wallet (Plug Wallet or Stoic Wallet) and have ICP available to be able to start trading with NFTs.
How to buy and sell NFT on Entrepot
To buy or sell NFT available on Entrepot, you must connect your Stoic Wallet or Plug Wallet. Currently, it supports both of these wallets, in the near future it will be added more.
We are creating articles to teach people how to use wallets and transaction instructions on Entrepot. Everyone look forward to it.
Conclude
I believe NFTs were born to last and will revolutionize certain areas like gaming and digital certification. And this is just the beginning. Entrepot is still in its early stages, but it already has a lot of NFT collections. This impressive growth of Dapp hosted on the Internet Computer will give the community much to discuss in the near future.
With the attraction from hot projects like Cronic game or ICPuppies collection, Entrepot will be the place where every NFT transaction must be known because simply, it is the place where all NFT projects on Internet Computer are traded. translate on it.
The above is all information that GTA Research Team has learned about Entrepot and is not investment advice. Hope this article will help you get the necessary information and give your personal opinion about the project.
Buy and sell reputable and safe cryptocurrencies in VND at the exchange Bitmoon. One of the most prestigious cryptocurrency exchanges in Vietnam.
Join the discussion with GTA Team at:
Website | Facebook | Twitter | Trading | Research | Youtube