Enjin is a project that has been around since 2017 with the goal of supporting the gaming industry. Enjin Coin (ENJ) has passed the extremely strict regulations of Japan and has become a nationally approved gaming token. Currently, Enjin Coin is one of the top 5 Metaverse coins with the largest market capitalization in 2021.
Let's find out information about the Enjin Coin project with GTA Ventures to see if ENJ still has potential in the upcoming Metaverse trend!
What is Enjin Coin (ENJ)?
Enjin Coin is a platform specializing in community management services related to online games built and developed through Blockchain technology. Enjin Coin aims to create an online gaming community with high transparency and security, providing tools that allow gamers or game developers to create community websites it's easy and free to play the game or create shops to buy and sell in-game items and players can monetize their gaming experience.
This project was created by Enjin on the Ethereum blockchain, a company that has helped 20 million gamers create forums and a large sandbox community around the games they love. Enjin Coin has now expanded this platform to become one of the tools for game development on blockchain.
Features and outstanding features of ENJ
Enjin with the desire to create an ecosystem for game developers and gamers so that they can be convenient and easy to use. Here are the main features and features of ENJ:
Enjin Free Website Builder
This is one of the features that can help users who are developers or gamers to create a completely free website in ENJ's platform. This website is considered as a group chat for guilds or clans in the game, can also be a fansite for games, forums with topics that do not have to be related to the game.
Enjin coin Token
ENJ was born for the purpose of helping users easily buy, sell, exchange and manage their in-game assets (including clothes, drugs, weapons, in-game money…).
All virtualizations in different games can be attributed to the same account, and will be managed in the same platform and in the same application. This will bring maximum benefit to users.
In addition, thanks to smart contracts, all details about transactions are saved, not modified. Therefore, the two parties can easily exchange without having to meet each other or use an intermediary as a message, helping to minimize the problem of high transaction fees or fraud.
Native mobile apps
Enjin has built mobile applications suitable for both iOS and Android operating systems, which can help users easily engage with forums and website content anytime, anywhere.
Deep game integrations
This is a feature that helps plugin developers in online games that are compatible with the platform, able to take advantage of a large number of members entering the platform for player acquisition.
Web Store
This is one of the features that will help you create an extremely professional store, optimized for features and integrated in many games. Sales or anything else will be fully supported.
Similar projects
Team – ENJ Development Team
The Enjin Coin project development team consists of many experienced experts with many fields such as blockchain technology, software engineering, business, and marketing. Including key members such as:
Enjin Maxim Blagov – CEO: is a creative director, has 15 years of experience in UX design, management, and creation. Specializes in strategic development for the highly interactive applications or video game industry.
Witek Radomski – CTO: The best in security, software design and testing, he was the direct technical supervisor for Enjin for nearly a decade. Also the leader in integrating ENJ into the online gaming ecosystem.
There are also many other key members such as Vyacheslav Volkov, Josh Woelfel and Anthony Di Iorio who are also co-founders of Ethereum.
Roadmap – ENJ's development roadmap
Currently, Enjin Coin's roadmap for this year (2021) has 4 activities scheduled including: Miss Bitcoin Kizuna Charity, ENJ approved by Japan Financial Services Agency, NFT.io, Listing on Coincheck .
More remarkable is the launch of NFT.io to officially participate in the potential NFT segment.
Investor – Investor
updating…
Partner -Partner
ENJ has many big and prestigious partners such as Samsung, Microsoft, Binance, Coinmartketcap…

Tokenomics
Token use cases
Enjin Coin includes two main functions in the Enjin ecosystem:
Administration function: When releasing games, currency or items for use in games, game developers will need to use ENJ coins to pay for service costs. Also, when an asset is minted from ENJ, then the total amount of ENJ will decrease in circulation.
Currency function: ENJ will be used to mint currency, properties along with privilege tokens in the game. These assets will be readily convertible to ENJ at the original rate.
In addition, ENJ coin is also used to develop SDKs (software development tools) for the game industry. At the same time, ENJ coin also serves as a solution to combat fraud and minimize high transaction costs
Basic information ENJ coin
Ticker: ENJ.
Blockchain: Ethereum.
Decimals: 18.
Contract address: 0xf629cbd94d3791c9250152bd8dfbdf380e2a3b9c.
Token Standard: ERC 1155, ERC20.
Token Type: Utility Token.
Supply of circulation: 934,331,121 ENJ.
Total supply: 1,000,000,000 ENJ.
Token Allocation – How to allocate ENJ coin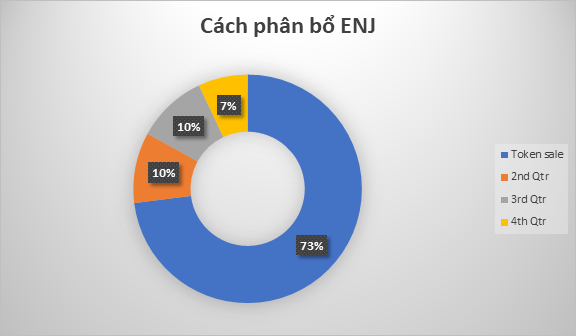 Token Sale: 73%.
Enjin Team: 10%.
Advisors: 10%.
Marketing & Partners: 7%.
Token Release Schedule – ENJ coin payment schedule
Team: After 6 months, the team can open 25% and every 3 months will open 12.5% ​​more.
Advisors: ENJ coin is paid in full after 2 months.
Unsold ENJ coins in the token sale will be locked for 6 months and used as a marketing and partnership budget.
Current ENJ Rate
Buy ENJ on any exchange??
You can buy ENJ on the following exchanges:

ENJ Storage Wallet
You can store ENJ Token with a separate wallet developed by the platform called Enjin Wallet. In addition, you can also store it through wallets that support ERC20 standards such as MyEtherWallet, Trezor, Ledger Nano S, etc. Because ENJ coin is created based on Ethereum's ERC20 standard.
If you regularly trade, you can keep ENJ directly on the e-wallets of the exchanges.
Currently, there are 3 ways to own Enjin Coin:
Join the Bounty Program in the game.
Become a developer based on ENJ platform to be able to receive rewards.
Buy this coin directly at exchanges.
Conclude
Enjin Coin has made very solid progress in the past 3 years. The project has many big and well-known partners in the market. Moreover, the project targets one of the extremely potential segments of the cryptocurrency market, so there are many opportunities for growth in this market.
Currently, the market is uptrend, because you will have many opportunities to earn profits from altcoins. Especially the upcoming Metaverse trend. However, now we need to wait for the correction of bitcoin to be able to buy ENJ at a better price.
Here is all the information GTA Research researched the project Enjin Coin and is not investment advice. Hope this article will help you get the necessary information and give your personal opinion about the project. Thank you!
Buy and sell reputable and safe cryptocurrencies in VND here.
Join the discussion with GTA team at:
Website | Facebook | Twitter | Trading | Research | Youtube