You must have heard a lot of brothers calling to buy DOS Token in the months of June and July this year. However, most of them are Fomo but do not necessarily know all the features of Dos Network. In this article we will analyze it more deeply.
What is DOS Network?
What is DOS Token?
Why should? DOS investment but not other tokens?
Buy and sell DOS Where is the most convenient now?
Let's go into each item in detail to answer questions about this project.
What is DOS Network?
DOS Network is a network decentralized oracle service to enhance Blockchain's usability with real world data and network computing power.
A decentralized Oracle Service that supports multiple heterogeneous blockchains. DOS Network brings real-world data, events, and computing power into smart contracts in a secure, reliable, efficient, and scalable way.
Read to understand more about what is Oracle ? Why is it so important in blockchain?
Vision is provide oracle service suite standard and complete for mainstream blockchains. Currently it is being built on Ethereum first, however, we are actively exploring and integrating with other blockchains like Tron, Thunder, Zilliqa, QuarkChain, etc.
In the high-level DOS Network consists of two parts: the smart contract part (smart contract) on-chain and off-chain P2P network part (client):
On-chain smart contract : A set of DOS system contracts implemented on supported blockchains, including functions such as request processing and response/verification of calculation results, node registration and zoning, registration pool public keys, statistics tracking, payment processing, etc. Enable -chain system contracts that expose a common interface to all user contracts on supported chains.
Off-chain P2P Network : Network P2P consists of client software that implements the core protocol run by node operators. The client includes several important modules: an event monitor module and a chain adapter, a VRF module, an off-chain group consensus module, a response parser module, a -verifiable calculation module, etc.
What problems can DOS Network solve?
Compared to other centralized or decentralized oracle solutions, DOS Network has many unique features that make it the best choice for smart contract and Dapp developers:
The protocol is fault-tolerant and decentralized – there is no point of failure or downtime to break your Dapp. It is also an open membership network with a cryptocurrency economy that is resistant to synergistic attacks and malicious nodes.
Not based on reputation, but fueled by secure, unmodifiable and verifiable randomness – Reputation-based systems are susceptible to the Matthew Effect, collusion and targeted attacks that lead to many security issues.
Near-real-time and verifiable responses at low cost – Built upon Verifiable Random Functions and threshold cryptographic signatures, responses with proof of response are sent back on-chain only in a transaction.
How fast is the DOS network?
The off-chain process is very fast and usually completes in less than 1 second, including event tracking, request processing, data fetching and parsing, collective proof-of-work in components. team members, etc. That is to say, the performance bottleneck is usually in layer 1 of the blockchain.
For Ethereum, the response is sent in the next block (average block time ~14 seconds) – the fastest block that can be achieved in theory. For other blockchains like EOS (average block time ~0.5 seconds), the latency will be much smaller.
Does the DOS network have a system token? What role does it play?
The DOS network has native token its own. Here's what it's used for:
Node operators deposit a certain amount of tokens before joining the network to provide oracle services and earn fees and rewards. Malicious node operators will be detected and their deposits will be forfeited as a penalty.
Oracle service requesters need to pay fees to node operators. Fees can be paid in both a pay-per-use and a subscription-based manner. Token DOS is one of the first accepted payment tokens, with stablecoins to be supported in the near future.
Token DOS grants governance that node operators and token holders have the right to vote on future accepted payment tokens and other proposals. In the long run, when the premium feed and integrated market, the requester also needs to pay premium to the requested premium data providers. How is the system against sybil attacks?
What does DOS do to prevent attackers from easily faking identities?
Node operators must stake and lock tokens in the system contract before joining the network and earning rewards. Verification is done on the contract side, with malicious attackers that don't go through the verification process being detected and punished. This makes sybil attacks expensive and nearly impossible and ties the interests of node operators to the network and token value.
Team team
Siyuan Hua – CEO, Engineering & Protocols at DOS Network at Linke 500+ studied at Nanjing University of Science and Technology (China) from 2007–2011 then at Carnegie Mellon University USA 2012–2013
– After studying in China, he worked first 5 months in Baidu Back-end Software Engineer, then after studying in USA for 2 years in Amazon Lab126, he worked on the background Kindle Fire low-end platform for Linux,
– Android system, then 3 years Software engineer at Google engaged in quality and media advertising infrastructure through building Google Display Network (GDN) DSP cross-exchange network and Google Display DoubleClick bid management (DBM) and 2018 in the DOS Network
Qi Wang -Co-Founder / Head of Operations / Software Developer at DOS Network in the 500+ link. He studied at Beijing University of Posts and Telecommunications (China).
– 2007–2011 later in the US, with Carnegie Mellon University
– 2012–2013. He started as a Technology Consultant Intern at Dell's China division for 3 months, then finished training in the US for 3 years Software Developer, Technical Lead at Oracle ( San Francisco, CA).
– 2016 to 2018 in pure storage (Mountain View, CA), real-time protected data in multi-cloud environments and from 2018 in DOS Network
Eric Nien -Staff Software Engineer / Tech Lead at DOS Network He studied for 2 years at National Cheng Kung University from 2005-2007, from 2008 worked at Quanta Computer Inc-Senior Software Development Engineer (Taiwan) then in the US Amazon Lab126 – Senior Software Development Engineer (5 years 11 months) and from 2018 to DOS Network
Vipul Goyal on the site designated as Cryptographic Director, communication with DOS Network is not specified. Cryptography professor at Carnegie Mellon University with a PhD in computer science from the University of California, Los Angeles.
Xinrui Wu -Senior software engineer DOS Network in link 230+. Attended Zhejiang University (China) 2007–2011 and Northwestern University 2015–2016 without any work experience except DOS Network since 2018.
Lihui Wang -Blockchain Engineer (in U Network?) with January 2018 to October. 2018 active in U Network from November 2018 to DOS Network. Oddly enough, the caption on the main page hasn't been changed.
Hongnan Liu -Blockchain Engineer DOS Network Former blockchain engineer at JD Financial has 5 months of experience. (China)
Xiaohu Sun– Director of Operations & Business Development DOS Network Also a former member of the U Network team, experience is nothing special.
Yijie Weng – Business Analyst at DOS Network
Adviser
Yi Tang -Blockchain entrepreneurs and investors in the 500+ link. He holds an MBA from Columbia University, a master's degree in Computer Engineering from Virginia Tech University, and a bachelor's degree from Nanjing University of Science and Technology. Working at PwC (USA) – Cybersecurity consulting service, 1 year. Next Manager at EY (USA) – Cybersecurity consulting service, 3 years.
From 2015 to 2016, he worked at Qiming Venture Partners, making venture capital investments in cybersecurity, blockchain and information technology.
Qiming Venture Partners is a leading Chinese venture firm, managing five US-dollar funds and three yuan-denominated funds with $2.7 billion in assets.
From 2016–2018 China leads in ConsenSys (ConsenSys is a Joint Venture, Production Studio that creates decentralized applications and various tools for developers and end users for the blockchain ecosystem, mainly mainly focused on Ethereum.) from 2018 to present Lab C Founder is a Venture Studio that incubates and serves first-class blockchain projects.Nathan Li is the founder of Chi Capital, a Singapore Crypto Fund. in link 500+ contacts. Also a Director Partner at FBG Capital since January 2017
Partner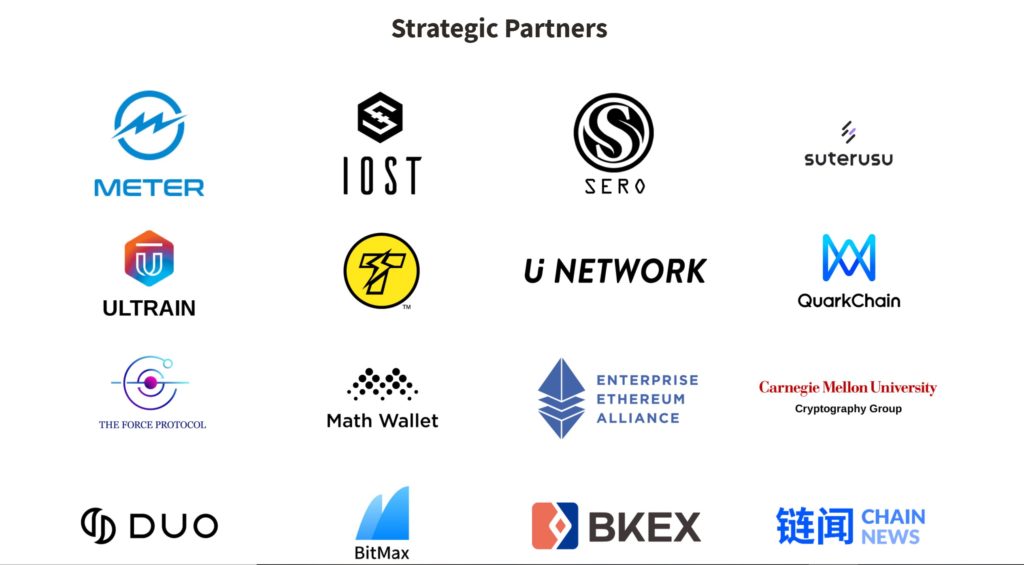 Also quite a few names in the Cryptocurrency industry: Meter IOST Quarkchain …
Recent update
NS v1.0.1 mainnet was recently launched on the Ethereum network in May 2020. Currently a group of three nodes, with functions including BLS threshold group signing, on-chain BLS signature verification, random factor verification, off-chain data query and secure random number request whole, etc.
Token Allocation
Total supply: 1 Billion (1,000,000,000)
Sale period: 10:00 on March 11, 2019 to 10:00 on March 13, 2019.
Price: 0.012 USD (Price in ETH/BTMX will be announced on pre-sale launch date)
Purchase limit: 20,000 DOS/account or 240 USD/account.
Project update channel:
Official website: https://dos.network
White Paper: https://docsend.com/view/ak3rdft
Twitter: https://twitter.com/DosNetwork
Reddit: https://reddit.com/r/DOSNetwork
Chat room: https://t.me/dosnetwork_en
Project source code: https://github.com/DOSNetwork
Forum: https://medium.com/dos-network
Current DOS rate
Where to buy and sell DOS Tokens
Currently, DOS is only listed on small exchanges. Not listed on major exchanges yet.

Evaluation of the project
In our opinion, this is a pretty good project compared to other Oracle projects like Chainlink. Both in terms of speed and transaction fees. However, the application problem in Smart contracts compared to Chainlink is still modest. To be successful, you need a big enough ecosystem like Chainlink. However, in terms of opportunities, there is nothing to lose in the future.
Please give your own opinion. Thank you for sharing the article.
GTA Team
Group Telegram: https://t.me/GTAmargin
Channel GTA: https://t.me/GTAmarginchannel
Channel News: https://t.me/goctienao
Fanpage: https://fb.com/groups/tradecryptovietnam