Decentralized cryptocurrency exchanges offer many benefits, chief among them being anonymous and peer-to-peer transactions. But many are complicated to use and hampered by low trading volumes. As a result, customers seeking liquidity and simplicity are often forced to switch to centralized platforms, which lack real permission and are subject to cumbersome registration processes. And DODO exchange is one of their options.
DODO, a next-generation decentralized exchange that operates on the Ethereum and Binance blockchains, is designed to provide all the advantages of a distributed platform, plus a user-friendly interface and liquidity comparable to centralized systems. Join GTA to find out information about DODO. Does DODO have potential to invest?
What is DODO?
DODO is a decentralized financial protocol (DeFi) of China and is liquidity provider on-chain features a unique active market maker (PMM) algorithm that aims to provide better liquidity and price stability than an automated market maker (AMM).
The PMM pricing mechanism, which mimics human trading, uses oracle to collect a highly accurate market price for an asset. This mechanism then provides enough liquidity close to these prices to stabilize the liquidity provider's (LP) portfolio, reduce slippage, and eliminate temporary losses by allowing trading arbitrage as a kind of reward.
What is the function of the project?
Proactive Market Maker (PMM) is an oracle-powered algorithm with an advanced pricing formula that provides contract-executable liquidity. Traders get lower slippage with PMM than with Automated Market Maker (AMM).
PMM leverages price measurements to take the exact market price of an asset as input. It then aims to provide enough liquidity close to the market price for every asset. As a result, liquidity drops rapidly away from the market price. The following graphs compare the price curves of DODO (PMM) and Uniswap (AMM).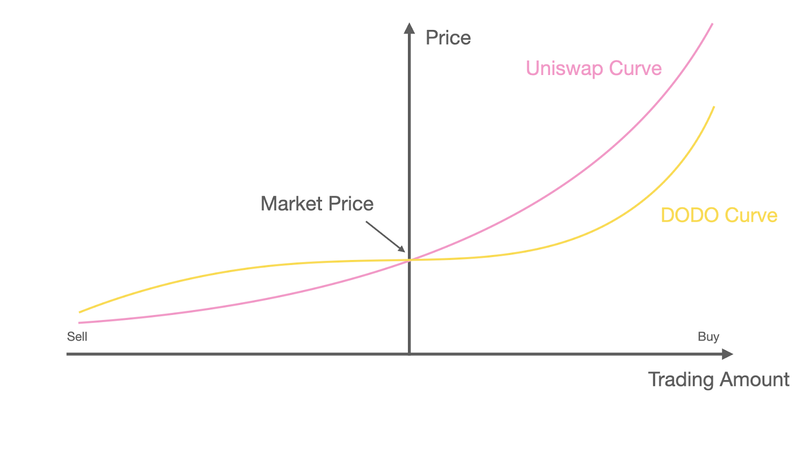 With everything else fixed, it is clear that the PMM curve is significantly flatter than the AMM curve near market price, indicating higher fund utilization and lower slippage. The price offered by PMM is more favorable than AMM.
To minimize counterparty risk to LPs, DODO will automatically adjust market price to incentivize arbitrageurs to join and stabilize the LP's portfolio.
Unlike in AMM where a Liquidity Provider (LP) has to offer two assets, DODO allows liquidity providers to deposit a single asset, like Bancor. This gives more convenience to the Liquidity Provider and eliminates the majority of Permanent Loss (IL).
Similar projects
DODO was born to overcome the problems that the AMM solution faced with the challenges of effectively solving problems such as: slippage and Impermanent Loss on exchanges like such as: :
What's outstanding about Dodo?
With its unique design, PMM DODO has brought many outstanding features compared to other virtual currency projects such as:
Low slippage:
DODO with PMM design helps it to have much lower slippage by always following the market price.
Low opportunity cost risk:
Because to implement Add liquidity on Uniswap, you usually have to sell off the ETH you own to USDC. Only then will you be able to Add Liquidity successfully and at the same time you will earn Incentive. However, when ETH goes up, the Incentive you have made from this trade does not make up for the loss you lost when you sold ETH at a low price. Therefore, we see that using AMM design will make your opportunity cost risk when trading Add liquidity quite high.
Therefore, DODO's development team has improved to minimize this opportunity cost risk. You can do Add liquidity on DODO immediately without selling ETH in exchange for USDC. Also you can easily exit the pool when you Unstake your ETH to sell at a higher price. It is important that you still receive a portion of Incentive transaction fees from Pair ETH-USDC on DODO.
No impermanent loss:
You can limit impermanent loss to 0. This is something that when you do Add Liquidity on Uniswap you will never get it. Because the problem of impermanent loss is considered an inherent limitation of Uniswap. Loss is basically understood when the price you execute the Add Liquidity trade is too different from the price when you Unstake. At that time, the amount of coins you withdraw will not match the rate you initially withdrew.
For example, for DODO, 2 Pools are completely separate, you Add liquidity 10ETH then when Unstake will get 10 ETH back, there is no loss here.
Advantages of DODOEx for traders:
Although the Protocol is decentralized, traders in DODOEx will be provided with liquidity roughly comparable to that of centralized platforms.
There is a price difference between other exchanges and DODOEx, from which profit can be made.
Liquidations, auctions and other operations powered by smart contracts can utilize the liquidity from DODOEx.
Advantages of using DODOEx for LP liquidity providers:
There is no minimum deposit restriction.
LPs share the network's transaction fees with each other.
LPs are not subject to price risk when depositing their tokens.
Liquidity providers can use their own funds to create trading pairs.
Roadmap – The project's development roadmap
Q3 2020:
List more trading pairs on DODO Zoo Market.
Integrate with private storage wallet.
Start allowing Liquidity mining.
Q4 2020:
Implementation allows cross swap between trading pairs.
Launch DODO Wild Market on Ethereum.
2021:
Set Risk Control DAO and Risk parameters.
Set up Earn DAO, distribute revenue to Maintainers.
The last goal:
Set up Admin DAO: give full control of DODO to the community.
Team – Development team
DODOEx, founded by 3 very experienced people in blockchain industry, they are big influencers in China DeFi Community:
Mingda Lei: An architect behind the Market-marking algorithm. He holds a PhD in Physics from Peking University. He used to work for a China-based DeFi project called DDEX as the lead developer of the project.
Qi Wang: The second co-founder is Qi Wang. He is the founder of DOS Network, a 2 layer Oracle project based in China. Before entering the crypto industry, Wang worked as a software developer for companies like Pure Storage and Oracle.
Diane Dai: The third co-founder, Diane Dai, has started the first Subscription-based WeChat channel focused on DeFi in China called DeFi Labs.
Investor & Partner – Investors & partners
In addition to the highly influential team, DODOEx is also supported by many famous investors such as Framework Ventures, DeFiance Capital, Pantera Capital, Binance Labs, Coinbase Ventures, Alameda Research, SevenX Ventures…
Token
Token Use Cases
DODO is used to administer the ecosystem of DODO and reward Liquidity mining. The governance structure of DODOEx includes 3 decentralized autonomous organizations (DAOs): Governance, risk control and earn.
More specifically about ecosystem governance, DODO divides this process into 3 phases:
Admin DAO (end of 2021): The highest decision-making authority. It oversees the entire DODO ecosystem and can make changes to the way the other two DAOs work.
Risk Control Knife (2021): The risk control DAO deals with the risk features of the system.
Earn Knives (2021): This DAO is responsible for managing the distribution of income on the DODO platform.
Basic information about DODO token
Token Name: DODO Token.
Ticker: DODO.
Blockchain: Ethereum.
Contract: 0x43dfc4159d86f3a37a5a4b3d4580b888ad7d4ddd.
Token type: Governance.
Token Standard: ERC-20.
Total Supply: 1,000,000,000 DODO.
Circulating Supply: 130,579,796 DODO
Token Allocation – how to allocate Dodo token tokens
The total supply of DODO tokens is 1 billion (1,000,000,000). There are currently 110,551,965 million coins in circulation.
The total supply of DODO will be allocated as follows: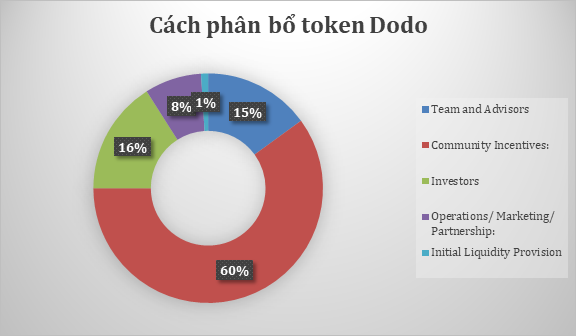 15% for core team/future personnel/advisors
16% for investors
1% for initial liquidity provision (IDO)
8% for operations/marketing/partnership
60% for community incentive bonus
Token Release Schedule – Token Payment Schedule
Community Incentives (60%): Liquidity Mining Reward – will be distributed to DODO supporters who participate in the protocol. (8.25 DODO per block). (600,000,000 DODO)
Investors (16%):
Seed Sale Investors: Lock for 1 year, pay in 2 years after that. (60,000,000 DODO)
Private Sale investors: TGE 10%, the remaining 90% will be paid in installments within 1 year. (100,000,000 DODO)
Core Team/Future Hires/Advisors (15%): 1 year course, 2 years later. (150,000,000 DODO)
IDO (1%): TGE 100% (10,000,000 DODO)
8% of tokens are reserved by DODOEX Foundation for operations, marketing, partnership, exchange listing or future use. (80,000,000 DODO)
Current DoDo token rateeh?
Where to buy and sell DoDo?
DODO is being listed on many exchanges such as: Dodo exchange, MXC, Uniswap, Hotbit, 1Inch, Binance, Pancakeswap, gate.io, VCC exchange…
Conclude
DODOEx was founded by people in the blockchain industry who are influential in the blockchain industry China's DeFi Community: Mingda Lei, Qi Wang and Diane Dai. Besides, DODO Exchange is supported by huge investors including: Framework Ventures, DeFiance Capital, Pantera Capital, Binance Labs, Coinbase Ventures, Alameda Research, SevenX Ventures and more. On March 21, 2021, DODO V2 was hacked 3.8 M $ but DODO price only decreased slightly by 2%. In my opinion, DODOEx is a Potential projects to invest.
Here is all the information GTA Research team researched the project DODOEx and is not investment advice. Hope this article will help you get the necessary information and give your personal opinion about the project.