Introduce
district0x (DNT) – A network of decentralized marketplaces and communities. Create, operate and manage. Backed by Ethereum, Aragon and IPFS.
district0x (DNT) what?
Why district0x so hot again?
Should you invest in the project?
This article will answer these questions in turn. And give you an overview from the general to the detailed about this project. So what are you waiting for, let's start writing right now!
What is district0x (DNT)?
district0x (DNT) is a collection of decentralized marketplaces and communities known as the District. Districts exist on the same modular framework of Ethereum smart contracts and a user interface library called d0xINFRA.
What is District?
Districts are marketplaces and communities that exist as decentralized autonomous organizations on the district0x Network. Everyone will be able to deploy districts to the network for free and forever.
Current information
Ticker: DNT
Blockchain: Ethereum
Token Standard: ERC-20
Total supply: 1,000,000,000 DNT
Circulating supply: 600,000,000 DNT
What problem does district0x solve?
district0x Network solves some of the coordination problems and inefficiencies commonly found in decentralized community marketplaces.
How district0x solves the problem
district0x Network addresses the above issues by providing tools that can better align incentives and decision-making among market participants themselves. The ultimate goal is to create a self-sustaining ecosystem that can thrive without a central authority.
Take a look at some specific Districts below to better understand the solution that district0x offers.
Current districts
ETHLANCE
Launched in January 2017, Ethlance is a decentralized job marketplace for everyone from freelancers to full-time career seekers.
Ethlance is the first District in the district0x network and will be active forever.
NAME BAZAAR
Launched in October 2017, Name Bazaar is a peer-to-peer marketplace for the exchange of names registered through the Ethereum Name Service, providing an easily searchable ENS name registry. to buy.
Among the options available, owners will be able to choose to open custom auctions or list their names for sale at a fixed price. Merchants will have the option to set their price in ETH or any ERC20 token.
Name Bazaar will also allow trading of subdomains, allowing the exchange of usernames in decentralized applications such as the names of Status and Organization in the Aragon Network Company Registry.
MEME FACTORY
The Meme Factory – Third District will provide an interface for the creation of rare digital assets on the Ethereum blockchain that can be instantly posted to the bulletin board-style marketplace for exchange.
Meme Factory will allow users to mint their own encrypted memes and offer them for sale instantly.
Information about DNT . token
What is DNT token?
district0x network token – DNT is a multi-utility token. DNT is used in the following cases:
used in an incentive voting game to specify access to a set of ancillary services exclusively for network members
used to signal support or disapproval of proposals made by network participants
and can be staked to deposit deposit pools to mint supply tokens right to vote district-specific on third-party platforms like Aragon.
Voting right: can be used to participate in processes that define everything from the district's design and branding, to the district's functionality, accepted code of conduct, to the integrations used by the district, and more so more.
DNT Token Allocation
district0x Genesis Contract created 1,000,000,000 tokens district0x Network.
district0x Genesis Contract allocated the minted district0x Network tokens as follows:
participants in Contribution Phase v0.1: 60%
● Potential Contribution Stage v0.2: 14%
● Potential contribution period v0.3: 4%
● Founders: 20%
● Advisors: 1.5%
● Early Contributors: 0.5%
The DNT tokens minted for allocation to founders, advisors and early contributors are subject to a test schedule. Tokens of Founders and advisors are allocated over a 24 month period, with a spread of 6 months. Early contributor tokens are allocated over a 6-month test period, with a spread of 3 months.
What exchange is DNT currently on?
Currently, DNT Tokens have been traded on exchanges such as Bitmoon, Binance, Coinbase Pro, Uniswap (V2), VCC Exchange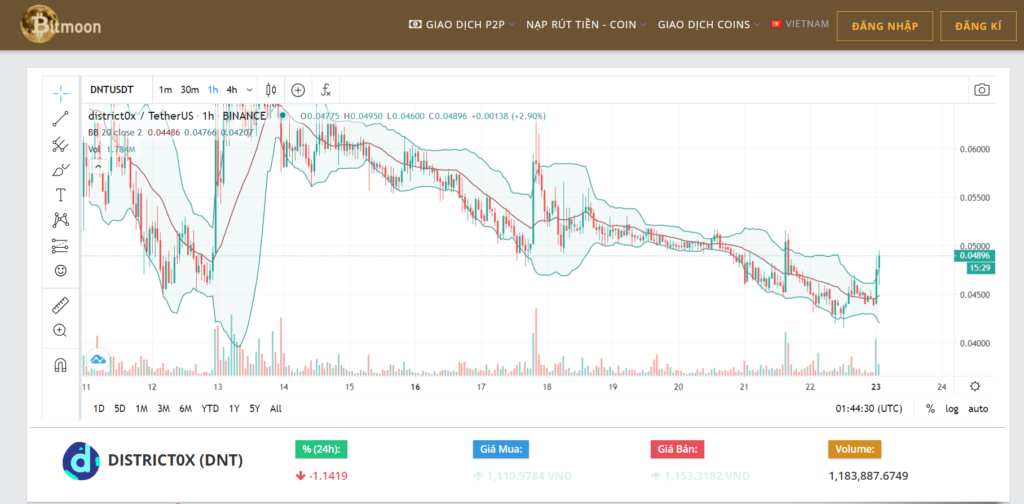 Link to buy and sell: https://bitmoon.net/mua-ban/district0x
See more articles: What is Bitmoon? Bitmoon Exchange Basic Guide for Newbies 2020
Similar projects?
– Swarm City (SWT)
Origin Protocol (OGN)
You may be wondering:

What is Origin Protocol (OGN)? Things to know about the latest OGN token 2020
Team, Partners and Investors & Advisors of the project
Team
Matus Lestan
Joe Urgo
Alexander Khoriaty
Partners of the project
Currently, ditric0x Network is partnering with Aragon – a revolutionary new platform for deploying virtual organizations and entities.
Investors & Advisors
Advisors
Luis Cuende
Carl Bennett
Jake Brukhman
Brayton Williams
Vincent Zhou
Investors
Origin Capital
Columbus Capital
Astronaut Capital
Block0
Boost VC
Roadmap
V0.2 BEFORE CONTRIBUTION TIME
Deploy d0xINFRA
Migrate Ethlance to d0xINFRA
Name Bazaar and Meme Factory implementation (completed)
V0.3 BEFORE CONTRIBUTION TIME
Deploying 5 new districts to the network
Deployment of governance and staking modules (completed)
District extensibility through backend modules
V0.3 THE FOLLOWING CONTRIBUTION TIMES
Deploy district creation platform
Implement backend module registration
District0x network registration deployment (completed)
Handing over the management of the district0x Project to the district0x . network token holders
Media channel of the project
Website: https://district0x.io
Twitter: https://twitter.com/district0x
Medium: https://blog.district0x.io/
Telegram: https://t.me/district0x
Github: https://github.com/district0x
Reddit: https://www.reddit.com/r/district0x
Should you invest in the project?
Through what GocTienAo shared with you, and for me personally, this is not a new project, there have been similar projects already and also solve the problems decentralized marketplace is facing. Make your own investment decisions!
Conclude
The above article has provided you with an overview to the details of the district0x Network project. Hope GocTienAo has given you useful information about the project. If you find it interesting, please share the article with your friends!
All investment statements above are personal. All investment decisions are made by you and you are responsible for your assets. Good luck!
Virtual Currency Corner