In recent times, NFT is one of the keywords that are mentioned a lot by the community and is becoming a trend when Binance debut NFT Marketplace. One of the projects NFT It's so outstanding Dego Finance.
What is Dego Finance concept?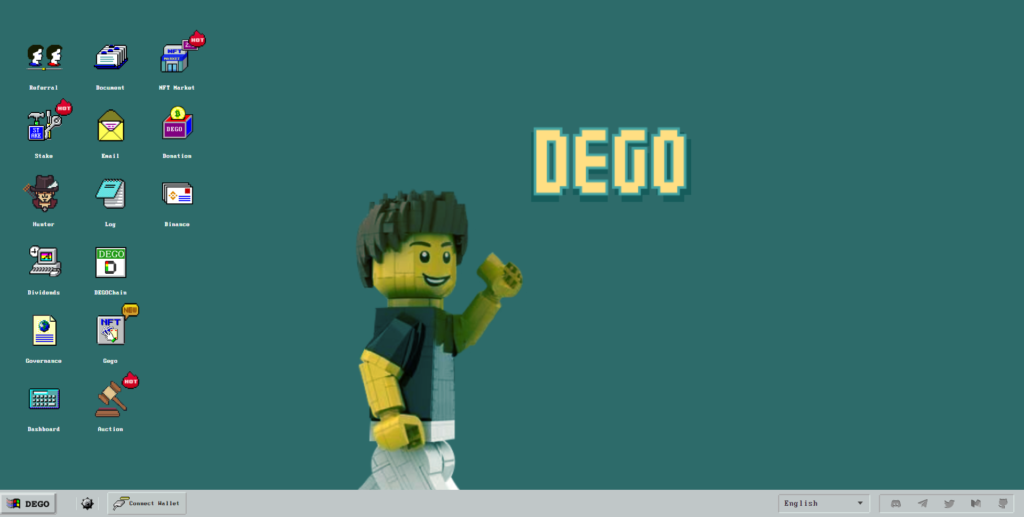 Dego Finance is a decentralized financial platform based on blockchain technology that combines two protocols NFT (Non-fungible tokens) and DeFi.
Dego Finance also building a protocol NFT To provide cross-chain Layer 2. By building on multiple blockchains like Binance Smart Chain, Ethereum and Polkadot, DEGO Finance enable blockchain projects to attract users, distribute tokens, and develop applications NFT more diverse.
Dego Finance Functions and Highlights
This platform offers a suite of products Dego NFT Suite complete for lifecycle management of NFTs:
NFT Foundry
Allows users to mortgage assets: DEGO, ERC20 or BEP20 to mint NFTs with unique properties and different rarity levels.
The NFTs of Dego Finance backed by deposits during minting and can be decomposed to return previously deposited assets.
NFT Mining
This is one of the most popular features of Dego Finance.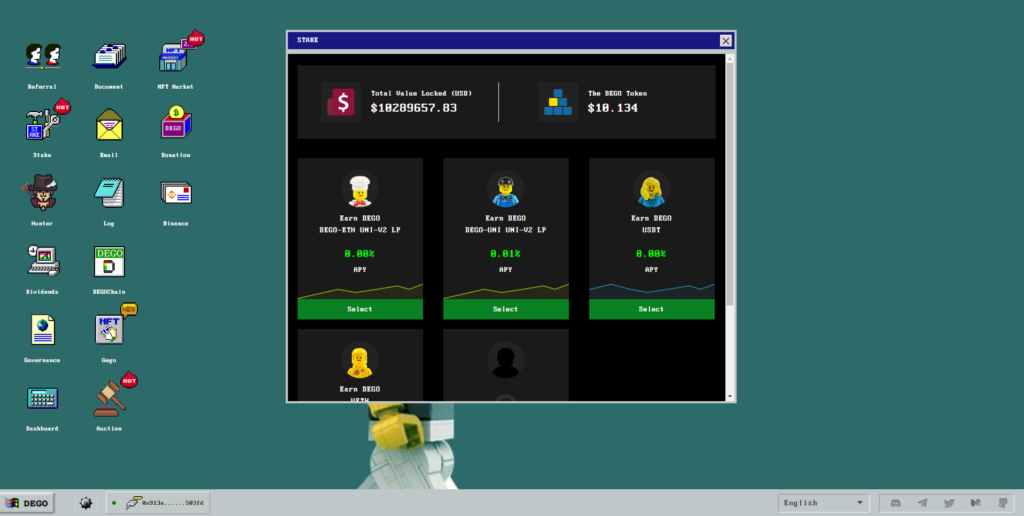 Yield farming of the Dego Finance used a defined set of algorithms for liquidity mining, converting LP tokens staked by users into POWER (similar to hashrate of mining Bitcoin) and receive income through them. According to this model:
Daily output per user = Daily output of the mining pool * POWER / Total POWER
POWER = Staked LP token amount * Coefficient of correspondence
Calculation formula POWER as follows, they divide users into 3 groups according to their staked amount:
Worst range: user with the most staked amount = 1 time reward
Best range: users with average staked amount = 5 times reward
Common range: user with minimum staked amount = 3 times reward
Eg: User A staked 10 LP tokens and is currently in range Common range, then POWER of user A is 10 * 3 = 30 POWER.
There will be 4 Pools to stake:
1: DEGO-ETH UNI-V2 LP — 20% of the Mining Pool (4,200,000 DEGO)
2: DEGO-UNI UNI-V2 LP — 2.5% of the Mining Pool (262,500 DEGO)
3: USDT — 5% of the Mining Pool (1,050,000 DEGO)
4: WETH — 5% of the Mining Pool (1,050,000 DEGO)
Auctions
Auctions NFTs are implemented in the form of FOMO3D auctions.
NFT Marketplace
Users can trade NFT at Treasureland.
ScanDrop
Dapps allow users to participate in NFTs airdrops by scanning a QR code.
Similar projects
Currently, NFT is a very hot trend, some NFT projects cannot be ignored such as: games Axie Infinity, Theta Network, Enjin Coin, …
Roadmap
Q4/2020
Open presale.
Launch on Uniswap and provide liquidity.
Launch ETH/BSC module: ETH/BSC NFT airdrop, ETH/BSC NFT Mining, ETH/BSC NFT Auction.
Launch of Treasureland V1 (NFT Marketplace).
Q1/2021
For Treasureland: Support many projects, many tokens, many chains.
Dego R&D launch: Dego Chain research and development, ERC/BEP 908 testing completed, Dwitch (Dego swap), NFT V2 launch, Polkadot Grants registration.
Q2/2021
DEGOCHAIN ​​Testnet Testing (Phase 1-2).
NFT Crosschain Development.
Switch Beta Testing.
Q3/2021
Launch NFT Lending.
DEGOCHAIN ​​Testnet Testing (Phase 3).
Implement ERC/BEP 908 Protocol on Polkadot.
Q4/2021
Dego Chain officially launched Mainnet with many complete functions.
Team
Updating
Partners and Investors
Updating
Tokenomics
Token User Case
Dego is the utility token of the platform Dego Finance and there are use cases after:
Governance: Dego token holders will vote on platform parameters to guide the economics and development of the project.
Incentives: Dego tokens are used to incentivize users to participate in bounty hunting, referrals and other future programs.
NFT Suite: Dego token is used for NFT minting, staking, auction, trading and more.
System Tax: Users transact with Dego token, the fee will be contributed to the pools.
Token Basics
Token Name: DEGO Finance Token.
Ticker: DEGO.
Blockchain: Ethereum / BinanceSmartChain.
Token Standard: ERC20 / BEP20.
Contract:

ETH: 0x88ef27e69108b2633f8e1c184cc37940a075cc02
BSC: 0x3FdA9383A84C05eC8f7630Fe10AdF1fAC13241CC

Token Type: Utility token.
Total Supply: 9,842,763.
Circulating Supply: 5.422,186
Token Allocation
Total Supply (100%): 21,000,000 DEGO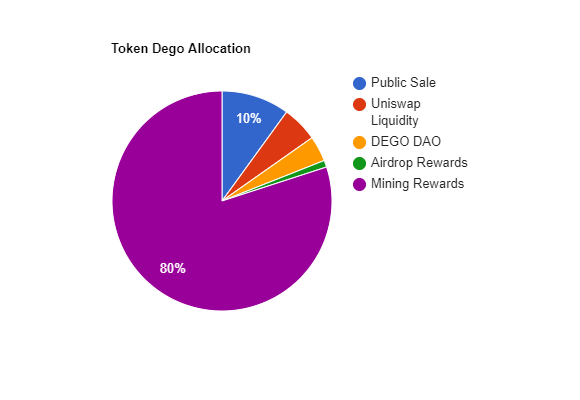 Public Sale: 10.0% of the total token supply
Uniswap Liquidity: 5.25% of the total token supply
DEGO DAO: 3.75% of the total token supply
Airdrop Rewards: 1.00% of the total token supply
Mining Rewards: 80.00% of the total token supply
Detailed presale information
Cap 1: Presale (750 ETH / 1,425,000 DEGO)

Round 1: Open sale 150 ETH; 1ETH = 3,000 DEGO; Max 5 ETH per wallet.
Round 2: Open sale of 300 ETH; 1ETH = 2,000 DEGO; Max 5 ETH per wallet.
Round 3: Open sale of 300 ETH; 1ETH = 1,500 DEGO; Max 5 ETH per wallet.

Cap 2: 100 ETH (150,000 DEGO)

Only available to 50 whitelist winners.
1ETH = 1,500 DEGO; Max 2 ETH per wallet.

Cap 3: 150 ETH (525,000 DEGO)

For those who support the developer community.
1ETH = 3,500 DEGO; Maximum: 10 ETH per wallet.

Uniswap liquidity

700 ETH & 1,200,000 DEGO
Uniswap Listing Price: 1ETH = 1,496 DEGO
Where do you buy it
To own DEGO tokens, you can buy directly from major exchanges like Binance, PancakeSwap…
Link to buy, sell and exchange reputable coins: bitmoon.net
Current DEGO rate
Twitter: https://twitter.com/dego_finance
Medium: https://degofinance.medium.com/
Github: https://www.github.com/dego-labs
Telegram: https://t.me/dego_finance
Announcement: https://t.me/DEGO_Announcement
Discord: https://discord.com/invite/xJjSJrd
Conclude
Dego Finance is a technology solution in layer-2 build apps for NFT token, is a hot rated token with trend BSC and NFT blooming, in recent times.
Here is an overview of the project DEGO that team GTA summarized to give you an overview of the project, not investment advice.