On the crypto market today, there are many projects that have been deployed and have made remarkable strides in their development. Bitcoin, Ethereum is one of the first ecosystems present in the crypto market. Instead, there are advantages and disadvantages of early blockchains, and there are points that PoW ecosystems cannot solve. Based on some of the above factors, the Cosmos ecosystem was born and was dubbed the "Internet of Blockchain". Today, I would like to invite readers and GTA to refer to the article about this ecosystem.
---
What is Cosmos Network?
Cosmos is a decentralized network of parallel and independent blockchains, each powered by BFT (Byzantine Fault-Tolerance) a consensus mechanism like Tendermint.
In addition, Cosmos Network provides an ecosystem where blockchains are customizable and interoperable.
Through a 2-Layer approach, Cosmos Network can communicate and interact with other blockchains such as Bitcoin, Ethereum, etc.
With the use of the Tendermint consensus mechanism, developers can easily create their own interoperable and scalable blockchain.
Cosmos Network, like many other Blockchains, has 3 layers:
Application Layer: Responsible for processing a set of transactions.
Network Layer: Allows connection, sharing of transactions (transactions) and information transmission related to the system's consensus.
Consensus Layers: This layer allows the processing of data by the system.
Features of Cosmos
Tendermint BFT consensus mechanism
Tendermint BFT is a solution that aggregates the network layers (Network) and consensus of a Blockchain into a common tool. Here it allows developers to focus on building and developing the application instead of having to create protocol layers to launch the application. From there developers can have more time to improve UX (User Experience), GUI (Graphical Interface) and marketing.
It sits at the bottom layer of the Cosmos Network and is a consensus engine that powers Cosmos Proof-of-Stake (PoS).
Tendermint is a general consensus mechanism, all developers participating in the ecosystem can use this consensus mechanism.
Tendermint BFT is connected to applications using a socket protocol called the Application Blockchain Interface (ABCI). This protocol can be implemented in any programming language, so developers can easily implement it in their favorite programming languages.
Special features of Tendermint BFT:
Enables public or private blockchains: Developers can easily deploy public or private blockchains on Tendermint thanks to Tendermint and Application Layer mechanisms.
High Performance: Tendermint BFT can handle thousands of transactions per second.
Instant finality: Forks will not be created when more than one third of validators are trusted (byzantine). User transactions will be completed after a block is generated.
Security: Tendermint consensus is not only fault tolerant, but also legally liable.
Cosmos SDK
It is located in the 2nd layer (Network Layer) and is the most active layer in the Cosmos Network.
The system has created its own SDK so that developers can easily build blockchains in the Cosmos ecosystem.
Building and deploying interoperable blockchains in simple steps:
Users can write a custom blockchain using Cosmos SDK templates and their own modules.
Run the Testnet and collect user feedback and improvements before running the mainnet.
Connect Blockchains via IBC in the network to achieve application liquidity.
Cosmos SDK is capable of translating various programming languages ​​into Cosmos programming language. Thus users can easily develop applications in their preferred programming language.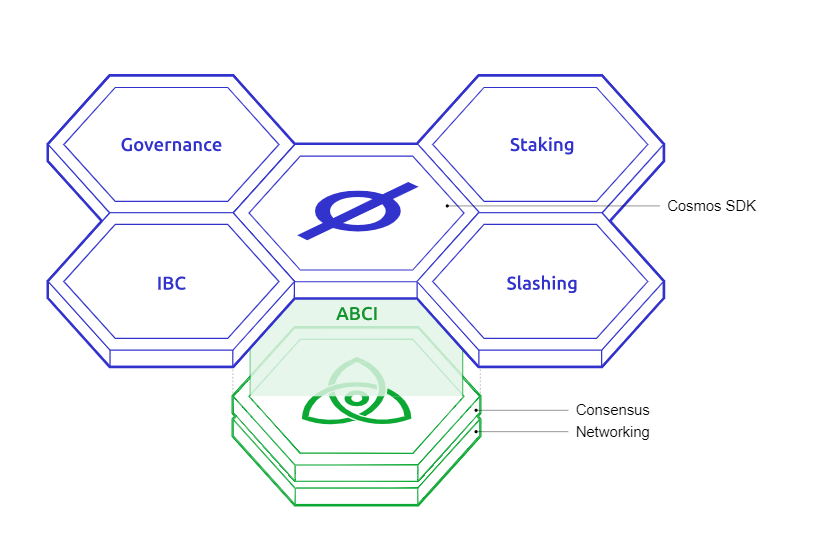 Connecting Blockchains (IBC)
The implementation of the connection between the Cosmos Blockchain is done through the Inter-Blockchain Communication (IBC) protocol. IBC uses Tendermint's data aggregation to allow heterogeneous chains to exchange value (Token) or data with each other.
To be compatible with IBC, a blockchain only needs to follow a few key requirements that the consensus layer must have a fast completion rate.
On IBC blockchains, different applications and validators can interact with each other.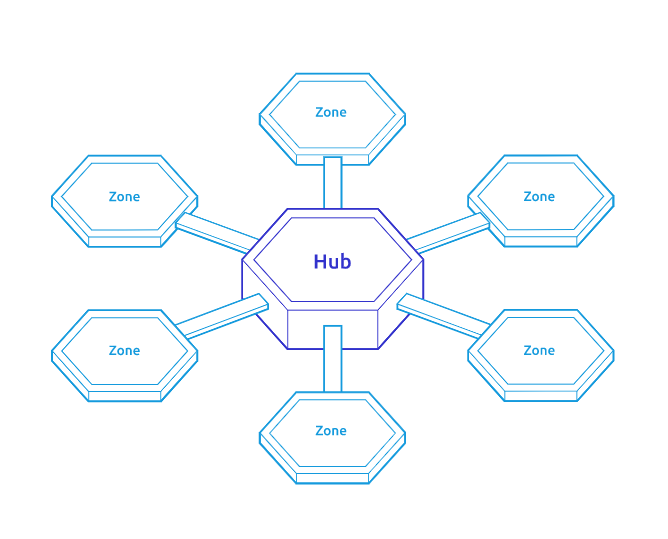 How IBC Works
When a Blockchain A wants to transfer Token X to Blockchain B, the system will follow the following steps:
Tracking: Chain B will receive a money transfer request from Chain A and vice versa. This will allow 2 chains to be able to track activities during transaction execution.
Bonding: Once the transfer starts, Token X will be locked on Blockchain A.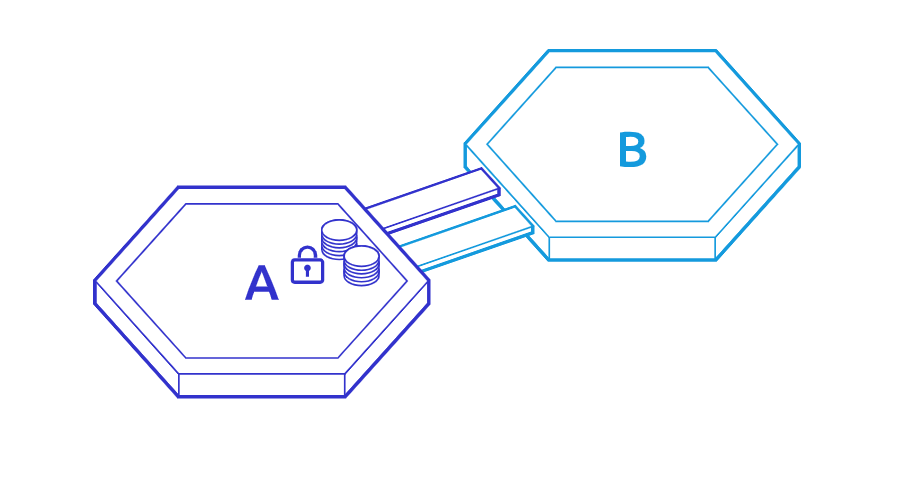 Proof Relay: There will then be proof that Token X is transferred from Blockchain A to Blockchain B.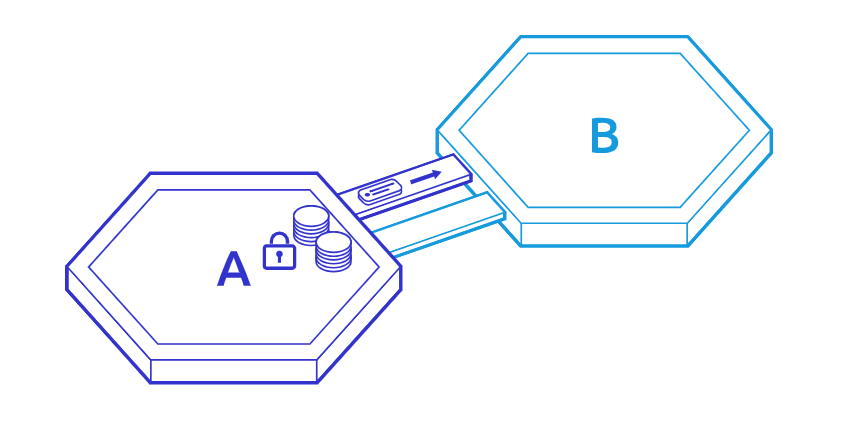 Validation: The data will be verified on chain B with the condition of chain A if it is valid then Token X will be generated on chain B.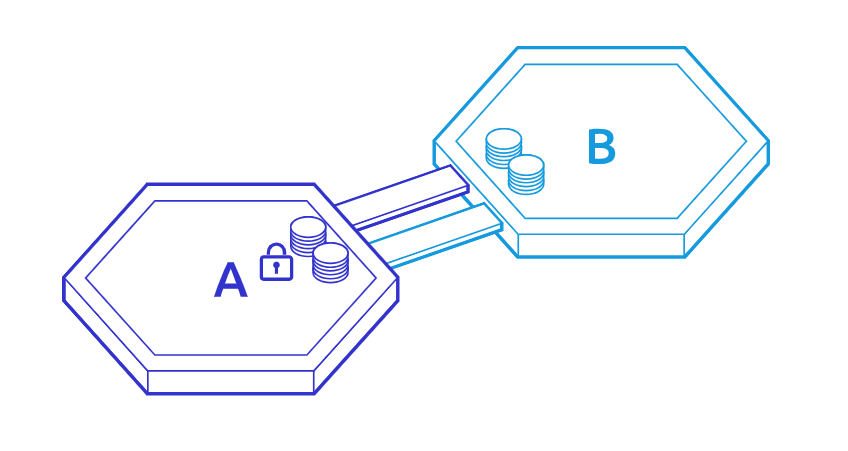 Cosmos Hub . Module
This is where the interoperability between PoS and PoW blockchains happens. All transaction and swap information is done on-chain in the Peg-Zone.
Peg-Zone will be customized for each chain it is connected to. It will monitor the state of other blockchains and is compatible with IBC.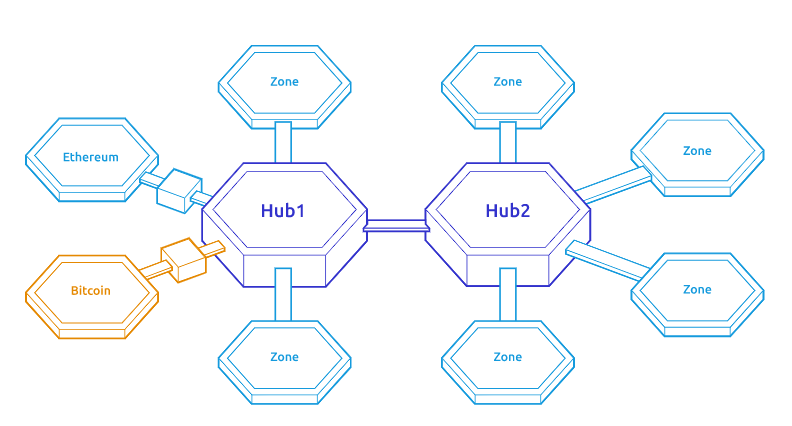 Project highlights
Cosmos allows project developers to create their own custom blockchains easily. This Cosmos has outperformed other ecosystems such as Ethereum, …
Cosmos SDK has many outstanding points and it has enough appeal to have more projects involved in development on it. Many big names have chosen Cosmos SDK as their place to "stop" including Aragon, Binance, etc.
Cosmos does not limit the chains opened on its network.
About scalability
By using the Tendermint consensus mechanism, Cosmos is able to process thousands of transactions per second. Through scaling both horizontally and vertically, Cosmos can expand its network while increasing computing power. This is also one of the reasons why Cosmos is called the "Internet of Blockchain".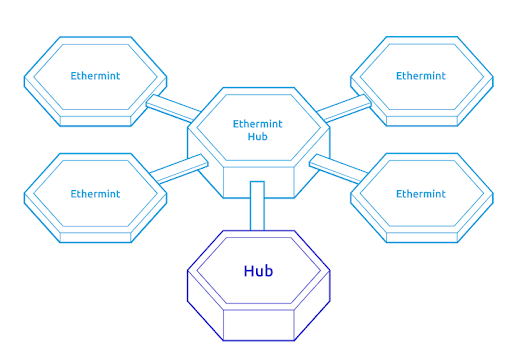 About interoperability
If the Blockchains in Cosmos are illiquid, developers can easily transfer their assets or tokens to the highly liquid blockchain. This process is the operation process of IBC I wrote above.
Similar projects
Here I will look at the platforms, because Cosmos is one of the oldest in the crypto market.
First I will mention one of the most powerful platforms in this crypto market. Ethreum was one of the first blockchain platforms to emerge after Bitcoin. The capitalization of Ethereum as of the time of writing is more than 373 billion USD
Buy and sell ETH in VND refer to: https://bitmoon.net/mua-ban/ethereum
Polkadot ecosystem must not be too strange for investors recently. Polkadot has had price pumps going into the hearts of fans recently. Polkadot is also considered as the most serious competitor on this list as the two are competing to build a platform called the "Internet of Blockchain".
Buy and sell DOT in VND refer to: https://bitmoon.net/mua-ban/dotcoin
The last platform that I will mention is the place where projects want their tokens to be listed on a centralized exchange. No other platform other than Binance can do this.
Buy and sell BNB in ​​VND at: https://bitmoon.net/mua-ban/binance-coin
Roadmap- Project roadmap
The roadmap for the first 2 years of Cosmos is almost complete. This phase Cosmos focuses on developing and building platforms such as: Cosmos Hub, Cosmos SDK, Tendermint Core, Cosmos Voyager.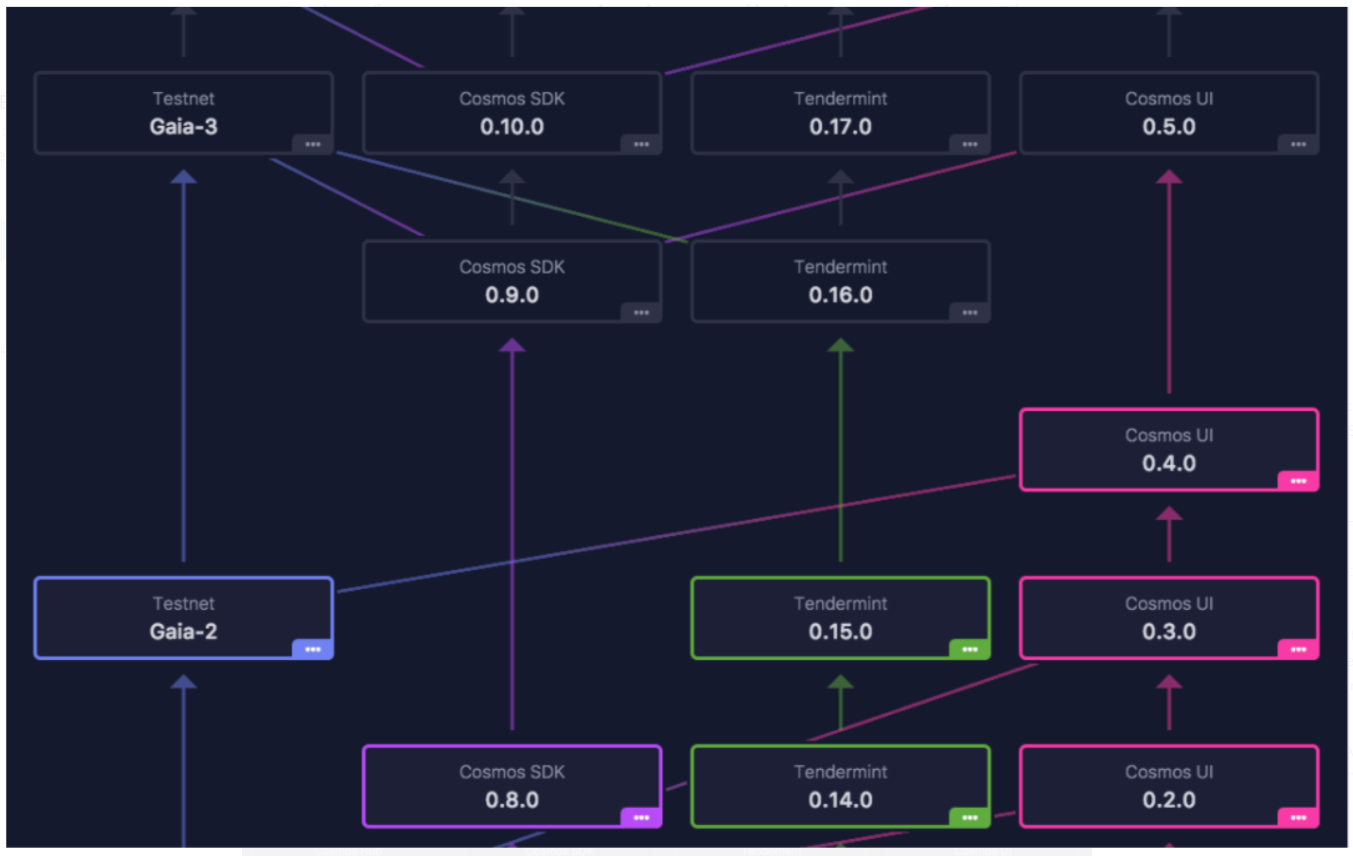 Roadmap 2021
Quarter 1 of 2021: Launch of Gravity DEX
Second quarter of 2021: Create a bridge between Gravity and Ethereum
3rd quarter of 2021: Launching Staking Derivatives
Quarter 4 of 2021: Creating a Cosmos Bridge to Bitcoin Allows Pool and Swap on Gravity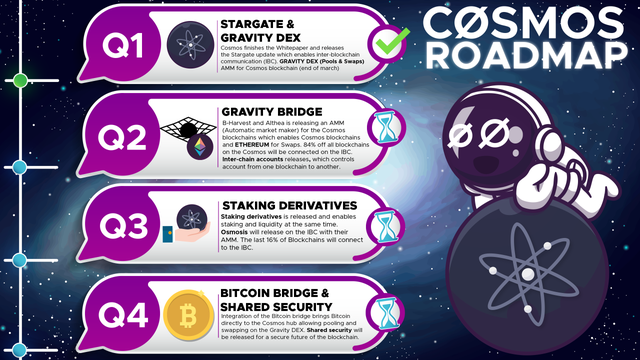 Details of the project's Roadmap can be found here.
Team- Development team
The development team behind Cosmos' superiority is the Interchain Foundation team.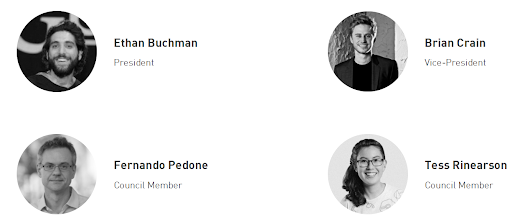 Jea Kwon was the first to apply BFT research and founded Tendermint.
Ethan Buchman and Jea Kwon are co-founders of Tendermint.
Find out more about the Cosmos development team here.
Token
Token Use Case
Cosmos will issue a Native Token with the code ATOM. However, there is a special thing here that ATOM will not be used across the entire Cosmos ecosystem. The use case of the ATOM token will be specific to the Cosmos Hub.
ATOM tokens will be used to pay fees in Cosmos Hub. In addition, there is a special feature on this ecosystem that users can use many tokens to pay, not necessarily using ATOM tokens.
ATOM will be staked to incentivize and increase the security of the network.
Users who lock ATOM to stake will receive voting rights on Cosmos' system.
Basic information
Token Name: Cosmos Hub Token
Ticker: ATOM
Blockchain: Cosmos Hub
Token Type: Utility
Avg, Blocktime: 6.7s
Total Supply: 277,449.985 ATOM
Circulating Supply: 219,665,382 ATOM
Token Allocation
ATOM tokens are allocated as follows:
Public Funderaiser: 67.86%
All in Bits, Inc: 10.03%
Interchain Foundation: 10%
Strategic Sales: 7.03%
Seed Sale: 5.08%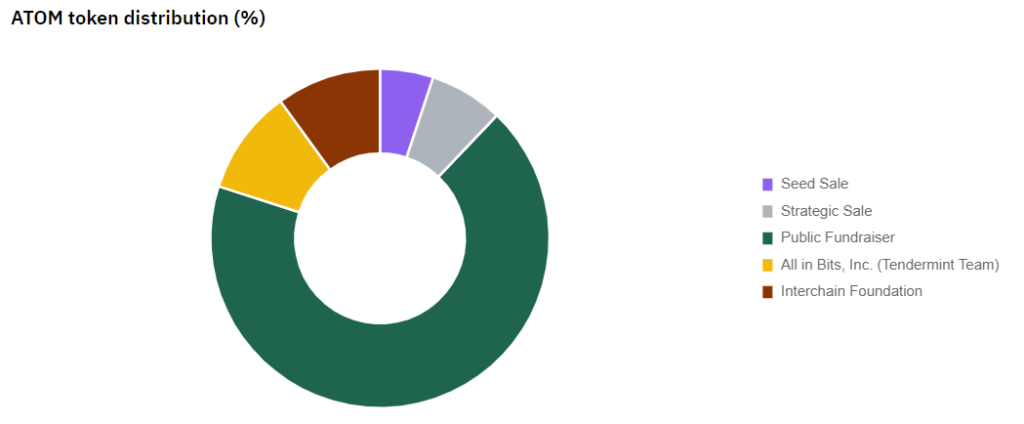 Token Release Schedule
ATOM's release schedule is as follows:
Public Funderaiser: No lock
Tendermint Team: Locked 12 months after Mainet but can still Stake. After that, the token will be Vesting for 22 months, paid once every 2 months.
Current ATOM rate
I will get data from Coineco so that everyone can update easily.
Buy and sell ATOM token tokens
Currently ATOM is listed on many famous exchanges around the world. In which exchanges allow ATOM trading such as Coinbase, Binance, Huobi, Kucoin, Gate.io, Bittrex, Bitfinex,,….
In addition, you can buy and sell ATOM tokens in VND at Bitmoon, the number 1 Crypto exchange in Vietnam: https://bitmoon.net/mua-ban-nhanh/atomic-coin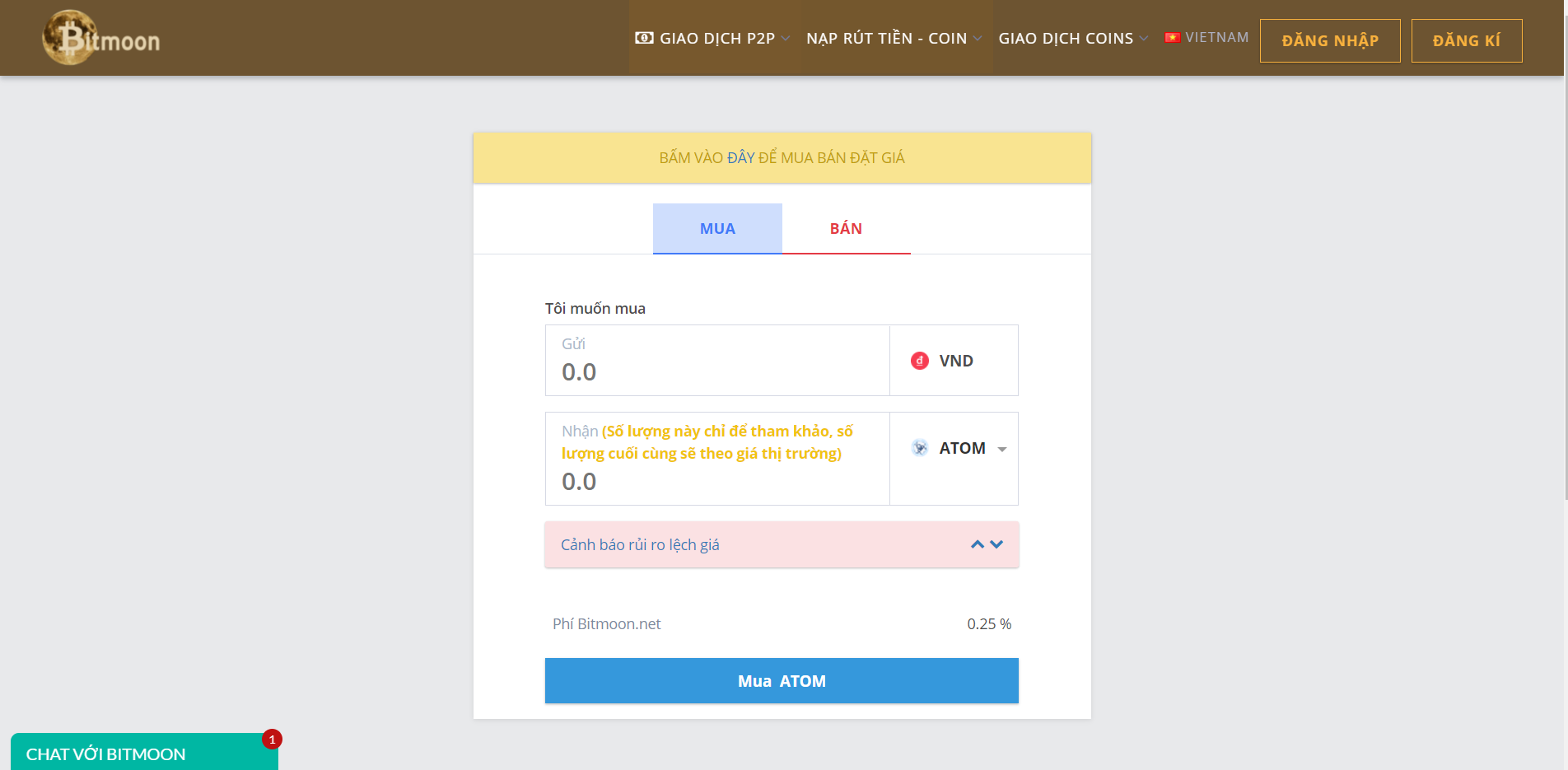 How to own ATOM token token
You can go to centralized exchanges to trade ATOM. In addition, you can become Validators, Delegators contribute, build for the chain and receive rewards with ATOM.
Project community
Evaluate
Cosmos is one of the best platforms to date. In terms of Cosmos' competitiveness, it can beat many other established platforms in the market. In my opinion, the potential of Cosmos is extremely large and in the future, I hope that the projects built on Cosmos will grow and bring more profits to investors in the future.
We hope that through this article, you have gained some useful information about the project. The above reviews are for personal opinion only and are not intended to encourage investment. Thank you dear readers!
Virtual currency corner
Join the discussion with GTA team at:
Website | Facebook | Twitter | Trading | Research | Youtube