The Cosmos ecosystem is one of the leading ecosystems in the crypto market today. Cosmos ecosystem is also the place where many leading projects are developed such as: Binance Chain, OkexChain, Cronos, Kava, …. Today, let's also learn about an interesting platform on the ecosystem. Comsos.
Learn about the Cosmos . ecosystem
What is Cosmos Gaming Hub?
Cosmos Gaming Hub (GAME) is a decentralized game platform (Decentralized Game Platform) built on the Tendermint consensus mechanism, Cosmos Gaming Hubs supports game developers and facilitates the trading of items in the game becomes easier.
Cosmos Gaming Hub creates a new value system for data in game virtual space because token ownership does not lie with the game operator.
Features of Cosmos Gaming Hub
Cosmos Gaming Hub will help developers build new Game projects and make it easier to trade in-game items.
In-game items will be distributed to the market as tokens formatted by GAME Hub.
Traders can easily deploy their game projects on Game Hub, and users in the system can trade their digital assets more freely and quickly.
Cosmos Gaming hub will provide users with a wallet address via ID when they join the network, each user will only own 1 ID. From here users can switch from wallet to game very easily.
Cosmos Gaming Hub allows users to verify transactions where the flow funds can be tracked to limit trading risks.
Some outstanding features of Cosmos Gaming Hub:
Flexibility: Any technical updates or bug fixes are possible with the voting system.
Interoperability: All assets and Tokens on the Game will be able to interact with each other through the IBC protocol
SDK: Game developers can easily deploy their game projects on Game using Gaming SDK
Secure: The security of Game Hub will depend on the operators and delegators in the system.
Scalability: Scalability implemented as a Layer1 solution
High Throughput: Based on PoS consensus algorithm, 10000 tps is the milestone that Game Hub will achieve in the near future.
Cosmos Gaming Hub Highlights
By building on top of Tendermint, this will make Cosmos Gaming Hubs more optimal than ever. Tendermint can easily implement a standards-compliant interface called ABCI, so projects can be deployed as a standalone blockchain. Applications are also free to set the appropriate number of validators, gas fees, and token models.
The Gaming Hub has also inherited the outstanding features of the Cosmos network, which are fast transaction speeds and high scalability.
"Developers just need to focus on building products, and virtual machines don't have to worry" (this is my quote from the Gaming hub team, everyone).
All information on Comsos Gaming Hub will not go through 3rd parties, which will bring great security and privacy to system users.
Roadmap- Project roadmap
August 2021: Explorer Release
September 2021: Incentivized TestNet
October 2021:
November 2021: Trading Start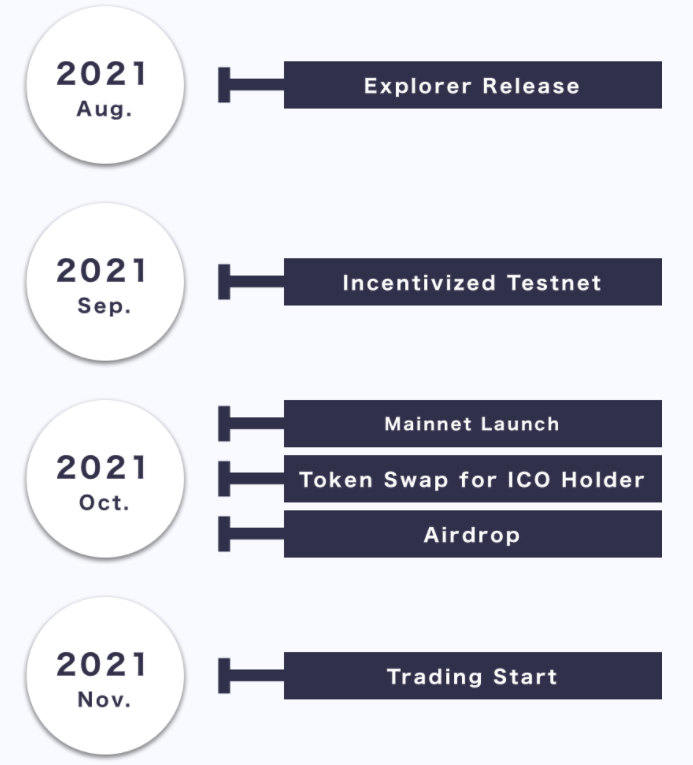 February 2022: Salamander Update
April 2022:
Release Cosmon
Open Game Platform
Open Marketplace
May 2022: Lockdrop
October 2022: Undine Update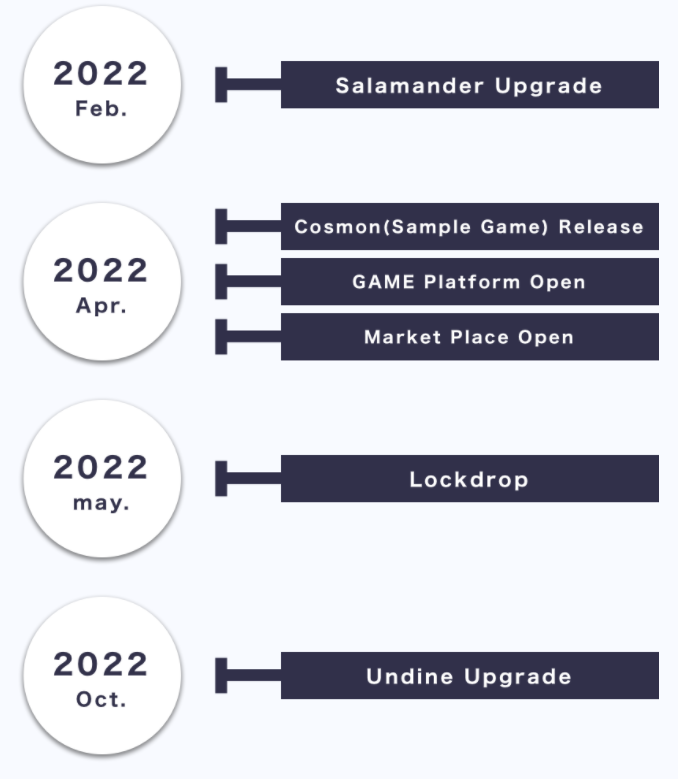 December 2022:
Update MarketPlace
Open Original Trade Platform
April 2023: Sylph Update
June 2023: Release Funding Platform
October 2023: Gnome Update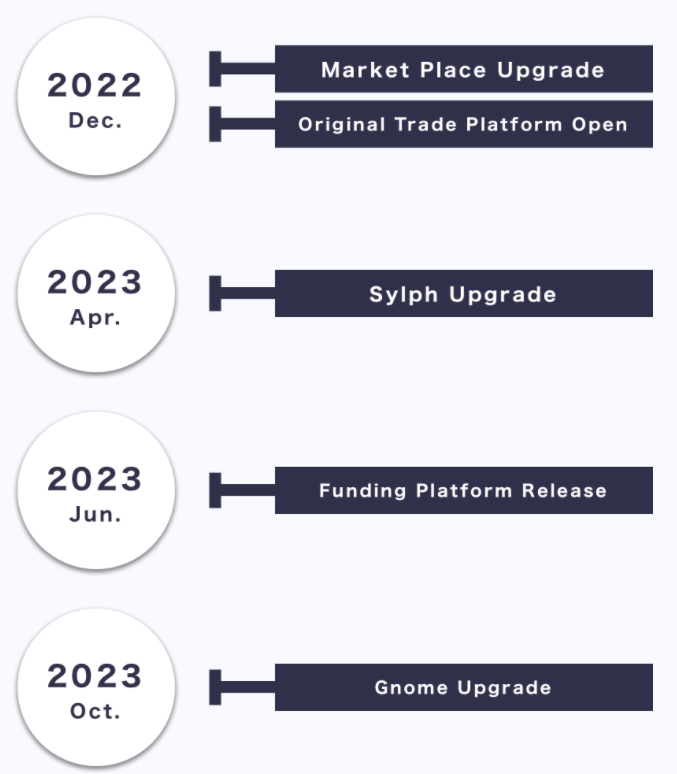 Team- Development team
CEO, Takumi Asano: He has a lot of achievements in the field of Fintech, in 2017 his company participated in revenue of 30 million dollars. Currently, he is also the representative of the Japan Transhumanist Association specializing in research, development and support for AI, Blockchain, VR, AR and robotics.
CMO, Toshimizu Kanou: He graduated from Nihon University with a major in computer science. He is currently working in leading game companies such as Shanghai Homeland Technology Co., Ltd.
Marketing, Hirofumi Amano: He is the director of Sino-Japanese Friendship Association. He has participated in many leading financial companies in the region.
Technical advisor, Li Long: He has more than 20 years in software engineering and he has participated in many technology projects on many different platforms.
Adviser, Gang Wang: He is the director of Guangzhou Silk Road (blockchain) Stock Investment Fund Managing and many other leading companies. He has more than 20 years of experience in management and more than 10 years of experience in participating in projects.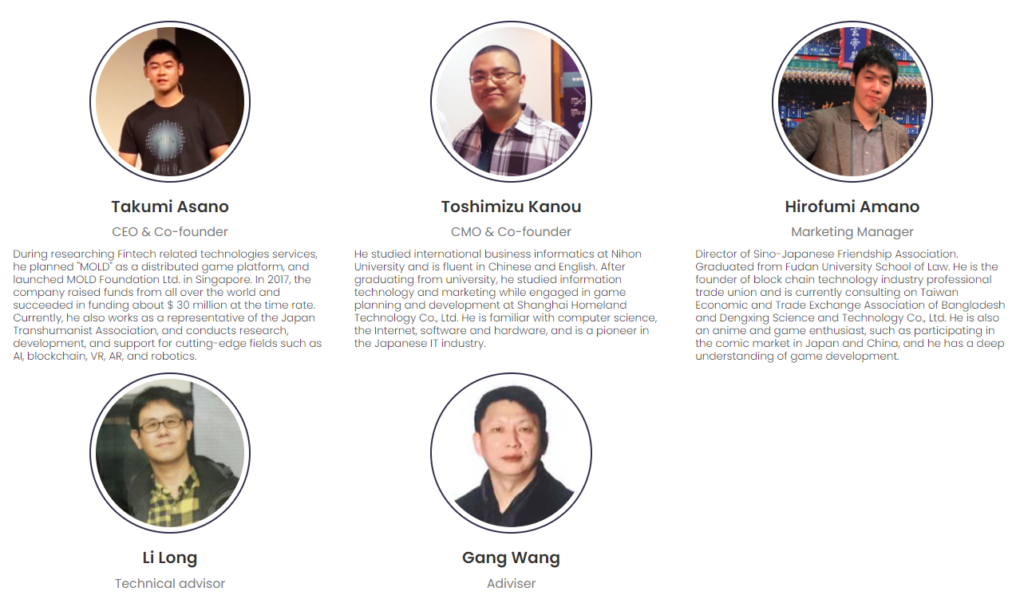 Evaluate
As you all know, the current trend in the market is the trend of game-related products. There are very few products on the Cosmos ecosystem today, with the Cosmos Gaming Hub and the upcoming update of CosmWasm in my opinion, it is very likely that the game projects on the Cosmos ecosystem will vigorously deployed. With the advantages of Cosmos Gaming Hubs, projects can easily deploy their game products. However, the current orientation of the development team of Cosmos Gaming Hub has oriented a relatively long route. Will Cosmos Gaming Hub be the cradle to produce a lot of game projects in the near future? Follow GTA to stay up to date with the latest on this exciting platform.
In addition, if you want to buy and sell coins in VND at the Bitcoin exchange in Vietnam, you can visit Bitmoon to trade!
This is one of the most prestigious exchanges in Vietnam today.