Compound (COMP) Probably one of the cryptocurrencies that attracted the most attention in the second half of June 2020 when in turn Coinbase, Binance, and FTX all listed this coin on the exchange. So…
What is Compound? What is COMP token?
Should I COMP token investment or not?
Buy and sell COMP tokens Where is the reputation?
Compound token wallet Which should be used?
If you are looking to find out Compound and potential COMP token investment, this article is what you need to find.
What are you waiting for, let's start the article!
Maybe you are interested:

What is Bitcoin? Bitcoin investment guide for beginners?
What is Compound? What is COMP token??
Compound (COMP) is an automated interest protocol developed based on the Ethereum blockchain. It can be understood roughly, Compound is a protocol that allows users to borrow and lend crypto assets without the need for a 3rd party intermediary. All borrowing and interest payment activities take place automatically.
Maybe you are interested:

What is Ethereum? Ethereum Basics for Beginners
Compound built for developers, aiming to create an efficient money market where assets can be offered and borrowed by individuals without any restrictions (e.g. KYC). Interest is compounded in blocks on the Ethereum blockchain.
With this protocol individuals can use the tokens they own for profit while borrowers can use the assets as collateral to borrow other assets. For example, X can deposit USDC, earning interest by lending USDC, while B uses USDC to borrow ETH and pay interest on borrowing ETH.
How Compound Works
The operational nature of Compound Is one Liquidity Pool Assets (LPs). That is, the lender will transfer the crypto asset and the pool will create the liquidity to receive the interest.
Borrowers enter the pool corresponding to the assets they need to borrow to borrow money, in return they have to mortgage by an asset on the support list of the bank. Compound.
Borrowing and lending rates of Compound algorithmically determined based on real-time market dynamics.
As the asset supply increases as more users deposit this asset, this leads to a decrease in borrowing/lending interest rates. Conversely, if demand for an asset increases, so does the interest rate on that asset.
Present, Compound has become one of the largest DeFi platforms. As of the time of writing, 7/13/2020, Compound is the world's largest DeFi protocol with over $698 million in locked cryptocurrencies.

What is COMP token?
COMP token is the base currency of Compound Protocol. It plays a key role in maintaining stability, security, and economic impetus for network participants.
Present COMP token is still an ERC-20 token that operates on the Ethereum blockchain.
COMP token distribution rate
The maximum total supply of COMP tokens is fixed at 10,000,000 COMP and is distributed proportionally:
42.3% distributed to Compound Users through Liquidity Mining for 4 years.
24% belong to the shareholders of Compound Labs, Inc.
22.25% is held by founders & team with vesting period of 4 years.
7.75% is allocated for the community, stimulating participation in voting.
3.72% as a budget for the team joining the team in the future.
COMP token release schedule
Compound just announced how to distribute Liquidity Mining COMP tokens. All the rest have not been announced.
Specifically, COMP will be issued at the following rate:
For every Ethereum block created, there will be 0.5 COMP sent from smart contract to Compound protocol. The average estimate will be about 2,880 COMP issued in one day and it will take 4 years to release all the tokens.
The number of COMP tokens sent to the Protocol will be distributed according to each asset class in proportion to the accumulated interest in the market.
The amount of COMP tokens divided by each asset class is divided by 50% to the borrower and 50% to the lender, as shown below.
What is Compound token (COMP) used for?
COMP used for protocol administration purposes.
It plays a key role in the voting authorization process. Code owner COMP token reserves the right to participate in discussions, proposals and votes on any future changes to Compound Protocol.
Should I invest Compound token (COMP) or not?
Deciding exactly which coin or token to invest in is very difficult because the cryptocurrency market is very volatile. So, I will outline some key points for you to refer to then learn more and make your own judgment and investment decisions.
Compound Protocol Development Team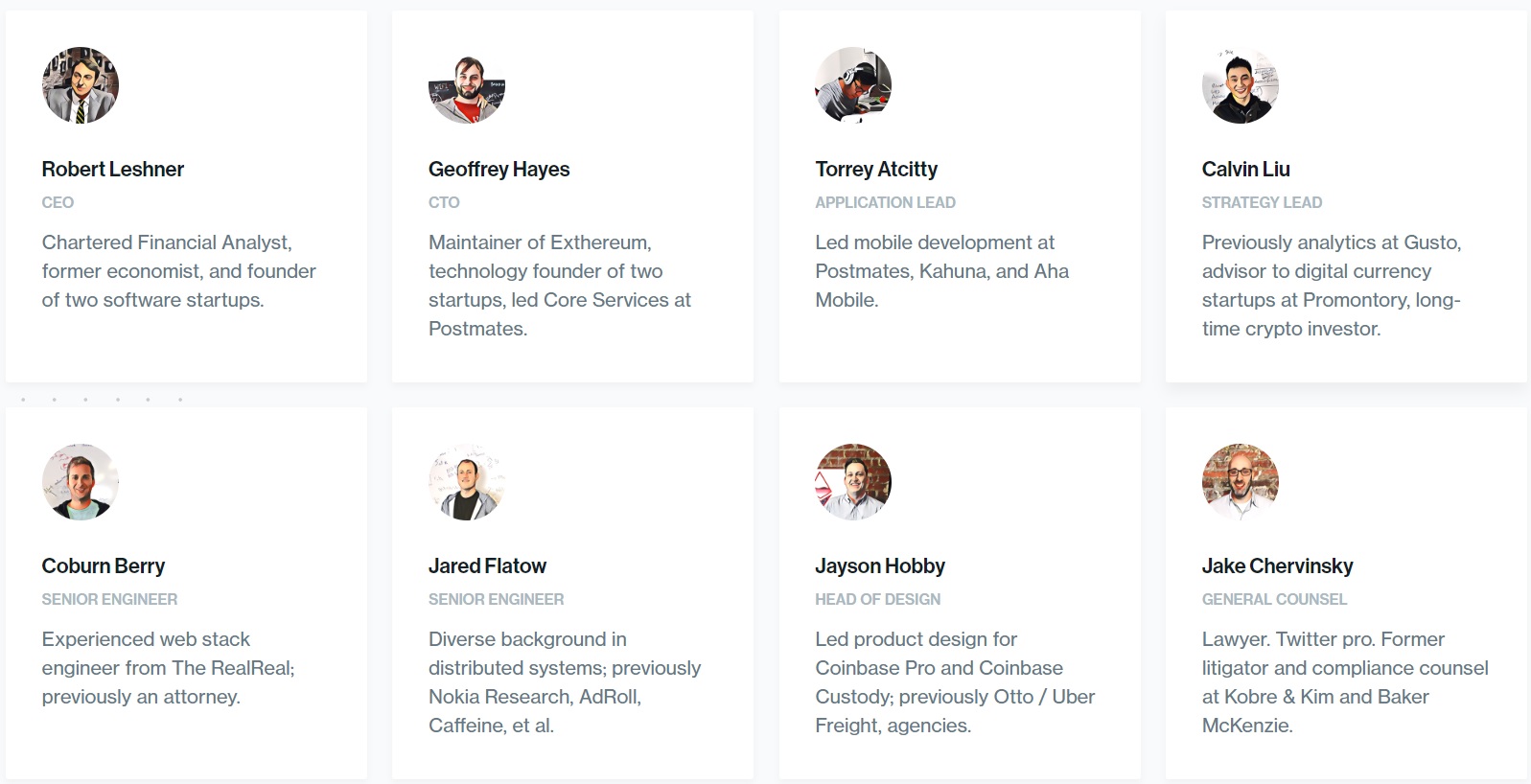 Development team Band Protocol are all individuals with skills and experience in the field of cryptocurrency:
Robert Leshner: holds the position of CEO. Robert is a professional financial analyst, former economist, and founder of two software startups..
Geoffrey Hayes: hold the position of CTO. Geoffrey is the founder of 2 tech startups and the leader of Core Services at Postmates..
Torrey Atcitty: holds the top position in the application department. Torrey leads the mobile apps division of Postmates, Kahuna, and Aha Mobile.
With a team with a lot of experience as well as capacity in both technical and business promises Compound Protocol will be developed in a sustainable way.
Band Protocol's Potential
It can be seen that the solution and application of Compound Protocol is aimed at providing a solution for a decentralized financial market.
At the present time, decentralized finance (DeFi) is a very hot trend and there are many projects about to be launched and launched. Compound has also had a very impressive performance as it is the current largest value DeFi platform. With the current trend, it promises to be a "nice" time for COMP tokens before there are new investment waves.
While DeFi is trending and Compound Protocol looks trendy, the platform faces a lot of competition. These competitors can be mentioned as Maker, Synthetix, etc. Therefore, Compound needs to do its best in this competition.
COMP token price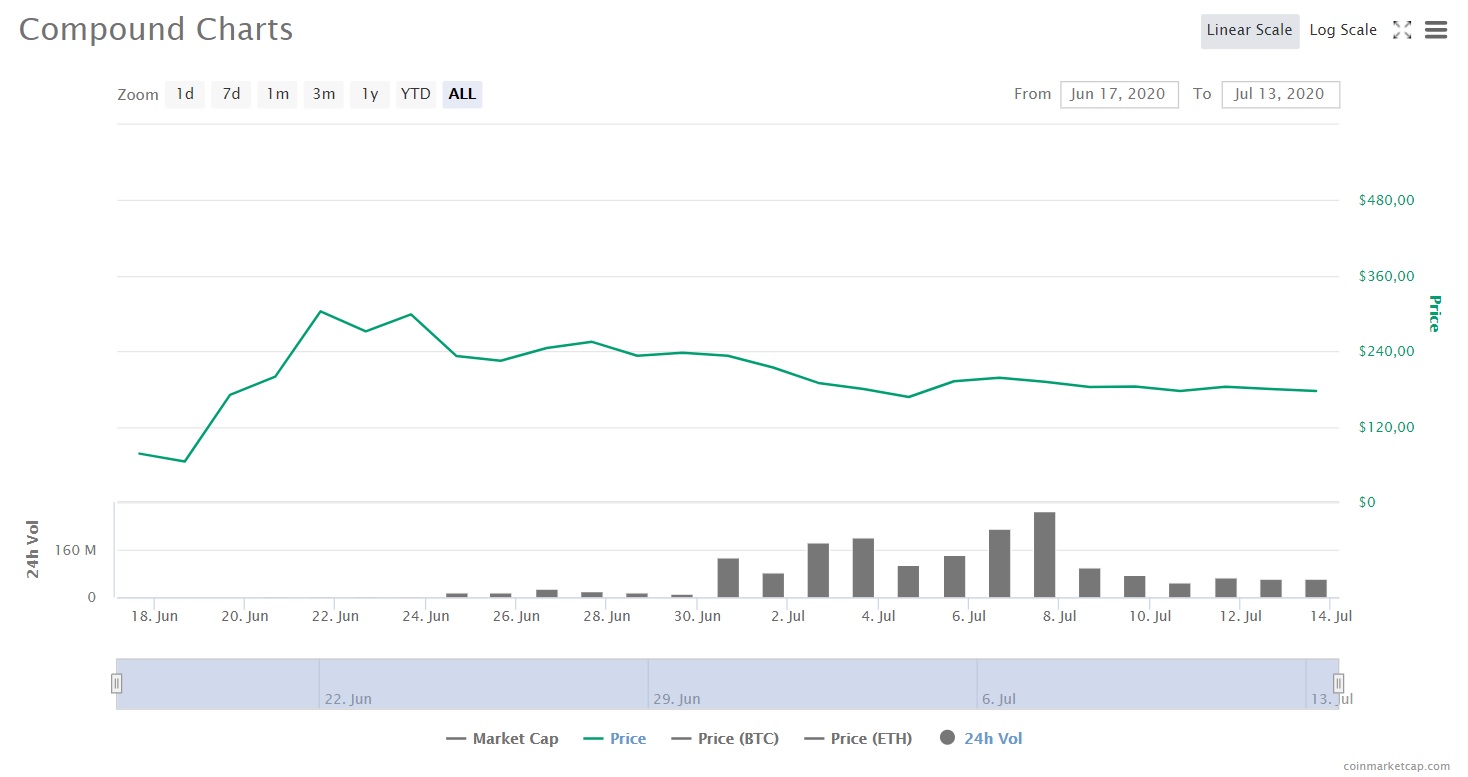 Currently, at the time of writing COMP token price is being traded at 174.86 USD. Price Highest COMP token so far is set at $381.89 (June 21, 2020). Meanwhile, the lowest price ever of COMP token is 61.25 USD set on 18/06/2020. Yes, that is, in just 3 days since the bottom price, COMP token has increased 6 times in price to reach the top. An amazing increase.
Where to buy and sell COMP tokens (COMP)?
At the present time, investing in cryptocurrencies as well as buying and selling cryptocurrencies has become much more popular. It is considered one of the most popular ways to make money online. That's why, the buy COMP, sell COMP tokens has also become much simpler.
In this article, I will introduce to you the 2 most popular and simple ways to buy and sell at the moment.
How to buy and sell COMP tokens in VND
Currently, there are many exchanges that support cryptocurrency trading in VND, but separately buy COMP tokens For prestige, I think the best currently is the Bitmoon exchange.
See more articles:

What is Bitmoon? Bitmoon Exchange Basic Guide for Newbies 2020
The advantage of Bitmoon is low fees, high liquidity, support for many coins and can store coins right on the exchange. Besides, Bitmoon has been operating for a relatively long time and the reputation level is guaranteed.
Bitmoon has high liquidity and reputation, so I believe that for basic trading needs, cash out in VND, Bitmoon is enough to apply.
Prestigious international COMP token trading platform
The advantage of all international exchanges is that they support many types of coins, besides also supporting other forms of trading such as Margin, Futures.
For those of you who have traded a lot and have experience, you can use and trade regularly on international markets.
Below is the name of the exchange and a comparison table of transaction fees for your reference.
If you want to learn about which floor, you can click on that floor's name in the table, there will be a detailed article on that floor.
| | |
| --- | --- |
| Exchanges | Transaction fee |
| Binance | 0.015-0.100% |
| Okex | 0.060 – 0.150% |
| Bittrex | 0.25% (most sour – should not trade) |
| Kucoin | 0.080 – 0.100% |
Mainly trading COMP token Your account on international exchanges all use BTC, USDT … to conduct trading.
COMP token wallet should use
Depends on usage COMP your wallet that you will choose for yourself the appropriate wallet.
The best choice for this wallet is Trust Wallet, with a friendly and easy-to-use interface.
Maybe you are interested:
What is Trust Wallet? How to create a Trust Wallet and use details
Since COMP is an ERC-20 token, you can completely use current popular supporting web platforms such as: MyEtherWallet nice MetaMask.
Maybe you are interested: What is MyEtherWallet? Instructions on how to create a MyEtherWallet wallet and how to use it
This wallet is suitable for those who regularly trade.
Some Reputable trading platform that you can refer to are: Bitmoon exchange, Binance exchange…
Conclude
This article has summarized the most basic information you need to know about Compound Protocol and COMP token. With this article, I hope that readers can grasp some of its investment potential.
Although it will take some time to read the entire article, I hope that your time will not be wasted.
If you find the article interesting and useful, do not hesitate to share it with your friends.
Good luck!
Virtual Currency Corner