Chromia (CHR) token since being listed on Binance after winning the round Binance Vote Coin Round 8 prices have been steadily increasing. To date, the price of the CHR token has nearly tripled from the price it was listed on Binance. So…
What is Chromia? What is CHR token?
Should I invest Chromia token (CHR token) are not?
Buy CHR tokens Where is the reputation?
Chromia token wallet Which should be used?
If you are looking to find out Chromia and potential invest CHR token, this article is what you need to find.
What are you waiting for, let's start the article!
Maybe you are interested:

What is Bitcoin? Bitcoin investment guide for beginners?
Chromia what?
Chromia is a blockchain platform (blockchain platform) that provides a solution to solve problems scalability issue for decentralized applications (dApps).
The platform consists of a network of nodes forming a blockchain, each node uses its own relational database.
While, Chromia token (CHR) used as block reward and transaction fee payment.
Project Chromia made 11.7 million USD after public sale and private sale CHR token carried out from August 2018 to May 2019.
What is special about Chromia?
The platform consists of a network of relational blockchains (relational blockchains). With it developers can reach dApps simply and quickly. Whether it's an app for large businesses, games, or smaller projects.
Similar to Ethereum's Sharding, each blockchain in Chromia is related to a set of validating nodes. They are a small group of nodes on Chromia run a consensus algorithm Byzantine Fault Tolerance (BFT). Besides, the security of the network is further enhanced by using Proof-of-work (PoW) (similar to Bitcoin) in saving transaction history.
Currently, dApps are deployed on Chromia applications in the fields of finance, gaming, real estate, and healthcare. Future, Chromia will also focus on dApps related to supply chain, enterprise services, and IoT.
What is Chromia token (CHR)?
Chromia token symbol: CHR, is the base currency of Chromia. It plays a key role in maintaining stability, security, and economic impetus for network participants.
CHR token used to buy, sell, pay transaction fees in dApps developed on Chromia. You can also use CHR tokens to participate in staking and receive rewards as CHR tokens.
Distribution rate of CHR token
CHR tokens have a maximum total supply of 1 billion tokens, and are distributed according to the following %:
19.40% distributed through Private Sale round.
4% distributed through IEO Sale.
2.98% is held by the team.
1.92% is allocated to the project advisor.
4.5% allocated to founders.
25% is allocated to the fund for implementing promotions.
37.2% is in the ecosystem development fund.
The conversion contract automatically holds 3% of the maximum total supply of CHR tokens.
2% is allocated to the Compensation Pool.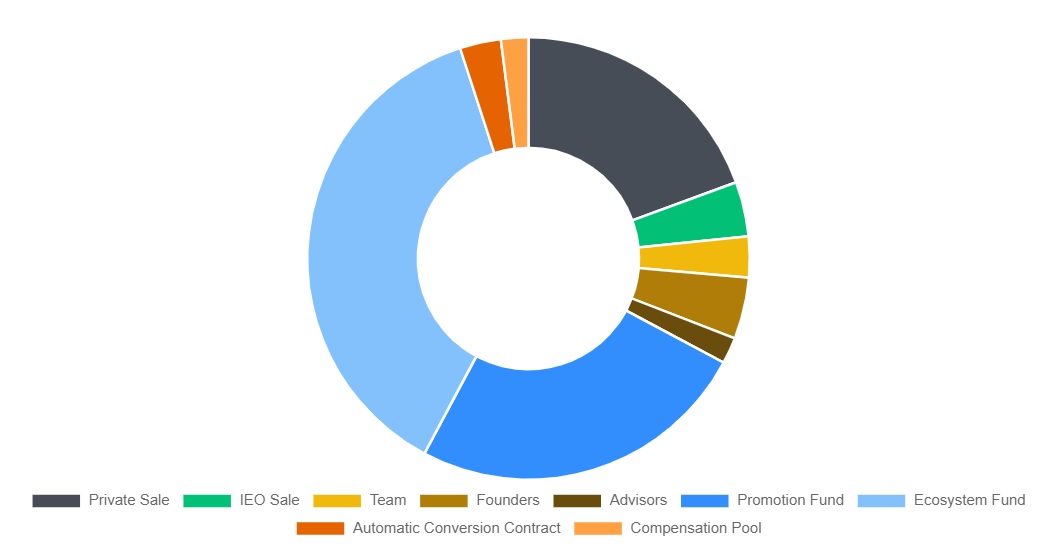 CHR token release schedule
Here is the distribution route CHR token: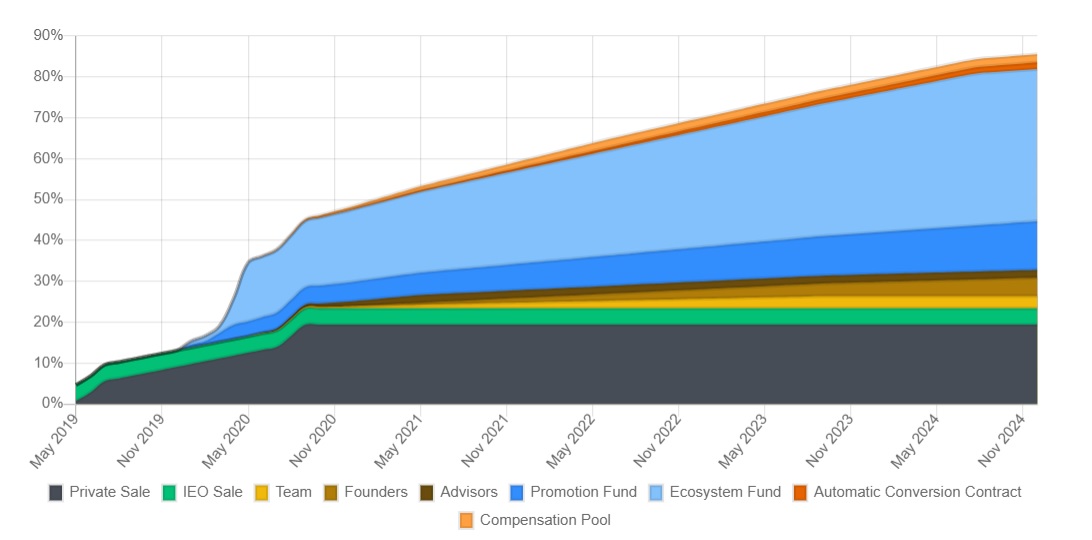 What is CHR token used for?
CHR has a similar purpose of use to most native tokens in other platforms. One difference, however, is that it is not users who pay transaction fees, but dApps that will have to pay fees for transactions made through those dApps.
So where do dApps come from? CHR token To pay transaction fees, what benefits will dApps gain? The answer is that dApps will have the right to collect fees from users, through which dApps developers will have the motivation to develop and improve applications better and better to attract users.
Specifically, CHR token used to:
Used for dApps to pay for Chromia
CHR Token is used for dApps to pay hosting fees.
When you participate in operating the nodes, the CHR token will be your reward.
CHR Token is used to Stake
CHR Token can be converted to game tokens for use in that game. This conversion will incur a fee and will be paid in CHR tokens.
Should I invest CHR token or not?
Deciding exactly which coin or token to invest in is difficult because the cryptocurrency market is highly volatile. Therefore, I will outline some key points for you to refer to then learn more and then make your own judgments and investment decisions.
Chromia will focus on community building in China, Korea, the US and Europe. After making those areas the focus for development, the community will gradually expand into potential markets.
Current Community Strategy:
Launching project incubator Chromia blockchain.
Create workshops, and meetups on blockchain gaming to expose potential users.
Provides online and offline tutorials for dApps developers.
Develop relationships with corporate and integrated customers Chromia into their existing services.
Launch incentive programs to incentivize system vendors to run nodes on Chromia.
Enable staking.
Future community strategy:
Cooperating with many game companies, startups, enterprises.
Build local communities and ambassadors.
Cooperate with technology incubators, improve research speed.
Organize hackathons around the world, attract more developers.
In addition, the development of dApps on Chromia will be somewhat impacted. As Chromia aims to provide a solution for dApps, the more dApps are built and used on it, increasing the demand for CHR which in turn affects the price of CHR token.
CHR token price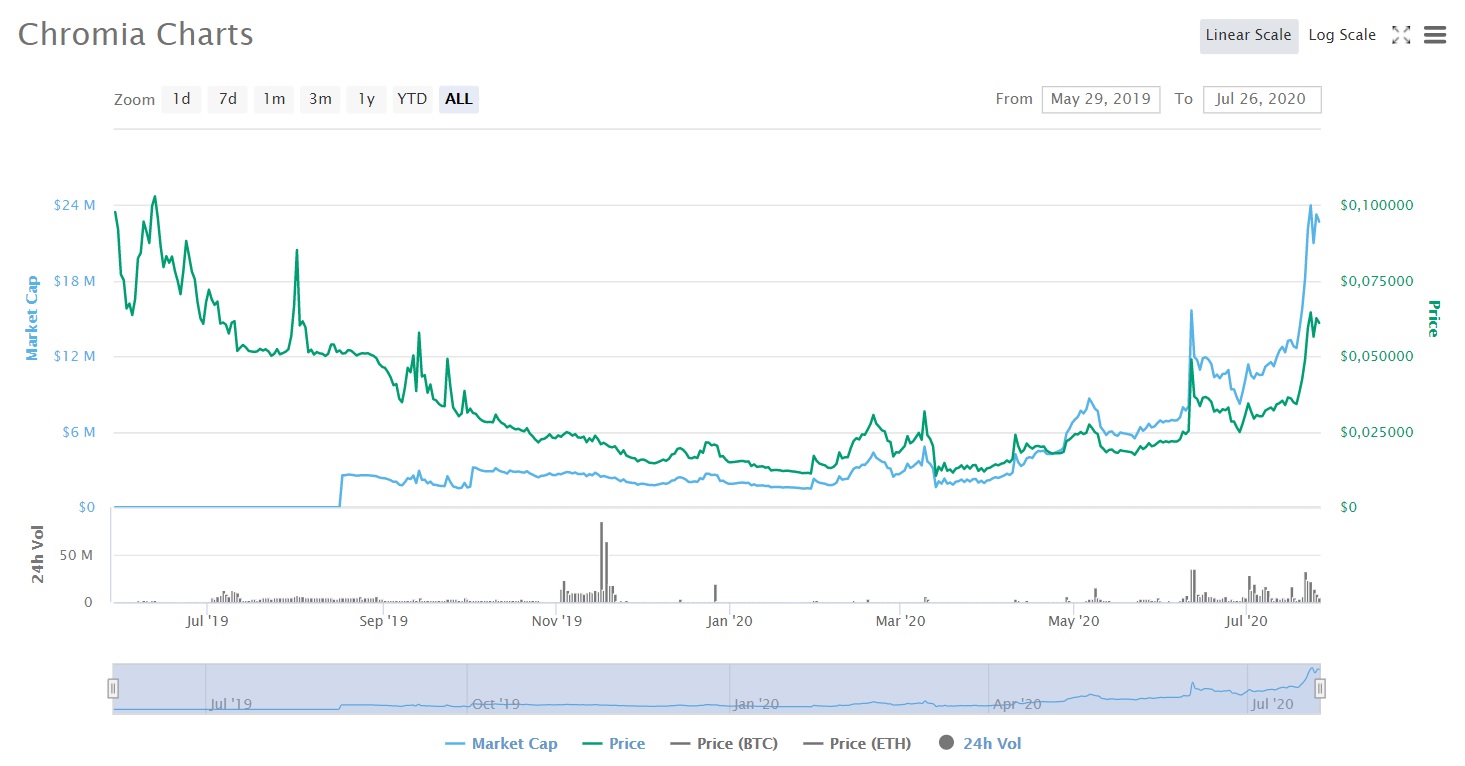 Currently, at the time of writing CHR token price is trading at 0.061 USD. Price Highest CHR token so far is set at 0.129 USD (May 28, 2019). Meanwhile, the lowest price ever of CHR token is 0.008 USD set on 13/03/2020.
Where to buy and sell CHR tokens?
At the present time, investing in cryptocurrencies as well as buying and selling cryptocurrencies has become much more popular. It is considered one of the most popular ways to make money online. That's why, the buy CHR, sell CHR tokens has also become much simpler.
In this article, I will introduce to you the 2 most popular and simple ways to buy and sell at the moment.
How to buy and sell CHR tokens in VND
Currently, there are many exchanges that support cryptocurrency trading in VND, but separately buy CHR tokens For prestige, I think the best currently is the Bitmoon exchange.
See more articles:

What is Bitmoon? Bitmoon Exchange Basic Guide for Newbies 2020
The advantage of Bitmoon is low fees, high liquidity, support for many coins and can store coins right on the exchange. Besides, Bitmoon has been operating for a relatively long time and the reputation level is guaranteed.
Bitmoon has high liquidity and reputation, so I believe that for basic trading needs, cash out in VND, Bitmoon is enough to apply.
Prestigious international CHR token trading platform
The advantage of all international exchanges is that they support many types of coins, besides also supporting other forms of trading such as Margin, Futures.
For those of you who have traded a lot and have experience, you can use and trade regularly on international markets.
Below is the floor name and transaction fee comparison table for your reference.
If you want to learn about which floor, you can click on that floor's name in the table, there will be a detailed article on that floor.
| | |
| --- | --- |
| Exchanges | Transaction fee |
| Binance | 0.015-0.100% |
| Bittrex | 0.25% (most sour – should not trade) |
| Kucoin | 0.080 – 0.100% |
Mainly trading CHR token Your account on international exchanges all use BTC, USDT … to conduct trading.
Chromia token (CHR) wallet recommended
Depends on usage CHR your wallet that you will choose for yourself the appropriate wallet.
The best choice for this wallet is Trust Wallet, with a friendly and easy-to-use interface.
Maybe you are interested:

What is Trust Wallet? How to create a Trust Wallet and use details
Web-based wallet:
Since CHR is an ERC-20 token, you can completely use current popular supporting web platforms such as: MyEtherWallet nice MetaMask.
Maybe you are interested:

What is MyEtherWallet? Instructions on how to create a MyEtherWallet wallet and how to use it
This wallet is suitable for those who often transact.
Some Reputable trading platform that you can refer to are: Bitmoon exchange, Binance exchange…
Conclude
This article has summarized the most basic information you need to know about Chromia and CHR token. With this article, I hope that readers can grasp some of its investment potential.
Although it will take some time to read the entire article, I hope that your time will not be wasted.
If you find the article interesting and useful, do not hesitate to share it with your friends.
Good luck!
Virtual Currency Corner