In the world blockchain Currently, the security of smart contract is a very serious problem, it is almost impossible to know whether a smart contract or whether its function is secure enough to call without risking assets and information stored on the blockchain. From there, CertiK Chain born.
---
What is CertiK concept?
CertiK Chain is a blockchain Proof-of-Stake (DPoS) authorized built with Cosmos SDK. It aims to act as a facility where the infrastructure blockchain and decentralized applications can be built securely.
By building these protections into CertiK Chain, developers can spend less time making sure the smart contracts their own and more time to build on the possibilities.
CertiK Functions and Highlights
CertiK is a pioneering platform in the field of security blockchain, using best-in-class AI technology to secure and monitor protocols blockchain and smart contracts.
CertiK . Ecosystem Overview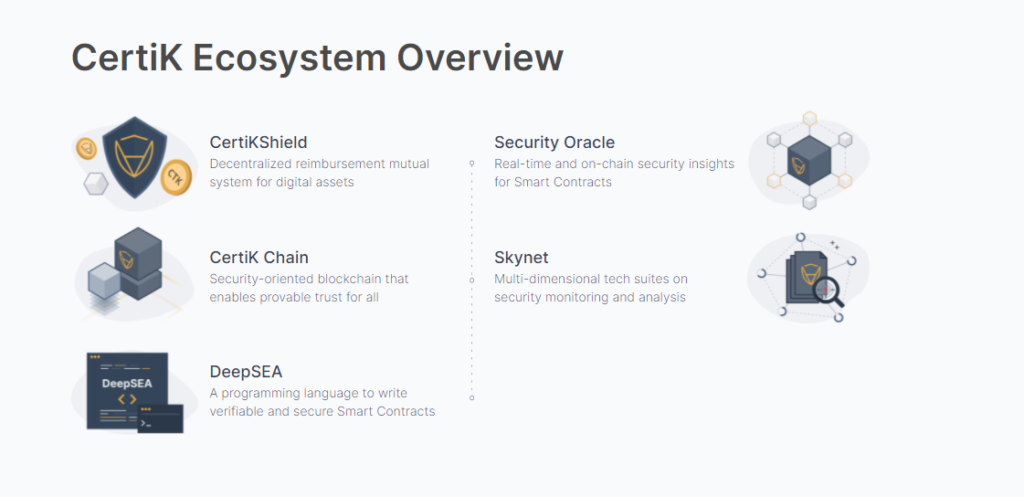 CertiK Security Oracle
Oracle: "A person or thing regards as an infallible authority on something."
Oracle is used on blockchain to send data off-chain in and out smart contracts.

CertiK Security Oracle take a set of security points from a decentralized network (decentralized) of security operators, who evaluate the reliability of the source code and are rewarded in CTK.
CertiK Security Oracle protect transactions on-chain and protect crypto projects from malicious attacks by conducting real-time security checks, powered by a decentralized network of miners.
CertiKShield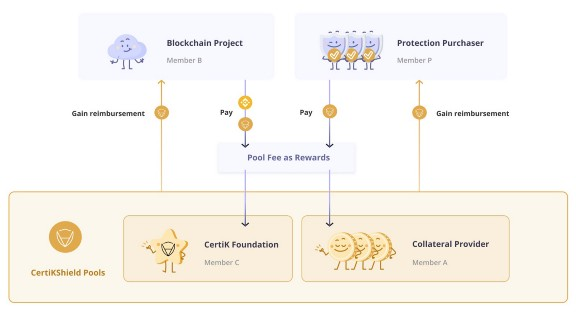 CertiKShield Pool Is one decentralized pool of the CTK used to return lost, stolen or inaccessible assets from any blockchain any. Members of CertiKShield Pool lost money can be refunded.
Skynet
Skynet is a unified set of security toolchains that use automated technologies to check for smart contracts deployed against a wide range of known vulnerabilities on a large scale.
It generates security scores smart contract correctly, indicating a potential risk for attacks and code glitches.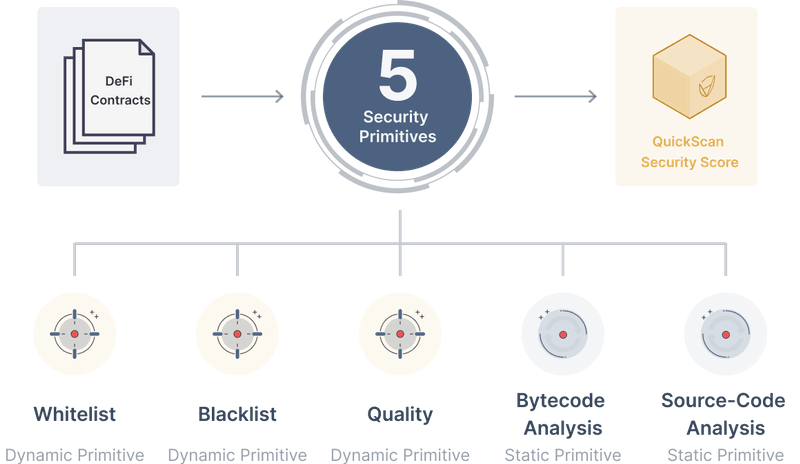 Skynet consists of a combination of static and dynamic technologies, these are known as Security Primitives. Every Security Primitives evaluate a particular security area based on smart contract and assign a fatigue point in the range from 0 to 100.
Security points are used to access both on-chain and off-chain:
Off-chain: Publicly available data endpoints to retrieve the security point for each QuickScan Security Primitive. The projects blockchain can reference those scores and enhance their security, while end users can interact with projects with more confidence and trust based on security scores.
On-chain: Security score will be aggregated on CertiK Chain and is continuously synchronized with security rules implemented across platforms blockchain different as Ethereum and Binance Smart Chain. Smart contracts can leverage near-real-time data as a risk indicator to prevent potential outside transactions.
CertiK Virtual Machine (CVM)
CertiK Virtual Machine (CVM) showing smart contract and confidential information blockchain for code VM, enabling unprecedented ways to access, inspect, depend, and even automatically establish security blockchain and smart contract.
Interaction of security and semantics blockchain else will lead to code VM safer, simpler and more efficient, leading to truly new killer apps for the world blockchain.
DeepSEA
DeepSEA is a functional programming language that allows developers to deal with extremely complex code during formal verification via the Coq proof assistant.
It is a secure programming language and is compatible with Microsoft's virtual machines CertiK Chain, with Ethereum WebAssembly and Ant Financial's AntChain.
Similar projects
Referring to projects to solve data connection problems between blockchain and applications, applications with similar functions to CertiK are: Chainlink, The Graph, Ban Protocol, …
Roadmap
Updating
Partners and Investors
Partners of Certik are familiar names in the cryptocurrency industry such as Binance, Huobi nice OKEx, …

Tokenomics
Token User Case
Tokens CTK is the platform's native utility token and is used in the following use cases:
Gas consumption for smart contract operations
Staking for network consensus
Rewards for joining the Security Oracle network
Collateral and reimbursements for CertiKShield
Community voting for decentralized network administrators
Token Basics
Token Name: CertiK.
Ticker: CTK.
Consensus mechanism: DPoS.
Blockchain: CertiK Blockchain.
Contract: 0xa8c2b8eec3d368c0253ad3dae65a5f2bbb89c929.
Token Type: BEP-20 / Native token on CertiK Chain.
Total Supply: 100,000,000 CTK
Circulating Supply: N/A
Initial Cycle. Supply: 22,100,000 CTK (22.10%)
Binance Launchpool Allocation: 1,500,000 CTK (1.50%)
Token Allocation

Binance Launchpool: 1.5% of the total token supply
Private Sale 1: 29% of the total token supply
Private Sale 2: 9% of the total token supply
Team: 10% of the total token supply
Foundation: 25% of the total token supply
Community Pool: 17.5% of the total token supply
CertiKShield Pool: 8% of the total token supply
CTK . token release schedule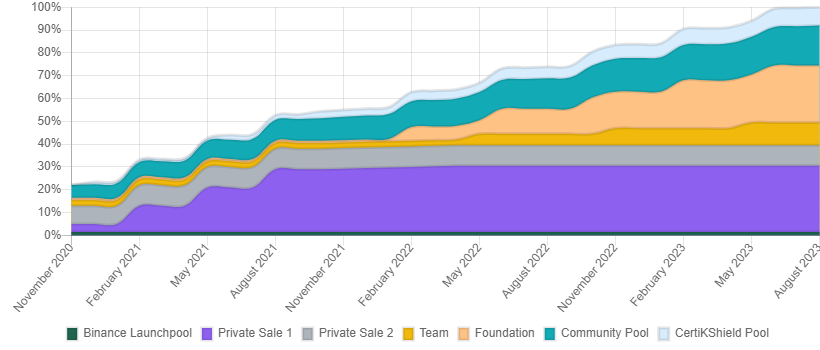 Where do you buy it
Currently the token CTK You can buy and sell directly at major and reputable exchanges such as: Binance, Gate.
Link to buy, sell and exchange reputable coins: bitmoon.net
Current CTK rate
Conclude
CertiK will initially focus on community building in China, Korea, North America and Europe, and will gradually expand to other regions as the project develops.
Here is an overview of the project CTK that team GTA summarized to give you an overview of the project, not investment advice.
Virtual currency corner
Join the discussion with GTA team at:
Website | Facebook | Twitter | Trading | Research | Youtube