Bounce.finance (AUCTION) a decentralized auction platform combined with NFTs along with a team of quality investors but small capitalization and low total supply! Does that make you curious about the platform? Personally, the answer is yes! A platform that combines with NFTs is currently the "hot trend" of the market, along with backers being an organization with a foothold in the crypto space, why not be curious. In this article, Virtual Currency Corner will provide you with the necessary information to answer the question Bounce.finance What is the investment potential of AUCTION tokens! What are you waiting for, Let's go!
What is Bounce.finance (AUCTION)?
Bounce is a decentralized auction platform, combining mechanism liquidity mining, decentralized governance and staking. The platform works on the principle of resource scarcity, which creates a swap environment (swap) compete.
Ideas about "swap" originates from Uniswap, which offers limitless liquidity to its participants. While this is a great concept, Bounce focuses on the opposite scenario instead.
Bounce provides a competitive environment, given a limited supply of tokens or other assets like NFT. Properties can be auctioned in a variety of ways.
What is special about Bounce.finance?
As noted above, Bounce will provide a more competitive environment than Uniswap by allowing a variety of assets to be auctioned in different ways, such as:
Token sales
It will include different types of auctions where a limited number of tokens are auctioned with different auction guidelines and durations, such as fixed price (fixed swap price), discount, or hidden price (secret auction).
NFT Auction
A notable highlight of Bounce.finance That's the NFT auction. We probably don't need to talk much about NFT right now, it's a hot trend right now. Tokens of NFTs platforms are flying high in the crypto space. So how can NFTs encoded products (like videos, digital paintings, cards, etc.) be highly profitable for creators? That's the auction, and Bounce provide that for NFTs.
NFTs are auctioned with the same auction principles as token sales. However, often the number of NFTs being auctioned will be very low (or only a single part) will be sold.
Support multiple wallets
The Bounce platform works with the most commonly used crypto wallets, such as MetaMask, Binance Chain wallet, WalletConnect, Coinbase Wallet, Ledger, and Trezor. More wallets will be supported in the future.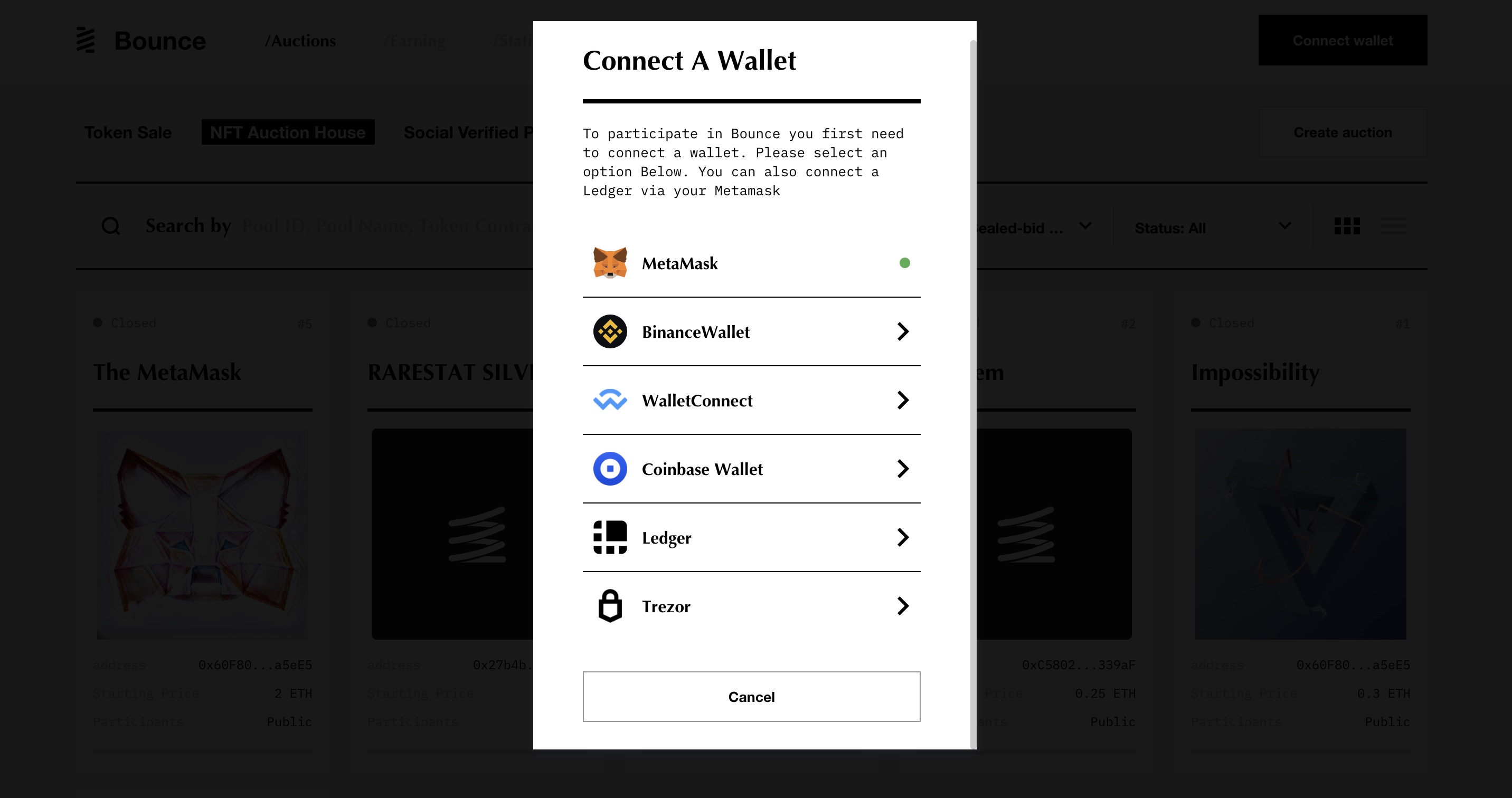 Multi-chain support
Currently, Bounce has support for the most popular blockchains like Binance Smart Chain and Ethereum.
After connecting your wallet to the platform, you can switch between the Ethereum mainnet and Binance Smart Chain.
What is AUCTION token?
AUCTION token is currently the governance token of Bounce.finance. It plays a key role in the governance of the platform and ensures the smooth and stable operation of the Bounce.finance revolving ecosystem.
| | |
| --- | --- |
| Token Name | Bounce Token |
| Ticker | AUCTION |
| Blockchain | Ethereum |
| Token Standard | ERC-20 |
| Contract | 0xa9b1eb5908cfc3cdf91f9b8b3a74108598009096 |
| Token Type | Utility, Governance. |
| Total Supply | 10,000,000 AUCTION |
| Circulating Supply | 2,304,209 AUCTION |
Basic information of AUCTION token
Readers note, Bounce tokens before is BOT However, it has now been converted to AUCTION token. In February last, BOT was converted into AUCTION token at a ratio of 1:100. That is, 1 BOT will receive the AUCTION token. Currently, exchanges only accept AUCTION token transactions, so those who currently hold BOT tokens should convert to AUCTION tokens.
Token Allocation
Updating…
What is the AUCTION token used for?
AUCTION token is Utility and Governance token of Bounce.finance, it is used as reward for participants Liquidity mining.
Along with that, users can stake AUCTION tokens to participate in governance voting, and voters receive BOT rewards every day. And when you make a swap at Bounce.finance, a part of the swap fee will be distributed to the person who is staking the AUCTION token.
Where can I buy AUCTION tokens?
Currently you can buy AUCTION tokens at cryptocurrency exchanges such as: MXC exchange, Binance exchange, Gate.io exchange, Huobi exchange or swap at Uniswap.
Compare Bounce.finance with similar project
To see the potential of the Bounce.finance project, we can compare it with similar projects to find a point of comparison. In this article, I will compare with Terra Virtua, which is also an NFTs auction platform.
| | | |
| --- | --- | --- |
| Comparative Criteria | Bounce.finance | Terra Virtua |
| Feature | Swap, NFT auction, token auction, liquidity mining | Focus mainly on NFTs with features: buy and sell NFTs, showcase NFTs, virtual reality |
| Network | Ethereum | Ethereum |
| Structure | Completely on-chain and decentralized | Completely on-chain and decentralized |
| Total supply of tokens | 10,000,000 AUCTION | 1,200,000,000 TVK |
| Total tokens in circulation | 2,304,209 AUCTION | 219,201,959 |
| Token price | 38.44 $ | 0.791 $ |
| Capitalization | 88,394,453 $ | 173,245,034 $ |
Why invest in AUCTION token?
The answer to the question of whether to invest in AUCTION token or not need a lot of factors. Each factor will play a role in promoting the development of the project as well as boosting the price of . AUCTION token to new heights.
Let's take a look at these factors and see if AUCTION token Should it be in your investment portfolio?
Does Bounce.finance Founders team have enough growth capacity?
Currently behind the Bounce.finance project are very influential names in the crypto space. That is:
Jack Lu (Co-Founder): As one of the founding members of the project, Jack Lu is also known as the Investment Director at the investment fund. NGC ventures.
Chandler Song (Co-Founder): known as Co-Founder and CEO of Ankr. Once on the Forbes 30 under 30 list.
Ryan Fang (Co-Initiator): Ryan Fang also serves as Co-Founder and COO at Ankr. Once on the Forbes 30 under 30 list.
It can be seen that the project's Founders team are all established and capable names in the crypto space.
The evaluation of the team will give us an assessment of the ability to go far as well as the success of the quality of the project.
Backer, Investors team of Bounce.finance Who are included?
Backer, the people behind pumping money into the project are also worth mentioning.

In the capital raising round conducted this March, Bounce.finance also received investment from Coinbase Ventures, Pantera, Blockchain Capital, the leading prestigious investment funds to build NFT Auction House (NFT auction house).
AUCTION token price forecast
The following image shows the respective price projections of AUCTION tokens.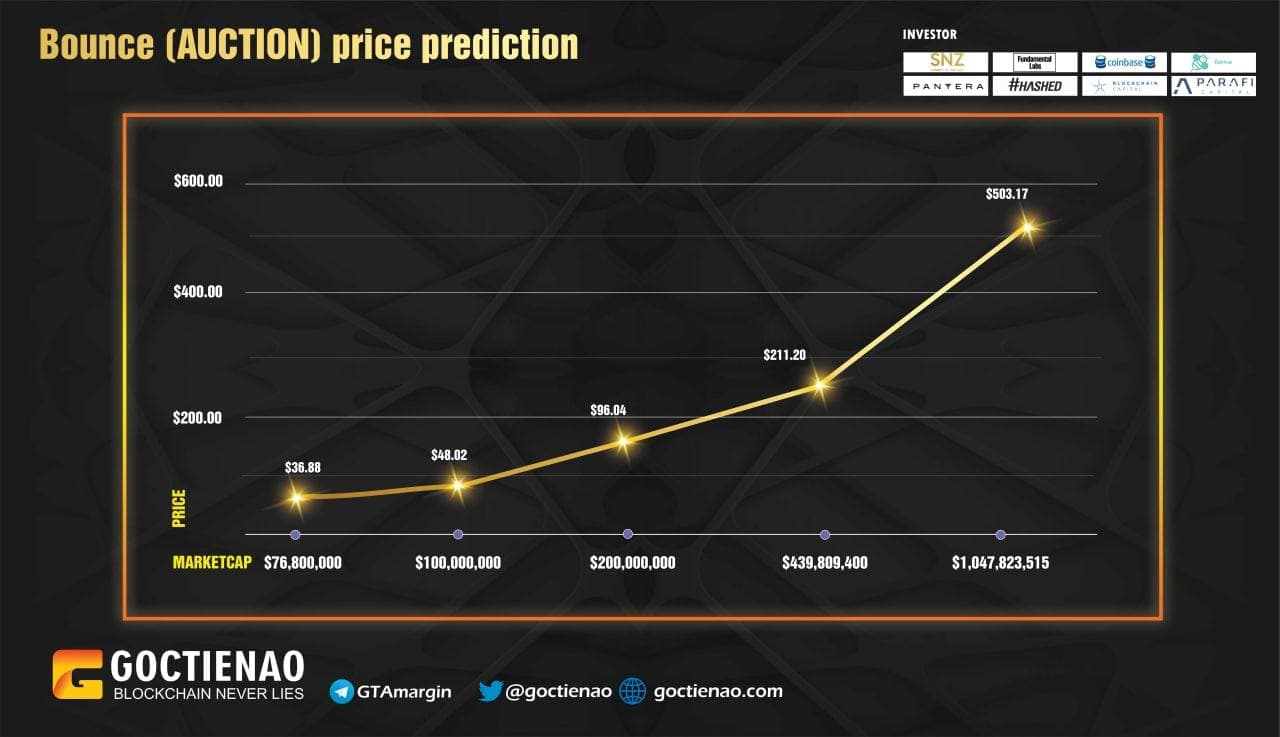 Conclude
AUCTION really is a coin with the potential to explode in the context of NFTs being a hot trend. It was created to provide a place where NFTs products can be put up for auction thereby increasing value for creators.
AUCTION brings benefits to investors:
The market capitalization is still very small and will increase very quickly when the NFTs trend is promoted.
The team of investors as well as human resources of the team is very good, this promises to bring a project with high technical quality as well as long-term vision.
All of the above Research is of a personal nature. All investment decisions are made by you and you are responsible for your assets. Good luck!
Virtual Currency Corner