Ecosystems have been developing rapidly in recent times. Ecosystem Solana isis said to be the focus of recent times. By owning a platform with many new technologies, projects developed on Solana inherit the quintessence of this ecosystem.
What is Boring Protocol?
Boring protocol is a decentralized private network protocol that allows users to make transactions with node providers and bandwidth users. Built on Solana provides economic incentives for node providers with transparent features of privacy for network users.
Project Functions
Boring provides a decentralized VPN service, Blockchain payments can be processed every second and are weighted by the amount of data used.
The protocol allows node providers to connect endpoint through Solana Program Library and attach metadata identifying their node properties, the protocol also allows also allowing bandwidth users to define and connect to these provisioned nodes ultimately transacting with information providers. through this protocol.
Similar projects
With features like a VPN project, the project is similar to Ethereum's Orchid Protocol project.
Boring's products
With its outstanding features, Boring has cooperated and developed with 2 more projects, these projects are all developed via Boring's protocol and supported by Solana:
https://solapeswap.io/#/market/7MmPwD1K56DthW14P1PnWZ4zPCbPFemGs3YggcT1KzsM Solapeswap is a pancake and uniswap-like Dex deck. Now Solapeswap has deployed the mainnet.
https://explorer.solana.com/address/BLwTnYKqf7u4qjgZrrsKeNs2EzWkMLqVCu6j8iHyrNA3/largest Solana Exploxer is developed over Boring protocol and it has bscscan or etherscan features.
Boring's special feature
Boring built on Solana Solana chain will partially inherit the role of the central node.
Customers will have to purchase Boring tokens and choose certain criteria for their connection. So customers cannot tamper with data in Boring's system
Customers also create a budget based on the amount of money in their wallet and the amount of time they need to use the VPN. As the connection continues, payments are automatically processed to compensate the endpoint providers the customer is using.
The platform facilitates the means to solve dual coincidences of desire and attract suppliers and users through marketing but all aspects remain preserved and possible.
Roadmap- Project roadmap
Updating…
Team- Development team
Boring Developed by a team with extensive experience in the financial market in general and the blockchain market in particular:
Big Boss, Moby: he is a big influence on the cryptocurrency market and his followers are quite large and there is a famous CEX exchange in the market like Huobi. https://twitter.com/FOMOBYDICK
Project Planner and Team Manager, Francisco Silva Ribeiro: He participates in the cryptocurrency market and has a lot of experience in the blockchain field. https://twitter.com/XicoSR
Advisor, Community Manager, Mochains: He is quite a famous person in the blockchain field and on his Twitter is followed by quite famous project that is Solana. https://twitter.com/MoChains
Designer, Animata: He is a highly creative person. With many years of experience in design, his works are very creative. https://twitter.com/animatoroneill
Developer, Lightonmyhands: With personal motto Develop by day, Develop by night. He is a very dedicated and experienced person. https://twitter.com/lightonmyhands And there are many other enthusiastic members
Investor- Investor
Recently, Boring has also cooperated with SkyVision Capital and the two sides have agreed to cooperate and co-develop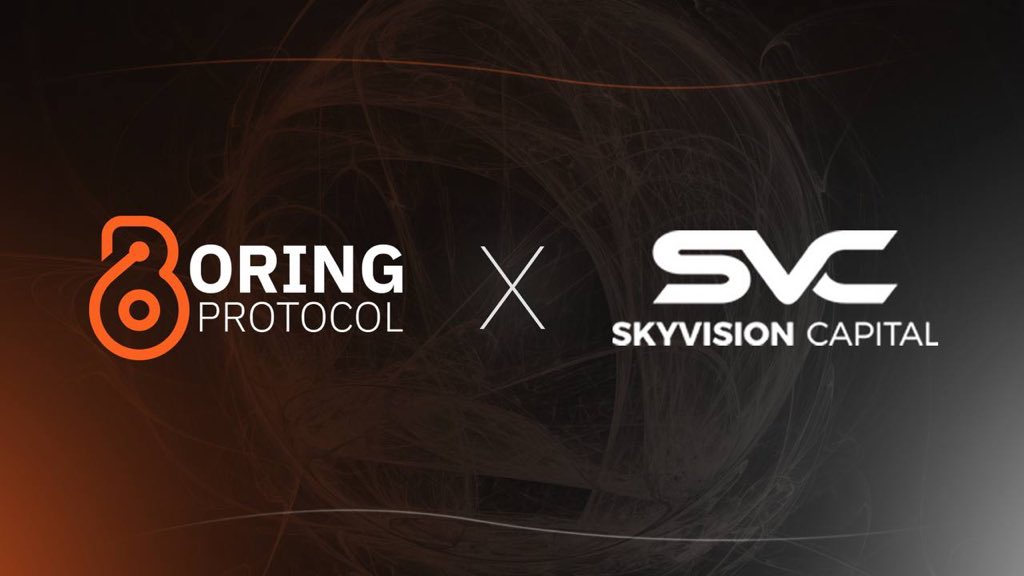 Partner- Partner
Boring is developed on Solana's ecosystem, so it is safe to say that Solana is the biggest partner of this project. This is shown by the fact that Boring's Twitter is followed by Solana.
Token
Token use case
Users will have to use Boring's native token as a mandatory condition to be able to participate in Boring's ecosystem. The larger the token holder, the easier it will be for the chain to recognize and meet that user's criteria.
Basic information
Token Name: Boring Protocol Token
Ticker: BOP
Blockchain: Solana
Total Supply: 250,000,000 BOP
Contract: BLwTnYKqf7u4qjgZrrsKeNs2EzWkMLqVCu6j8iHyrNA3
Token Allocation
Tokens will be distributed as follows:
Platform 45%: 112,500,000 BOP
Airdrop 25%: 62,500,000 BOP
Partnership 20%: 50,000,000 BOP
Team 6%: 15,000,000 BOP
Operation 4%: 10,000,000 VND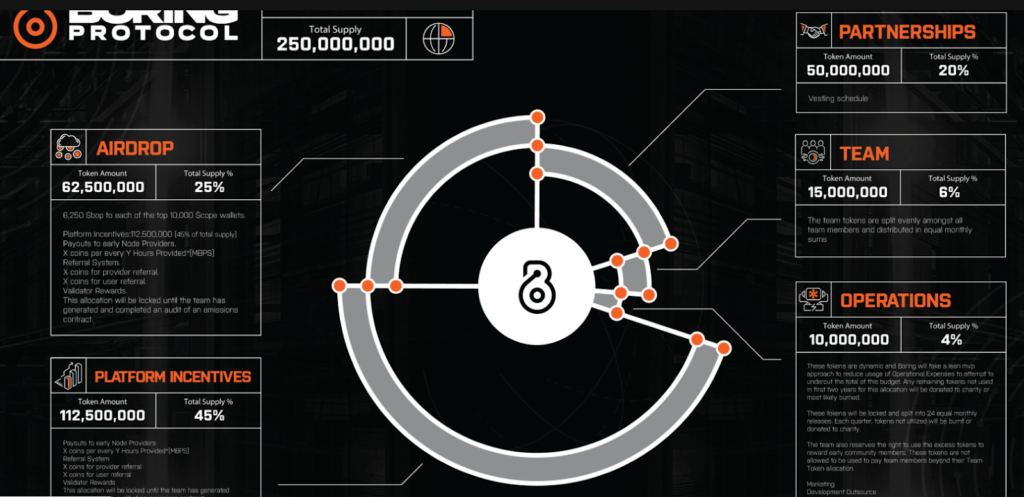 Token release schedule
Updating…
Project community
Evaluate
In my personal opinion Boring can completely surpass VPN projects on other ecosystems. The reason here is simply that Boring inherits features from Solana. The project community is growing very quickly, which can be demonstrated by the fact that the project established in May 2021 has more than 33k followers so far, an incomparable number for a new project. Even so, investors should still have a more objective assessment of the project and make decisions for themselves.
Above is all the information that GTA Research team has researched about the project Boring Protocol and is not investment advice. Hope this article will help you get the necessary information and give your personal opinion about the project. Thank you!